Thailand Marine Bonus Week
Read student reviews on GoOverseas and GoAbroad!
Get SCUBA certified, conserve precious coral reefs, and stretch out on the beach!
Who it's for
Students over 18 on Loop Abroad's programs in any country June 13 – June 27 OR June 27 – July 11. No previous experience required.
Dates open for applications
June 26 – July 4, 2022
July 10 – July 18, 2022
Marine Bonus Week can be linked seamlessly with any two-week program taking place on the following dates:
June 11 – June 27, 2022
June 25 – July 11, 2022
What It's About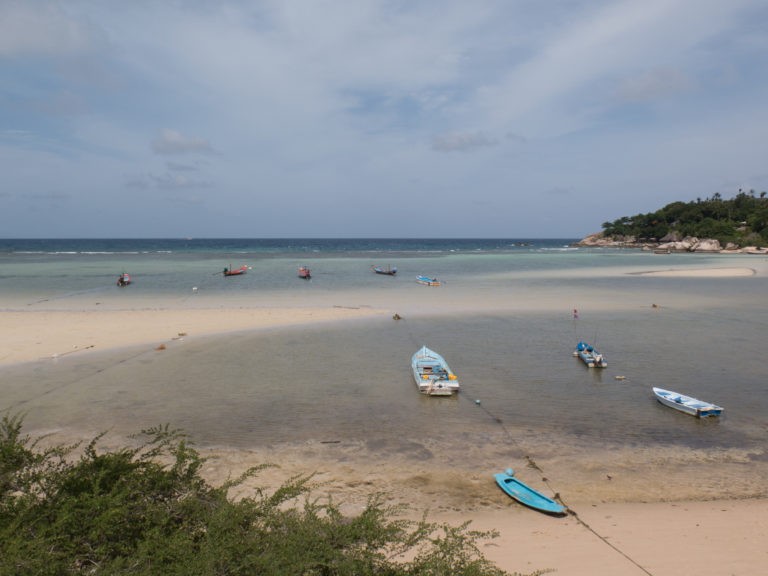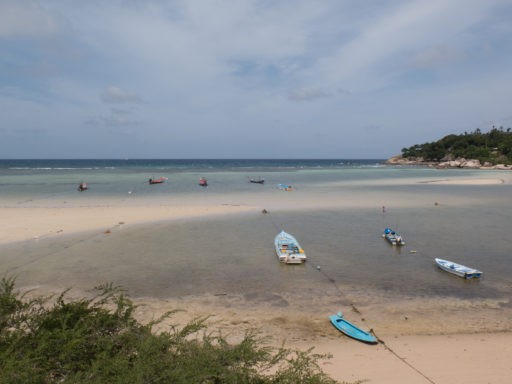 One week of SCUBA diving and tropical island living on the beach. Learn how to SCUBA dive, practice identifying tropical fish, check coral health, and join in marine research and conservation projects.
The New Heaven Reef Conservation Program is on Koh Tao island in the Gulf of Thailand. It's known throughout Thailand for its work in marine conservation. The center – where we will stay – is nestled in a quiet bay on the beach away from the main town and night life because we're here to focus on exploring and conserving the coral reefs, cleaning up the ocean, learning from experts about this spectacular but threatened ecosystem, and having a wonderful time living on a beautiful island.
Hours and Credits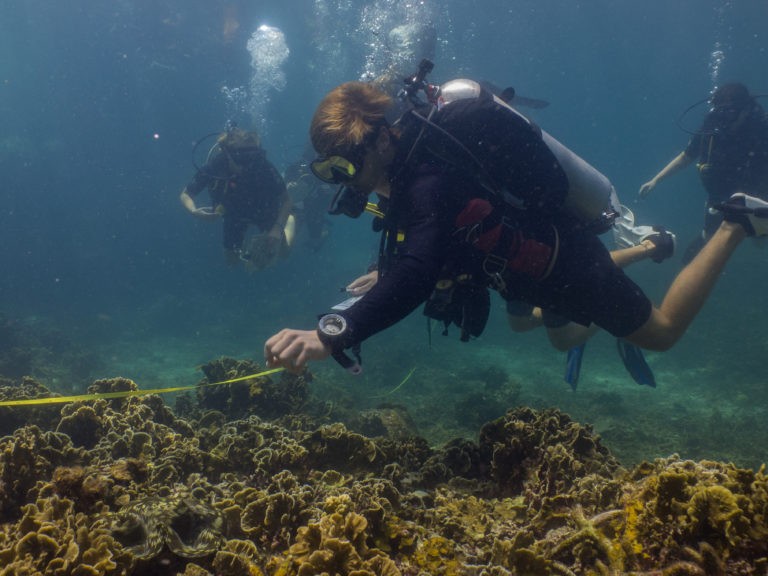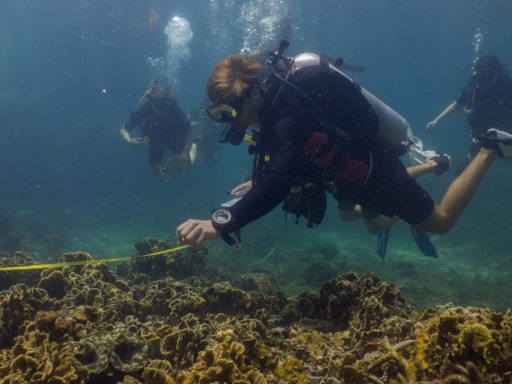 During the Marine Bonus Week you will earn:
10 Research Hours (up to 20 if you are certified as Open Water Advanced before the program)
5 Animal Experience Hours
10 Service Hours (up to 20 if you are certified as Open Water Advanced before the program)
SCUBA certifications are offered through Scuba Schools International (SSI). If you have questions about receiving college credit for this certification, please contact us.
SCUBA Experiences for all levels
For many students, this will their first time SCUBA diving – and there's no better place for it!
We accept students of all levels – from zero experience to Advanced Open Water or higher certifications. Each morning, we'll break into small groups based on experience level for the day so everyone can learn at their own pace. We'll regroup at dinner.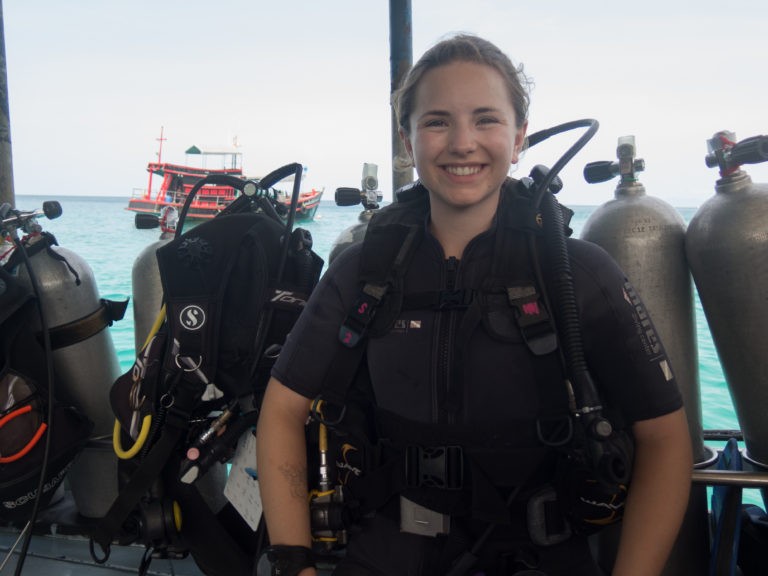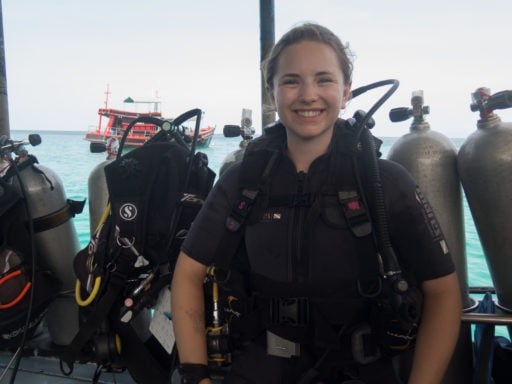 If you don't have any SCUBA certification, you'll have the opportunity to complete your Open Water Diver certification over the first three days. Each day, you'll study and practice skills with your dive instructor in a small group. After your certification, you'll join an ecological monitoring and coral restoration dive with New Heavens' experienced Research and Conservation team.
If you are an Open Water SCUBA diver already, you'll spend the first two or three days to complete your Advanced Open Water Diver certification in a small group with your dive instructor. After your certification, you'll join ecological monitoring and coral restoration dives with New Heavens' experienced Research and Conservation team.
If you're already an Advanced Open Water SCUBA diver or have a higher certification, you will need to prove your skills on a refresher dive then you'll jump right in with the experienced Conservation and Research divers! From day one, you'll learn and practice advanced skills related to marine species identification, coral health monitoring, artificial reef construction and maintenance, and/or other skills. Just like students doing the SCUBA certifications, you may need to attend small group lectures and training to prepare for each day's conservation dive.
As long as the weather and visibility are good, all students can expect to enjoy 5-6 SCUBA dives this week. Your group will have up to 16 participants, one Trip Leader, and the New Heaven Reef Conservation Program instructors.
Itinerary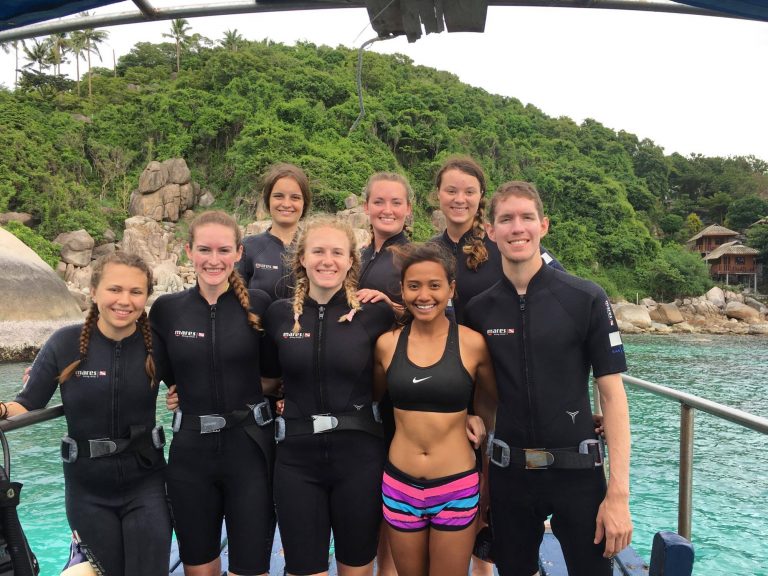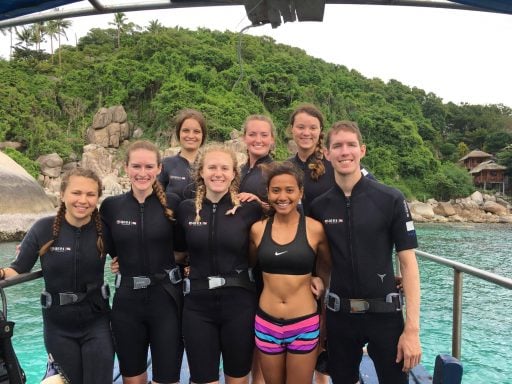 Please note that this is a sample itinerary and is subject to change based on weather, tides, visibility, animals and ecosystems in need, and other factors.
Sunday: Say goodbye to your program group in Chiang Mai and meet with your new Marine Bonus Week group. Travel to Koh Tao (combination of plane, bus, and ferry). This may include an overnight stop before you reach the island.
Each day Monday – Friday: Koh Tao runs on 'island time'. Being surrounded by palm trees, coconuts, and the sound of the waves just makes people slow down a bit. Here's the rough plan for each day, but plan to be flexible:
8am: Breakfast
9am: Arrive to New Heaven and prepare equipment
9:15am: Morning class and/or SCUBA
11:30am: Lunch
12pm: SCUBA
3:30pm: Relax on the beach
5pm: Class or project briefing for next day (only 2-3 days)
7pm: Dinner
8pm: Evening games or free time
Monday: Orientation to the island and New Heaven Reef Conservation Program's mission of conservation and research
SCUBA Day 1
Tuesday: SCUBA Day 2
Wednesday: SCUBA Day 3
Evening: Marine Ecology 101 and Monitoring Techniques
Thursday: Reef invertebrates and indicator species lecture
Conservation Dive
Evening lesson: Shark and Turtle Ecology and Monitoring
Friday: Conservation Lecture and Dive
Final dinner
Saturday: Travel day
Sunday: International departure day! Wrap up and reflections in the morning, relax and pack,  lunch, and airport departure.
Groups will return to the US on final program date, plus or minus one day depending on time of departure.
Safety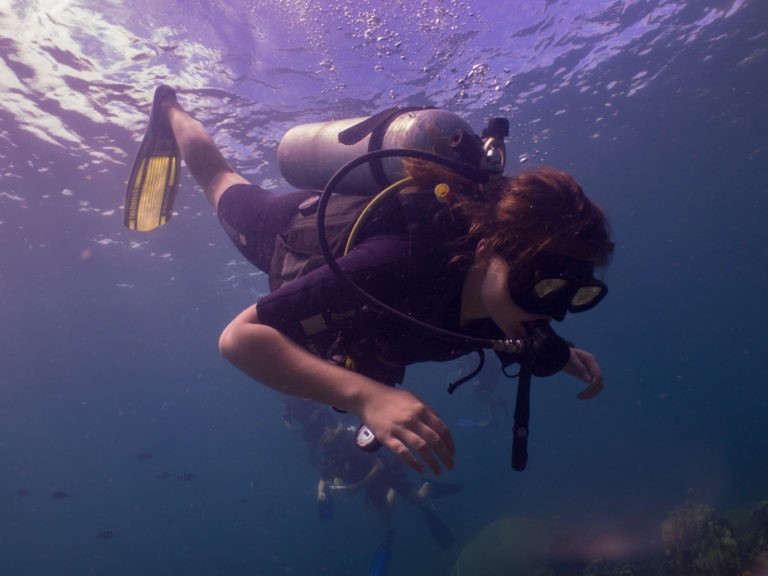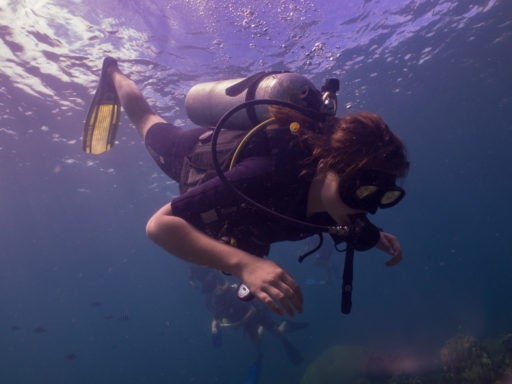 New Heaven dive schools has an excellent safety record and often hosts student groups like ours. Their experienced team of conservation divers will provide our safety orientation on arrival. In the water, the most important skill is to move slowly and deliberately, observing but not disturbing the many colorful creatures you see. As with most wildlife, patient explorers will find the most amazing species and unusual behaviors.
Above water, Koh Tao is a small but busy community of divers and visitors. It's a beautiful and exciting place to be, but it's important to stay with your group and watch your belongings, especially considering we'll be loading or unloading the boat every day!
Note: All participants must be capable of independently entering and exiting the water by a ladder and must pass a basic swim test (swimming, treading water) in order to safely join in-water activities.
Tuition and What's Included
Tuition is $1,950 and is all-inclusive: all meals, housing, activities, lessons, supplies, boat transport, and roundtrip transportation from Chiang Mai to Koh Tao and back.
The Marine Bonus Week does not qualify for the $100 combined program discount when added to a program. Financial aid is not available for the Marine Bonus Week.
Students may be in double rooms or dorm-style rooms with students of the same gender with twin beds or a shared bed. Rooms do not have air conditioning. Meals will be eaten as a group at local restaurants, mostly serving Western and Thai food. Special diets and food allergies can be accommodated.
How to Apply
Choose any two-week program for June 13 – June 27 OR June 27 – July 11. Then choose "Thailand Marine Bonus Week" for June 27 – 5 OR July 11 – 19.
Your itinerary may vary slightly based on weather, holidays, and a number of other factors.
If you combine a program with a bonus week in a different country, you may have to depart your program one day early depending on flight schedules.