Updated: Sept 10, 2021
Dear 2022 Students and Prospective Students,
Welcome to Loop Abroad! All travel programs currently listed as being offered for 2022 are scheduled to run and are currently enrolling. We do not anticipate canceling any of these programs based on COVID-19 if current entry requirements and conditions remain the same as they are now or improve.
Loop Abroad offered in-person travel programs in five countries over the summer of 2021. We are thrilled to share that we had ZERO COVID-19 cases among students and staff across those four months of programs. 
Currently, all of the countries for which we are enrolling are CDC level 3 or 4 for COVID-19. All of these countries accept vaccinated American and Canadian tourists for travel and have commercial flights available. The US is not without COVID and we have done our best not to compare the risk of travel in these countries with a COVID-free environment, but rather to the alternative of remaining in the United States. Therefore, a CDC level related to COVID-19 will not cause us to cancel a scheduled travel program.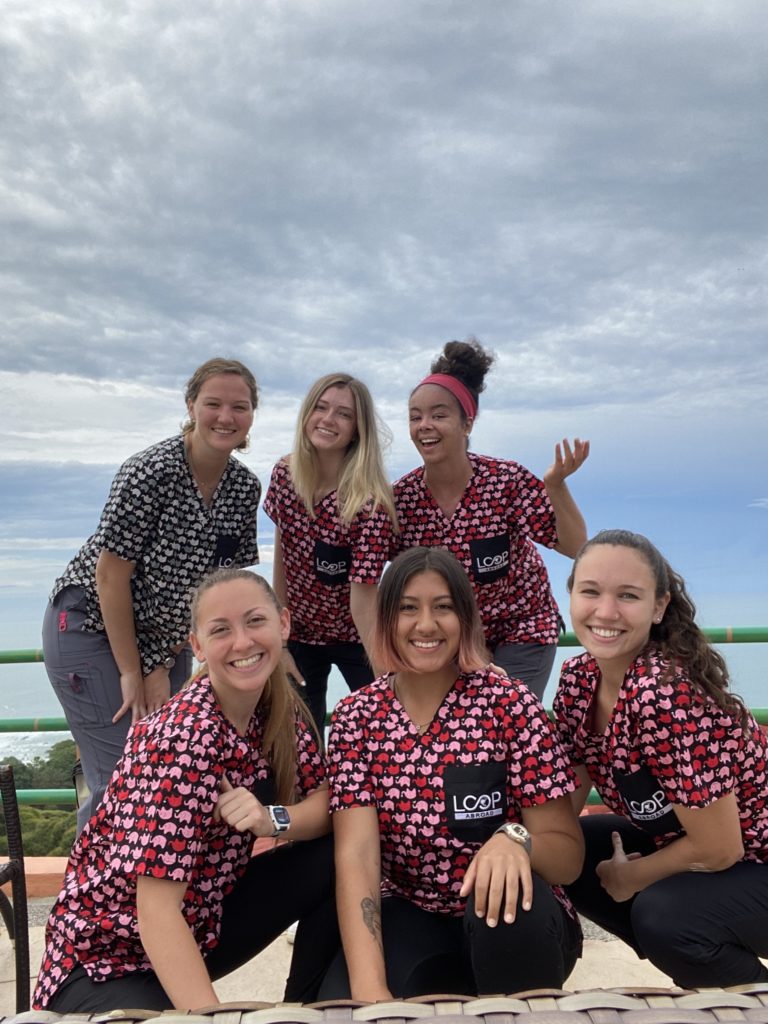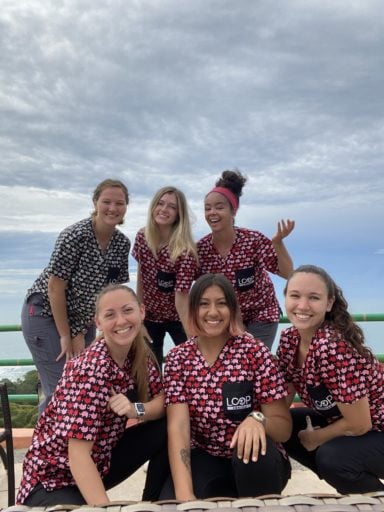 We believe in the importance of study abroad, and we know the positive impact it has made on our students' lives. Our partners abroad need us. In 2021, our students' tuition helped to re-open two wildlife clinics that had closed in 2020 and to restart a sea turtle research project that had been paused for over a year. We are proud of our students' impact and we believe, and have shown, that they can travel respectfully and responsibly at this time.
HOW WE ARE KEEPING YOU SAFE
We have kept our case number at zero by implementing the following safety standards:
Adhering to all national and international travel requirements and each country's specified entry requirements

Requiring a negative COVID test within 48 or 72 hours before travel to the program country (depending on country requirements) and requiring a test within 72 hours of departure from the program country

Requiring masks when outside of our "Travel Pod" (your group)

Utilizing outdoor learning space as much as possible! Staying within our travel pod during activities, transport, and housing as much as possible (and wearing masks when not possible)

Following best practices for reporting, monitoring, and testing related to any COVID-19 symptoms
We have experience running our travel programs during COVID-19 and are prepared to continue to adapt as needed to provide students with the excellent experiences they've come to expect from Loop Abroad.
STARTING IN 2022: COVID VACCINES REQUIRED
"Do not travel internationally until you are fully vaccinated…. Fully vaccinated travelers are less likely to get and spread COVID-19." – CDC, Aug 25, 2021
From January 1, 2022 onward, we will be requiring all participants and faculty on all programs to provide proof of vaccination against COVID-19. We expect that this requirement will also be in place for air travel to and entry into many program locations. We are unable to offer any exceptions to this requirement. We are proud to offer excellent, accessible virtual veterinary courses, internships, programs, and research fellowships, which are a safe alternative for folks who are not vaccinated against COVID-19.
COVID-19 CANCELLATION GUARANTEE
Please rest assured that if Loop Abroad cancels a program because of COVID-19 (or for any reason), students enrolled in that program will have the option to receive a full refund of any tuition they have paid to Loop Abroad. 
Students will also have the option to move their enrollment to a travel program in another country (where possible), move their enrollment to a virtual program, or move their enrollment to a future summer if one of these options is better for them.
Note: For participants who do not reside in the USA, if travel between your home country and the program country is prohibited by one or both governments, you will be eligible for a full tuition refund even if the program is not cancelled. Proof of residence may be required.
WHAT IF I TEST POSITIVE FOR COVID AND CANNOT ATTEND?
We encourage participants to purchase travel insurance that covers cancellation for medical reasons and that includes COVID coverage. These policies can be very affordable and can help you to recover your lost travel costs in such a case.
If you cannot attend a program because you contract COVID or are unable to travel by air because you test positive for COVID, you would not be eligible for a tuition refund, so travel insurance that covers cancellation in the case of a medical emergency is strongly recommended. 
For students unable to attend their in-person program for COVID-related reasons, Loop Abroad is happy to provide access to the virtual program of the student's choice at no additional charge.
WHAT ARE LOOP ABROAD'S PROCEDURES IF I GET SICK ABROAD?
In the last thirteen years of study abroad, we have had lots of experience supporting students who need routine medical attention. Every program has 24/7 staff on-hand to help you if you feel ill and make sure that you can receive medical attention.
If you become ill during your program and require medical care or hospitalization for a severe case of COVID-19, Loop Abroad staff in your program country will make every effort to direct you to the best treatments locally available and, with your permission, check in with the medical team supervising your case. While our staff cannot be in the room with you, we will do our best to support you in making contact with your friends and family at home, advising on insurance and hospital paperwork, and communicating with doctors if you have any difficulties. 
At the time of your program, the USA may require that you receive a negative COVID test within days before your return travel. If you test positive, you may be unable to return to the USA until you are able to test negative. 
In that case, here is what would happen:
You will need to change your return flight. (Loop Abroad staff can help you make these arrangements).

You would be required to follow your program country's requirements for a positive case 

Loop Abroad in-country staff will be on call to help with:

Informing you of local regulations,

Assisting you to get testing if you have symptoms, and

Working with medical and government authorities to follow regulations for treatment and quarantine of positive cases
Please note that COVID-19 regulations are constantly evolving in each country and could change before your program begins. We will do our best to keep you updated to any such changes, but it is important that you ensure that you have appropriate medical insurance coverage should you need medical treatment abroad (which is a good idea even outside of COVID-19).
Questions?
If you have questions or concerns, please contact [email protected] any time. Thank you, and we look forward to seeing you this summer!