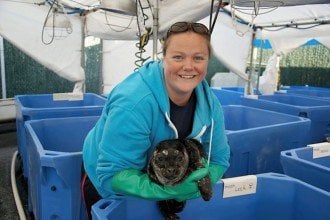 Alli Peterson, DVM
Veterinarian
Dr. Alli Peterson earned her BS in Biology and BA in Chemistry at University of Minnesota – Duluth before earning her DVM at Michigan State University.
Dr. Alli first fell in love with Thailand at the Elephant Nature Park near Chiang Mai during an externship in veterinary school. As a kid, her favorite animals were whales and dolphins, but she has since grown to love all things aquatic from corals, fish, and turtles, to penguins and, of course, marine mammals.
Prior to veterinary school, Dr. Alli worked with Alaskan sea otters and Bottlenose dolphins at the Minnesota Zoo. During and after veterinary school, her many courses on Aquatic Animal Medicine included Aquavet I, II, and III, Marvet Grand Cayman, and Marvet Florida where she assisted with research on Bottlenose dolphin capture and release. She also assisted with fish health assessments through MSU's Aquatic Animal Health laboratory and researched wild neonatal harbor seal rehabilitation in Vancouver, BC.
Now, Dr. Alli works as a small animal practitioner at home in Minnesota and volunteers with the local wildlife rehabilitation center. She thoroughly enjoys teaching as well as her favorite pastimes – SCUBA diving and snorkeling.