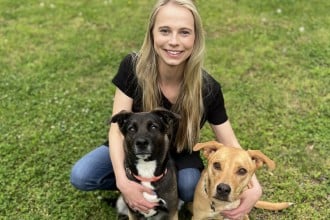 Amber Howarth, DVM
Veterinarian
Dr. Amber Howarth was born and raised in Chandler, Arizona. She attended Arizona State University for her undergraduate degree graduating with Honors and a minor in Business before attending Washington State University for her DVM.
While attending Arizona State University, Dr. Howarth founded a program called Wandering Paws, which studied the human-animal bond in the homeless community of Phoenix while providing free vaccines for the pets of this population. Her work on this project was published in the Journal of Applied Animal Welfare Science in 2017.
After graduating from veterinary school in 2020, Dr. Howarth worked in Arizona as a general practitioner for small animals. Now she works as a consultant to help veterinarians start up their own practice or acquire practices. She also provides relief work at several veterinarian offices and will continue to work relief when she and her husband move to South Korea in the latter half of 2023.
n her free time, Dr. Howarth loves to travel and experience as many activities as she can. She has been to almost all the continents. Some of her other hobbies include enjoying the outdoors with her husband and two puppies, photography, hiking, horseback riding, snorkeling, reading, and listening to finance-related podcasts.