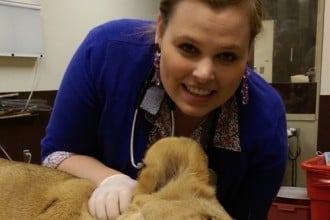 Ashley Runey, DVM
Veterinarian
Dr. Ashley Runey grew up in Oregon with just about every kind of pet you can imagine – cats, dogs, horses, farm animals, reptiles, pocket pets, and even a few wildlife rehab animals!
After studying fashion design in Philadelphia, she returned home to Oregon to attend veterinary college at OSU. During veterinary school, she was never too far from some wild research or educational experience.
Dr. Runey participated and helped develop annual trips to Nicaragua for student-run veterinary relief work on the island of Ometepe. She aided in cheetah research and assisted reproduction procedures. Finally, she spent much of her final year practicing at some of the most renowned wildlife and zoo facilities in North America including the Smithsonian's National Zoo, Wildlife Safari, the Calgary Zoo, the Oregon Zoo, and the Oregon Coast Aquarium. She was awarded research support with the Morris Animal Foundation for her research with zoo and wildlife hoofstock species.
After completing veterinary school, Dr. Runey completed a 1-year emergency and zoo and exotics internship in Arizona with the Reid Park Zoo including taking part in Tamandua and Tapir reproduction! She now works as an emergency veterinarian, treating all types of common and exotic species.
She has continued to work with wildlife conservation and medicine and enjoys teaching students all over the world, such as at the Belize Zoo and South Africa. Dr. Runey enjoys exploring the world with her two dogs (Rhino and Griffin) and snuggling up to a good horror movie with her two cats (Aviva and Phoenix).