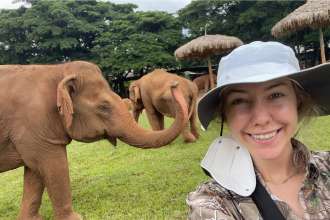 Blakeli Duckworth
Group Leader
Blakeli is an Biomedical Sciences major at Texas A&M University originally from Alvin, Texas. She's on the pre-vet route with hopes of becoming a wildlife or mixed animal veterinarian.
Blakeli joined Loop Abroad's programs in Thailand in 2022 where she worked with a small animal veterinarian, observed surgeries, and visited the Elephant Nature Park to learn about elephant medicine. (Elephants are her favorite animal.) She also joined the marine conservation program and went SCUBA diving over the coral reefs in the Gulf of Thailand.
She has 2 rabbits names Oakley and Clove, a crested gecko named Meeko, two cats named Simba and Nemo, and a spoiled dog named Cici who stays at home with her parents. A few fun facts about Blakeli are that she has played volleyball for almost ten years and loves to watch college football. Her favorite hobbies are painting and hiking as she loves being outdoors.