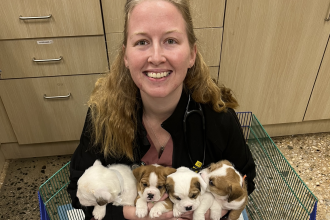 Brooke Dolega, DVM
Veterinarian
Dr. Brooke Dolega is a small animal, exotic, and wildlife veterinarian from Long Island, New York.
Dr. Brooke graduated from Ross University School of Veterinary Medicine in February 2021 after completing her clinical year at the University of Edinburgh. Since graduating, Dr. Brooke works in private practice settings focused on preventative medicine, behavioral enrichment and husbandry, and a One Health Approach to both companion animal and wildlife medicine.
Dr. Brooke has had the opportunity to work with domestic and wild species in the United States, the United Kingdom, and South Africa, and plans to continue expanding her reach around the globe. She is extremely passionate about human-wildlife conflict and how to improve resources to local communities in order to protect and preserve both wild spaces and the health and culture of the communities around them.
Dr. Brooke's has many "favorite" animals, but her favorite bird species is the Southern Ground Hornbill. She loves both their tenacity as well as their conservation success story, and dreams of working with them one day. In her free time. Dr. Brooke loves running and training for half-marathons, practicing yoga, swimming, reading, and writing. She has four pets: an 11 year-old Chihuahua named Lilo, a 5 year-old "coconut retriever" from St. Kitts named Star Lord, a 2 year-old Hamster named Munchkin, and a 6 month-old Bearded Dragon called Frankenstein.