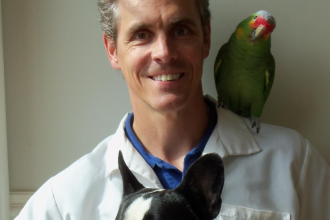 Byron de la Navarre, DVM
Veterinarian
Byron de la Navarre is chief of staff at Animal House of Chicago, which he opened in 2000. Byron attended Cornell University as an undergraduate where he completed his Honors Research on the captive husbandry and breeding of peregrine falcons.
Byron then attended the veterinary college at Cornell, earning his DVM degree in 1990. While in veterinary school, he externed at over 12 zoos in North and Central America, Europe, and Israel. After completing an internship, Dr. de la Navarre worked in private practice, including at the Niles Animal Hospital & Bird Medical Center in the Chicago area for over 7 years.
Dr. de la Navarre has lectured on exotic pet topics and taught labs at the local, state, national & international levels. Locally, he has served as the President of the Chicago Veterinary Medical Association. He is on the Executive Board of the Association of Reptile and Amphibian Veterinarians (ARAV), he served as the ARAV President in 2005 as well as past President of the Association of Exotic Mammal Veterinarians (AEMV), and he is the immediate past President of the Association of Avian Veterinarians (AAV).
Byron loves exploring and has been fortunate to have travelled quite a bit but is always looking for new adventures. He also enjoys participating as well as watching athletics, especially soccer. He and his family have multiple pets of all species.