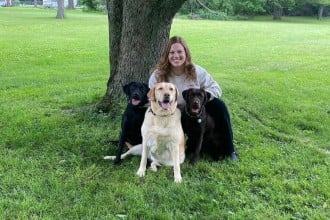 Caitlin O'Quinn
Support Staff in Thailand & Texas
Caitlin was born and raised in the city of Akron, Ohio. At a very young age, Caitlin knew that animals were her passion and she would be applying to veterinary school. Staying close to home, she earned her Bachelor's in Biochemistry at Kent State University where she served as president of her Pre-Vet Club and Vice President of the University Blood Initiative club as well as a mentor.
She now works as a veterinary assistant at a vet hospital and has previously worked as a research assistant, as a pet groomer, and a volunteer at a local rescue. Not only does she have experience with dogs and cats, but she has also worked with wildlife, sea turtles, small pocket pets, insects, and livestock animals. In Summer 2022, Caitlin joined Loop Abroad's Global Veterinary Semester Abroad traveling for 12 weeks to Costa Rica, South Africa, and Thailand!
In her spare time, she enjoys sitting outside with her chickens, grabbing a cup of coffee, and taking her 3 Labrador Retrievers on walks. Along with her immense passion to care for animals, she loves to spend travel abroad.
Caitlin is very excited to meet the upcoming students and experience the joys of new cultures and new animals with them.