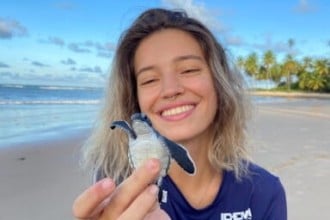 Giovana Miranda, DVM
Veterinarian
Giovana is a Brazilian veterinarian who graduated from the Federal University of Mato Grosso do Sul. She has worked in an ER for exotic and wild animals at the Exotic Life Clinic and with sea turtle conservation and reproductive monitoring at APC Cabo De São Roque in northeast Brazil!
During school, she worked with a large variety of species such as hyacinth macaw, crab-eating-fox, alligators, jaguars, giant armadillos, and giant anteaters as part of conservatino projects in the Patanal of Brazil, one of the world's largest wetlands.
For two years, she also researched jaguar reproduction and helped with the creation of a genetic materials biobank of wild jaguars and other endangered species. For this work, she received a prize for young researchers at the annual meeting of the Brazilian Society of Veterinarians of Wild Animals in 2019.
During her spare time, she loves to travel and she is passionate about discovering hidden spots in her own country. She's already visited 21 of the 27 states and could make a long list of amazing hidden gems to visit in Brazil. She also loves to travel around the world and all the experiences that come with it.
Her favorite activity is bicycling. Being able to travel by bicycle is on her bucket list! As a hobby, she loves to practice aerial silk, hula hoop, and aerial hoop. She is curious about languages and is always trying to learn a new one. Don't ask her favorite animal – she still can't decide, but giant armadillos are one of the most incredible creatures she's had the opportunity to work with.
At home, Giovana has a cat named Olivia and a dog named Courage (because he is a cute coward just like the cartoon Courage the coward dog). Giovana loves to talk and hear about student's experiences and she is excited to get to know you!