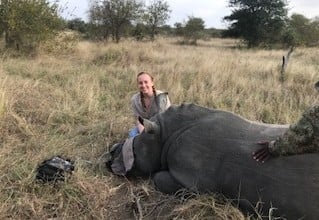 Ilya Eva Kristensen
Australia Support Staff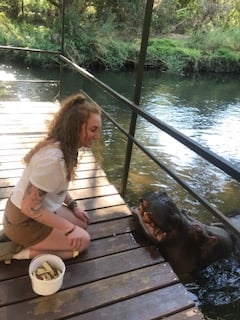 Ilya grew up in Alabama and spent a lot of her childhood traveling around the world, visiting countries like Switzerland, Ecuador, Cameroon, and France.
She graduated from Auburn University in 2022 with a degree in Wildlife Pre-Veterinary Sciences. As an undergrad, she visited South Africa twice: once with Loop Abroad, and once to intern alongside a wildlife veterinarian in the Greater Kruger.
Her time over these two experiences has fostered a strong desire to work in wildlife conservation as a veterinarian. Ilya has also worked in a veterinary ER, a daily practice, and a zoo (shadowing a vet she met during her Loop Abroad experience!).
Having worked with animals such as rhinos, cheetahs, wild dogs, and chimpanzees, Ilya always has a fun fact or two hiding up her sleeve and will be happy to talk about anything related to biology. If Ilya is not in sight, she is likely doing one of two things: reading a book (at an alarming pace) or observing an animal she happened to see earlier. A fun fact about Ilya is that she regularly runs Spartan races and trains every morning for them!
Ilya believes in fully immersing in the present. In her undergrad, she was very involved: she served as president of the Auburn Student Chapter of The Wildlife Society, treasurer for the Ambassadors of the College of Forestry and Wildlife Sciences, and also worked an interesting combination of on-campus jobs. Her suggestion for everyone participating in Loop Abroad (especially first-time travelers) is to let yourself live in the moment and try everything that your program has to offer even if it is out of your comfort zone!
She especially suggests putting down your phone during your programs to fully experience them and bring a journal too. However students should not follow in Ilya's example by dropping their phones off the Safari Jeep in the middle of Kruger National Park!