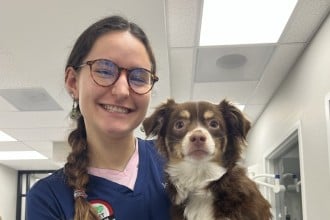 Joleigh Miller
Costa Rica Support Staff
Joleigh comes from the Pacific Northwest with a Bachelor's of Science in Exercise and Health Science and a minor in Spanish. Her life long passion for animals has brought her back to Costa Rica, and she is excited to share the excitement and love for wildlife with Loop students!
Joleigh has one cat, Cloud who is the best adventure buddy and loves to hike. When not adventuring, Joleigh can be found hanging at home with a good book and music to pass the time. As a life-long learner, Joleigh is excited to continue growing her skills in the pursuit of a career surrounding veterinary medicine and wildlife.
Joleigh attended the Costa Rica Veterinary Medicine program in Summer 2022.