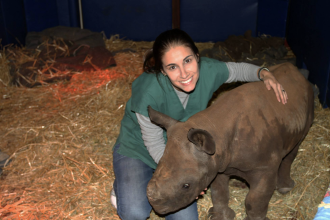 Juliana Tolentino
Veterinarian
Dr. Juliana is a Brazilian veterinarian living and working in Toronto, Canada. She entered vet school already planning to work with wildlife and began her first externship at a zoo during the 1st semester of school! Now as a veterinarian with many years of exotic and wildlife experience, she loves teaching and has given lectures at many conferences and workshops throughout North and South America.
She attended vet school at Universidade Federal Fluminense (UFF) from 2006 to 2010. During her student years, she attended various externships and conferences, and went to South Africa for a 2-month externship on wildlife and zoo medicine at the Johannesburg Zoo. She later attended a 2-year residency program in Wildlife and Zoo Medicine and worked with species ranging from insects to megavertebrates at FPZSP – São Paulo Zoo from 2011 to 2013. During her residency, she also participated in mentorships in South Africa and Namibia and took special interest in exotics and wildlife radiology. She later completed a 1-year training specifically in veterinary radiology.
In 2016, she worked at the Rio de Janeiro Zoo as well as seeing exotic pets, especially exotic and wildlife radiology cases. In 2019, she co-founded Exotic Imaging Consulting (EIC), a company that provides radiographic reports exclusively for exotic/wildlife patients from different hospitals, zoos, and aquariums.
In her free time, she loves being with her husband and three sons and participating in any outdoor activities such as hiking and camping. She is fluent in Portuguese, English, Spanish, and is learning French. She also enjoys reading, traveling, and playing soccer with her oldest son.