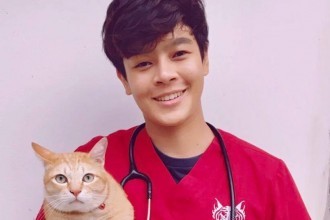 Kornrawee "Maew" Munyad-On, DVM
Thailand Medical Director
Dr. Maew is a Thai veterinarian from Chiang Mai, Thailand. Her nickname "Maew" means "cat" and she mostly treats cats. That makes her "Dr Cat the Cat Doctor"! She gets along with all animals, especially ferocious ones.
Dr. Maew's practice focuses on companion animals with a specialization in soft tissue surgery. She completed her veterinary education at Chiang Mai University. In her career today, she is one part vet, one part teacher, and one part traveler.
In Fall 2017, she completed an internship at the Taronga Zoo in New South Wales, Australia. What she liked most was working with exotic Australian wildlife she had never seen before, including kangaroos, wallabies and Tasmanian devils, and building friendships with Australian veterinarians.