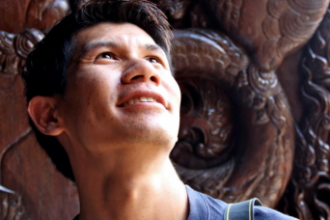 Krissana "Aum" Phitakkajorn
Tour Director
Aum became part of the Loop Abroad team back in 2009. He has lived in northern Thailand for his whole life, and became a tour guide so that he could share his own culture with people from all over the world.
Aum graduated from Chiang Mai University in 1997 with a BA in English and Tourist Industry Management. He speaks English fluently. For the past fifteen years, he has been working as a tour guide for individuals, families, and groups.
After many years working with the team at SpicyThai Backpackers Hostel, Aum became a co-owner of the hostel in 2012. He puts together day trips and treks for SpicyThai guests from all over the world, and can take you to the best caves, the best pad Thai spot, dinner with friends in a local village, or wherever you want. An avid photographer, Aum is always helping students notice great places to take photos.
As a guide for Loop Abroad, Aum helps to organize outings, meals, and adventures throughout the trip. His top priority is that students get to see the beauty of Thailand and the Thai people while having a safe adventure.