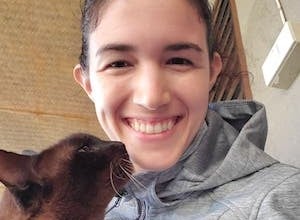 Kristina Perez, DVM
Veterinarian
Dr. Kristina Perez earned her BS in Biology at Virginia Commonwealth University and her DVM at the Virginia-Maryland College of Veterinary Medicine. She is thrilled to now be a full-time Veterinarian Instructor with Loop Abroad!
In college, she interned as a zoologist at a local nature center and worked in a small animal hospital. During veterinary school, Dr. Kristina interned at the wildlife rehabilitation center and completed externships at two prominent conservation research and breeding centers. After veterinary school, Dr. Kristina completed a rotating internship in small animal (dog and cat) emergency and specialty care and then a specialty internship in exotic animal medicine. She has spent time volunteering in Indonesian Borneo and Vietnam. Through these experiences, Dr. Kristina has been honored to work with a wide variety of animals, including exotic pets (such as parrots and small mammals) and captive wildlife (ranging from tiny but highly-endangered frogs and birds to large hoofstock such as gerenuk and kudu, and even pangolins, red pandas, maned wolves, and cheetahs!).
In her free time, she reads and writes stories, plays video games, and loves to hang out with her pets.