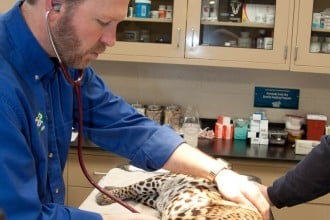 Kurt Volle, DVM
Veterinarian
Dr Kurt Volle has known he would be a zoo veterinarian since he was 9 years old.
He grew up in rural Indiana and studied undergrad and his DVM at Purdue University in Indiana. The busiest time in his life was when he worked three jobs at once to learn everything he could about treating the wide variety of species found in large collections. He worked at a mixed animal private practice, the Columbian Park Zoo, and consulted for the Indianapolis Zoo.
Currently, Dr Kurt is based at the Buffalo Zoo where he treats everything from rhinos to raptors and cervids to camelids. He's also traveled internationally to do field research on Toxoplasma in Pallas cats, rodents, and livestock in remote Mongolia and researched howler monkeys and small carnivores in Costa Rica.