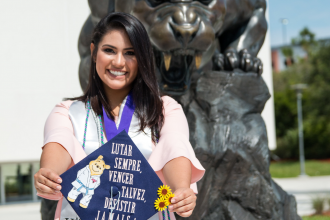 Laura Rodriguez
Thailand Support Staff
Laura Rodriguez was born in Colombia and came to the States at the age of six. Raised in the 305, where the Hispanic culture has overtaken Miami, allowed her to be fluent in both Spanish and English. At the young age of eleven Laura found her love for children when she began to volunteer with Baby-land in Sunday school, and from there she decided to be an Elementary educator.
For her first year of college, Laura left her sunshine state and went to the freezing state of North Dakota in order to wrestle. Being a student athlete truly brought out her time management skills, and it allowed her to learn how to adapt to a different culture and weather. Due to family responsibilities Laura returned to Miami to finish her Bachelors in Elementary Education.
While in school, she decided to add a minor in Psychology focused on Behavioral management. On the summer of 2016 she decided to expand her knowledge on Education, and was honored to be a part of Loop Abroad's Traveling Teacher program where she earned her (TEFL) Teaching English as a Foreign Language certificate. During her senior year Laura became the Vice president of KDP the National Honor Society of Education and event coordinator of Future Educators of America FEA. Laura graduated on the summer of 2018, Magna Cum Laude.
Apart from her devotion to her career, Laura has plenty of hobbies that keep her "energizer bunny heart" busy. She is a camp counselor at M.A.D.E a non-profit organization that works with the trouble youth, she is also a Brazilian Jiu-Jitsu athlete and competitor. On her down time, Laura loves to capture moments and express her herself through photography, painting, and drawing. This year her passion for art led her to explore the music field with some singing classes; nonetheless she is still working on sounding more like a Canary and less like a Rooster. She has a wanderlust heart and has had the blessing to travel to 11 countries and 16 states. She is beyond excited to be returning to Thailand as a Student support staff member and be sharing her passion for life and the world with all the students! Her motto is "Kindness is free! Sprinkle that stuff EVERYWHERE!"