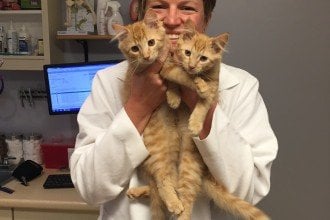 Lindsay Church, DVM
Veterinarian
Dr. Lindsay Church lives in southern Maine and was raised in Boston, Massachusetts. She is a 2013 graduate from Atlantic Veterinary College on Prince Edward Island, Canada.
Dr. Church also holds a graduate degree in marine biology from a small college on an island in Maine, where she focused on the stranding and rehabilitation of seals and sea turtles. After graduation from veterinary school, Dr. Church worked in small animal private practice for several years. Recently, Dr. Church started working as a veterinarian at a thriving shelter where she has had the opportunity to manage the care, both medically and surgically, of shelter animals and those of lower income community members.
During veterinary school, Dr. Church completed externships throughout the United States and Canada. She also participated in two veterinary trips abroad while she was a student, so she loved having the chance to be involved in the experience from the veterinarian side. This winter, Dr. Church returned to the beautiful colonial city of Granada, Nicaragua for a month to teach veterinary students at a surgical training center and to provide veterinary care in rural communities.
Dr. Church enjoys finding creative ways of combining her love for travel, teaching, and veterinary medicine. When Dr. Church is not traveling the globe or helping animals in her community, she can be found spending time with her family, including her wacky dog, Zulu Magoo, and playing outside, particularly in the ocean.