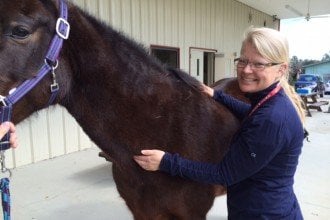 Lori Bidwell, DVM, DACVA
Veterinarian
Dr. Lori is a 2001 graduate of Michigan State University, a diplomate of the American College of Veterinary Anesthesia and Analgesia and a certified veterinary acupuncturist and Tui Na Practitioner.
After an internship year at Rood and Riddle Equine Hospital in Lexington, Kentucky, Dr. Bidwell completed an anesthesia residency at Michigan State University. She then moved to Lexington to act as the head of anesthesia for Rood and Riddle Equine Hospital. In 2009, Dr. Bidwell moved to St. Kitts in the West Indies to teach at Ross University School of Veterinary Medicine.
Lori was then invited to return to Lexington to develop and head the anesthesia service of a new practice called Lexington Equine Surgery and Sports Medicine. Due to a family illness, Dr. Bidwell returned home to Michigan State University in 2012 as an Assistant Professor in Anesthesia and the Equine Sports Medicine Service. In August of 2015, Lori and Duncan Peters, DVM, MS, DACVSMR founded East West Equine Sports Medicine, a practice that involves consulting and covering veterinary services for hunter/jumper circuits on the West and East Coasts and in Lexington, Kentucky.
Dr. Bidwell also consults for equine practices in the Unites States and speaks and teaches nationally and internationally.