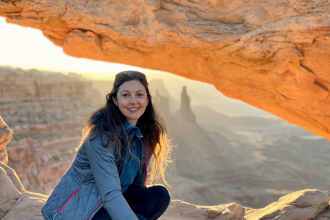 Marisa Altieri, DVM
Veterinarian
Marisa was born and raised in New York and aspired to be a veterinarian from a very young age. She earned both her Bachelors degree in Microbiology and her Doctorate degree in Veterinary Medicine from Colorado State University. She then moved back home to complete a small animal internship at the Animal Medical Center in New York City in 2006.
Dr. Marisa practiced medicine and mentored new graduates for 10 years at the ASPCA (American Society for the Prevention of Cruelty to Animals) Animal Hospital in New York City. The mountains came calling in 2016 and she moved back to Colorado for several years. She enjoys the freedom and variety of practicing as a relief veterinarian and primarily practices emergency and shelter medicine in New York and Colorado.
Dr. Marisa's love of travel and adventure began early on and was solidified after spending several months exploring Southeast Asia. This trip included her first visit to the Elephant Nature Park, one of Loop Abroad's oldest partners, in Chiang Mai, Thailand in 2006. Some of her favorite veterinary volunteer experiences include a recent trip back to the Elephant Nature Park in Thailand, a stay at Best Friends Animal Sanctuary in Utah, a trip to rural Guatemala, and working with an organization in NY that provides free veterinary care to veterans and first responders.
When not working, Marisa can be found hiking/camping, paddle boarding, seeking out hidden beaches and swimming holes, scuba diving and snowboarding. She's currently preparing for a dream trip to Uganda to trek with gorillas!