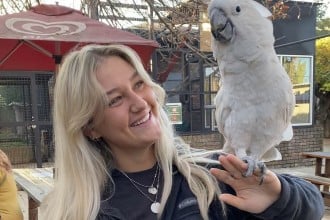 Mikayla Little
Group Leader
Mikayla is earning her undergraduate degree in Wildlife and Conservation Management at Delaware Valley University. She has worked and volunteered in many areas across the animal care world, including the education department of Elmwood Park Zoo where she cares for the ambassador animals and shares her knowledge with the public through educational programs. She has also spent time in a veterinarian office, a wolf-dog rescue, and an aquarium!
Mikayla's favorite animals are primates and big cats and she has been lucky enough to have worked with both very closely on her trip with Loop Abroad to South Africa in 2022!
Mikayla hopes to specialize in animal behavior and to continue following her dream of working in zoos and conservation. She looks forward to sharing her knowledge and passion for animals with her Loop Abroad students. In her spare time, Mikayla picks up a lot of hobbies such as playing guitar, drawing, painting, yoga, hiking, crocheting, skiing, and was even a competitive dancer for most of her life… but her biggest passion in life will always be working with animals.