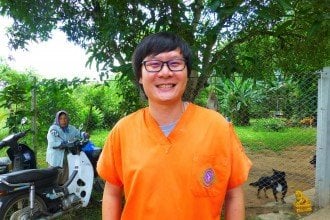 Natthachai "Hay" Jiraporncharoen, DVM
Veterinarian
Dr. Hay is a Thai Veterinarian from Chiang Mai, Thailand and co-owner of Manimal Animal Hospital in Bangkok.
Since he was very young, Dr. Hay wanted to be a veterinarian. Even though there were very few vet schools in Thailand at the time, Dr. Hay decided to pursue his dream of becoming a veterinarian.
During his six years in university, Dr. Hay spent much of his free time volunteering in the countryside in the northern part of Thailand helping people learn to care for their animals and helping to provide necessary medical treatments. At school, he focused on equine species and large animal medicine. He completed his veterinary education at Chiang Mai University.
Dr. Hay is an equine practitioner and travels to many areas of Thailand to help treat and care for horses. He enjoys teaching students about veterinary care and working with Loop Abroad's students in the small animal clinic. In his free time, he enjoys horseback riding, swimming, and traveling.