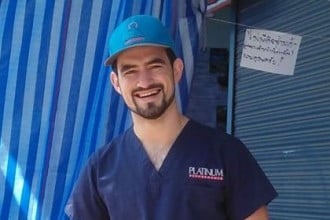 Taylor Cantril
Director of Program Operations
Taylor is responsible for worldwide program staffing, logistics, and risk management for Loop Abroad. He's currently based in Loop Abroad's birthplace – Chiang Mai, Thailand – and has been part of our team since 2015.
Taylor loves getting to know the veterinarians and other program staff who lead our students on adventures around the world. It's a big job to lead a group in a foreign country, and we have higher expectations of our leaders than most.
Every day, our Program Leaders are teaching, sharing their story, contributing to local organizations, and planning for the next day's activities. Taylor is constantly inspired by Loop Abroad staff's dedication to serve, support, and inspire our students.
He also oversees health, safety, and risk management. That means he spends a lot of time thinking about how things could go wrong – so that they don't!
For every program, we have two priorities: providing the best veterinary study abroad experiences in the world and protecting the health and safety of our students, staff, host communities, and local animals. It's part of Taylor's job to make sure we do both. As a Wilderness First Responder with more than a decade of experience guiding and managing in international travel logistics, he's well prepared to make it happen.
Taylor first visited Thailand on his own semester abroad in 2010 where he hiked and kayaked between rural villages learning about what sustainability means in the developing world while learning Thai. He later returned to guide American students through the experiences of curiosity, wonder, and growth that were so transformative for him.
Whether taking students SCUBA diving over coral reefs or translating between Thai and American veterinary teams, Taylor thrives when he's facilitating an experience for students to see people, places, and animals with new eyes.
Taylor is also an avid powerlifter, rock climber, and cyclist, and he and his fiancee are proud parents to two rescued cats – Cam and Ellie!