Meet Lek!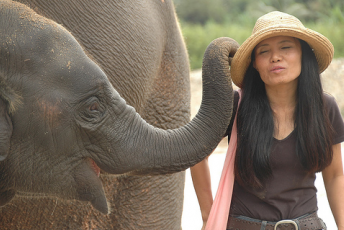 Lek is the founder of the Elephant Nature Park and the Save Elephant Foundation. If you're coming with us on a program that spends a week at the Elephant Nature Park in Thailand, you'll likely meet her in person. Meeting Sangduen "Lek" Chailert is really a life-changing experience. Everyone in Thailand has a nickname, something short that they are known by that carries some special meaning. The name "Lek" means "small," and small she is. But this tiny woman is perhaps the best-known conservationist of the hugest land mammals on the planet.
Watching Lek interact with the elephants is amazing. She holds them close like a regular person might hold a kitten, pressing her face against theirs. She says one or two soft words and the elephant stops in its tracks, turns and follows her, becomes calm. Volunteers at the park may find Lek sitting at the edge of the river with a new elephant, checking on an elephant in pain, or standing in the tall grass in rubber boots that consume more than half her legs. A cloud of dogs always surrounds her.
From your first encounter with Lek, it is clear that she's a rescuer. The elephants themselves have been rescued, one at a time, from harsh lives. Their purchase, negotiated by Lek, can take months or years. Many of them come to the park untrusting, ailing, and alone.
Also at the Elephant Nature Park are over 500 dogs, all rescued from the streets of Chiang Mai. Any day at the Elephant Nature Park office in the city, you'll see five or ten dogs wandering happily despite their bandages or missing legs, getting ready for their new lives in the park.
And then there are the cats. And the water buffaloes. And the horses and chickens and cows. If something or someone needs rescuing, Lek won't turn it away.
Her years of tireless work, her passion for elephants and their home environment, show when she tells her story. The plight of these elephants has become her life quest. Still, she is able to see all sides of their situation in Thailand. She understands the effects of government regulations, protective laws, needs of indigenous or poor populations, and limitations of money and space. This holistic and realistic approach may be what has made her so good at what she does.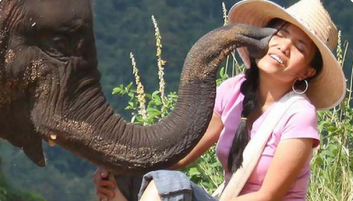 But we aren't the only ones who think so. Time Magazine named her a "Hero of Asia" in 2005. The Ford Foundation heralded her as a "Hero of the Planet" over ten years ago. She has been featured on National Geographic, the Discovery Channel, Animal Planet, CNN, BBC, and in magazines and newspapers all over the world.
Her efforts have been recognized by the Smithsonian and the US Humane Society. She also holds an honorary PhD in veterinarian science, awarded by His Majesty the Crown Prince of Thailand.
Celebrity activists including Paul McCartney, Angelina Jolie, Brad Pitt, and Meg Ryan have come to Thailand to meet with Lek for her inspiration and advice on conservation. In mid-October of 2010, Lek was invited by the UN to testify in front of the US Congress about her environmental work, and met with leaders such as Speaker of the House Nancy Pelosi and Secretary of State Hillary Clinton.
Lek's compassionate heart and unshakable passion are inspiring and contagious. We can't wait for you to meet this one-of-a-kind environmentalist in person. If you'd like to see more of Lek and watch a little of ENP's story, you can check out the movie Love and Bananas — you might even notice a few cameo appearances by some Loop Abroad groups who were at ENP for the elephant rescue featured in the film!