Koalas, kangaroos, echidnas, wallabies at the "Walkabout"!
Message us on Facebook about this program!
Read student reviews on GoOverseas and GoAbroad!
A two-week adventure "down under" to volunteer at the Walkabout Wildlife Park in Calga Springs outside Sydney, Australia. Get hands-on with koalas, kangaroos, echidnas, wallabies, and all kinds of other Australian wildlife.
Enjoy a fun tourist weekend in Sydney, explore aboriginal sites in the bush, and study "Australian Wildlife Handling, Conservation, and Care" with your veterinarian (DVM) trip leader in the classroom and with the animals.
Who It's For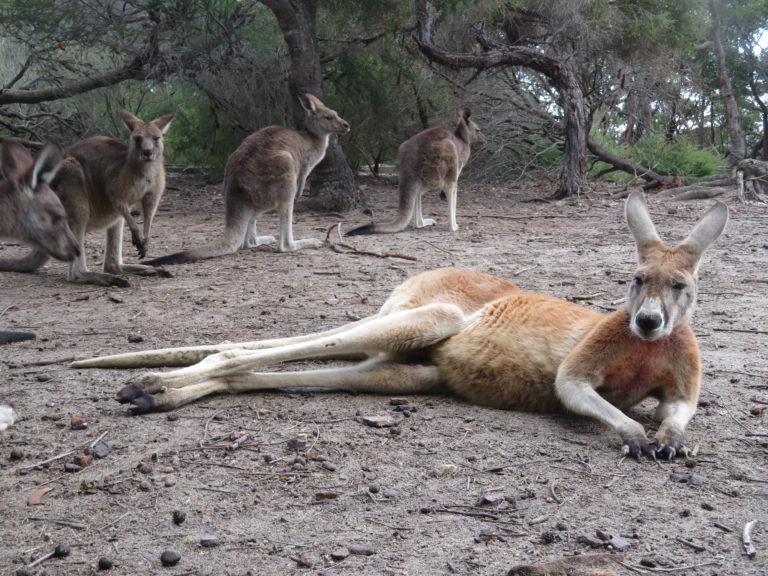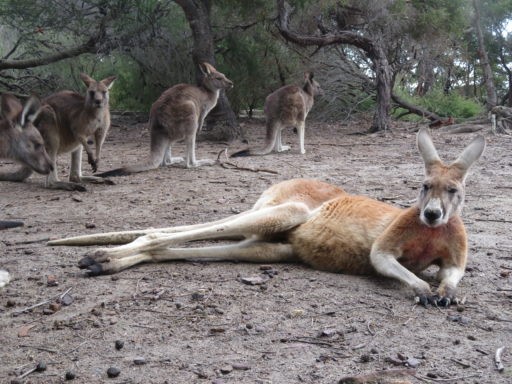 This group is open to University of California Davis students referred by UC Davis student Breanna Scranton. It is not sponsored by, affiliated with, or endorsed by UC Davis.
Each group of up to 12 students will have its own US veterinarian accompanying them and will have the opportunity to learn from other Loop Abroad veterinarians with a variety of expertise who will be on the same program.
Highlights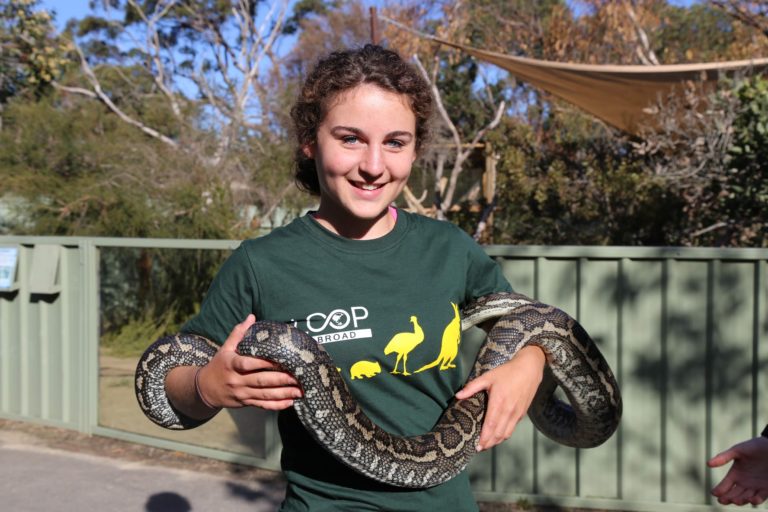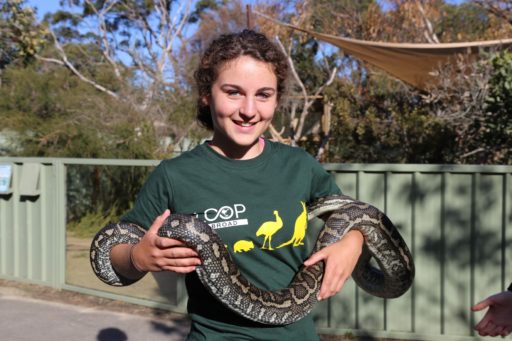 • Assist in treatment rounds with Australian wildlife
• Health check kangaroos and koalas
• Examine pythons and echidnas
• Handle and assess possums and bandicoots
• Walk an alpaca
• Create enrichments for everyone from dingos to cockatoos
• Perform veterinary labs such as marsupial necropsies
Dates open for applications
June 26 – July 12, 2020
Note: Your group will have its own veterinarian and you may learn from other Loop veterinarians or Australian veterinarians as well.
**Subject to 1 days +/- on the schedule, includes travel days.
*Dates indicate departure from and return to Los Angeles. Some flights depart early in the morning and may require students to arrive in Los Angeles the night before. Loop Abroad reserves the right to cancel any program at any time; in case of such cancellation by Loop Abroad, all payments will be returned in full.
Tuition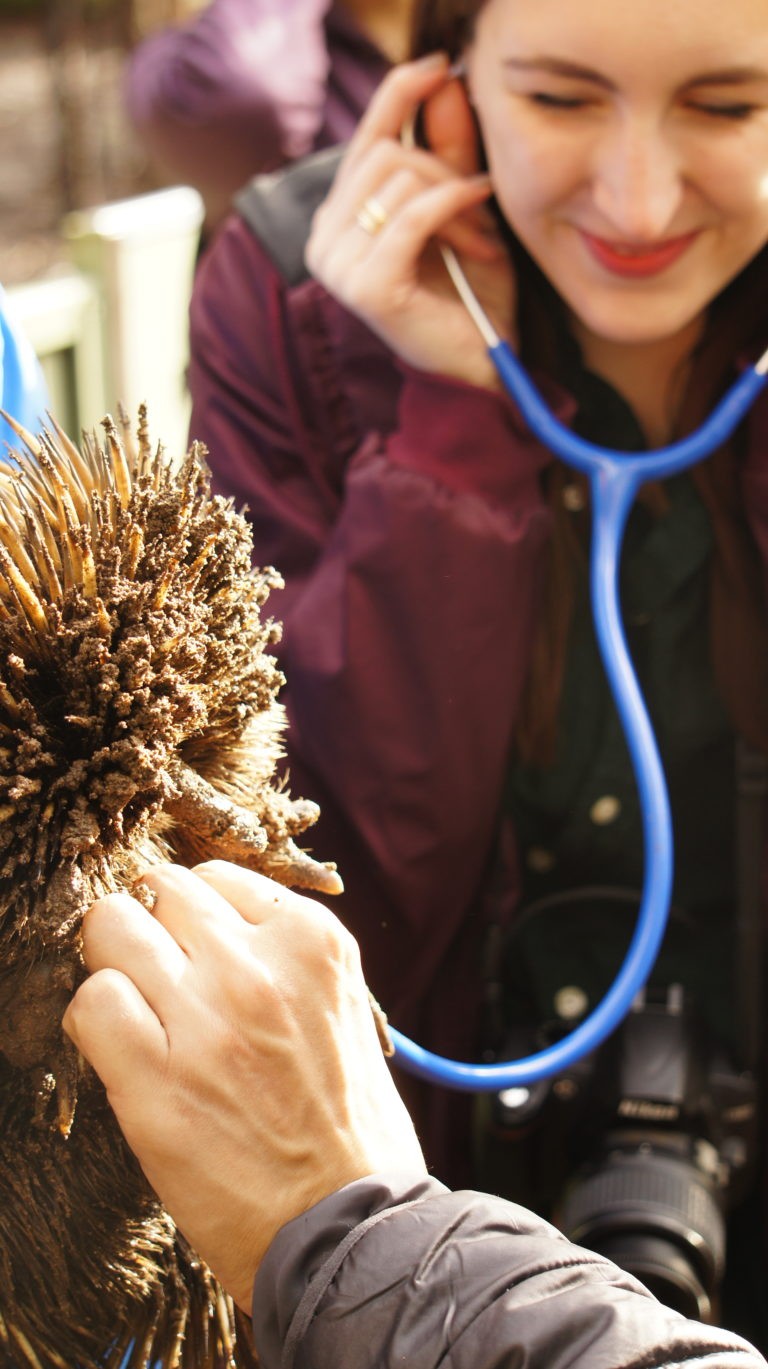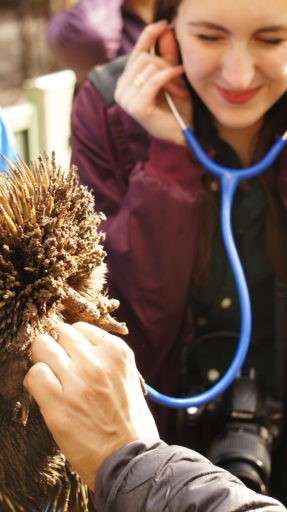 Tuition is $3,500 and is all-inclusive less airfare. This represents a 10% discount over our regular tuition for this program. No early enrollment discount or additional financial aid is available.
Interest-free payment plans are available. Your space is not held until your $1,000 deposit (credited toward tuition) is paid. Your deposit is due by November 30, 2019 to secure your private group booking. Balance of your tuition is due by January 31, 2020.
Tuition is all-inclusive less airfare. Tuition does not include medical insurance (the policy we suggest is under $25), passport, visa (required for US citizens – can be obtained online for approximately $15US), snacks and souvenirs.
Airfare is not included. Group flights will be booked from Los Angeles, departing Saturday and returning Monday (subject to one-day change).
Airfare is estimated at $1,600. You will have support staff at the Los Angeles airport for departure and at the Sydney airport on arrival, but may not have a staff member on the plane with you.
Travel off the group itinerary must be approved by Loop Abroad and carries fees. Please contact [email protected] before booking travel off the group itinerary.
Packing list
Please note that the packing list requires particular clothing including canvas or cotton work pants, hiking boots, and certain colors of shirts, which would need to be purchased before travel. We will limit necessary items to only those required for safe animal interaction and for representing Walkabout in your role as an animal-handling staff with animal-enclosure access.
Hours and Credit
You can receive 3 credits from our University Partner, University of Findlay, for this program. (Additional fee applies.) Loop Abroad can also assist you in working to get credit directly from your school. If you are seeking credit from your college or university, please contact us for assistance.
Participants will earn 60 veterinary hours and 15 research hours. You will receive a certificate for 80 service hours upon program completion.
Groups and Staff
Your group will have its own veterinarian and you may learn from other Loop veterinarians or Australian veterinarians as well.
Housing and Meals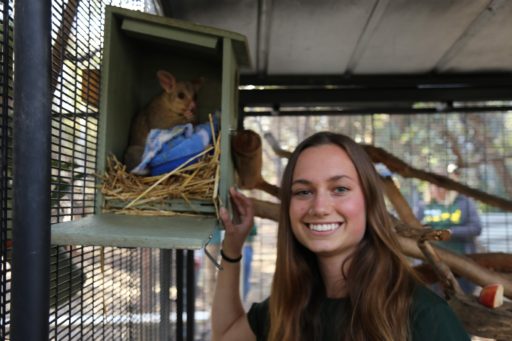 We will live at Walkabout for the duration of the program (except our weekend in Sydney). Students will be in rooms of 2-6 students each separated by gender, with shared bathrooms. Breakfast and Lunch are self-serve and include options such as cereal, toast, salads, and sandwiches. Dinners are prepared in one option each day (with a vegetarian alternative) and may include pizza, vegetable stir fry with chicken (or tofu), or hamburgers (or veggie burgers) and fries. Snacks and drinks are provided, but additional drinks and snacks (chips, chocolate, soda) are available for purchase. No alcohol is permitted at Walkabout's facility. We can accommodate vegan, vegetarian, other dietary restrictions, or food allergies.
Locations
Walkabout Wildlife Park ("Walkabout") is a one-of-a-kind conservation facility. For the last twelve years, this organization has pursued the goal of conservation through education.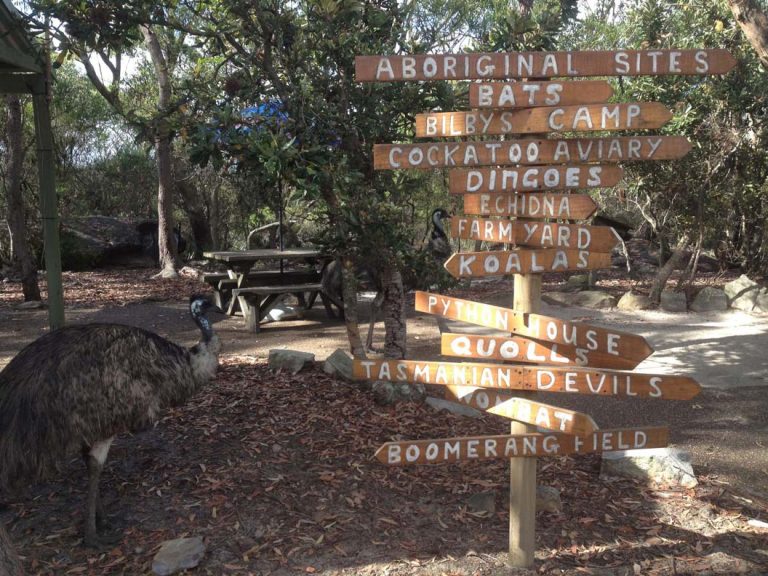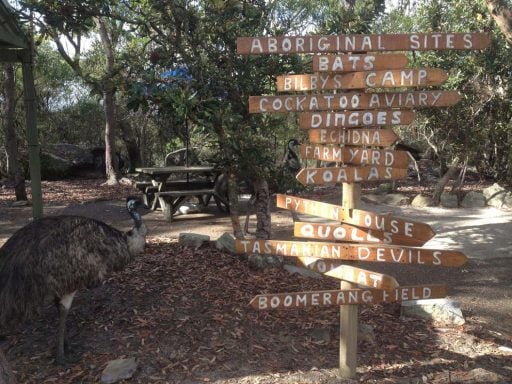 The 80-acre property is home to over 200 captive animals who are protected and cared for by the Walkabout staff. Many are rescues that are unreleasable, while some are wildly occurring. In addition, Walkabout cares for and conserves 170 acres of natural habitat.
Walkabout is ZAA accredited (the Australian version of the AZA) and holds itself to very high standards of care. For some animals, including Tasmanian devils, Greater bilbies and Eastern quolls, it participates in breeding programs when the animals can be released to help repopulate areas that have recently been made safe for that species.
Who lives at Walkabout? Animals that live naturally in the bush of Australia's Eastern Central Coast Hinterland, including: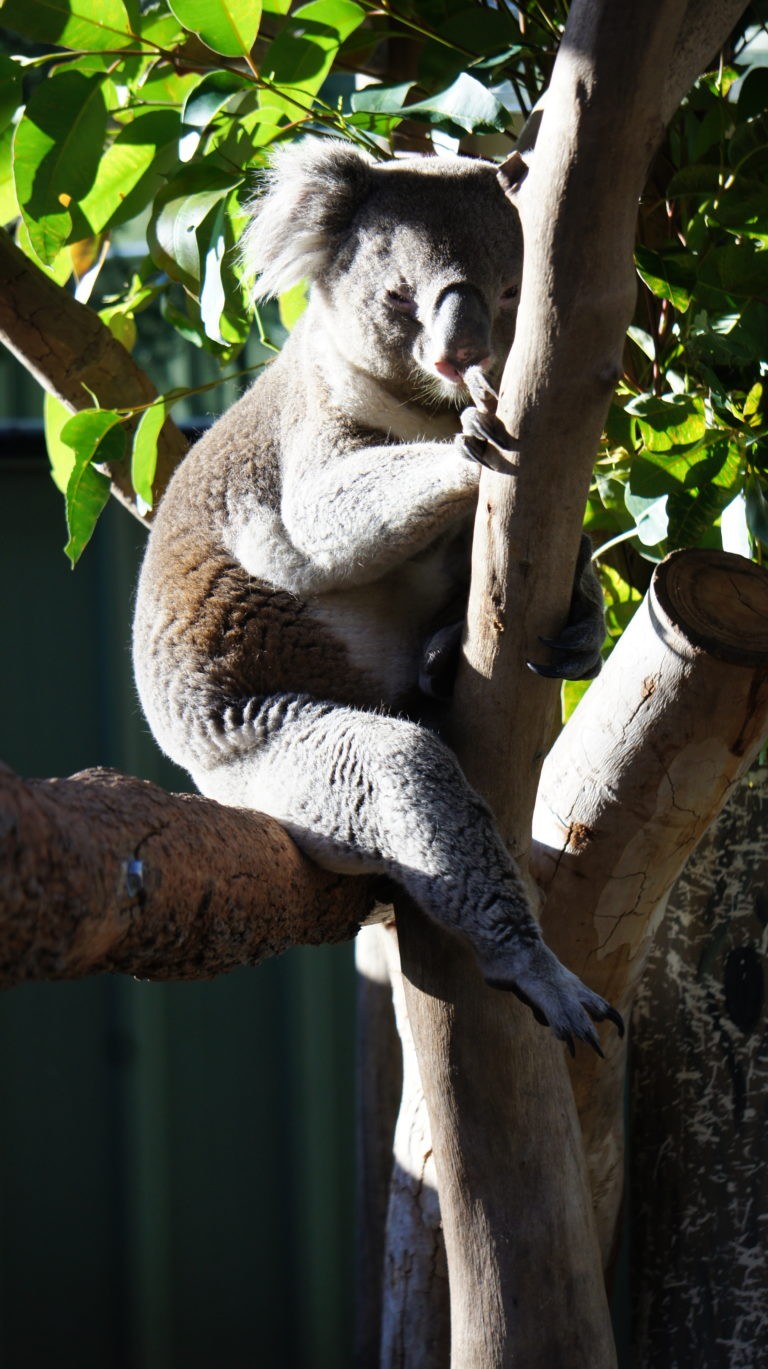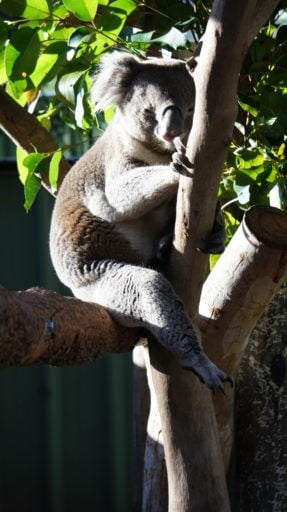 Lots of free-ranging macropods such as kangaroos, wallaroos, wallabies, bettongs, and pademelons…
Possums and sugar gliders
Tasmanian devils and quolls
Bandicoots and potoroos
Echidnas
Wombats
Emus
Various species of parrots
Predatory birds including kookaburras and tawny frogmouths
Dingoes and flying foxes
Reptiles including pythons, dragons, skinks, and turtles
Some introduced farm species including alpacas, peacocks, and goats
This combination of native and exotic species, in a natural native environment, are cared for on a limited budget and with limited resources. We will be able to provide veterinary care, animal support, and necessary funding, while learning all about these animals in an up-close setting not available anywhere else in the world. Anatomy, handling, habitat, normal behavior, pathology, assessment, enrichment, and conservation of these mammals, birds, and reptiles will fill the program. Working in the Australian bush gives you a valuable opportunity to learn to work without a veterinary hospital and provide a high standard of care with limited equipment.
Itinerary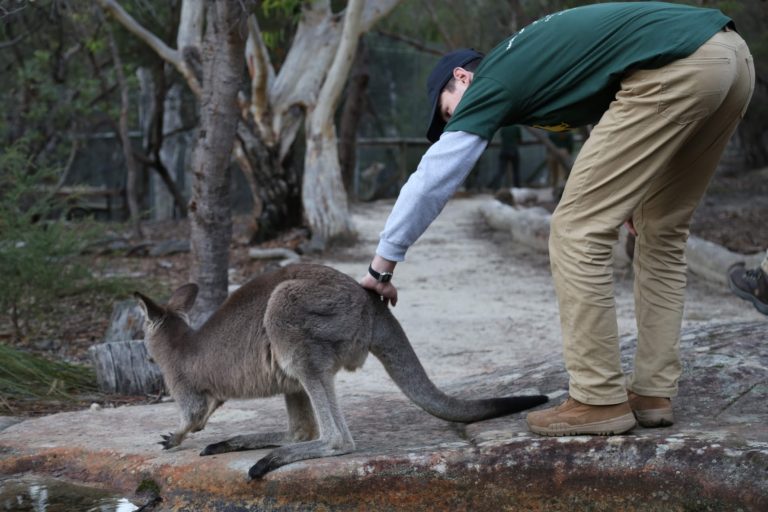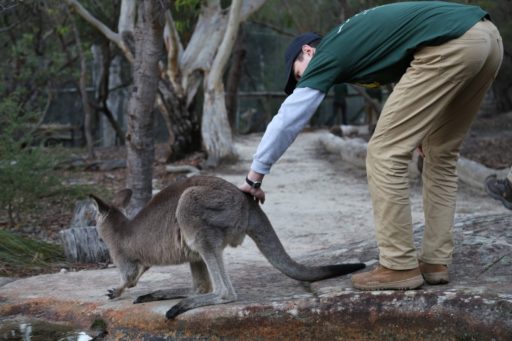 G'day mate! This is a sample itinerary and is subject to change. It is provided here to give you a feel for your program.
Arrive in Sydney with your group and head straight to Walkabout about two hours outside the city, traveling along the famous Australian coastline and through the tropical forest (or "bush" as they call it in Australia). You'll be welcomed at Walkabout by not only the experienced staff but also the hundreds of animals who live there, from Kangaroos and wallabies to Tasmanian devils and wombats. Once we're oriented and have our footing in the bush, we'll get right to work!
This is a veterinary program with a busy schedule, and all courses and volunteer work are focused on learning about, enriching, supporting, and caring for the animals at Walkabout. The special focus of this program is on learning the proper handling, maintaining, and caring for wild animals in a zoo or sanctuary setting, with unique opportunities to observe, interact with, and learn about Australian mammals, reptiles, and birds – practice that can be hugely valuable in future studies or career opportunities.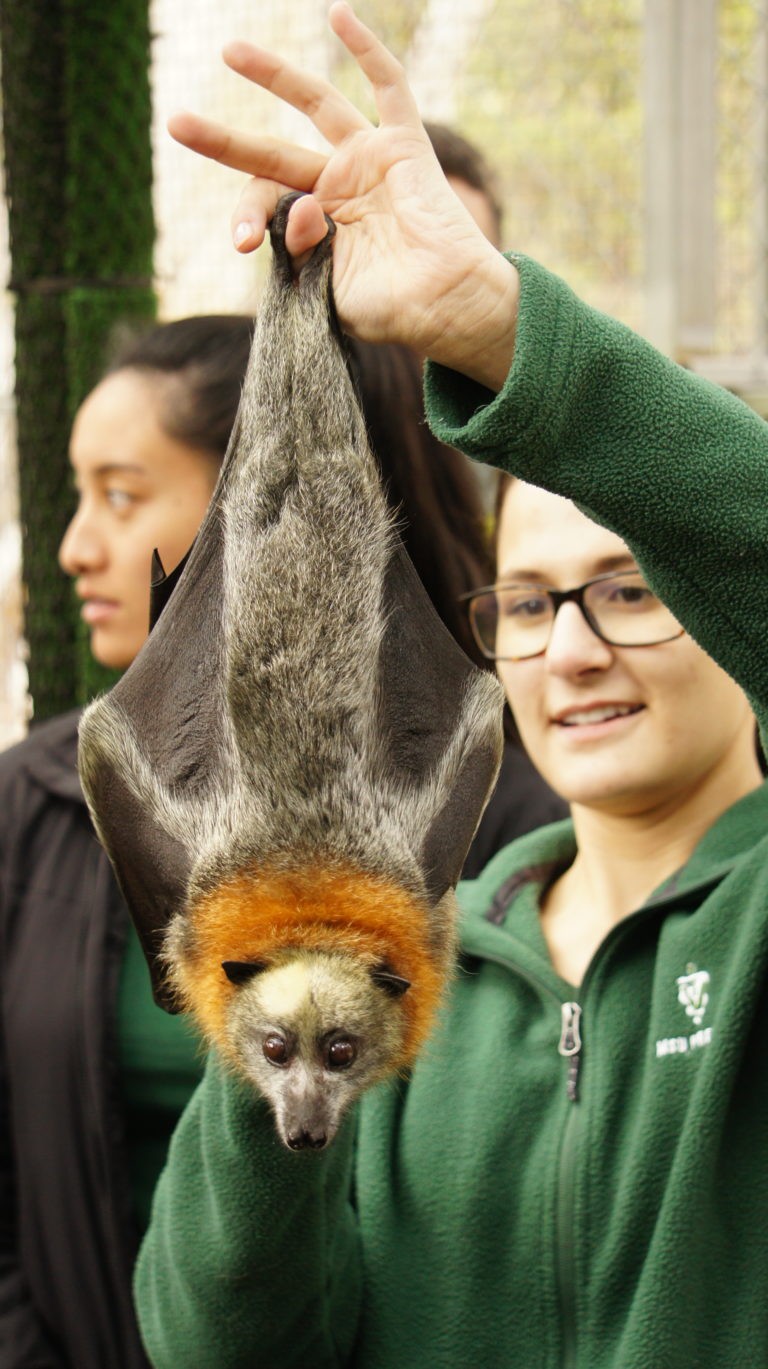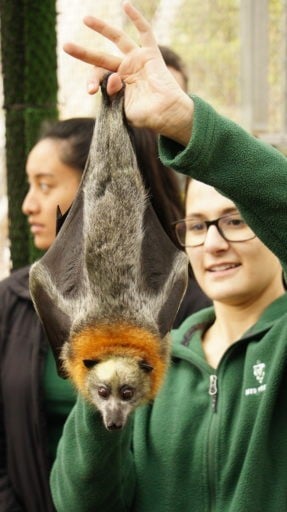 The schedule will vary but a typical day schedule will look something like this:
Breakfast at the house
Two hours of class time, focused on Australian animals. Generally you will have class as a large group, and all the project veterinarians will contribute to lectures throughout the program, so that you can learn from everyone's experience. Our "Australian Wildlife Handling, Conservation, and Care" course is presented through lecture, necropsies and labs, textbook and journal article readings, group work, video, observation, and handling, so don't be surprised if you find a parrot or a giant snake in the classroom with you.
Between class and lunch, you'll generally have a veterinary workshop led by your vet or ranger. This could be clinical rounds learning about the animals on the property, a study of animal behavior, or lab work such as a necropsy or splinting lab
Lunch break! Usually sandwiches and wraps.
Time to help take care of the animals! Enclosure care, handling labs and practice, and food prep are some of the afternoon chores that keep WWP going and give you a chance to learn everything from habitat to animal nutrition
Creating ethograms and designing, implementing, and evaluating enrichment projects is a huge part of zoo medicine, and will be a significant component of your time on project, often in the afternoons
Before dinner, you may have a cultural activity such as visiting aboriginal sites, or presentations of vet cases, or a discussion of vet specialities and a questions and answer panel of veterinarians.
Dinner time as a group
Evening activities such as movie night or game night. Remember – it's winter in Australia during American summer, so be sure to bring some warm pajamas and slippers for the cold nights!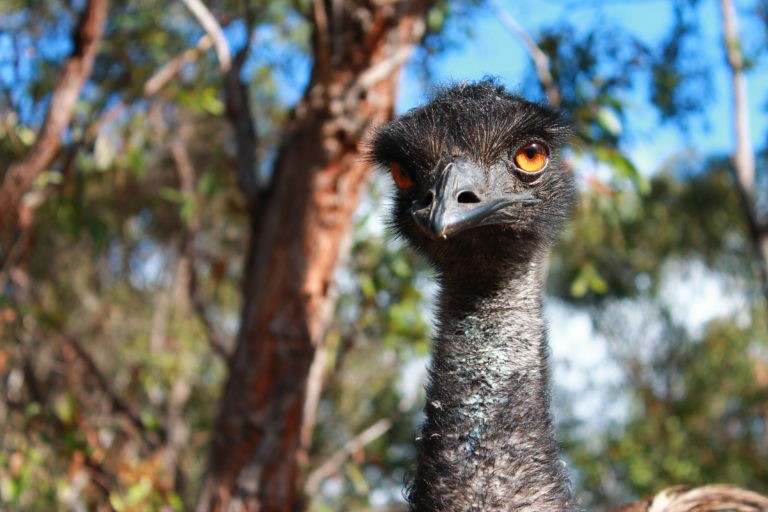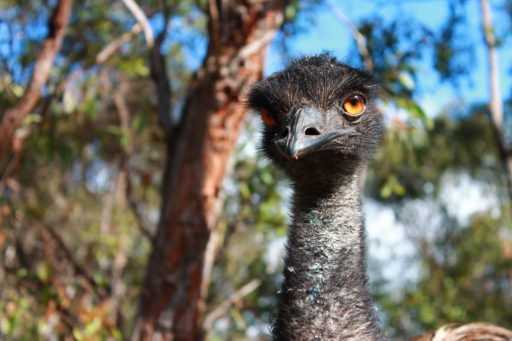 This mix of coursework, veterinary labs, training and practice in animal handling and care, husbandry, enrichment projects, and time with your vets as a group is designed to give you a deep understanding of the animals at the park. This underlying coursework and training helps provide the necessary "koala"-fications so that you can safely be in enclosures with the animals, handle them, or provide their necessary care.
You will not be treating animals in a veterinary clinic. Our lab time will be spent learning from necropsies, blood smears, practice models, and other practice labs. You will be able to interact with most of the animals on the property, including learning to properly handle most of them, and have time to observe, care for, and create enrichments for them. Please note that a rabies vaccination is required in order to work with and touch the flying foxes– vaccinated students will likely have 2 opportunities to interact with and care for the flying foxes, for approximately 2 hours at a time.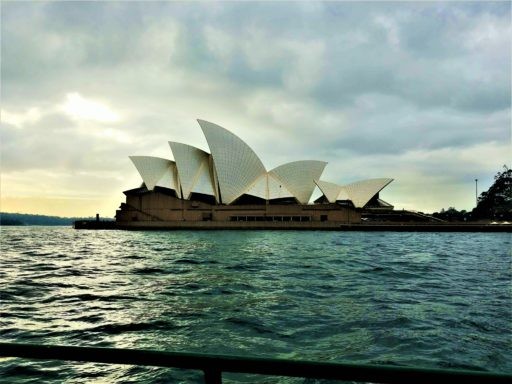 All your animal work, service, and study will be supervised by a veterinarian and sometimes also an expert animal ranger. Your work will not focus on husbandry and maintenance, though there is some upkeep required daily, but will instead focus on animal welfare and care from a veterinary perspective.
It's not all work! You'll have a chance to explore the Aboriginal sites on the property, practice your hand at throwing a boomerang, and do some stargazing in the Southern sky to learn how stars are still used today in telling Aboriginal stories.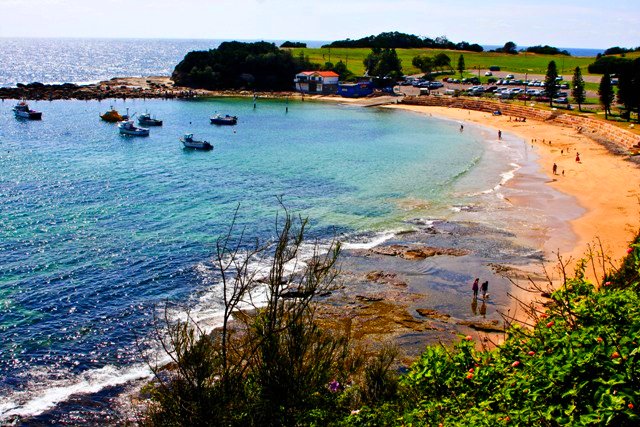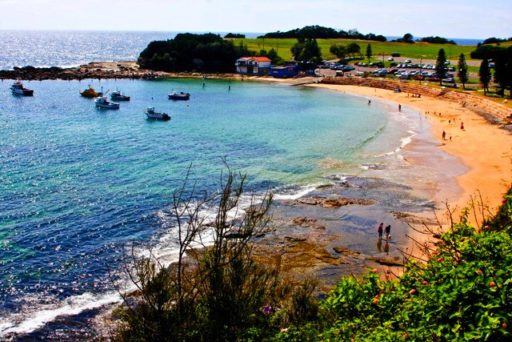 During the program, we'll take a one-day break to the nearby town of Terrigal to enjoy a beautiful beach, do a little shopping and relaxing, and take in the 360-degree views from atop the skillion, where you can sometimes spot whales or dolphins.
On the final Thursday of our program, we will pack up and head to Sydney. In the morning, we'll enjoy the famous Taronga zoo and get to spend some time behind-the-scenes with the zoo vet team, learning more about what they do each day. On the ferry from the zoo, you can see famous sites such as the Sydney Opera House and the Harbour Bridge.
Once we're checked into our hostel in Central Sydney, you'll have the chance to arrange your own adventure for Thursday evening and for all of Friday. (Please note that Thursday dinner, Friday meals, and Friday activities are not included in your tuition and are at your own expense. It's easy to arrange day trips and tours from the travel desk at the hostel.) There is LOTS to do and see in Sydney for free or very cheap, including the Royal Botanic Gardens, the Rocks, Darling Harbour, and lots of famous beaches. You can self-cater very cheaply from the grocery store (walkable) or choose to try out Sydney's famous restaurants throughout the day – it's up to you!
On Saturday, we'll head back to the airport as a group and get ready to say goodbye to the land down under.
Safety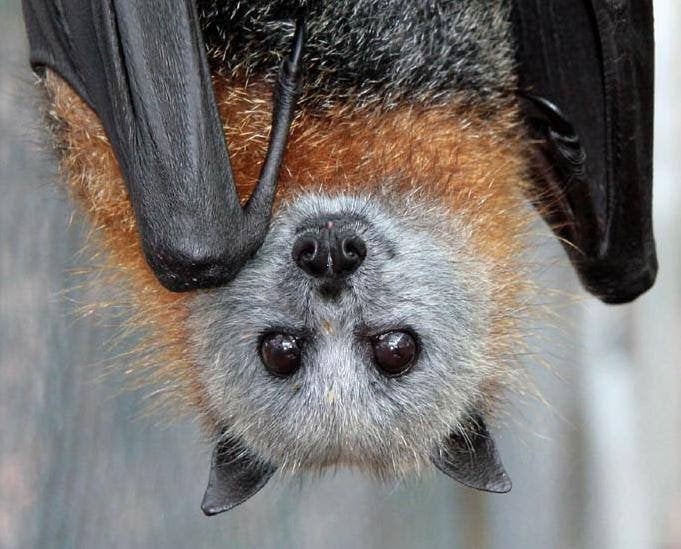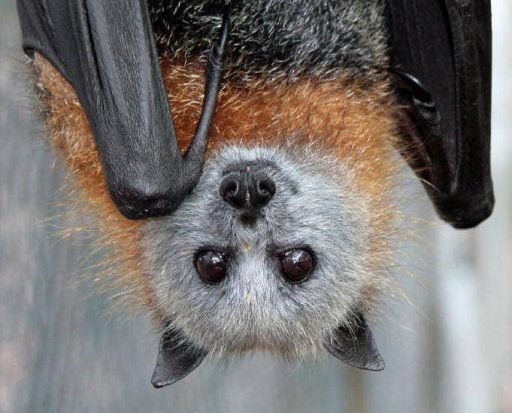 No vaccines are required but a rabies vaccine is required in order to handle the flying foxes. (Students without a rabies vaccine may interact with all animals except flying foxes.)
Orientation will include a "snake and spider safety" class – programs take place during Australian winter when snakes and spiders are not prevalent. We suggest that you speak with a travel doctor and follow his or her advice on what vaccines or preventatives are best for you.
Reading List
Some books that might be interesting to students traveling to Australia who want to learn more about traveling and exploring in Australia, Australia culture, or Australian conservation. (None of these are required reading.)
You can purchase any of the books on our suggested reading lists at the links below.*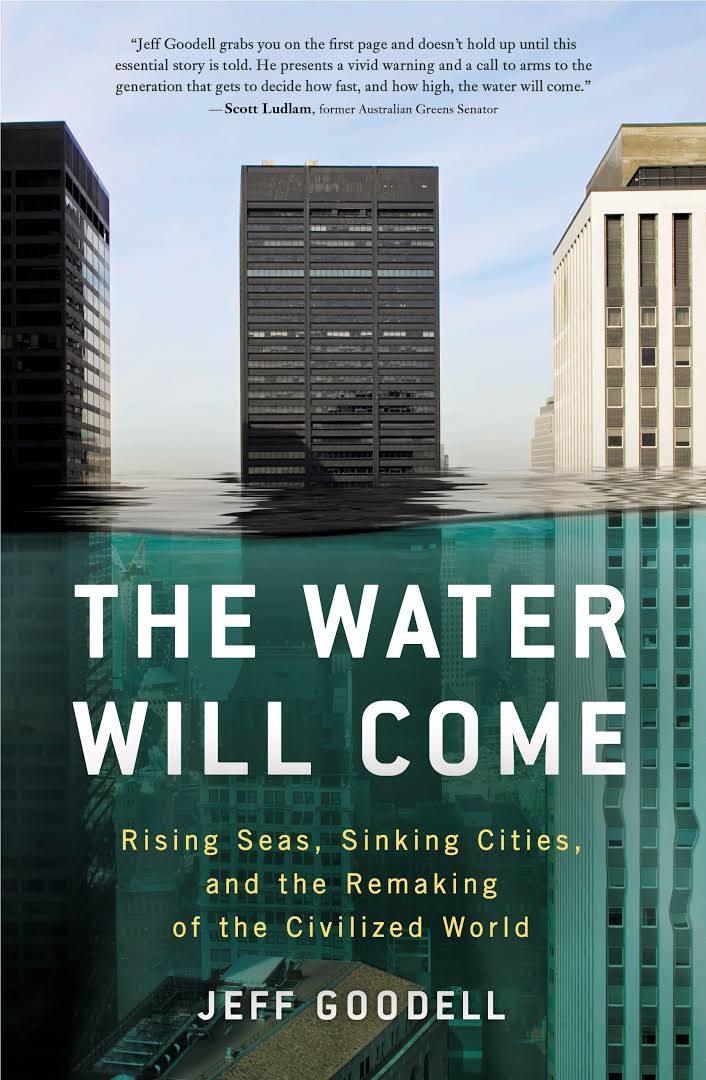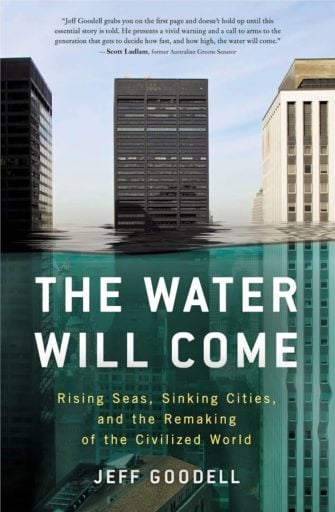 The Water Will Come, by Jeff Goodell. The Water Will Come is the definitive account of the coming water, why and how this will happen, and what it will all mean. As he travels across twelve countries and reports from the front lines, acclaimed journalist Jeff Goodell employs fact, science, and first-person, on-the-ground journalism to show vivid scenes from what already is becoming a water world.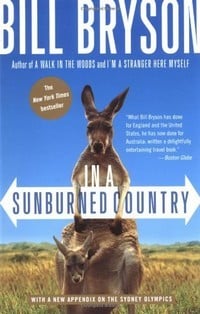 In a Sunburned Country, by Bill Bryson. Bill Bryson is a renowned author of books on travel who has lived both in the United States and Britain. Wanting to inform the international world about the often-ignored Australia, Bryson writes about his trips across the country, he names these sections: "The Outback," "The Boomerang Coast," and "On the Edges." In his humorous style, Bryson informs the readers about Australia's history, cultures, and sites.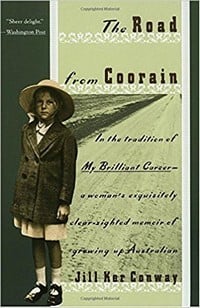 The Road from Coorain, by Jill Ker Conway. The Road from Coorain is the autobiography of Jill Ker Conway as she grows up in Sydney during the mid to late 1900s. Although it focuses on her coming of age, the story describes Australian life and explains the country's culture from the perspective of a young adult.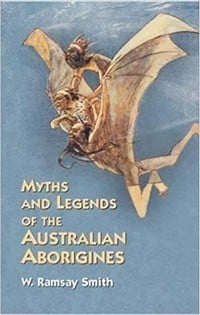 Myths and Legends of the Australian Aborigines, by W. Ramsay Smith. First published in 1932, this book describes Aborigine life and myths, including topics relating to hunting, witchcraft, and creation myths. Book Reads says, "With this colorful compilation of oral traditions, readers can savor tales as they were told by their aboriginal narrators—from reverent recountings of the origins of the world and human life, the stories about the roots of religious and social customs, to fanciful and humorous animal fables."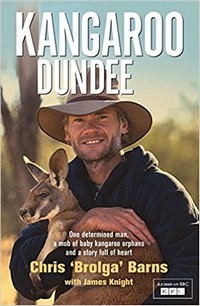 Kangaroo Dundee, by Chris Barnes. Amazon says, "Brolga (aka Chris Barns) is the 6ft 7in strong but sensitive Aussie star of the extraordinary BBC series Kangaroo Dundee. Brolga lives in a simple tin shed in the outback where he raises orphaned baby kangaroos. It is a sad fact of life that kangaroo mothers are at the mercy of speeding cars in this part of the world – killed on the road, their young still tucked up in their pouches. These young joeys holding on to life, have been given a second chance thanks to the kindness and dedication of Brolga, who carefully retrieves them and nurses them back to health.
Brolga has been rescuing these special creatures for years, slowly and painstakingly creating a kangaroo sanctuary for the many kangaroos he has saved, reared and loved. He has dedicated his life to observing how kangaroo mums care for their babies and does everything he can to replicate this. The baby kangaroos, traumatised by losing their mother so early, are tucked up into pillow cases and kept warm and comforted next to Brolga at night. We see him getting up at 4am to bottle feed them, washing them in a little tub, taking them to the supermarket and generally mothering them with heart breaking tenderness."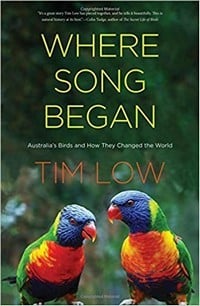 Where the Song Began: Australia's Birds and How They Changed the World, by Tim Low. Tim Low, an Australian biologist, writes many pieces on the topics of conservation and nature. In 2015, this book was the first nature book to win the best General Non-Fiction prize in the Australian Book Industry Awards. Where the Song Began gives insight about Australia's unusual birds and their complexity and power within the country's ecosystems and life. It is focused on the scientific nature of birds, although, it is still readable and thought provoking.
* Links are affiliate links – thanks for supporting Loop Abroad!