Applications are open for Summer 2023!
Read student reviews on GoOverseas and GoAbroad!
Message us about this program on Facebook!
Want to learn more about elephants?  Take this elephant research program at one of our favorite elephant sanctuaries deep in the mountains!
Earn 30 animal research hours for your VMCAS learning from elephant professionals about elephant welfare, the plight of Asian elephants, and field research methods.
Help with research on rescued elephant behavior and welfare! Explore research methods that provide the scientific basis for improving how we care for elephants, what environments we should provide them, and how to maximize their welfare in rescue settings.
Dates
This one-week program will be offered in Thailand on these dates:
June 25 – July 2, 2023
Enjoy this one-week program on its own OR add it seamlessly to any two-week program offered on these dates: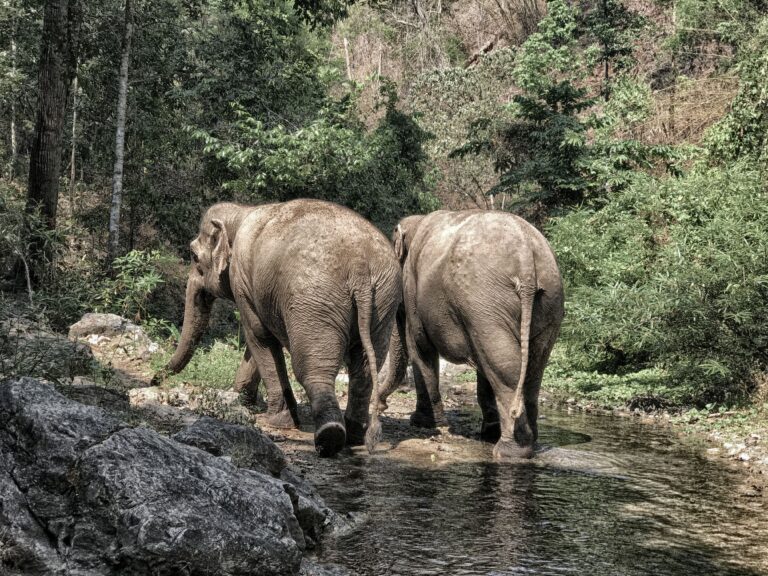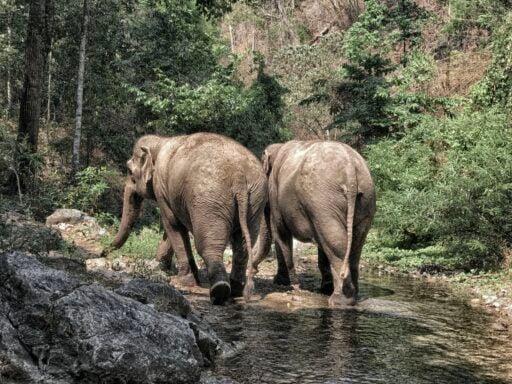 June 10 – June 25, 2023
*Program begins with departure from Chiang Mai, Thailand. Groups will return to the US on the final program date, plus or minus one day depending on the time of departure.
*Dates indicate estimated departure from and return to USA. There are no group flights available for this program. Students will be picked up and dropped off at the Chiang Mai airport. We will provide specific arrival and departure times upon enrollment to make sure we can easily pick you up and drop you off at the airport without interrupting program activities. Loop Abroad reserves the right to cancel any program at any time; in case of such cancellation by Loop Abroad, all payments will be returned in full.
Who It's For
This program is designed for adults 18 and over who are interested in becoming veterinarians, working professionally with animals, or learning more about animal care and veterinary medicine. There are no pre-requisites for this program. You do not need to be in school currently to apply. Individuals of any nationality may apply.
Applicants should be comfortable working with animals, hiking in the forest all day, and getting their hands, and everything else, dirty. This program can accommodate a maximum of 12 participants per session.
Tuition
Tuition is $1,750 USD.
For students already on a 2-week program in Thailand, you will be traveling by van into a different part of Thailand to take part in the Elephant Research Week.
Students not attending a 2-week program in Thailand will need to purchase international airfare to Thailand. Please contact [email protected] before purchasing international airfare.
The Elephant Research Week does not qualify for the $100 combined program discount when added to a program. Financial aid is not available for Elephant Research Week.
Itinerary
This program takes place at Burm and Emily's Elephant Sanctuary in a rural village in the Maechaem district.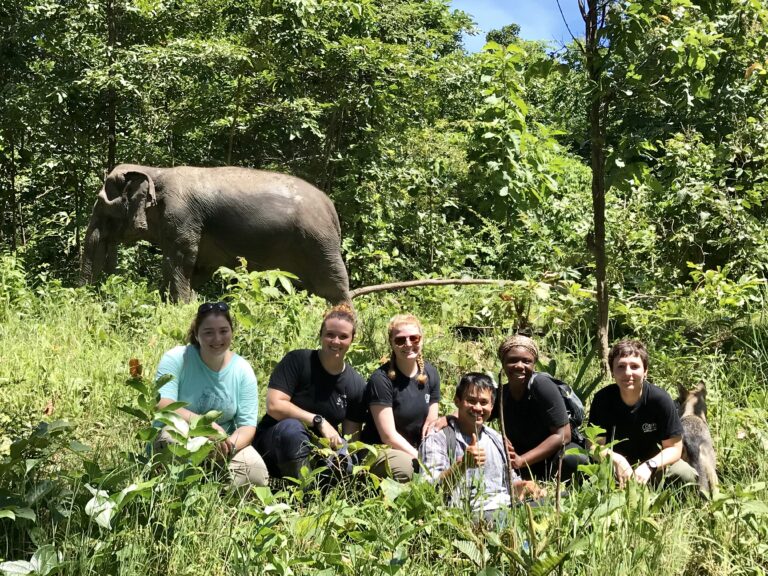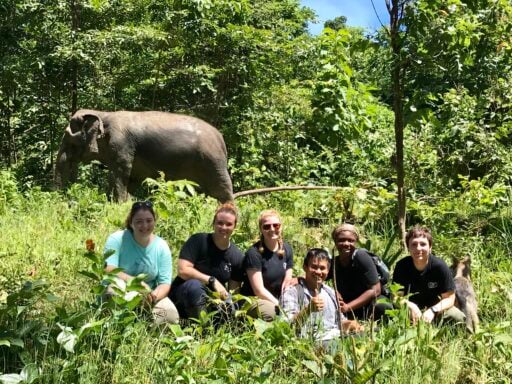 Each day, you will work with sanctuary staff and your Loop Abroad instructor to observe and care for the sanctuary's elephants. You'll go on several hikes through the mountains with the elephants to conduct behavioral observations in their natural environment and will observe elephants in their night enclosures. The data collected will be analyzed to create ethograms and provide data on the nutrition for each individual elephant.
We will also contribute to the sanctuary and to the elephants and other animals by providing a helping hand. We will help clean elephant shelters, prepare food for the elephants and perform dog and cat veterinary outreach. Be prepared to get dirty!
You will earn 30 research hours you can count on your VMCAS application in this amazing setting.
The Elephant Research Week will start by traveling together with staff from Chiang Mai to Maechaem on Monday. On Saturday after our week at the sanctuary, we will say goodbye to the elephants and return to Chiang Mai. All meals, travel within Thailand, housing, and activities are included in your tuition.
Your itinerary may vary slightly based on weather, holidays, and a number of other factors.
Reading List
Learn more about Thai culture, conservation, elephants, or veterinary medicine
None of these books are required reading. You can purchase any of the books on our suggested reading lists at the links below.*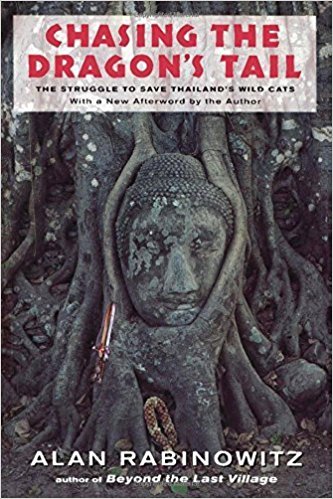 Chasing the Dragon's Tail: The Struggle to Save Thailand's Wild Cats, by Alan Rabinowitz. Alan Rabinowitz is one of the leading authors on protecting large cats in the wild. He is the director of the Science and Exploration Program at the Wildlife Conservation Society, and has led research expeditions all over the world. He is known for founding the world's first jaguar reserve, which lies in Belize. This book is a sad and beautiful tale of the author's struggle to understand Thailand and to help save the wild cat population of Thailand.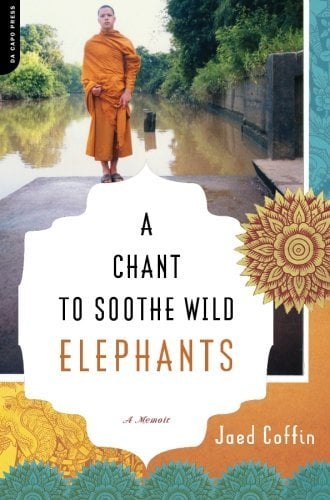 A Chant to Soothe Wild Elephants, by Jaed Coffin. Jaed Coffin lives in Maine, and was raised in the United States as a Thai American. When he was twenty-one-years-old, he left college life in New England to be ordained as a Buddhist Monk in his mother's native village of Panomsarakram, Thailand. This book is the story of his time in Thailand, and explores themes of displacement, ethnic identity, and cultural belonging. (NOTE: this book isn't about elephants.)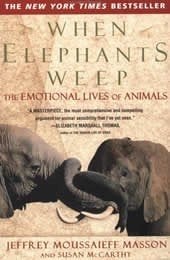 When Elephants Weep: The Emotional Lives of Animals, by Jeffrey Moussaieff Masson and Susan McCarthy. This New York Times Bestseller was heralded as "A masterpiece, the most comprehensive and compelling argument for animal sensibility…". Elephants are the national animal of Thailand, and are an important symbol in religion and culture there. They are also intelligent, social animals who are on the brink of extinction in Asia and Africa. This text is a great exploration of the emotional lives of elephants and an eye-opening tale for students of conservation and the behavior of animals, human or otherwise.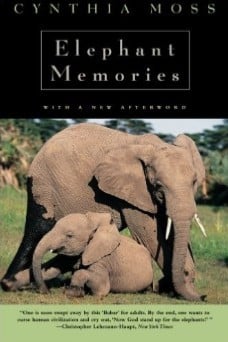 Elephant Memories, by Cynthia Moss. Cynthia Moss is founder and director of the Amboseli Elephant Research Project in Africa. As a study of a family of African Elephants in Kenya over twenty-seven years, this book is a moving and important book. "One is soon swept away by this 'Babar' for adults. By the end, one wants to curse human civilization and cry out, 'Now God stand up for the elephants!'", wrote Christopher Lehmann-Haupt of the New York Times.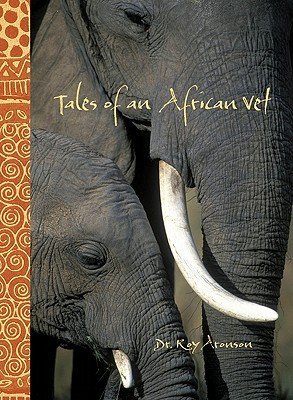 Tales of an African Vet, by Dr. Roy Aronson Booklist says, "For a veterinarian, it's one thing when one's patients are cuddly pet cats, dogs, and the occasional hamster. It's quite another when the cats turn out to be cheetahs, the dogs are part wolf, and the hamster? Well, that could be anything from a gorilla to an elephant, a puff adder to a crocodile. Through equal parts luck, timing, and desire, Aronson augmented his 25-plus-year career as a small animal veterinarian in South Africa with house calls to treat some of the world's largest and most dangerous creatures. Except that in Aronson's case, the "house" was anywhere from a rhino's cage at the renowned Pretoria Zoo to a lion's pride in the densest African bush. The case histories of the animals treated in these treacherous locations provide an exhilarating glimpse into the lives of numerous valuable and endangered species. As intrepid as Indiana Jones and as compassionate as Dr. Doolittle, Aronson shares harrowing, and sometimes humorous, adventures in an engrossing memoir about an unexpected career."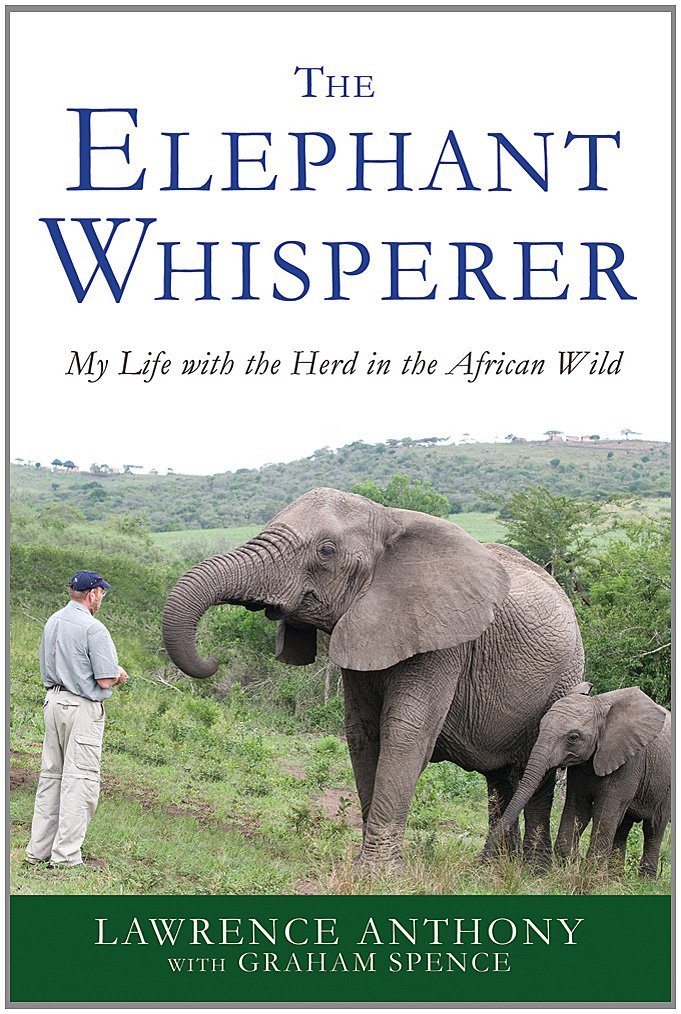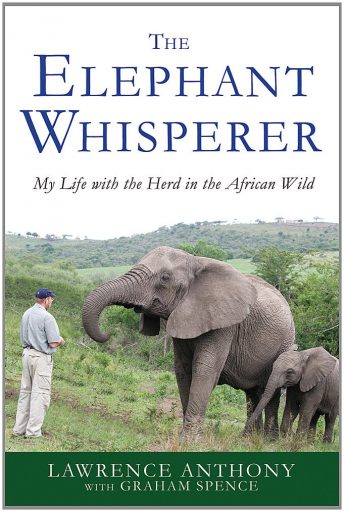 The Elephant Whisperer: My Life with the Herd in the African Wild, by Lawrence Anthony Publisher's Weekly says, "In 1998, prize-winning conservationist Anthony (Babylon's Ark: The Incredible Wartime Rescue of the Baghdad Zoo) purchased Thula Thula, "5,000 acres of pristine bush in the heart of Zululand, South Africa," transforming a rundown hunters' camp (dating to the 19th century) into a wild animal preserve and a center for eco-tourism. In 1999, Anthony agreed to take in a herd of "troubled" wild elephants, the first seen in the area in more than a century. Winning their trust, becoming deeply attached, and even learning how they communicate (deep, rumbling "whispers," sensed rather than heard), Anthony took enormous risks in the form of enraged elephants, distrustful neighbors, and poachers. Over time Anthony succeeds in his larger goal, winning support from the six Zulu tribes whose land borders the reserve ("most Zulus … had never set eyes on an elephant"); they eventually join Anthony's venture as partners in a larger conservation trust. An inspiring, multifaceted account, Anthony's book offers fascinating insights into the lives of wild elephants in the broader context of Zulu culture in post-Apartheid South Africa."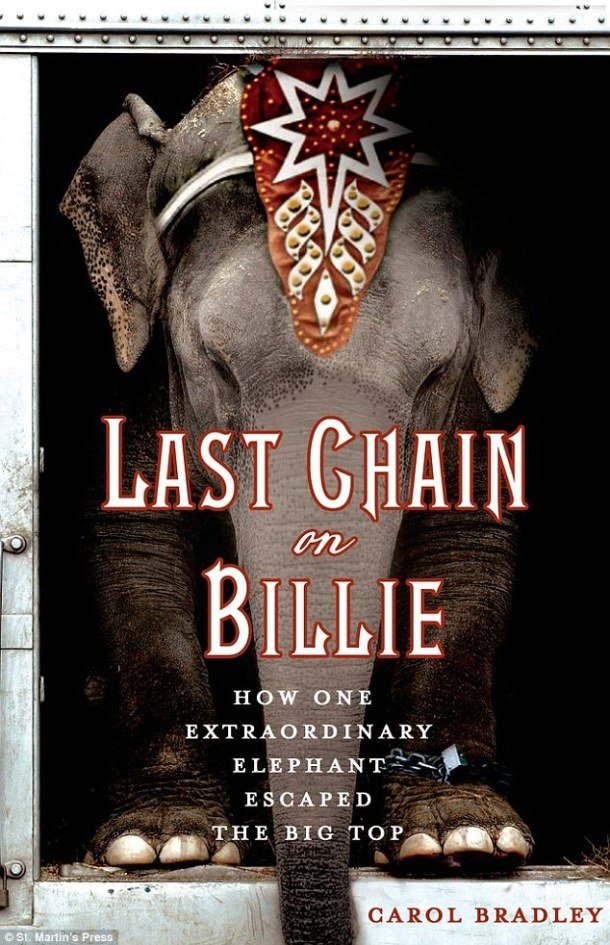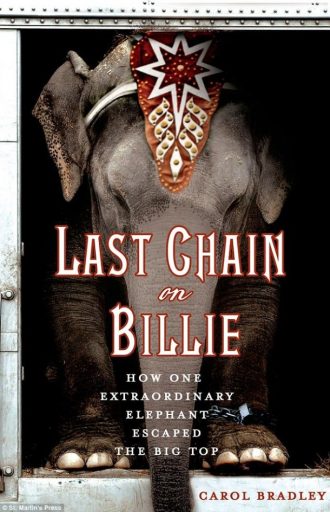 Last Chain on Billie: How one Extraordinary Elephant Escaped the Big Top, by Carol Bradley " Like the majority of captive elephants, Billie was captured as a calf, surfacing in the U.S. in 1966 as a four-year-old. After several years in a private zoo, she joined the circus, where she was trained to perform. Circuses are an extremely demanding environment for elephants, with constant travel from one town to another, multiple shows per week, and continuous noise. Although she learned difficult tricks and was a star, Billie rebelled and began to be known as a difficult elephant, gaining a reputation for attacking her trainers. Meanwhile, two former elephant trainers had grown disenchanted with circuses and the distorted lives that circus elephants lived, and they decided to found a sanctuary for former performing elephants in Tennessee. The story of how Billie got to the Elephant Sanctuary, and of how the sanctuary overcame the prejudices of both the circus and zoo communities, is both heartrending and uplifting. Full of details of the brutal life endured by performing elephants, of battles between Billie's owner and the U.S. Department of Agriculture over her ultimate fate, and of Billie's eventual adjustment to a life of freedom, Bradley's newest has produced a well-researched winner." – Booklist
*Links are affiliate links – thanks for helping to support Loop Abroad!