Message us on Facebook about this program!
Read student reviews on GoOverseas and GoAbroad!
Get SCUBA certified, conserve precious coral reefs, and stretch out on the beach!
Two weeks of SCUBA diving and tropical island living on the beach. Learn how to SCUBA dive, practice identifying tropical fish, check coral health, and join in marine research and conservation projects.
The New Heaven Reef Conservation Program is on Koh Tao island in the Gulf of Thailand. It's known throughout Thailand for its work in marine conservation. The center – where we will stay – is nestled in a quiet bay on the beach away from the town and night life. We're here to focus on exploring and conserving the coral reefs, cleaning up the ocean, learning from experts about this spectacular but threatened ecosystem, and having a wonderful time living on a beautiful island.
Who It's For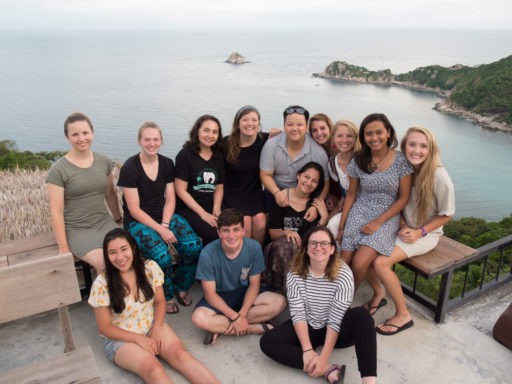 This program is open to students and young adults age 18 – 23. There are no academic pre-requisites for this program. You must be able to swim and be physically fit enough for outdoor activities such as hiking and SCUBA (prior SCUBA experience not required).
Groups have a maximum of 12 students and will be led by a Loop Abroad instructor. Courses and excursions in Koh Tao will be led by the researchers and staff at New Heaven Reef Conservation Program.
Highlights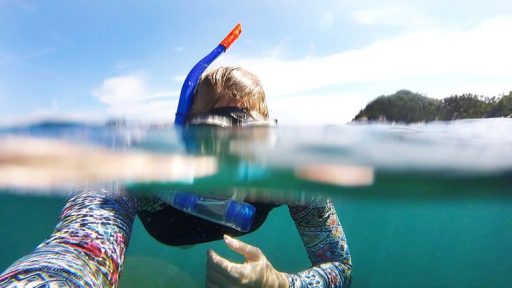 • Get SCUBA certified and learn conservation diving
• Learn to identify and keep records of marine invertebrates, tropical fish and coral health
•Dive in the Gulf of Thailand where sea turtles and blacktip reef sharks make their home (and you'll see some if you're lucky!)
•Contribute to coral reef rehabilitation, helping to restore marine life ecosystems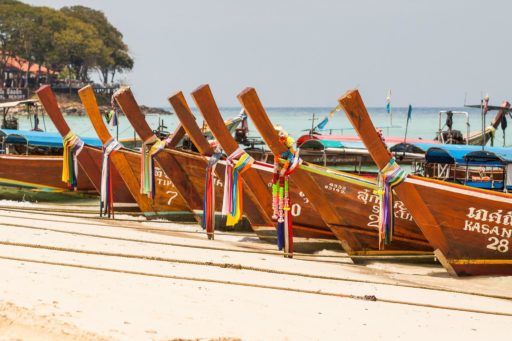 Some of the topics explored during this program are:
• Coral reef ecology and reef species
• Climate change and coral reefs
• Sea turtle and giant clam research
• Shark population dynamics
• Culture and development
Dates open for applications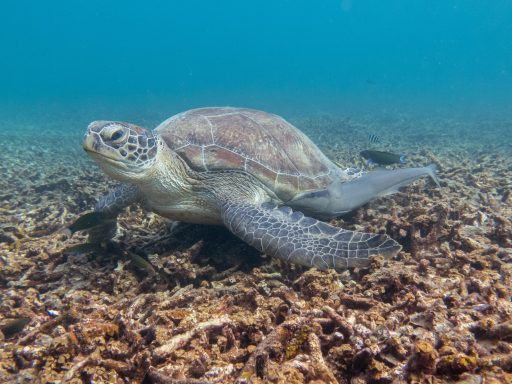 May 18 – June 3, 2019
June 15 – July 1, 2019
*Subject to 1 days +/- on the schedule, includes travel days
*Dates indicate departure from and return to New York. Final dates may be adjusted 1 day in either direction to accommodate flight availability. Some flights depart early in the morning and may require students to arrive in New York the night before. Loop Abroad reserves the right to cancel any program at any time; in case of such cancellation by Loop Abroad, all payments will be returned in full.
Want to stay for a whole month? Add a two-week program!
Our Tropical Marine Biology + SCUBA program is a full adventure on its own, but it can be combined with our College Veterinary Service or our Vet School Veterinary Service in Thailand.
Combine any two programs for an automatic 10% discount on your tuition.
SCUBA Experiences for all levels
For many students, this will their first time SCUBA diving – and there's no better place for it!
We accept students of all levels – from zero experience to Advanced Open Water or higher certifications. Each morning, we'll break into small groups based on experience level for the day so everyone can learn at their own pace. We'll regroup at dinner.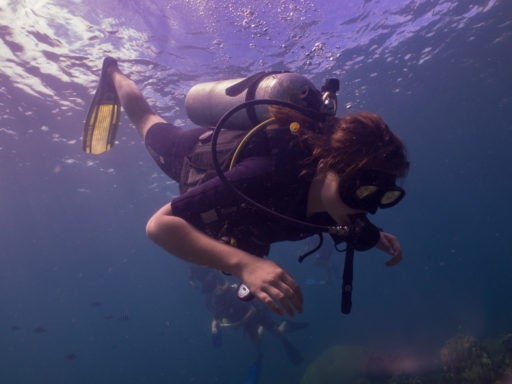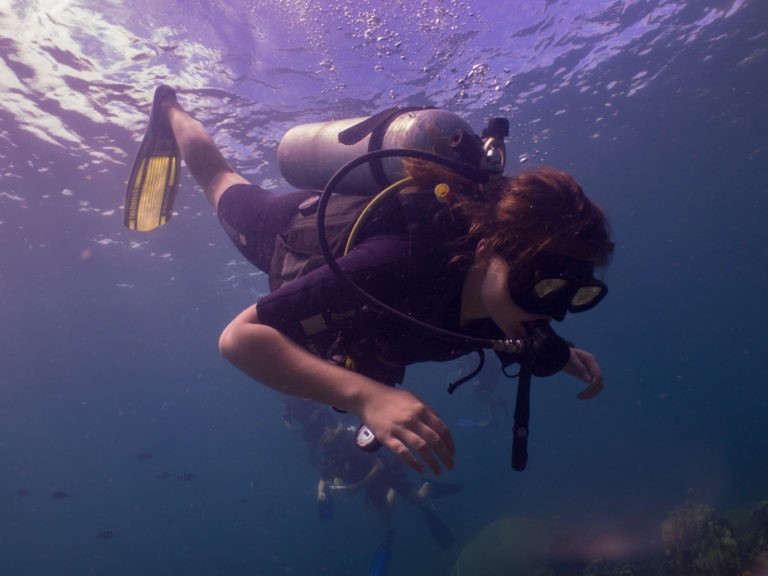 If you don't have any SCUBA certification, you'll have the opportunity to complete your Open Water Diver certification over the first three days. Each day, you'll study and practice skills with your dive instructor in a small group. After your certification, you'll join an ecological monitoring and coral restoration dive with New Heavens' experienced Research and Conservation team.
If you are an Open Water SCUBA diver already, you'll spend the first two or three days to complete your Advanced Open Water Diver certification in a small group with your dive instructor. After your certification, you'll join ecological monitoring and coral restoration dives with New Heavens' experienced Research and Conservation team.
If you're already an Advanced Open Water SCUBA diver or have a higher certification, you will need to prove your skills on a refresher dive then you'll jump right in with the experienced Conservation and Research divers! From day one, you'll learn and practice advanced skills related to marine species identification, coral health monitoring, artificial reef construction and maintenance, and/or other skills. Just like students doing the SCUBA certifications, you may need to attend small group lectures and training to prepare for each day's conservation dive.
As long as the weather and visibility are good, all students can expect to enjoy 5-6 SCUBA dives and at least one snorkel experience. Your group will have up to 12 participants, one Trip Leader, and the New Heaven Reef Conservation Program instructors.
Tuition and What's Included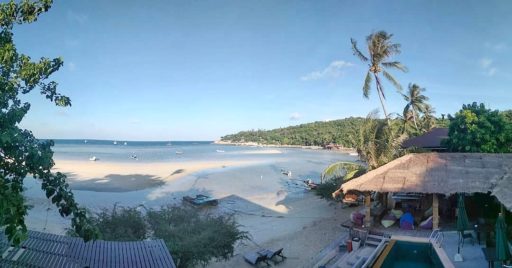 Tuition is $3,950 USD plus international airfare. Students must depart from New York, NY on the group flight, which is an estimated $1,800 USD round-trip including taxes and fees.
Tuition includes all housing, meals, program fees, activities, equipment, SCUBA certification and transportation in Thailand.
Students may be in double rooms or dorm-style rooms with students of the same gender with twin beds or a shared bed. Rooms do not have air conditioning. Meals will be eaten as a group at local restaurants, mostly serving Western and Thai food. Special diets and food allergies can be accommodated.
Students who secure their enrollment in a Loop Abroad program for summer 2019 before September 30, 2018 will receive a 10% early enrollment tuition discount.
Courses and Hours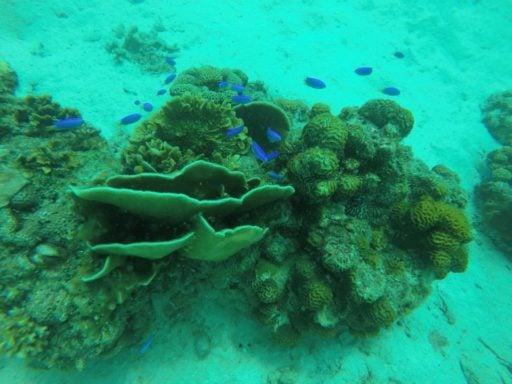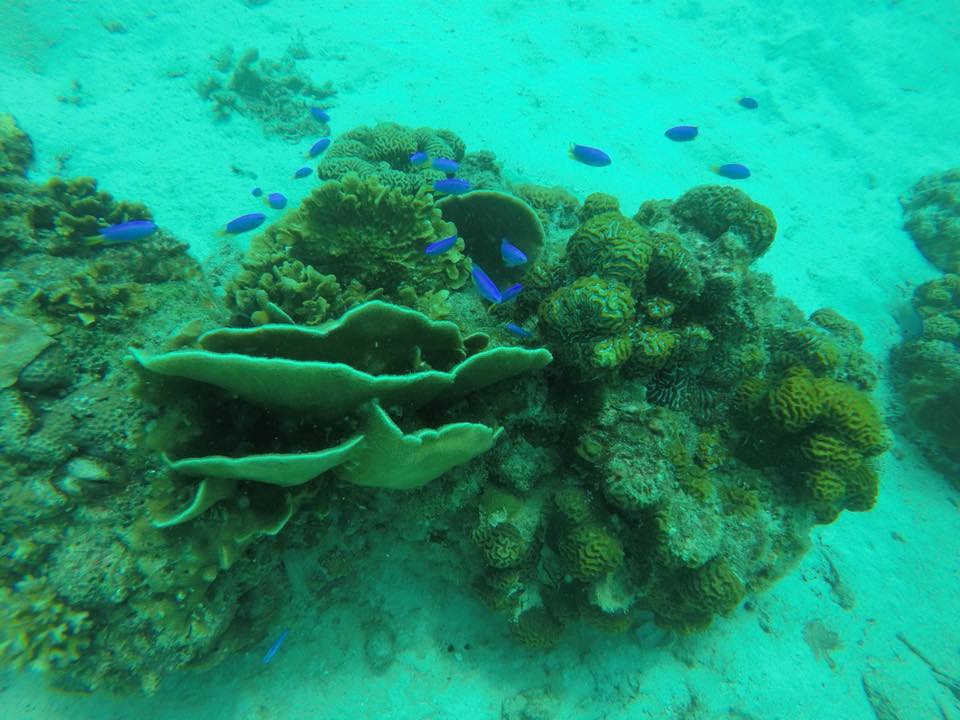 This program provides experience hours that can be recorded on your application for veterinary school or other graduate schools:
15 animal experience hours
20 research hours
20 service hours
SCUBA certifications are offered through Scuba Schools International (SSI).
You may also enroll for college credit through our School of Record, Iowa Wesleyan University. This may be necessary if you are applying for credit at your school.
You will be issued a certificate for 20 service hours at the end of the program. Loop Abroad is a certifying organization for the Presidential Volunteer Service Award, for which those hours are eligible.
Reading List
Learn more about marine conservation and ecosystems!* (None of these books are required reading.)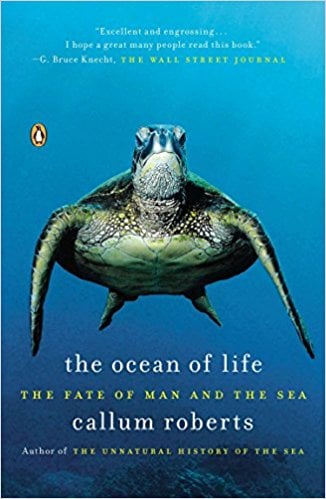 The Ocean of Life: The Fate of Man and the Sea, by Callum Roberts. The Guardian writes, "Roberts is that precious pearl: a practicing scientist who not only knows his field inside out, but also understands how to write compelling, persuasive non-fiction. . . . To use the vernacular of his book, he has trawled and plundered these experiences to craft the nearest thing we are ever likely to get to an all-encompassing manifesto for sustainable marine management."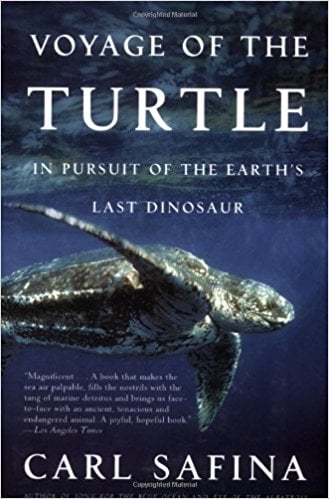 Voyage of the Turtle: In Pursuit of the Earth's Last Dinosaur, by Carl Safina. Bill McKibben, author of Deep Economy, says, "Carl Safina is like some extraordinary astronaut who goes into space and comes back with fantastic tales of other planets and the creatures who inhabit them. Except that the marvelous planet is our own. This is a story of stoicism and wonder that will make the oceans seem that much richer to all who read it."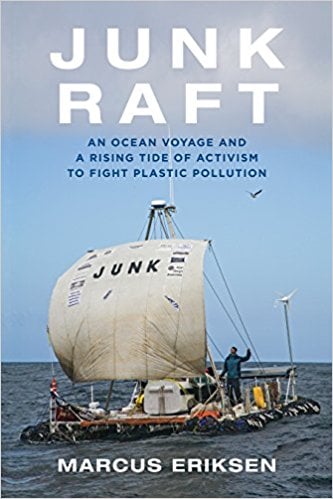 Junk Raft: An Ocean Voyage and a Rising Tide of Activism to Fight Plastic Pollution, by Marcus Eriksen. Filmmaker James Cameron says, "This book combines many of my favorite things—adventure far from shore, the spirit of exploration, and the fight to save our oceans—all in a gripping narrative that's also a parable for our time. In the battle for the future of our living world, Marcus Eriksen is a true warrior."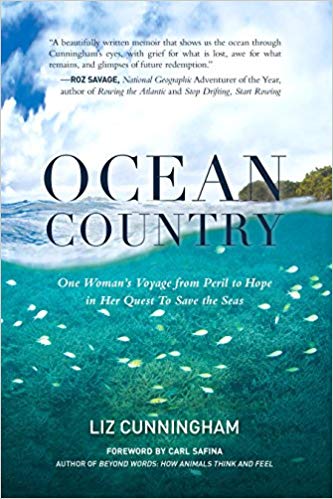 Ocean Country: One Woman's Voyage from Peril to Hope in her Quest To Save the Seas, by Liz Cunningham. Publishers Weekly writes, "With genuine emotion and great pragmatism, Cunningham makes passionate pleas for the continued health of the planet."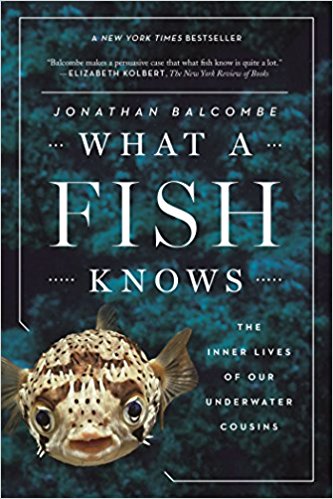 What a Fish Knows: The Inner Lives of Our Underwater Cousins, by Jonathan Balcombe. Cornelia Funke, The Observer, remarks, "Numerous books have shown me how utterly ignorant I am about most creatures I share this planet with, but none humbled me more than What a Fish Knows by Jonathan Balcombe."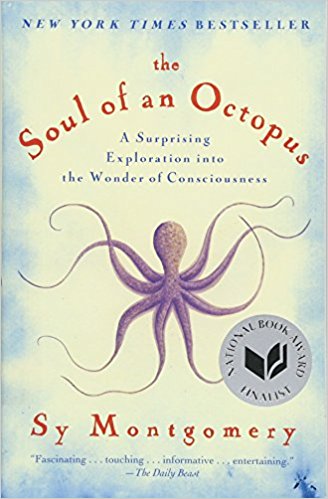 The Soul of an Octopus: A Surprising Exploration into the Wonder of Consciousness, by Sy Montgomery. Kirkus Reviews says, "With apparent delight, Montgomery puts readers inside the world of these amazing creatures. A fascinating glimpse into an alien consciousness."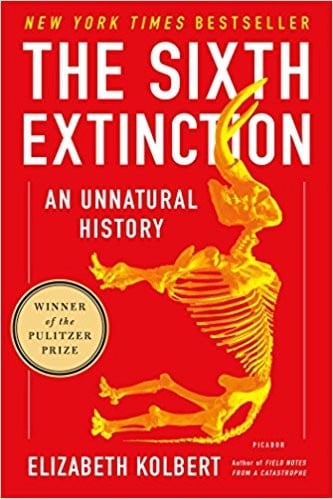 The Sixth Extinction: An Unnatural History, by Elizabeth Kolbert. President Barack Obama writes that this Pulitzer Prize winner is, "a wonderful book, and it makes very clear that big, abrupt changes can happen; they're not outside the realm of possibility. They have happened before, they can happen again."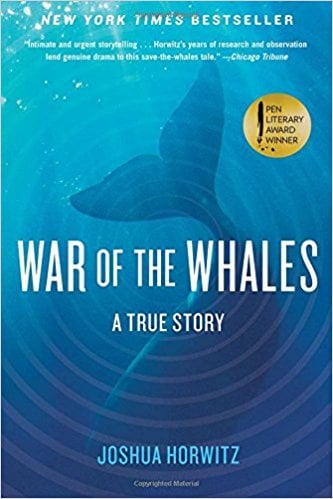 War of the Whales: A True Story, by Joshua Horwitz. Chicago Tribune hails this story as, "Intimate and urgent storytelling….Horwitz's years of research and observation lend genuine drama to this save-the-whales tale. The author paints rich portraits of his subjects, much fuller than the rote physical descriptions and caricatures that might pass for characterization in a breezier work of nonfiction.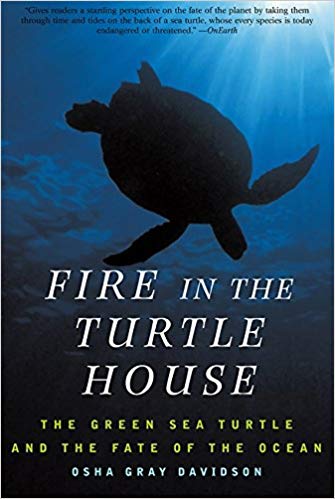 Fire In The Turtle House: The Green Sea Turtle and the Fate of the Ocean, by Osha Gray Davidson. The Los Angeles Times praises this as, "A hard-working, sincere and scientifically valuable little book. …[Davidson ] is a disciplined and cogent storyteller."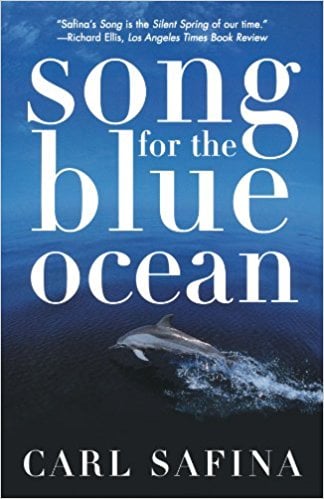 Song for the Blue Ocean: Encounters Along the World's Coasts and Beneath the Seas, by Carl Safina. Harry E. Demarest of the San Francisco Chronicle writes, "[Safina's] bright new voice joins that influential chorus, which includes Rachel Carson and Jacques Cousteau, of scientists turned eloquent ocean advocates."
*Links are affiliate links – thanks for helping to support Loop Abroad!
*Links are affiliate links – thanks for supporting Loop Abroad!