Applications for Summer 2021 are now open! 
Enroll and deposit for 2021 by Sep 30 and SAVE $100 with our Early Enrollment Discount!
Volunteer with cheetahs on the African savanna and take a safari through Kruger National Park!
Read student reviews on GoOverseas and GoAbroad!
Message us on Facebook about this program!
This two-week adventure of a lifetime gives you the opportunity to go to South Africa to volunteer at a cheetah breeding and conservation facility, learn about African wildlife hands-on in the African savanna, go on safari in Kruger National Park, and take "ABCs of African Big Cats: Anatomy, Behavior, and Conservation" taught by Loop vets right alongside the cats themselves. Though the volunteer facility isn't a hospital, you will be gaining valuable experience learning and implementing the important work conservation and zoo vets do.
Who It's For
This program is designed for university-aged students who are interested in becoming veterinarians or working professionally with animals. Participants must be at least 18 years old. Most are 18 to 25.
You do not need to currently be in college, have a specific major or degree, or have any veterinary experience for either program. Individuals of any nationality may apply.
Each group of up to 10 students will have its own veterinarian, though multiple groups may have class together to learn from one another's vets. Loop Abroad groups will have exclusive access to a cheetah conservation center during the program.
Highlights
• Feed and help provide medical care to cheetahs throughout the program
• Maintain and care for cheetah facility and enclosures
• Learn about all aspects of care and management of captive wildlife
• Go on safari through Kruger National Park, one of the largest national parks in the world and home to almost 150 large animal species (more than any other game reserve in Africa) including lions, leopards, rhino, elephants, and buffalo
• See a variety of wildlife each day that calls the African savanna home
• Visit a cultural village and have a private conservation and veterinary workshop with a local ranger while at Kruger
• See Itinerary here!
Dates open for applications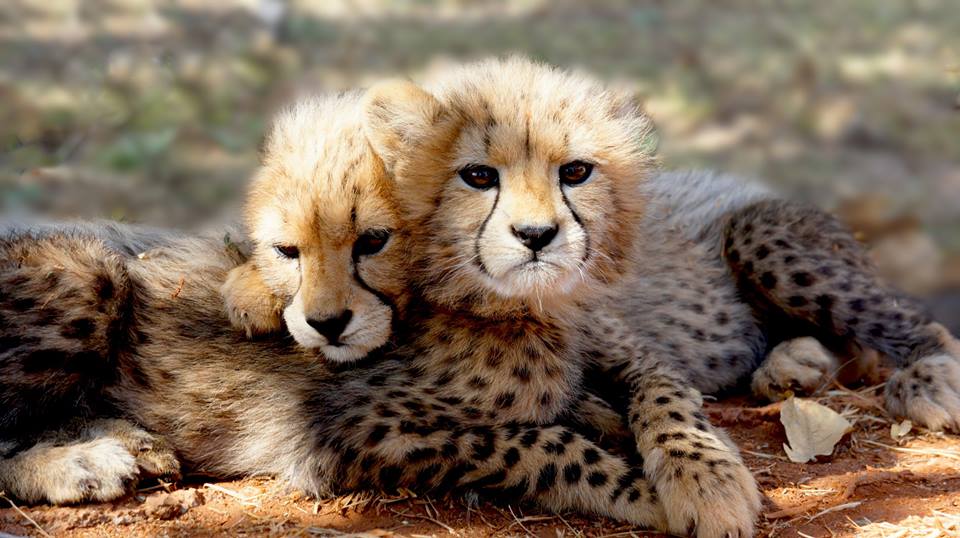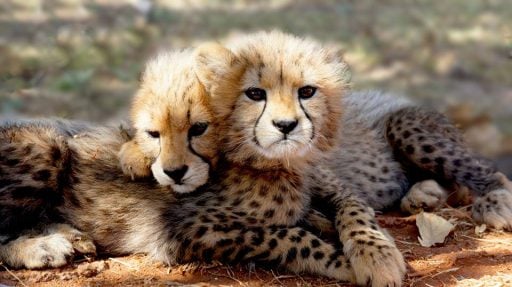 Summer 2021
May 16 – May 30, 2021
May 30 – June 13, 2021
June 13 – June 27, 2021
June 27 – July 11, 2021
July 11 – July 25, 2021
*Bonus weeks can be added to these program dates.
*Subject to 1 days +/- on the schedule, includes travel days
*Dates indicate departure from and return to New York. Final dates may be adjusted 1 day in either direction to accommodate flight availability. Some flights depart early in the morning and may require students to arrive in New York the night before. Loop Abroad reserves the right to cancel any program at any time; in case of such cancellation by Loop Abroad, all payments will be returned in full.
Three weeks sound better than two? Add a Bonus Week!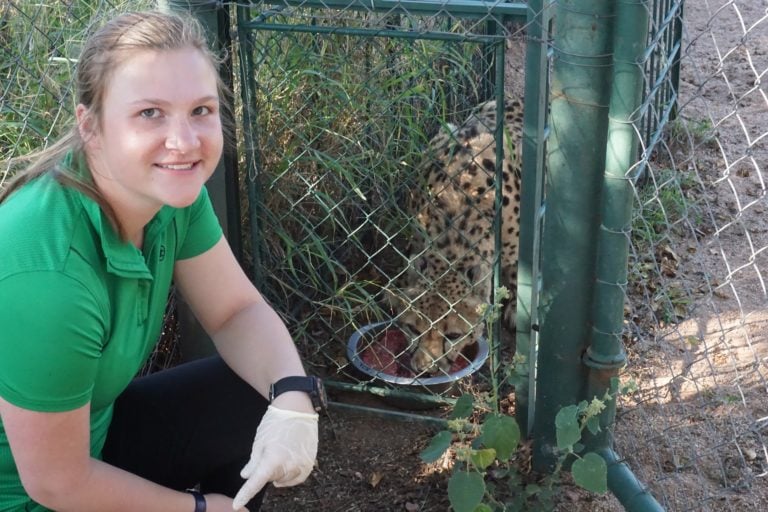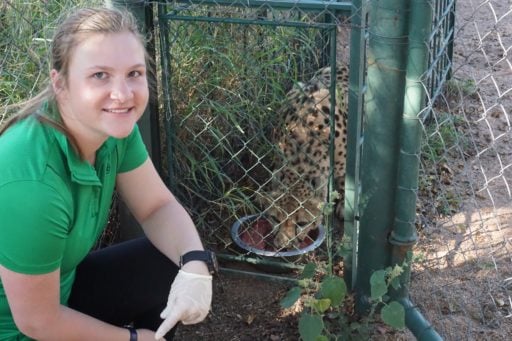 Build your own three-week adventure by adding Thailand's Marine Bonus Week or Elephant Bonus Week. For this, you'll need to purchase additional airfare from South Africa to Thailand.
Want to travel longer with us? Add another two-week program in the Amazon, Galapagos, Thailand, Australia or South Africa and save $100 on each program tuition.
South Africa for one month: 2 programs, 6 credits
This program can be combined seamlessly with our South Africa Zoo Medicine program for a full four weeks of veterinary courses in South Africa. Programs begin and end in South Africa on Sunday, so you can go directly from one program to the next, with no additional airfare. You will receive a $100 discount on each program tuition for combining the two programs.
Tuition: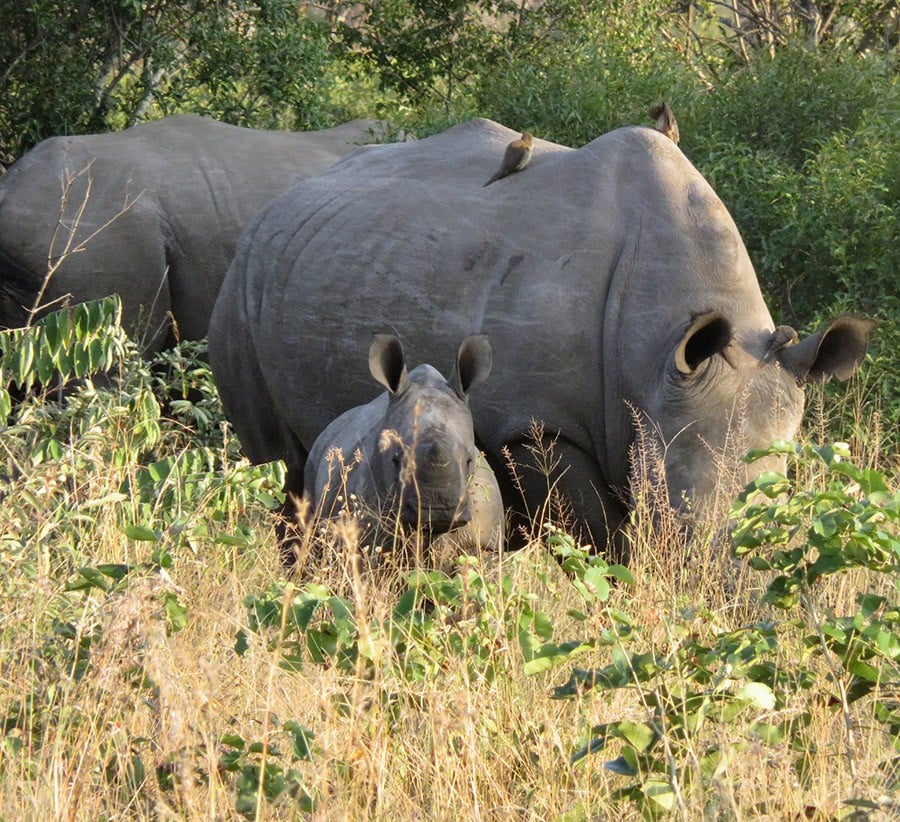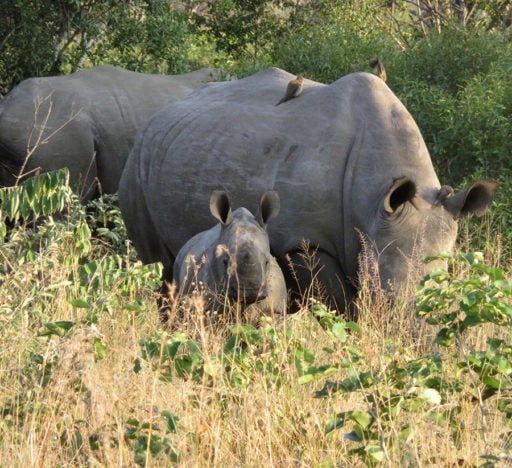 Tuition is $3,950 $3,850USD – if you deposit by Wed, September 30 – plus international airfare. Airfare on the group flight from New York, NY is $1,610 round-trip including taxes and fees. Participants must fly on the group flight unless otherwise arranged with Loop Abroad (fees apply to flying off the group itinerary).
Interest-free payment plans are available. Current college students may be able to use federal financial aid toward their tuition. Your space is not held until your $1,000 deposit (credited toward tuition) is paid.
Tuition does not include medical insurance – if you don't have medical insurance that covers you while abroad, you can purchase travel medical insurance. We can help you find a plan that meets our insurance requirements.
Courses and Hours
This program was designed with pre-vet students in mind. For your application to vet school (VMCAS), this program provides the following hours:
Veterinary Hours: 50 hours
Research Hours: 15 hours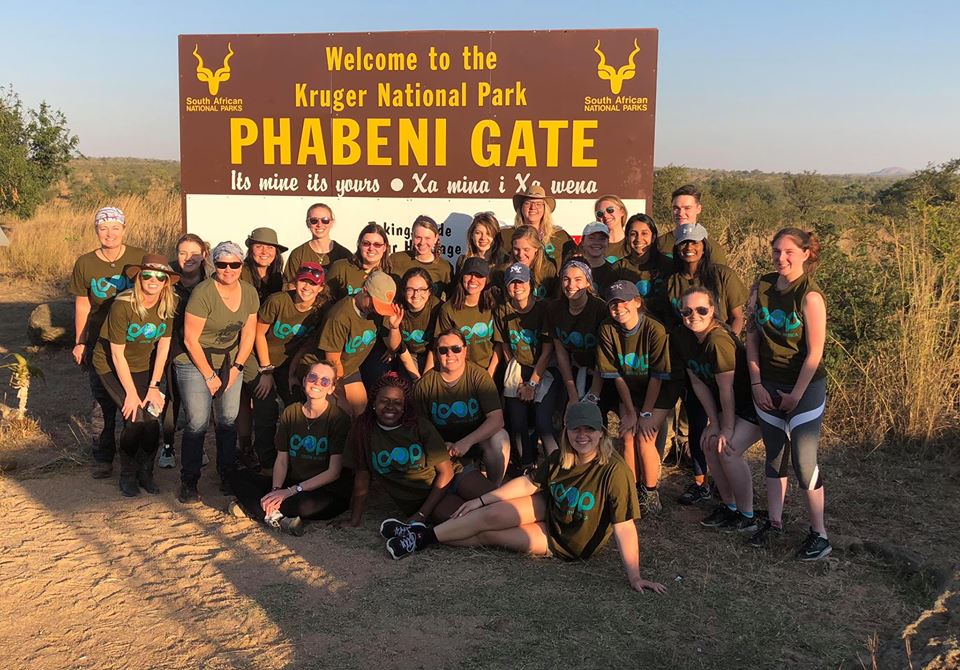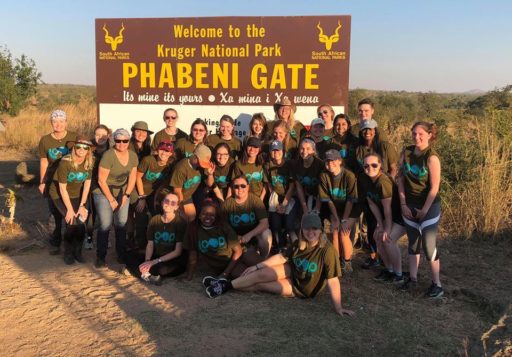 Students can calculate their own record of hours for their VMCAS or other applications, but will earn at least this many hours.
The AVMA says "If you have the opportunity to work… for veterinarians who work with different species, that's a bonus that can make you more appealing to a veterinary school admissions committee." We're proud to offer you that opportunity!
You will get to know your vet during the program, and they will get to know you! If you participate to the best of your ability, you'll be well-positioned to ask for a recommendation letter at the end of the program.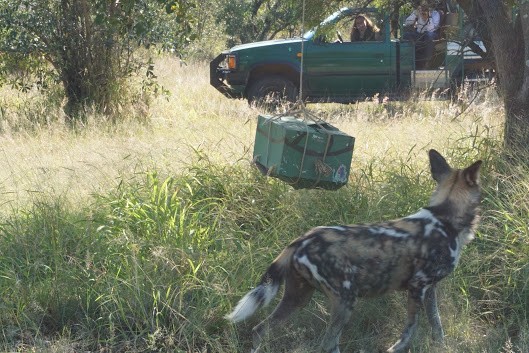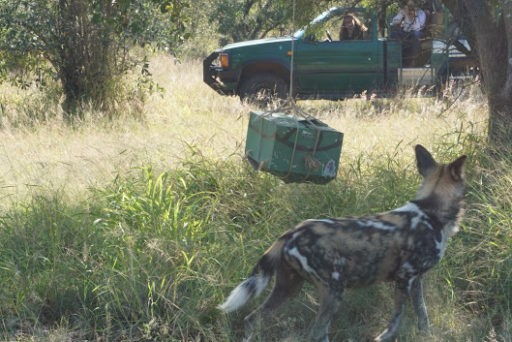 This program provides a total of 80 service hours. Loop Abroad is a certifying organization for the Presidential Volunteer Service Award, for which those hours are eligible.
You can receive 3 credits from University of Findlay for this program. (Additional fee applies.) Loop Abroad can also assist you in working to get credit directly from your school. If you are seeking credit from your college or university, please contact us for any assistance needed.
Want to travel with us longer?
Link this program to another two-week program and save $100 on each tuition. This program can combine with:
Itinerary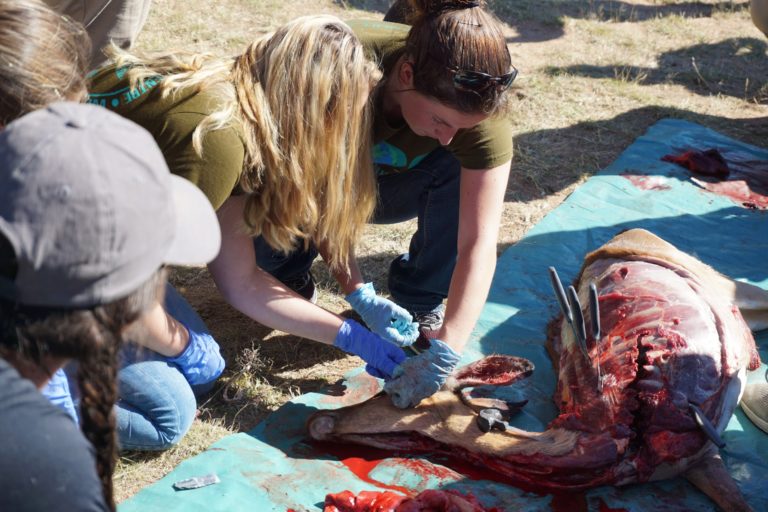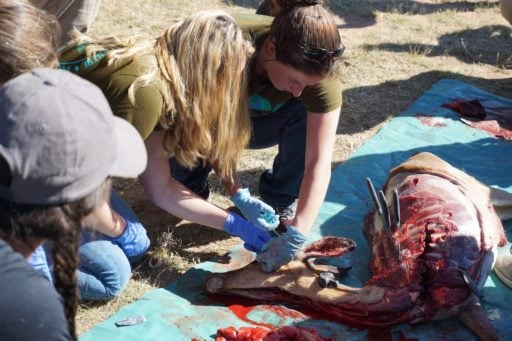 During the week, you'll split your time between volunteering at the cheetah facility and learning from our Loop Abroad vets. At the end of week one, the group will depart for a two-day safari through Kruger National Park.
Here are some of the activities you can expect to participate in:
Maintenance and care for the cheetah facility and enclosures, including construction projects.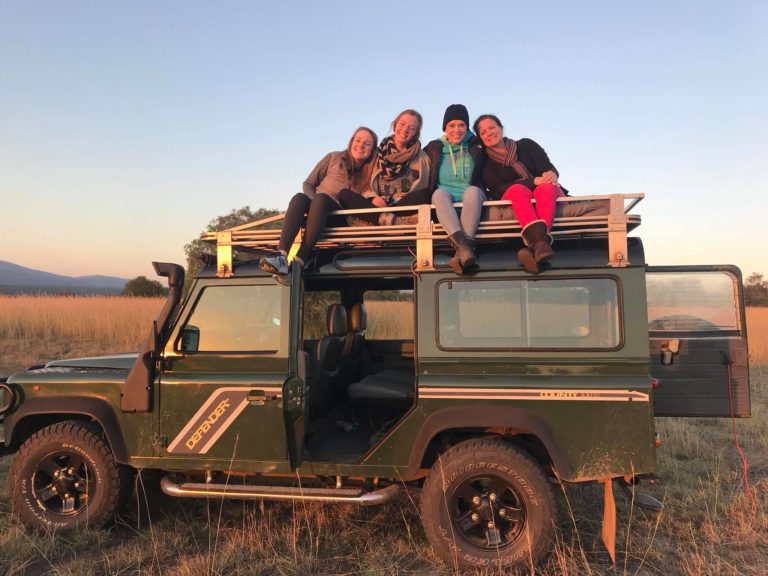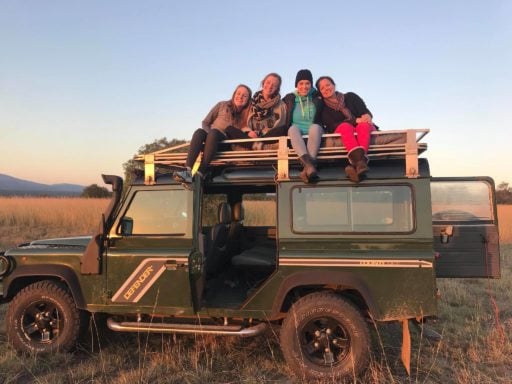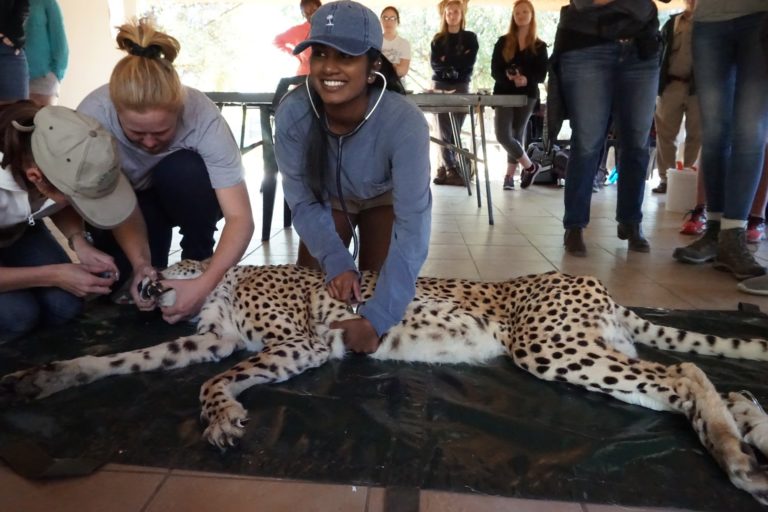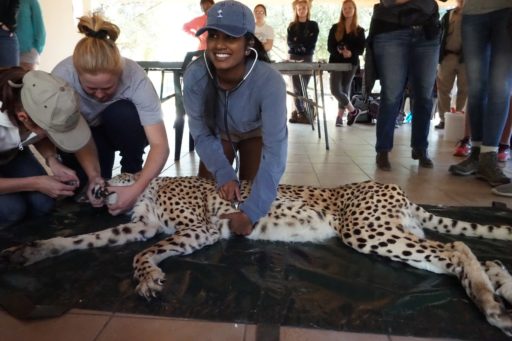 Loop Abroad's groups will be the only volunteers on the property at the time, and will assist the staff in all aspects of caring for the cheetahs and other animals. There will be ample opportunities to observe the animals during work time. You will be at the cheetah conservation center for all program time except for the Kruger trip.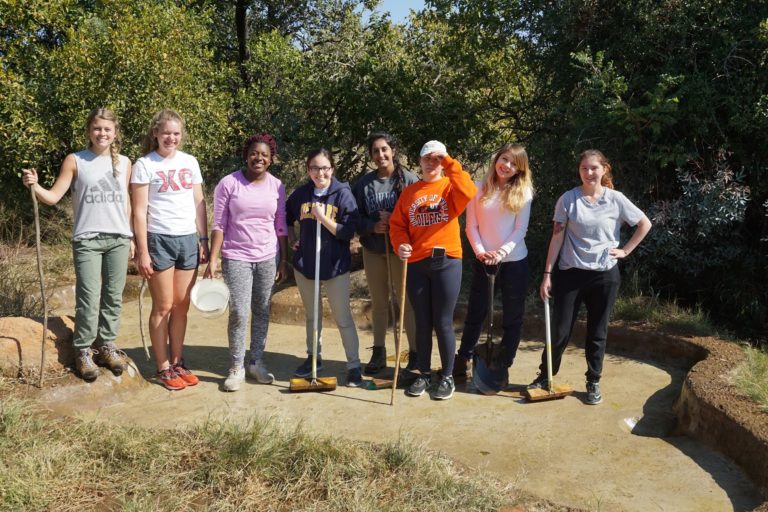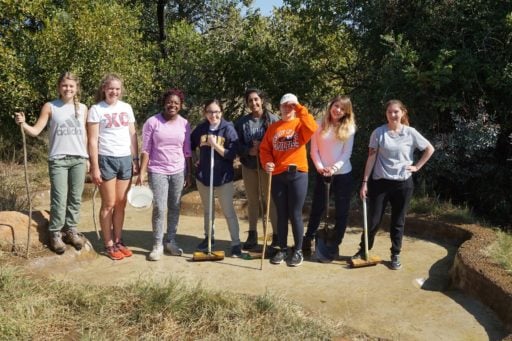 Every day on the project is different, but a typical weekday's schedule will include one veterinary lecture/class, one veterinary lab/activity such as a necropsy or suture lab, one upkeep activity such as thatching or cleaning enclosures, time preparing and feeding the cheetahs, time observing the cheetahs and other animals, time working on and implementing enrichments for the animals, and mealtimes, as well as downtime in the evening.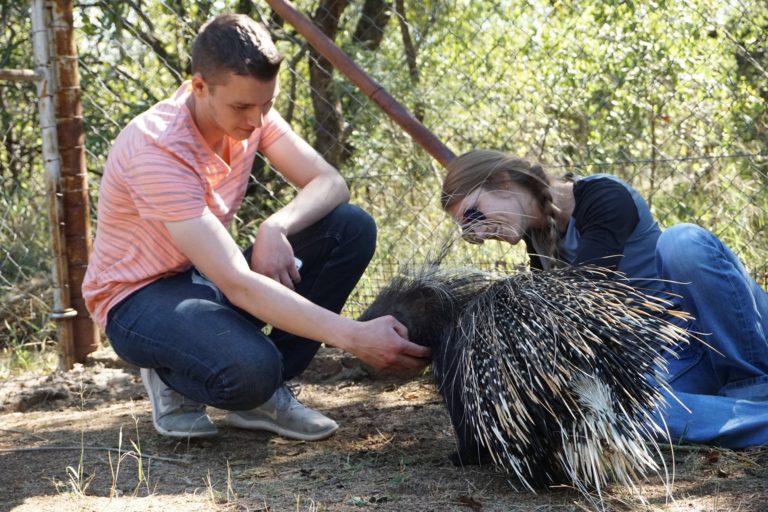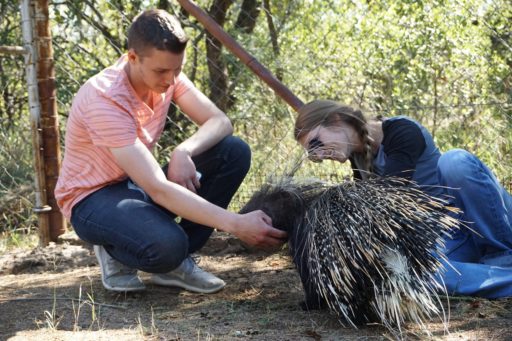 You will have an opportunity to touch a cheetah and will observe them closely each day, but this is not a program designed for you to snuggle with wild animals. Hands-on contact is limited to safe, short interactions that do not cause the animals undue stress, participation in training exercises when available, and necessary medical treatment and observation on anesthetized animals.
Zoo medicine, conservation medicine, and care for wild and captive animals focuses observation over handling when possible, and this program adheres to those standards.
Reading List
Some books that might be interesting to students traveling to South Africa who want to learn more about South African culture and history, conservation, African animals, or veterinary medicine. (None of these are required reading.)
You can purchase any of the books on our suggested reading lists at the links below.*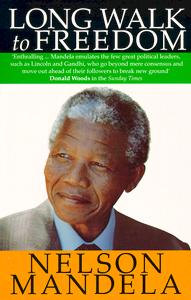 Long Walk to Freedom: The Autobiography of Nelson Mandela Amazon says, "Nelson Mandela is one of the great moral and political leaders of our time: an international hero whose lifelong dedication to the fight against racial oppression in South Africa won him the Nobel Peace Prize and the presidency of his country. Since his triumphant release in 1990 from more than a quarter-century of imprisonment, Mandela has been at the center of the most compelling and inspiring political drama in the world. As president of the African National Congress and head of South Africa's antiapartheid movement, he was instrumental in moving the nation toward multiracial government and majority rule. He is revered everywhere as a vital force in the fight for human rights and racial equality." Students participating in the Adventure Bonus Week: South Africa will visit Robbin Island, where Mandela was held prisoner, including a tour of his prison cell.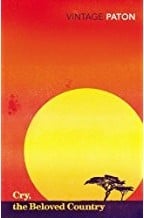 Cry, the Beloved Country Amazon says, "An Oprah Book Club selection, Cry, the Beloved Country, the most famous and important novel in South Africa's history, was an immediate worldwide bestseller in 1948. Alan Paton's impassioned novel about a black man's country under white man's law is a work of searing beauty. …Cry, the Beloved Country is the deeply moving story of the Zulu pastor Stephen Kumalo and his son, Absalom, set against the background of a land and a people riven by racial injustice. Remarkable for its lyricism, unforgettable for character and incident, Cry, the Beloved Country is a classic work of love and hope, courage and endurance, born of the dignity of man."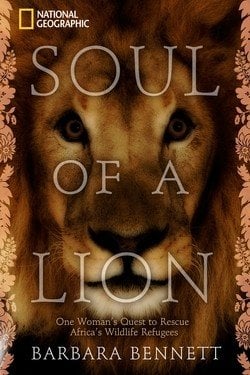 Soul of a Lion: One Woman's Quest to Rescue Africa's Wildlife Refugees Amazon says, "For animal lovers, nature enthusiasts, and the vast readership for gripping true-life stories, this African saga is a must-read adventure. It chronicles the unique Harnas Wildlife Foundation in Namibia, where Marieta van der Merwe and her family, former wealthy cattle farmers, have sold land to buy and care for embattled wildlife. We meet Sam, the "AIDS" lion infected by mistake at a vet clinic. Boerjke, a baboon with epilepsy and Down syndrome. Savanna, the one-eyed lioness. And Marieta van der Merwe herself, the inspiring proprietor of Harnas who shares her home with needy wild animals. Survivor of an early life fraught with personal tragedy in the African Bush, she now devotes herself as care-giver and ambassador for wildlife and wildland. Told with insight, humor, and thrilling immediacy by author and Harnas volunteer Barbara Bennett, this story will captivate readers of all ages."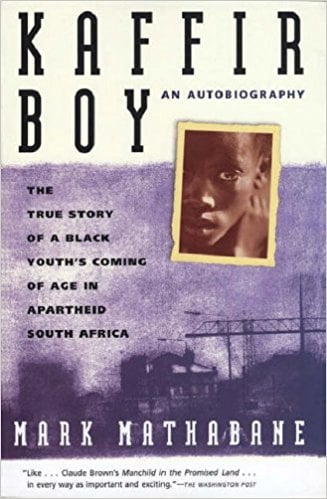 Kaffir Boy: An Autobiography–The True Story of a Black Youth's Coming of Age in Apartheid South Africa Amazon says, "Mark Mathabane was weaned on devastating poverty and schooled in the cruel streets of South Africa's most desperate ghetto, where bloody gang wars and midnight police raids were his rites of passage. Like every other child born in the hopelessness of apartheid, he learned to measure his life in days, not years. Yet Mark Mathabane, armed only with the courage of his family and a hard-won education, raised himself up from the squalor and humiliation to win a scholarship to an American university. This extraordinary memoir of life under apartheid is a triumph of the human spirit over hatred and unspeakable degradation. For Mark Mathabane did what no physically and psychologically battered "Kaffir" from the rat-infested alleys of Alexandra was supposed to do — he escaped to tell about it."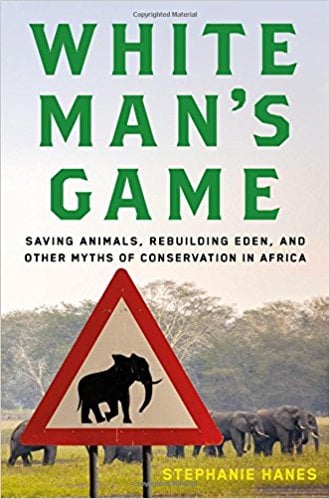 White Man's Game: Saving Animals, Rebuilding Eden, and Other Myths of Conservation in AfricaAmazon says, "The stunningly beautiful Gorongosa National Park, once the crown jewel of Mozambique, was nearly destroyed by decades of civil war. It looked like a perfect place for Western philanthropy: revive the park and tourists would return, a win-win outcome for the environment and the impoverished villagers living in the area. So why did some researchers find the local communities actually getting hungrier, sicker, and poorer as the project went on? And why did efforts to bring back wildlife become far more difficult than expected?… In pursuit of answers, Stephanie Hanes takes readers on a vivid safari across southern Africa, from the shark-filled waters off Cape Agulhas to a reserve trying to save endangered wild dogs. She traces the tangled history of Western missionaries, explorers, and do-gooders in Africa, from Stanley and Livingstone to Teddy Roosevelt, from Bono and the Live Aid festivals to Greg Carr, the American benefactor of Gorongosa. And she examines the larger problems that arise when Westerners try to "fix" complex, messy situations in the developing world, acting with best intentions yet potentially overlooking the wishes of the people who live there. Beneath the uplifting stories we tell ourselves about helping Africans, she shows, often lies a dramatic misunderstanding of what the locals actually need and want."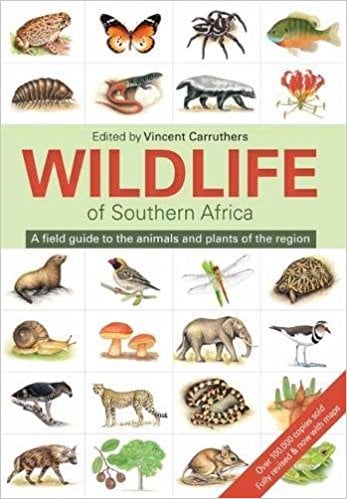 Wildlife of Southern Africa: A field guide to the animals and plants of the region This field guide is a great reference for birds, trees, flowering plants, and small and large mammals you might see throughout your trip. It is helpful at the wildlife centre and also on safari, and is a great place to mark all the species you have seen and identified during your trip.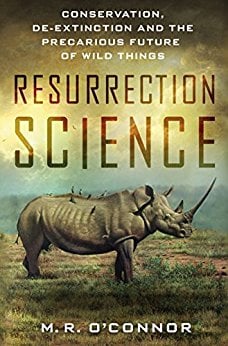 Resurrection Science: Conservation, De-Extinction and the Precarious Future of Wild Things Amazon says, "In a world dominated by people and rapid climate change, species large and small are increasingly vulnerable to extinction. In Resurrection Science, journalist M. R. O'Connor explores the extreme measures scientists are taking to try and save them, from captive breeding and genetic management to de-extinction. Paradoxically, the more we intervene to save species, the less wild they often become. In stories of sixteenth-century galleon excavations, panther-tracking in Florida swamps, ancient African rainforests, Neanderthal tool-making, and cryogenic DNA banks, O'Connor investigates the philosophical questions of an age in which we "play god" with earth's biodiversity.
Each chapter in this beautifully written book focuses on a unique species–from the charismatic northern white rhinoceros to the infamous passenger pigeon–and the people entwined in the animals' fates. Incorporating natural history and evolutionary biology with conversations with eminent ethicists, O'Connor's narrative goes to the heart of the human enterprise: What should we preserve of wilderness as we hurtle toward a future in which technology is present in nearly every aspect of our lives? How can we co-exist with species when our existence and their survival appear to be pitted against one another?"
*Links are affiliate links – thanks for supporting Loop Abroad!