Kendra Libby, High School Veterinary Service
Branford High School
Hello! My name is Kendra Libby, and I travelled with Loop Abroad in July, 2015. I participated in the High School Veterinary Service program, and it was ten times more incredible and interesting than I could have ever imagined. This was my first time traveling abroad, and it was also my first time traveling without my family.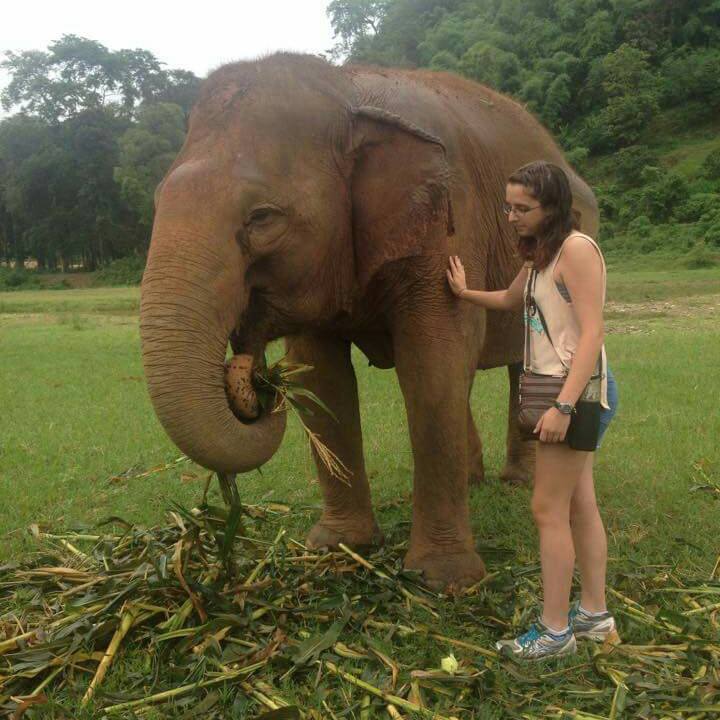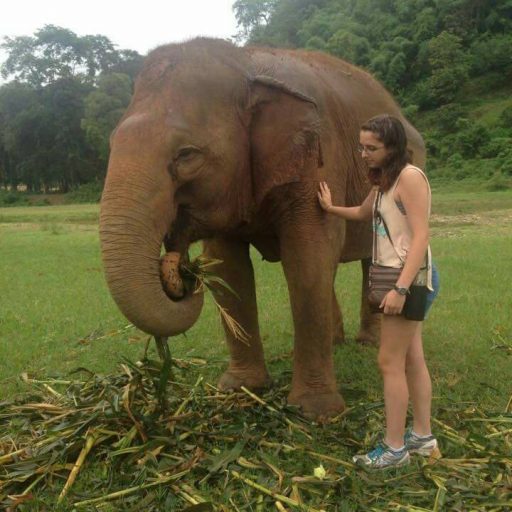 At first, at the airport and when we first boarded the plane, I was terrified, but that changed as soon as we took off from JFK. I was surprised by how quickly the flight from JFK to Hong Kong went by, and the one from Hong Kong to Chiang Mai went even faster! Sonja, a Loop employee, flew with us, and she helped us get through security and customs without any problems. The whole time that we were traveling, Sonja was upbeat and awesome to be around, and while she wasn't our group leader, I still got to see her a lot throughout our trip which was really nice.
We spent our first night in Thailand at the B2 Green hotel, and the next day, we took a van to the Elephant Nature Park! Between all of the traveling and our first night, I got to know the girls in my group really well. At 15, I was the youngest person there with Loop, but I wasn't treated any differently for it. Almost every individual in my group of 11 became close friends after only a few days, and all of us were inseparable by the end of our trip.
One thing that surprised me was how much interaction we had with the other Loop groups there at the same time as us, and I was also surprised at how many groups outside of Loop were at the ENP at the same time. While at the ENP, we met groups from Germany, Australia, and Britain to name a few, and it was interesting to be exposed to all of those cultures as well as Thai.
I also loved that we got to see so much of the other Loop Abroad groups, as I made some close friends in the Experience Thailand: Elephants and Everything Else and College Vet groups. All of the people throughout my trip were amazing. At the ENP, Christian (our group leader), Taylor, Jane (our volunteer coordinator… essentially an elephant tour guide), Kristie (our vet), Annie (College Vet's vet) and numerous other people were there taking care of us and making sure that our experience was all that it could be. All of the staff members that I met were incredible, and they took amazing care of all of us, even if we didn't happen to be in their group.
Our whole first week at the Elephant Nature Park was absolutely incredible. I was lucky to escape the travel related health problems that many people experienced, and I would highly recommend that anyone who travels anywhere bring medicines for gas, diarrhea and motion sickness, as these were the most prevalent health problems in my group.
At the ENP, we were allowed to pick our rooms, and I ended up in one with five other girls, that had a bathroom and our own shower. (Some other rooms had public restrooms, so we got lucky in that department!) Our room was very nice. I loved it. Each bed had its own cute little mosquito tent around it, we had fans in our room, and it was really nice to have our bathroom and shower right there, even if they did have the occasional lizard or spider in them. All of the girls in my room were wonderful to be around and we got along really well.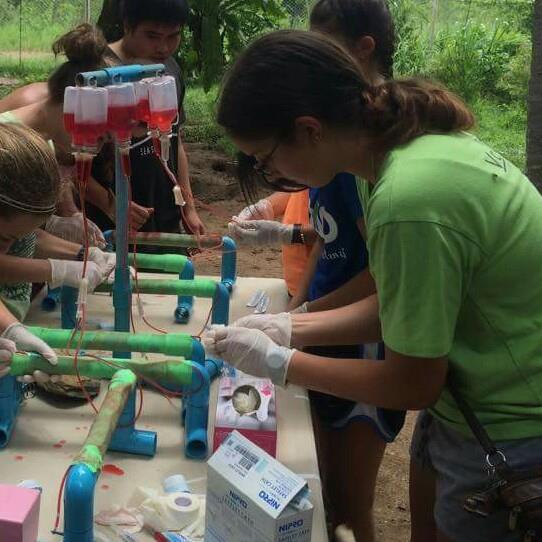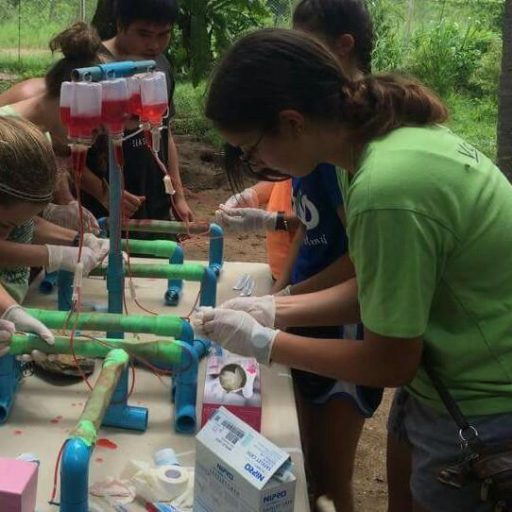 Food at the ENP was great, too! Some of the pickier eaters had some trouble finding things other than rice to eat, but those of us who were more adventurous had a lot of fun trying out new foods. The Pad Thai noodles, stir fried greens and French fries were to die for. It was set up as a buffet, and I recommend that future travelers there try new things, but not all at once. Lunch and dinner are roughly the same every day, so you don't want to run out of new things to try.
Another incredible aspect of the ENP was, of course, the animals! At the time of my trip, there were 63 elephants, 420 dogs and more than 200 cats. We had the opportunity to shadow both elephant and dog vets to perform a variety of medical procedures from cleaning land mine wounds on elephants to giving Sub-Q fluids to two rescue dogs. Everyone had the chance to participate in a diet study, too, where two people from the same group follow one elephant all day and record what and how much they eat. I got to follow Mae Boon Maa, and it was probably my favorite day at the Elephant Nature Park. By watching her and her two friends all day, we were able to get a sense of their personalities and means of expressing themselves. On one of our last days there, Lek, founder of the ENP, spoke to us and showed us photos from her years of helping elephants. It was thought-provoking, sad and life-changing to say the least.
After our week at the ENP, we went to live at Spicy Thai backpacker hostel. There, our rooms were assigned, but my roommates were still amazing, so there was no reason to complain about that. I found Spicy to be very homey with its living area, TV, bunk beds and Western breakfasts complete with bacon. (After a week at the ENP where everything was vegetarian, bacon was a big deal for a lot of us.) Compared to the ENP, our time in Chiang Mai was a lot faster paced with much less down time. Every morning, we got up, got dressed, had breakfast and promptly headed out to the Animal Rescue Kingdom shelter and clinic.
Before lunch, we would typically have a lecture in which our vet, Kristie, would explain to us how to perform a physical exam on a dog or how to draw blood or give an injection or some other medical procedure. Then, we would go out to lunch at Leelawadee coffee, where they had great food and amazing ice cream. After lunch, we would head back to ARK and actually perform whatever we had learned that morning. I have always been a very squeamish person, but everyone around me was incredibly supportive and helpful, so I was able to do everything that everyone else did, even the surgeries and blood draw in spite of my history of squeamishness.
If you are interested in becoming a vet, but unsure if you would actually be able to handle it or not, this trip is a perfect way to figure that out and to get past any fears of blood or needles, as I did. As at the ENP, every staff member at Spicy and ARK was phenomenal. Emily, Jane, Addam, Jack and everyone else were amazing, kind and just great to be around. During my whole time in Thailand, I didn't get homesick once because everyone there made it feel like home.
For future Loop Abroad travelers, I have a few tips. First off, drench yourself in bug spray, especially while in Chiang Mai, as the mosquitos are far worse there than at the ENP. Second, get some sort of international calling/ texting plan if you want to keep in touch with people back home because the wifi at the ENP is spotty and most of the time in Chiang Mai, you will be out and about instead of at Spicy. Third, bring rain boots and a rain coat. There, it rained every day, was sunny every day and there was thunder for a little on most days. The weather changed very quickly.
Last, just do it! My summer with Loop was the best experience that I have ever had. If money is a concern, then ask family members and fundraise. It is more than worth it. Before my trip, I opened a Booster.com account and sold "Keep Calm and Save Elephants" t-shirts, I contacted local businesses to ask for donations and I asked family for donations instead of gifts at the holidays. All of this together raised hundreds towards my trip, and it was easy to do. Whatever program you are planning on participating in, you will have the time of your life, and you will meet unforgettable people and do the most incredible things.