Samantha Prester, Kansas State University Private Group
Kansas State University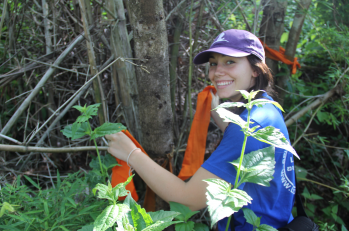 My experience started the day Loop Abroad contacted Kansas State University's Pre-Vet club. I instantly knew this was something I had to be involved with, and I was willing to do whatever took to make it happen for me and the other members of our club. Along with another Pre-Vet club member, I decided to take on the responsibility of organizing our private group and help organizing fundraising.
The biggest struggle we faced as a private group was getting a people together that could all go at the same time. Just like many other college students, we all had jobs or internships that we had to work around, and I felt a responsibility to our group to do what ever it took to make this trip happen.
Fundraising can be hard at times, but what we found to be the biggest help for our group was family and friends. Though we did other small fundraisers, I strongly encouraged our members to write letters to their friends and family explaining what we would be doing during our time in Thailand and how much the experience would mean to them. Most of our group was able to cover most if not all the cost with the letters they wrote.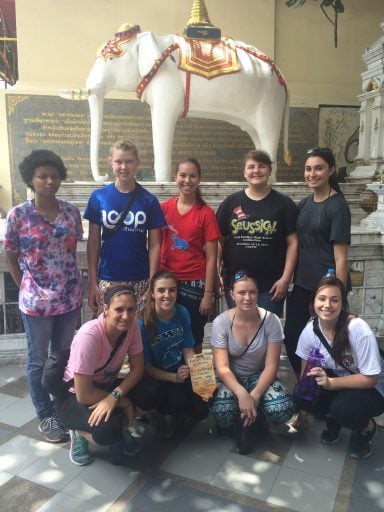 Many members of our group, including me, had yards sales with items donated by family and friends that were maybe not able to donate money directly. This was a great way to get our communities involved and tell people about the amazing organizations we were getting ready to work with. Financing this trip was a concern for my family, but I found that if I showed the passion I had for this experience, people were encouraged to make this dream for me possible.
My group had a little struggle at the beginning of our trip with flights being delayed, and we ended up with two extra flights on our way there. Though we were tired and anxious to get to Chiang Mai, our group leader was always positive and made sure we were comfortable. We called her our "Momma Bear", because she was fierce when it came to making sure we were taken care of. The group was a little jet lagged when we arrived, but we were kept energized by the energy the Loop Abroad staff had as they welcomed us with open arms at the airport. This energy never dwindled and made me even more excited for each day's events.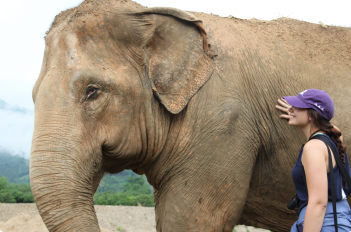 At the Animal Rescue Kingdom during our first week, the morning consisted of lessons from the veterinarian that stayed with us during the full duration of our trip. I had never met someone with such passion for teaching inspiring veterinarians like me. She was encouraging and patient as we applied techniques we had learned in the morning during our afternoons.
It is hard to put into words how much I look up to her, and how much she has inspired me both personally and professionally. The animals that we encountered while at ARK were just as amazing as the people. A golden retriever mix named Lucy stole my heart the first second I laid eyes on her, and I was blessed to have been able to help take care of her during the week we spent at ARK.
As we left Chiang Mai, I could not help but to be sad to leave behind not only the beautiful city we were able to explore, but also the people and animals we had met along the way. Though I was sad for the first week to end, the excitement I had to be up close in personal with an animal I have always loved made me eager to arrive at the Elephant Nature Park.
There are no words to describe how I felt when standing next to these remarkable creatures. They taught me so much about compassion, strength, and perseverance by seeing how they responded to us even though they had been through so much pain at the hands of humans. I loved being able to spend my days both with the elephants and helping out the park with things like cleaning stalls and preparing food. It was amazing feeling to wake up each morning knowing that the work I would be doing that day went to helping this organization and the animals that they cared so deeply for.
During our down time at the Elephant Nature Park we did a lot of group bonding not only within our own group, but with the other groups that were also spending that week at ENP. Although my group was a private group that previously new each other, we were able to easily meet people from the other groups because we were all working together to accomplish the tasks for the day. At night there were also fun activities like games and crafting to bring us together. From the staff we encountered at ARK and ENP to all the groups participating with Loop Abroad, everyone was welcoming and friendly.
There were three simple things that I made sure I did each day that I believe helped me have the most amazing experience. First, I told myself to always have a positive attitude. There were times where I was tired, missed home, and even sick during my trip. I never let those keep me from enjoying every moment I spent while in Thailand.
Second, I said I would be fully engaged in every activity they had planed for us. I made sure that even though I missed my family and friends, my phone would not be something glued to my hips like it can be at home. I wanted to keep everyone constantly up to date, but I knew I could wait to share my experience once I came home.
Lastly, I told myself I would learn all that I could during this experience. This meant I tried to ask as many questions as I could. The people I encountered during my trip had so much knowledge to offer not only about the career I want to go into, but also the beautiful culture of Thailand. I am now able to share what I learned with others back at home.
For anyone deciding whether this is something for you, all I can say is this trip will change you in the most positive way. I met both people and animals that have forever left an impression on my heart, and have created a deep desire to continue traveling and helping others. It has expanded my understanding of another culture and has showed me there is still so much more I want to learn. Loop Abroad created an experience that not only allowed me to grow in my veterinary experience, but also allowed me to grow as a person.