Sarah Beagan, Thailand 101
Wittenberg University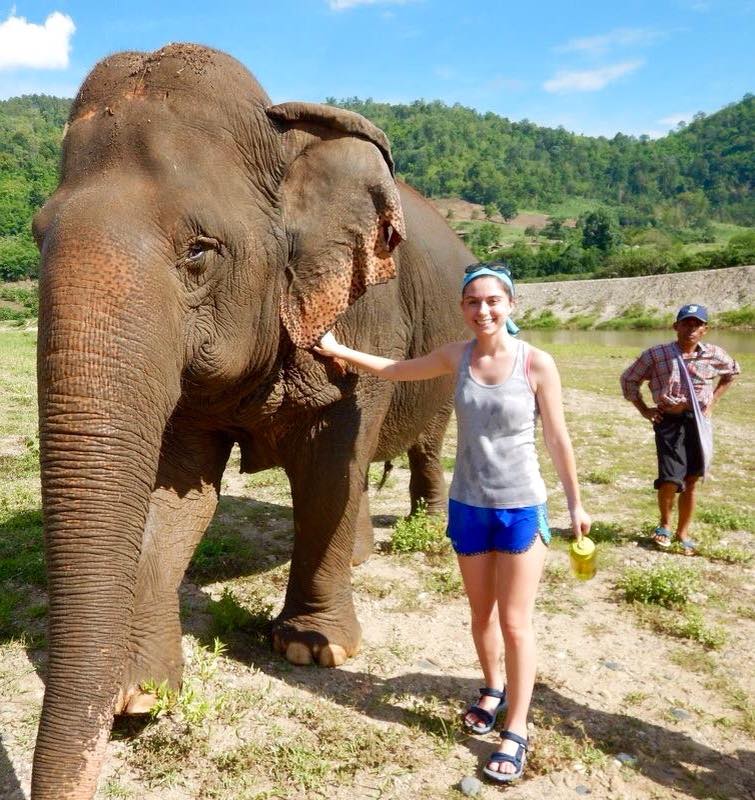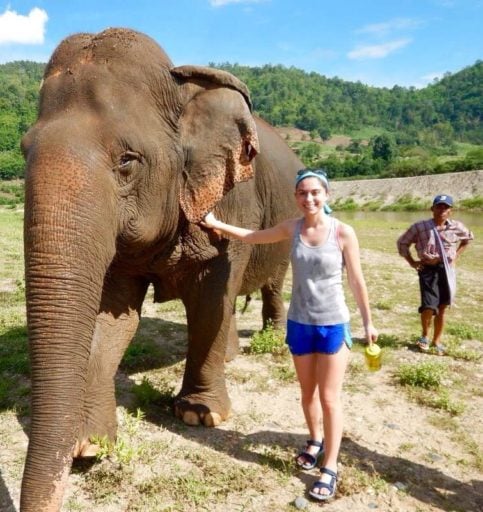 Hello future Loopers! My name is Sarah Beagan and I am a junior, biology major at Wittenberg University and I had the amazing opportunity of traveling to Thailand with Loop Abroad this summer.
Last December, I was spending my winter break looking into various ways to spend my summer. After scrolling through endless pages of internships and job opportunities with no success, I decided to take a break to check Facebook. As if it were fate, the very first post that popped onto my screen was a photo of a girl with an elephant asking if I would like to spend my summer with elephants in Thailand.
Before I knew it, I was running into my living room, having read almost the entire website, shoving my computer into my parents' faces! Overwhelmed with the rambling about elephants, Thailand, summer, and traveling abroad, my parents started with the more logistical questions, specifically safety and costs. After walking them through the website, they were wishing they could come with me. Before I knew it, I had applied and been accepted to the Thailand 101 and Elephant Bonus Week programs. I was going to Thailand and working with my favorite animals!
In order to pay for this adventure, I did a lot of fundraising, which ended up paying for more than half of my trip. As a start, I read through the "Fundraising Guide" provided by Loop Abroad, then created a plan to help raise the money. To start, I created a GoFundMe page and began sharing it on Facebook. Then, my friends at school helped me in making a fundraising video to post on the page, as well as YouTube. To reach out to those who didn't use social media, I typed up a letter to family members and some local businesses, including a printout biography and description of the programs. These projects allowed me to raise about $4,000. For some extra help, I made flyers for a bottle drive and collected bottles from my neighbors, raising another $400. Having the money was only half of the preparation for my trip.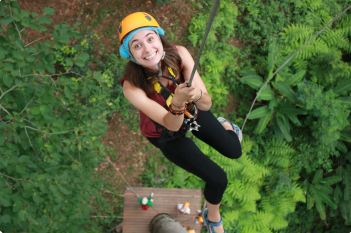 Anytime you leave home alone, especially to another country, it can be nerve-wracking and full of questions. My first time out of the country alone was the summer before senior year in high school when I stayed with a host family in France for a month, learning about the language and culture over there. I had been to France with school before, so I knew a lot, easing my nerves a lot, but going to Thailand, a country I knew little about, with people I knew nothing about was very new to me. As the trip got closer, I had more and more questions overflowing my brain. Some of these concerns were the food, where we would be living, and whether the staff would be nice and welcoming.
I had a good feeling about the staff simply through the emails and phone calls we had exchanged, but it can still be difficult to leave home and have to meet all new people. I remember when we walked out of baggage claim at the airport in Chiang Mai, Jane and Addam were right there welcoming us with huge smiles and jasmine necklaces. They were right there to answer any and all questions and concerns we had and made me feel much calmer as the reality that I was halfway across the world sunk in. Throughout my time in Thailand, there was always a staff member available to help you with any problem you had, whether it be medical or emotional, or just had a burning question about Thai culture. On the rare occasion they couldn't answer your question, they knew exactly where to find the answer quickly for you. Both the Loop Abroad staff and the local Thai staff were equally amazing to get to know and I now have some lifetime friends and connections with them.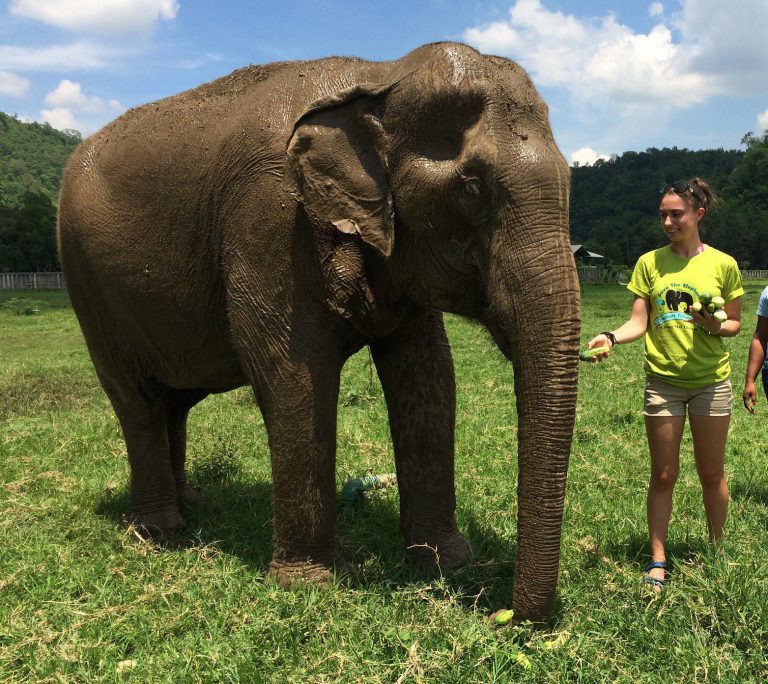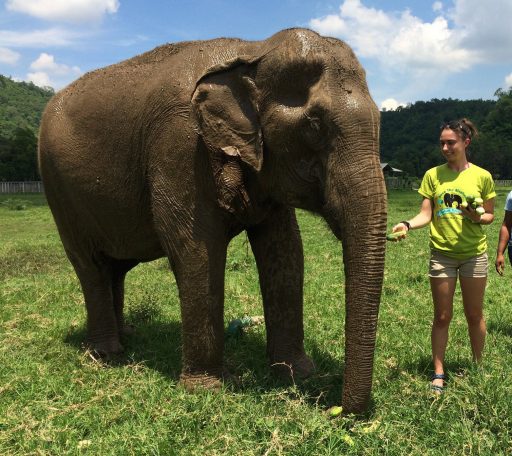 Whenever you travel to another country, no matter how amazing the staff is, there is always worry about culture shock and what living conditions will be like. I'm going to be honest, there was a huge culture shock even in the first few minutes of leaving the airport, but in the best way possible. I just remember looking around in awe from the back of our tuk-tuk as we drove to the Sunday market, being amazed by the new people, smells, sounds, and sights around me. Throughout the trip, I was constantly trying new foods and gaining new experiences, but I had decided going into this adventure that I would take advantage of every new experience I could have.
Trust me, sometimes it is easier said than done, especially for picky eaters, but I was always able to find something familiar to eat and discovered many new foods that are now favorites of mine (especially mango and sticky rice)! And whenever you get a craving for American food, Burger King is the meeting place when you go to the Sunday Market. As far as accommodations, during my two programs, I stayed at B2 Green hotel, Spicy Thai, the Elephant Nature Park, and even one night in a tent when we went to the hot springs for some "glamping" (glamorous camping), as one of our guides, Noom, called it.
We had air conditioning at the hostels, and even when we didn't have AC, you adjust pretty quickly to the heat and with the help of fans, I found it easy to sleep through the night. The showers and toilets are mostly Western style, with a few exceptions, but even on the rare occasion that you had to squat over a lower toilet, or use a bucket in the shower, it really was a lot better than I had expected. Just make sure to always have tissues or baby wipes with you, because there were many public places where it was not provided. Honestly though, the food and accommodations are just a small part of the many experiences you will have on this adventure.
Because I did two programs, I had the benefit of spending three weeks at the Elephant Nature Park and one week in Chiang Mai and its surrounding areas. Some of the highlights of my week in Chiang Mai included zip lining through the jungle, white water rafting, visiting temples and caves, taking a cooking class, and interacting with monks to learn about Buddhist culture.
My two favorite parts were going to a monk chat and exploring the Chiang Dao caves. The monk chat is an activity where a group of students are paired up with a few monks and you are set free to talk about whatever you want, asking whatever question you want. It was so amazing to ask a monk my questions about Buddhism, while answering his burning questions about science and American culture. It was sometime difficult with his limited English, but it was really fun to learn how to change how you said things so they could understand. It was sometimes a puzzle you had to figure out.
If you ask my friends about my cave experience, they would probably say I hated every second of it. That being said, I am terrified of caves to the point that even thinking about them makes my heart race and my hands shake, but the reason I loved this experience was that I had the option to sit the activity out and chill out by the koi pond or face my fear and go inside the cave. I chose the harder path of the cave, and though I hated every second of it, it helped me realize that no matter how terrified I am of something, I would rather gain a new experience and hate it than have not tried it at all. I think that was the biggest thing this adventure did for me. I could never have imagined how much I would've grown as a person and found out things about myself that I never knew.
My other three weeks were spent at ENP caring for the elephants. We started off doing things such as scooping poop, cutting corn, giving baths and touring the elephant park. All of those things were so amazing, but my favorite experiences came during the Add-on program where I got to shadow the elephant trainer, prep food for and feed four older elephants, use my creative skills to do enrichment activities for the elephants, and even ride in the trucks with some newly rescued elephants to help calm their nerves with rice balls we had made with the founder herself, Lek Chailert! I really only fell in love with these magnificent creatures more and really discovered how unique and human-like each elephant is.
Doing two programs also meant making two groups of friends. This is honestly what I was most nervous about in the days preceding my flight. I had found a few girls on Instagram and Facebook, but for the most part, I knew nothing about any of these students, other than their names. In the first few days with your group, the time is spent just getting over the jetlag and finding a few close friends that you have as a go-to roommate or meal buddy (usually whoever you met on the plane or randomly roomed with on night one), but as the days go on and you get to know more about these girls (in my case), you really start to create bonds that will last a lifetime.
Even though I'm normally somewhat shy at first, I found it so easy to make friends just by putting myself out there. The truly amazing part is how quickly we all built these bonds with each other and that I have made lifetime friendships with people who share these once in a lifetime memories with me, whether it's sharing that excitement the first time you pet an elephant, facing a fear, trying new foods, or squeezing into your neighbors tent to tell funny stories and feel like a kid again. I truly cannot thank Loop Abroad enough for helping me to create these memories, find my path in life, and discover myself again.