Sarah Hopper, Experience Thailand: Elephants and Everything Else
Cinco Ranch High School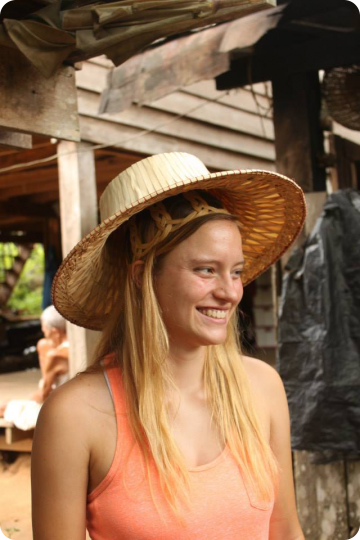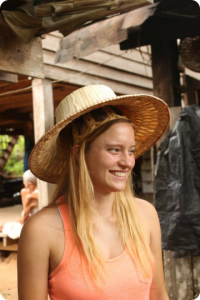 Hello potential Loop Abroad participant! My name is Sarah and I was a volunteer with Loop Abroad in 2015 on the Experience Thailand: Elephants and Everything Else program. I had an amazing time when I went and would love to share some of my adventures as you decide if Loop Abroad is right for you.
The Experience Thailand program consists of one week of volunteer work at Elephant Nature Park and one week touring the city of Chiang Mai and is similar to the Thailand 101 program. The first week I spent at Elephant Nature Park, participating in two chores a day with lots of free time in between. The chores I did were unloading water melon from trucks, cutting corn (which is a day-long chore), planting grass, shoveling elephant poop, and picking up the park.
Most of the chores were physically tough but the staff did a great job of making them fun and they went quickly because you did them with friends. When my group was planting grass, a storm came in and it poured for most of the time but that simply helped transition the planting into a mud fight and then a nice swim in the river! And not many people can say they chopped up corn stocks with a scythe. I do know a few who struggled with the chores though so you need to be prepared for dirty work in hot conditions.
In between chores were meals and free time where you could participate in the feeding and bathing elephants with day tourists. In the evening there were cultural events like a Thai culture and language class, documentaries on elephants, movie and game nights, and Thai massages. The Thai massages are great and even if you are extremely ticklish like me I recommend trying them at least once.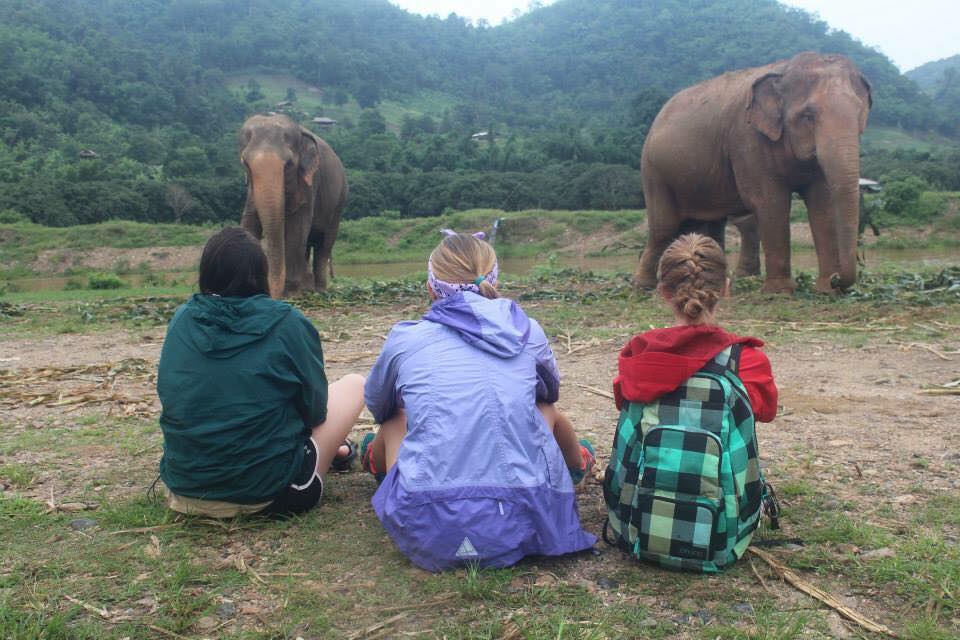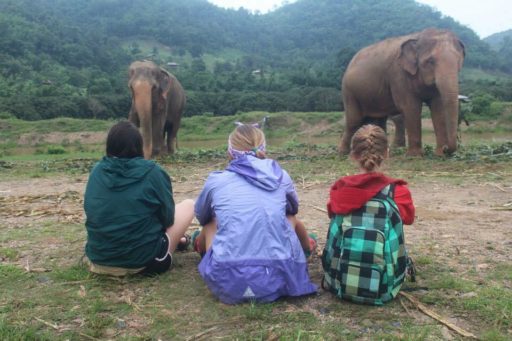 The main platform did have WiFi but was unpredictable and slow most of the time. I saw that as an advantage though because it allowed me to detach from other parts of my life and focus solely on the trip, but let your parents know beforehand that you might not be able to reach them the week that you are there. My personal favorite activities were playing soccer with the mahouts (they are quite good) and listening to Lek, the founder of ENP, speak very movingly on her life work and passion for elephants.
We slept in cabins at ENP that were spacious but not air-conditioned. It did get cooler at night and I was able to use a light blanket, but for those who are easily bothered by the heat, try to bring a hand held fan. We also slept with mosquito nets, but ENP mosquito nets are quite fashionable as they are pink and purple and often match your bedspread. My room had a sitting area and porch where we liked to eat lots of Oreos and Pringles and play cards and the outdoor bathrooms and showers led to some pretty entertaining adventures with bats and very large spiders.
The food at ENP was buffet and vegetarian. I personally did not like it very much but I loved how the buffet allowed you to try many different, exotic dishes even if I gagged on a few of them. The staff also knows that many people take time to adjust to Thai food and we made countless stops to Seven Eleven for fruity smoothies and American food on the go.
Overall, my favorite parts of the week at ENP were the all day elephant dietary study and the river tubing. The study was where you and a partner were assigned to an elephant and had to record what they ate for the entire day. It was very moving to be so close to an elephant and learn about their story and personality from their mahout. Many of the mahouts come from all around Southeast Asia and have interesting backgrounds of their own and some will even show you how they make their elephant carvings.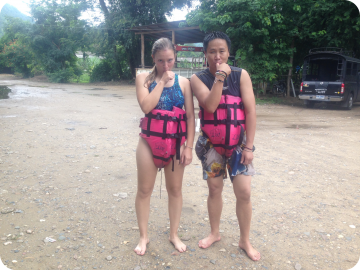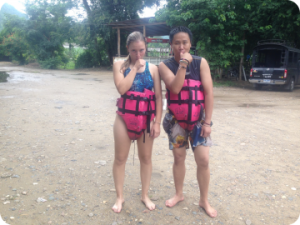 My second week was spent at Spicy Thai, a backpackers hostel, touring the city with a fantastic Thai guide. This was my favorite week because you really got to understand the Thai culture and appreciate their way of life. We ate at restaurants for most meals and I enjoyed the food in the city much more than at ENP. Spicy also had air-conditioned rooms and plenty to snack on if you got hungry.
We went to many breathtaking temples and learned a lot about Buddhism from monk talks and meditation classes. Although I am not Buddhist I was fascinated with its customs and how big a part it was in the Thai culture. The monks were not forceful and understood that many of us believed in a variety of ideas.
We also participated in an extensive Thai cooking class that cooked a five course meal, gave us a toured market visit and bike ride, and provided us with a detailed cook book. I have now made several Thai meals for my family with varied levels of success that they have (or maybe just pretended) to enjoy.
Other activities included an exhilarating zip line course, swimming under a beautiful, rainforest waterfall, and a long, but gorgeous hike up a mountain to a remote village and breathtaking view. I had a lot of experience with zip lining coming into the trip but most in my group did not and all were able to finish, including several that were afraid of heights so please do not worry too much about that.
One of my favorite parts of the entire trip was the markets and bazaars. The food markets were definitely a hit and I saw some of the weirdest food imaginable there like eels, frogs, and turtles. I tried crickets, bamboo worms, frog, deep fried cow intestines, and wasp larvae, all snacks that were optional, but I can assure those who are brave enough to taste that you won't be losing the game "Two Truths and a Lie" anytime soon.
The Sunday Night Market and Night Bazaar were shopping opportunities that were bustling with clothing and trinket stalls with incredibly cheap prices. I am a self-proclaimed shopaholic and bought nine pairs of Thai pants that I proudly wear everywhere in the States even though I do get weird looks sometimes. These markets also have food vendors who sold native Thai foods on the street. I understand that many people worry about the cleanliness of these places (and as a person who has hosted parasites before from a different country I completely understand the caution) but there were many options that I trusted including an All American Burger King.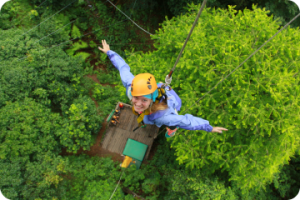 I have participated in other international summer volunteer groups, but what stood out about Loop Abroad was their perfect balance of volunteering and cultural immersion. I went on this trip because I love to travel and to determine if a career in veterinary medicine would be something I would enjoy. I learned instead that my deepest passion was experiencing and working with other cultures and I am now looking into careers and majors pertaining to international studies and global business.
Participants come from all over the US and even Canada, giving you the opportunity to not only interact with Thai people but also learn how ideas and customs change across North America. The local Thai guides were also very nice and humorous and shared facts and history that I doubt I would have learned on most public tours.
I had an incredible time while traveling with Loop Abroad and I am sure you will too, but this trip will be what you make of it. Sometimes we were hot, or tired, or annoyed with our roommates, but I loved every bit of it and would do it again in a heartbeat.