Elephant Nature Park (ENP)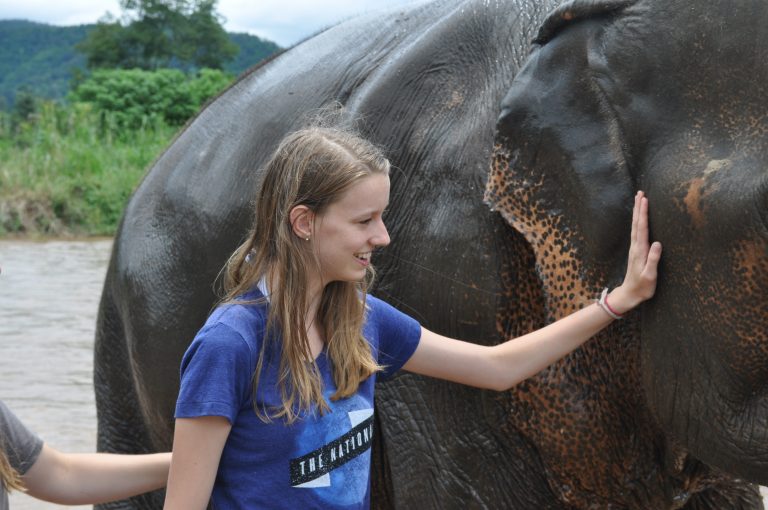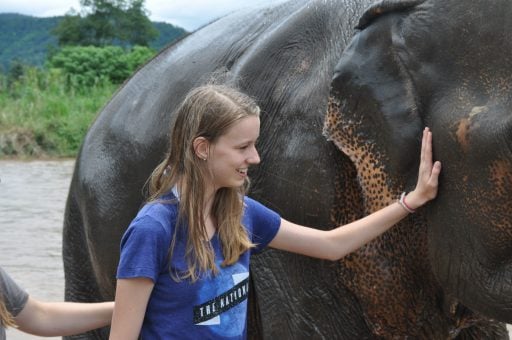 The Elephant Nature Park (ENP) is only one of many projects of the Save Elephant Foundation and it's home to over sixty elephants who are either no longer able to work in elephant-based industries or have been rescued from inhumane conditions in logging, trekking, or circus operations. Its founder, Lek Chailert, has been recognized time and again for tireless efforts to improve the lives of elephants in SE Asia.
At the sanctuary, the elephants are provided space to roam, food to eat, and regular medical care by the three full-time veterinarians. Most importantly, the females and young males are allowed to form close-knit social groups where, as the Lek describes it, they "teach each other how to be elephants again" after years of social isolation practices used by industry to control their behavior.
The sanctuary is vast, peaceful, and amazing.
For students spending a week here, you'll wake up to trunk-trumpeting and thumping behind your room. In the morning, look out the window to see the fog lifting and just a few feet away. A mother elephant throws dirt over its back while a baby elephant ruffles through the tall grass with its trunk. For the rest of the day, you'll be a part of their family. It's like living in a wildlife documentary.
For week-long volunteers, each day at the Elephant Nature Park is different, but the general schedule includes a rotating set of responsibilities shared by the volunteers and the staff: buying, cutting, and picking food for the elephants (no small task), and cleaning up after the elephants. Students participating in our Veterinary Service programs will also shadow the team of Thai and foreign vets who make rounds doing check-ups, cleaning wounds, monitoring infections, or treating more serious diseases or injuries.
The best part of the ENP experience is the time volunteers have to independently learn about and interact with the elephants and their caretakers. The staff is extremely knowledgeable about animal behaviors, elephant family behaviors, local conservation efforts, and the local animal habitats.
Rescuing as many animals as possible has led ENP to become quite the menagerie. In addition to elephants, the park has rescued over 500 dogs, most of whom were rescued from the 2011 flooding in Bangkok. The park is also home to water buffalo, cats, pigs, chickens, and rabbits, and there may be opportunities to help with any and all animals at the park depending on their current needs.
Learn about why we don't ride elephants here.
ENP in the News
National Geographic tells the story of Lek's founding of the park and her courageous care for one baby elephant stranded at only one week old.
This Washington Post story explains why many elephants at ENP are blind in at least one eye.
Out of dozens of tourist spots, Lonely Planet recommends ENP as one of only two places to "interact ethically" with elephants in Northern Thailand.
ENP is an endless source of entertaining elephant video clips to brighten your day. Here's one of Navaan taunting one of the park dogs.
The Supreme Master Ching Hai International Association recently presented founder Lek Chailert with the Shining World Compassion Award for demonstrating "a pure heart, loving concern, and selfless service and caring for Thailand's magnificent elephants."
Dogs too!
The Elephant Nature Park isn't home to just elephants. It's home to buffalo, cows, cats, dogs, and chickens. There are dogs who live among the elephants and welcome visitors when they arrive who have always been a part of the ENP. But after the floods in Bangkok in 2011, Lek and her husband Darrick and the people at the ENP set out specifically to rescue the dogs abandoned in the floods and give them a home.
The mission of the ENP is to provide dogs with a place of refuge and a peaceful, permanent living environment. Each dog gets individual medical care, attention, care, and space. In addition to providing a long-term animal care facility, the ENP also provides community outreach services to residents in the areas surrounding the park. Subsidized preventative health care services and sterilizations surgeries help to keep pets healthy and stem the prevent overpopulation of street animals.
Since 2011, the park has taken in over 400 dogs into its Dog Sanctuary. Over 200 were rescued from the flooding in Bangkok, and another 200 dogs have been rescued from local villages or from the dog meat trade.
Being at the Elephant Nature Park for a week will give students the chance to help some dogs who are in great need of love, attention, and care. The Dog Sanctuary welcomes students to put together a donation of collars, leashes, toys, towels and blankets.