Ecuador Travel Blog
We thought it would be cool to hear about the Amazon Veterinary Service trip from the point of view of a student! When we saw Carly's daily Facebook posts, we asked if we could share them here. Of course, every trip isn't exactly the same and the experience won't be the same for every person, but we hope this gives you a little look into the day-to-day life of a student on the Amazon Veterinary Service program.
Meet Carly Beck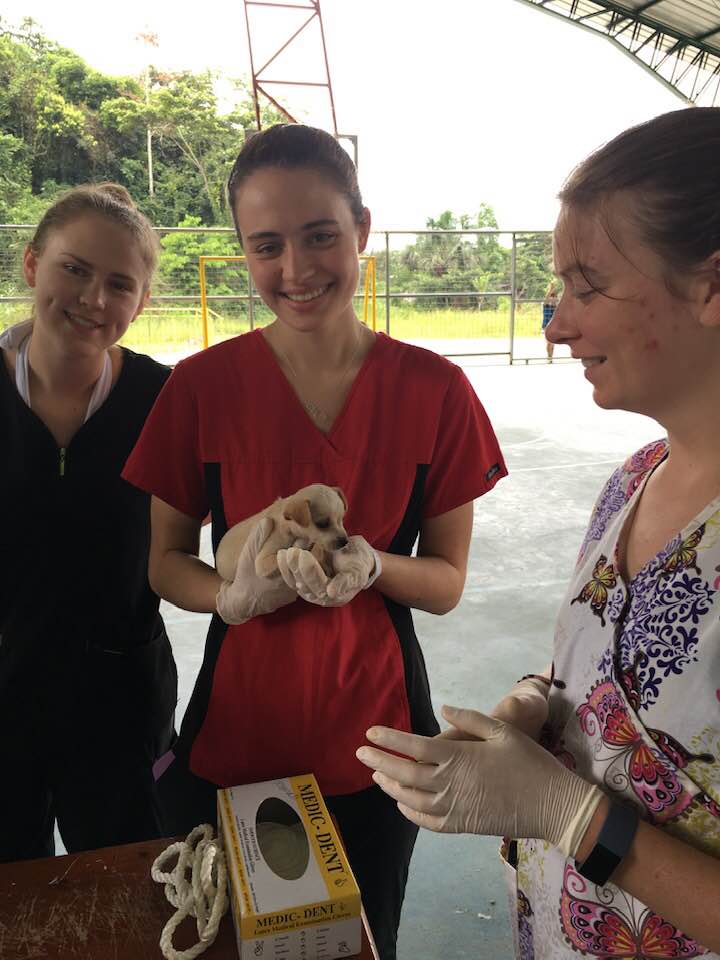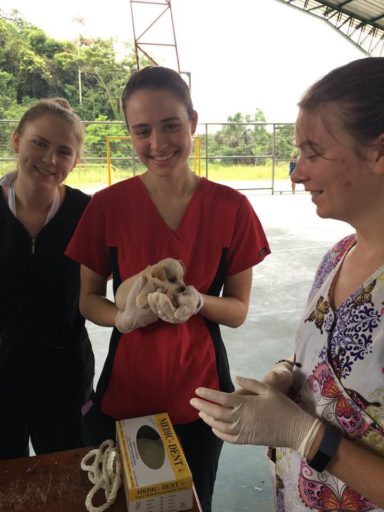 My name is Carly Beck and I am a freshman attending North Carolina State University majoring in Animal Science. I am a swimmer and a dancer, but overall my passion and goal are to become an exotic veterinarian. Thus far I have been on two Loop Abroad trips, the first was High School Veterinary Service in Thailand and my most recent trip was the Veterinary Service trip to Ecuador. On both trips, I have had the time of my life and have ended up not wanting to leave!
July 28th (Day 1):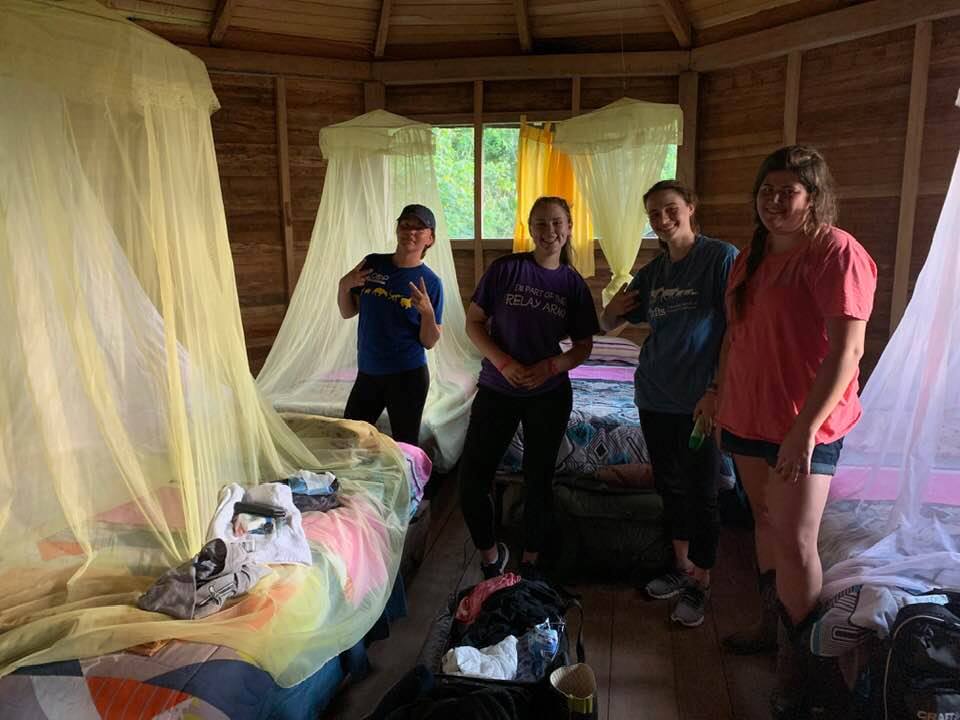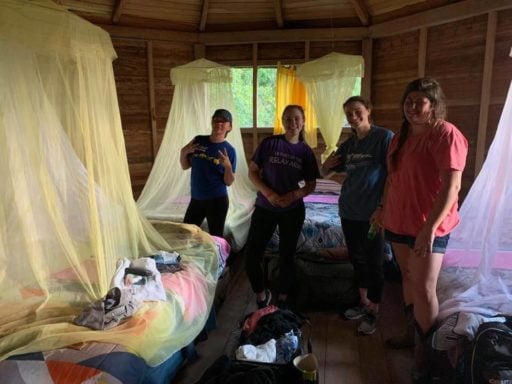 It's my birthday, and I got to spend all day at the airport. I was not delighted, but excited about where I would be tonight, Quito! After an early flight from Charlotte, I had a 9-hour layover in the Miami airport. I spent the day with friends who I was traveling, Jenna and Alexa. The flight from Miami to Quito was about 4 hours long, which didn't even touch the one I took to Thailand. Although traveling to my final destination was an all-day affair, I was happy to be on the ground in Quito. Then I came to find out that customs computers were down, therefore immigration had to be done manually. This means that someone comes and takes your passport to a back room and then they stamp it, but the order the officers brought them out in was completely randomized. After about an hour, but what felt like 5 hours, I got my passport back. I finally got to the Quito Backpackers Hostel for the night around 1 am, and I'm not going to lie, I've never been so excited to lay in a bed.
July 29th (Day 2):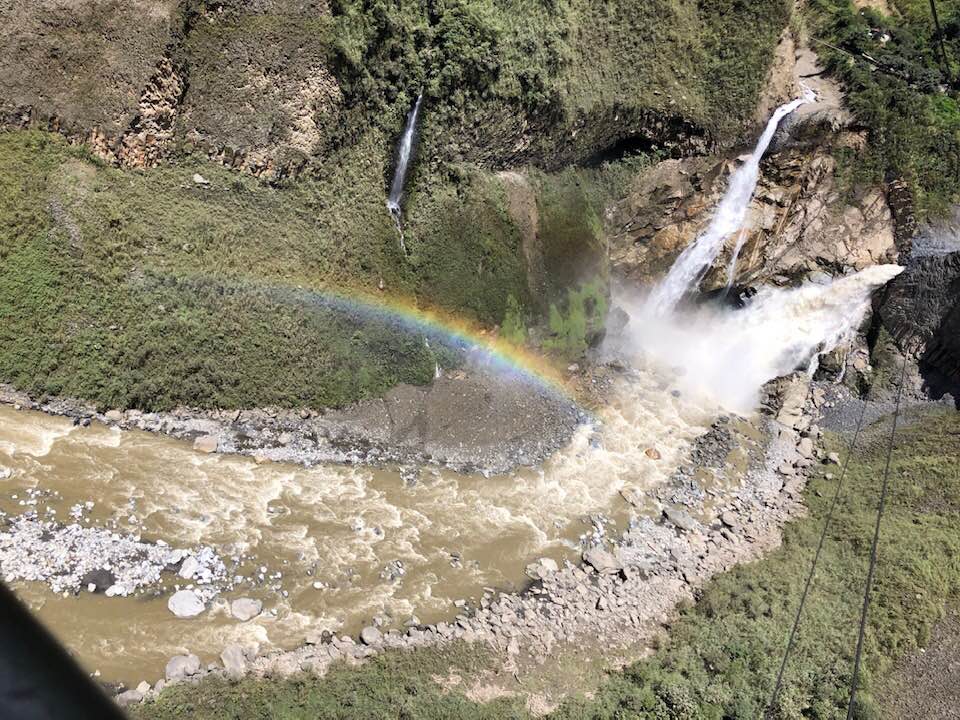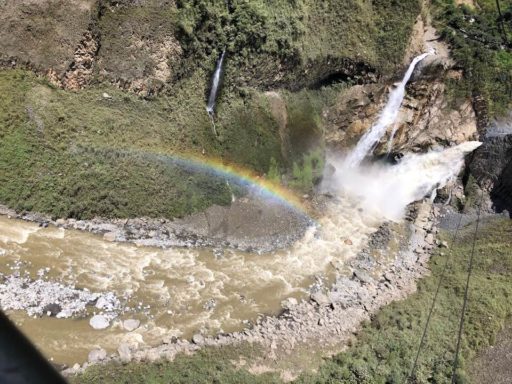 Today, we woke up early at 6 am in order to get on the road to Runa Huasi in Ahuano, Napo, Ecuador, which is roughly 8 hours from Quito. On our way to the jungle, we stopped by two waterfalls, one of which had a massive staircase leading underneath it. We also stopped by a place where we could practically see a bird's eye view of Quito; it was breathtaking. After the long and very bumpy road into the Amazon, we traveled to Runo Huasi by canoe. We were greeted by friendly members of the Kichwa community and many mosquitoes. The cabins were made of wood with no electricity, no air conditioning, and no hot water. For light in the room, we lit candles and used headlamps. All of the food we had acquired on the trip from Quito had to go in a plastic bin or else we would attract rats in our room, which I wasn't about to deal with. We had dinner promptly and then hit the bed early in preparation for a busy day the next day.
July 30th (Day 3):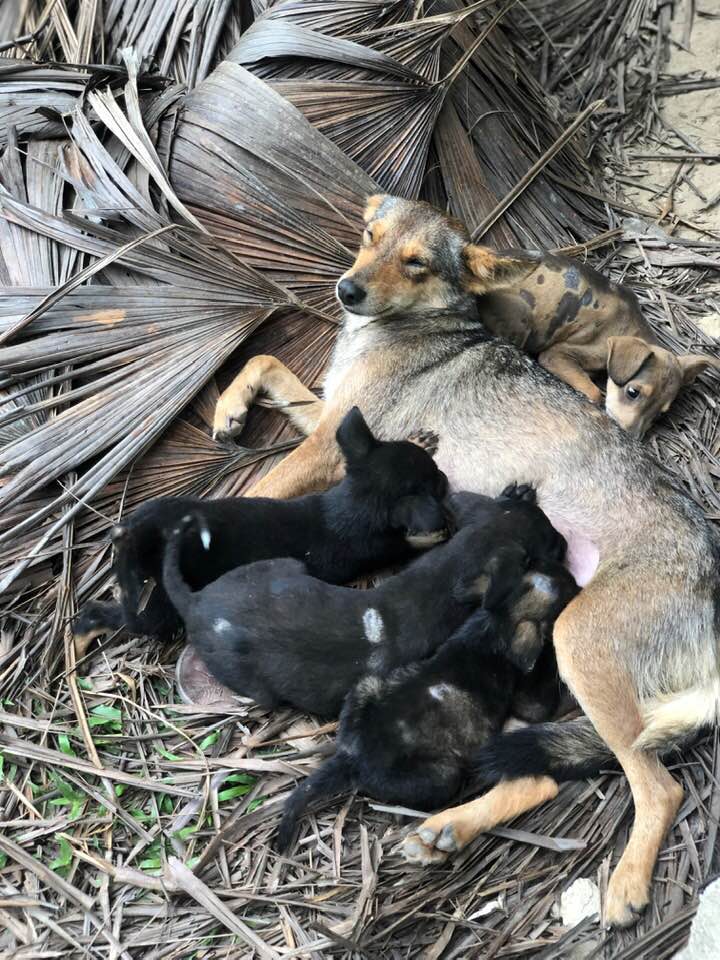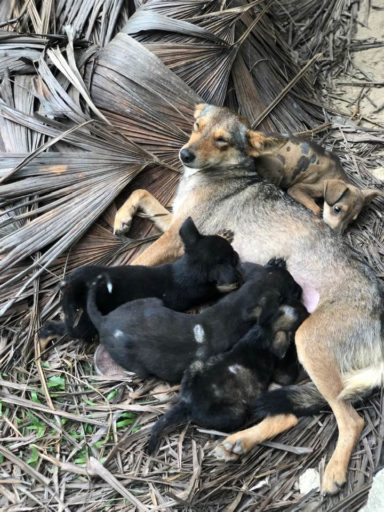 The alarm went off bright and early at 5:15 AM for a 6:00 AM breakfast. At Runa Huasi, there was a litter of four puppies with their mom sitting on the steps up to breakfast. Let me tell you, these puppies stole my heart from day 1. Unfortunately, all the puppies had been infected with ringworm, and since it can be transferred to humans, we weren't allowed to handle them. This was our first day at AmaZOOnico and I was nowhere prepared for the muddy hike through the rainforest. The mud was very slippery, and even coming from a dance background I can say that nothing can prepare you for this experience. I am not exaggerating a little, my feet sunk in the above ankle mud. Somehow I made it to AmaZOOnico without falling, but once at AmaZOOnico we learned about their mission and took a tour of the facilities. After the tour, we had a lecture on camera trapping and how valuable the data can be to researchers. Then back to Runa Huasi for lunch, where I was introduced to a fruit I had never seen before. This fruit was related to a tomato, but grew on a tree and had the texture of a pumpkin; I wasn't a fan. Overall, lunch was delicious and Dr. Kimberly lectured us on the Amazon rainforest's ecosystem. To end this eventful day, the group had a Spanish lesson from Erin to prepare us for the upcoming clinic days.
July 31st (Day 4):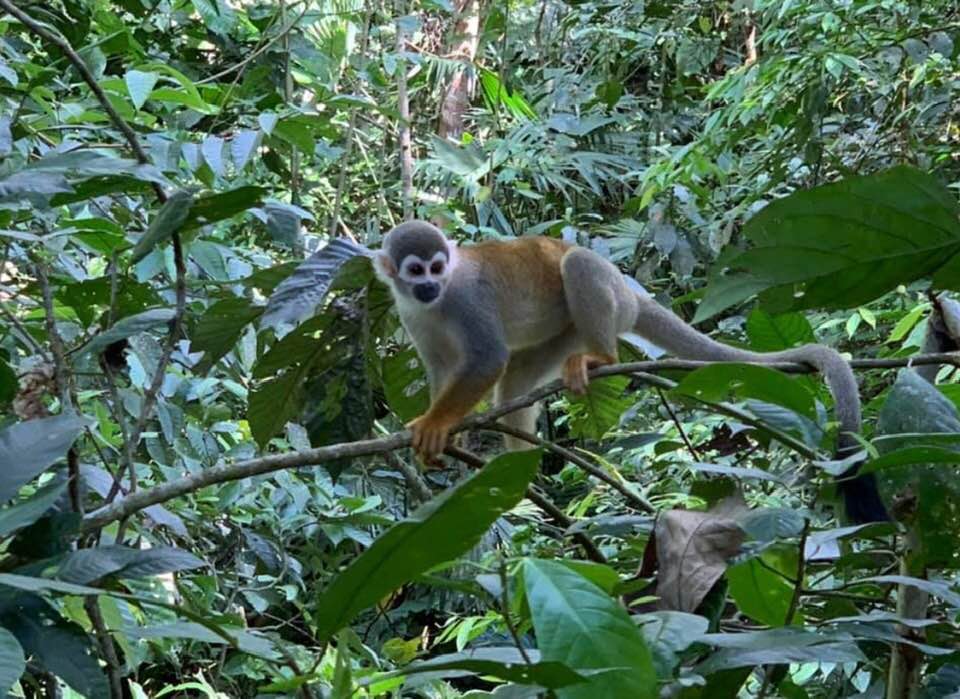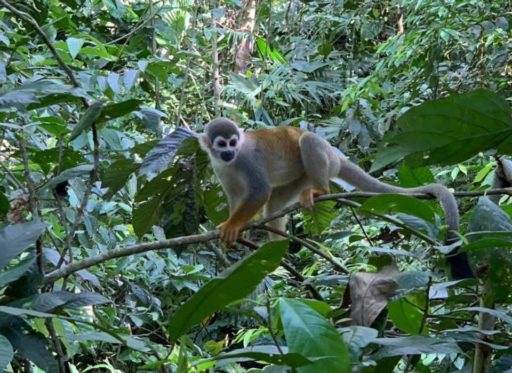 By today, I started to feel the effects of getting up at 5:15 am every morning, so I stayed in bed until 5:40 am to get some extra, much-needed rest. This morning, after trekking to AmaZOOnico, our group assisted with cleaning the enclosures of the animals, to ensure they are living a healthy lifestyle. The cages took roughly an hour to complete, but it went by really quickly and was actually fun minus the fact I got followed around by a parrot the whole time. We went back to the main meeting place to have a lecture on anesthesia from Dr. Mauricio. This lecture mainly focused on how to practice safe anesthesia on wildlife, which I found quite interesting. Later, after lunch, Dr. Kimberly gave us a lecture on how to perform an ethogram and why the data obtained from them are important. My group got to perform ethograms on the spider monkeys, so we stood back and recorded what they were doing, where they were in the enclosure, and if they had any interactions with the others every 5 minutes for a total of 45 min. Once we completed this part of the task, the next part was to discuss possible enrichment ideas for the monkeys, which our group decided that if we made a rope and hung fruit from it, it would cause the monkeys to use their tails more. Finally, to end the day we took a short canoe ride to a cacao farm, where we learned how chocolate is made. We also got to try fresh, raw cacao straight from the fruit; I prefer the pure chocolate form with the sugar. Then everyone hit the bed early for the night, to prepare for another full day.
August 1st (Day 5):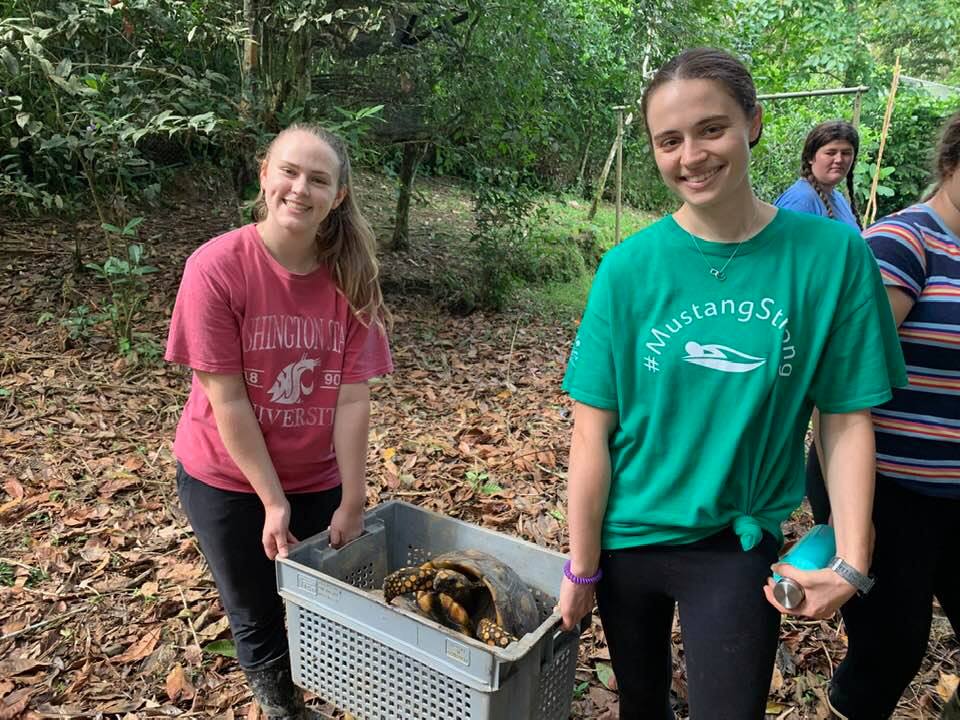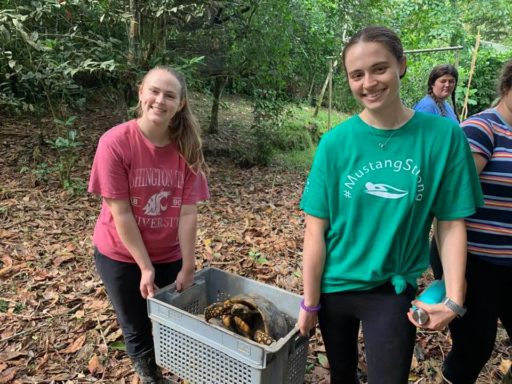 Little did I know when I woke up this morning that I would be having quite the workout. When we arrived at AmaZOOnico, like every morning, a couple of groups did food prep and some groups did the cleaning. Today I was on food prep, and I expected it to be actually preparing the food for the animals, which is what you normally would do. However, today was an exception to that rule. Our group had to haul many loads of bananas, papayas, corn, and sugarcane up LOTS of stairs to the bodega. I had to stop halfway to take a breather because going up and down the stairs, so many times is not an easy task. Once we were done with food prep, Dr. Kimberly taught us how to perform physical exams on tortoises and how to microchip them. The tortoises are microchipped because they all were getting prepared to be released back into the wild. Then a parasitology lab followed the tortoises, where we got to examine macaw and monkey feces to ensure they didn't have any parasites. Later, after lunch when we came back to AmaZOOnico, we got to assist with a venomous snake necropsy with Dr. Mauricio. During the necropsy, we found a mouse in the stomach (this was the snake's last meal). Also, we figured out that the snake died due to some sort of trauma because it had a hematoma as well. Finally, the day ended with another phenomenal Spanish lesson from Erin.
August 2nd (Day 6):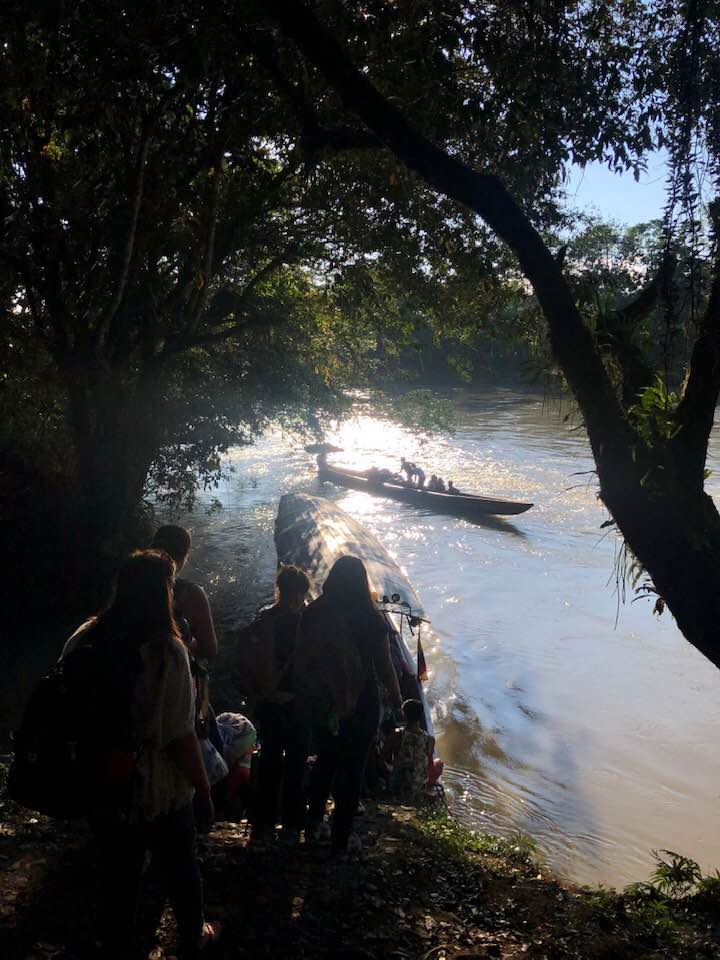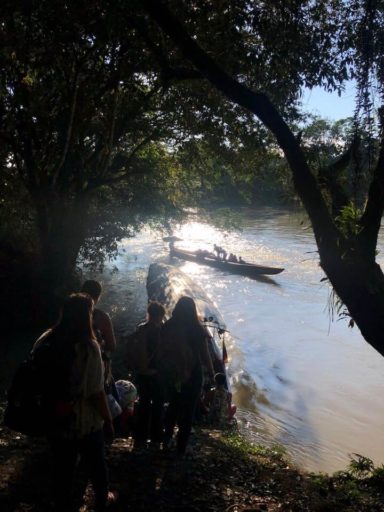 Unfortunately, today was not fun for me and my roommate Alexa. Both of us ended up staying back at Runa Huasi because of nausea and lots of GI upset. However, the rest of the group today went back to AmaZOOnico to listen to a couple of more lectures and assist in an exam on a coati, which is something I really wanted to watch because it's not like we have a coati in the zoo back home. Anyway halfway through the day, to help me feel better and cool off, I moved outside to a hammock on the porch, where I pretty much stayed the rest of the day. Later that evening, Alexa felt better, but I felt much worse and I was upset because I told my parents I wouldn't get sick this trip, but you know life always gets in the way. When I went to bed that night, I knew I would be missing out on the river rafting and the staff had made a decision they would be taking me to see a doctor at the hospital.
August 3rd (Day 7):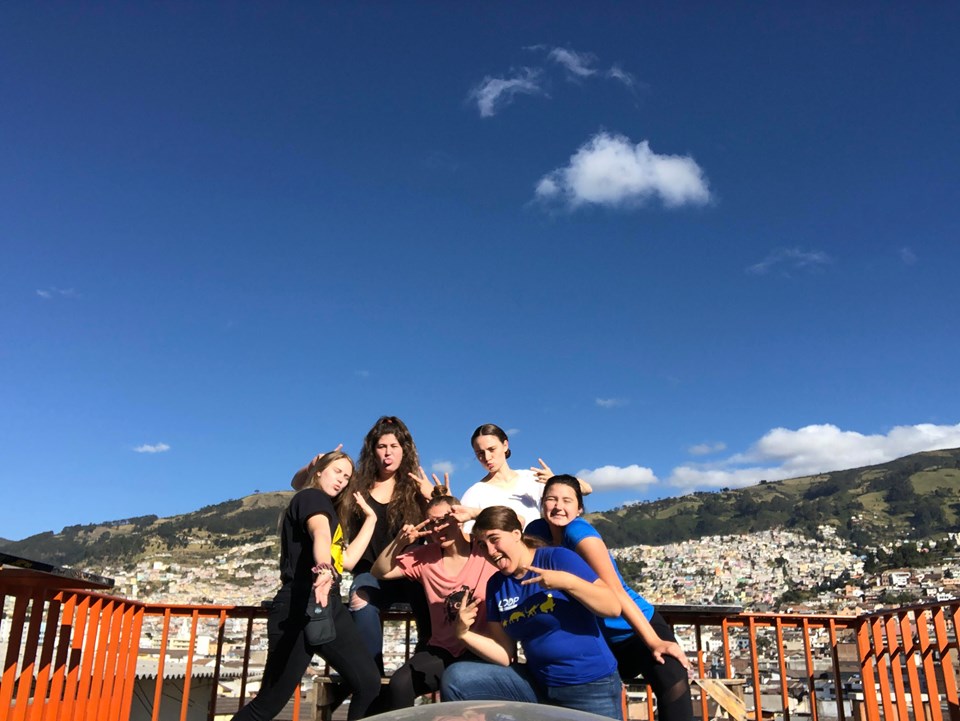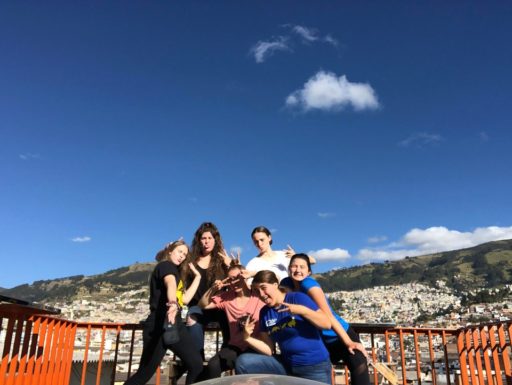 As much as I would've loved to wake up feeling better, I didn't feel the slightest bit better. Today, as a group, we traveled to Tena, Ecuador for the weekend, which is about an hour and a half away from Runa Huasi. The hostel we stayed at had a very nice patio with a phenomenal view of the city. On the schedule today was river rafting, but since I was sick, I took a trip to the hospital in Tena. Two wonderful staff members, Erin and Cecile, went with me to make sure I got the proper care I needed. The wait at the emergency room was not long at all with it being a Saturday morning; I was surprised. At the emergency room, Cecile was my translator as many of the doctors and nurses didn't speak English. After the doctor completed her initial exam, it was determined that I needed IV fluids and anti-nausea meds. I was at the hospital for 6 hours receiving treatment, but by the time treatment was finished, I felt like a human again so it was worth the trip. After the hospital, I was able to go back to the hostel and join the rest of the group. It was a very relaxing night as we just hung around and played games the whole evening.
August 4th (Day 8):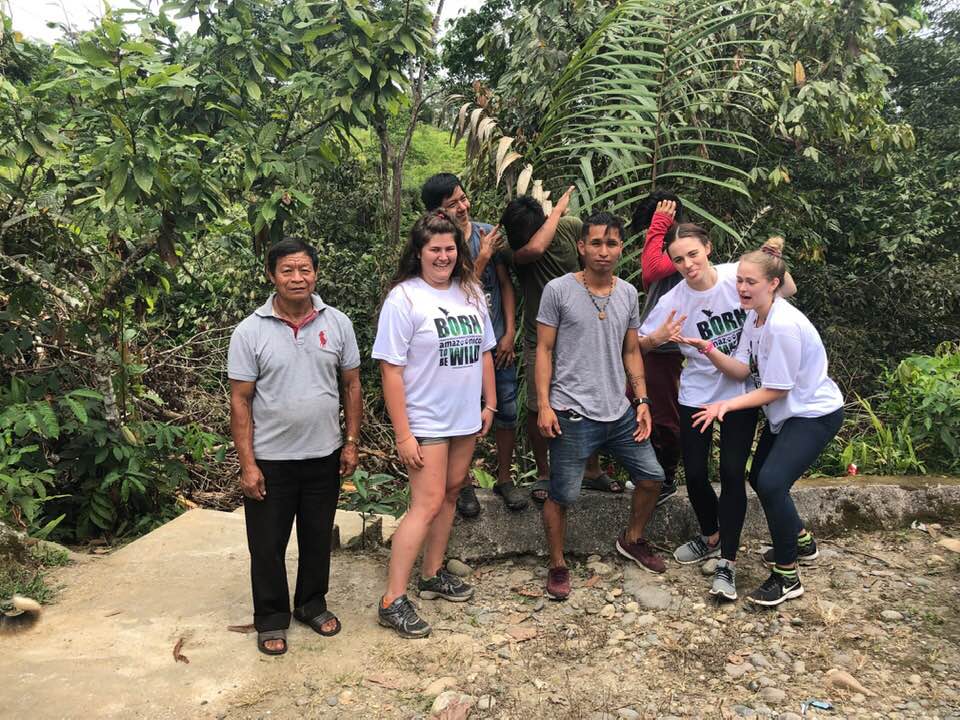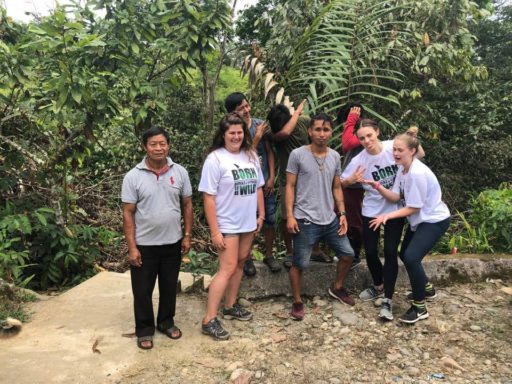 After a much-needed restful night's sleep, I woke up feeling good enough to go caving. However, it was raining a lot, and plans changed a bit throughout the course of the day; everyone was super flexible. Once breakfast was eaten, we drove about 30 minutes to a cave, but because of the rain the water was too high and it was dangerous for us to enter. Then our tour guides found another cave that would have less water, and we would be able to enter it.
First of all everyone in our group was given a candle to light our way, and if anyone has tried walking with candles in the rain, it probably turned out how you would expect. We entered the cave and no one was expecting what was on the inside. There was rushing water at the bottom, large rocks, and water coming in from the top of the cave. Without light, trying to navigate through the cave was near impossible. Anyways we ended up leaving the cave because it got too dangerous to advance further into the cave. When we got out of the cave safe and sound, lunch was waiting and the guide took us on a tour of how they create a natural medicine, that can give you hallucinations if used in large quantities (it was interesting to say the least). Later that day we went to a grocery store to stock up on snacks for the week, and we headed back to our cabin in the Amazon!
August 5th (Day 9):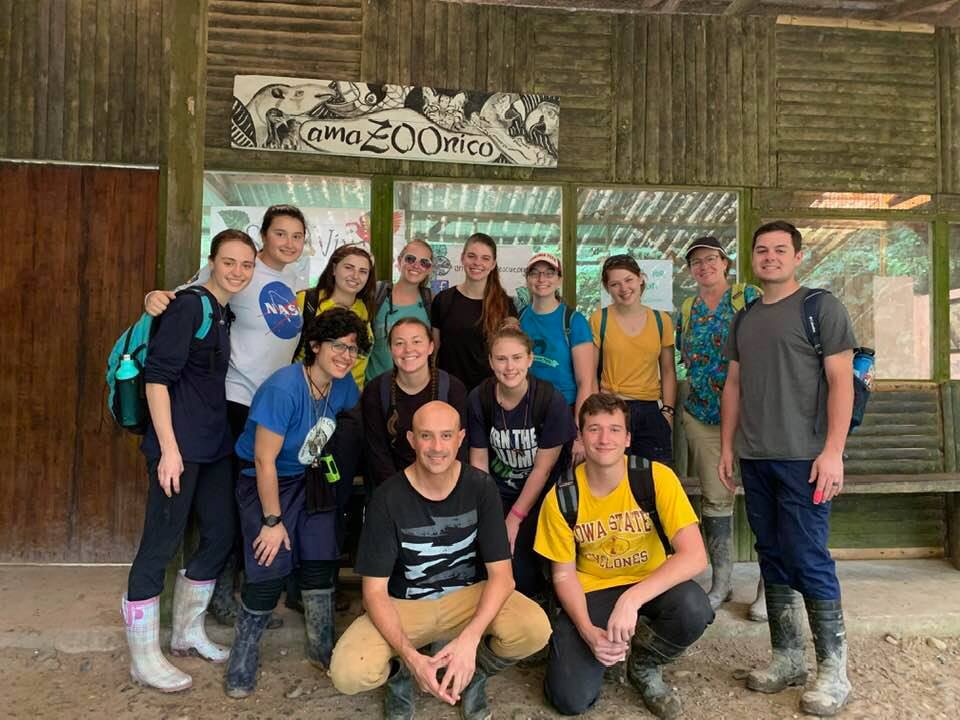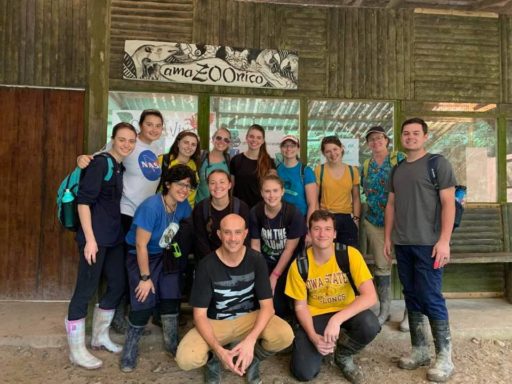 Since we had a busy and fun-filled weekend, today was a little more laid back (which was much needed). If I remember correctly we may have got to sleep in more than usual. Once we arrived at AmaZOOnico and helped with food prep and clean up, our group assisted Dr. Mauricio and Dr. Kimberly with a complete physical exam on a squirrel monkey; this was nothing like I had seen before, so I learned a lot. To my surprise, a squirrel monkey's heartbeat is VERY fast! After the exam, we split into two groups, one group created enrichment for the macaws and the other group created enrichment for the spider monkeys. My group created enrichment for the macaws. This included digging clay out of a pit, then creating balls to stick sunflower seeds and flowers in. This is similar to one of those dog food puzzles; it stimulates their mind. We then went back to Runa Huasi, and my group attended a suture lab with Dr. Cecile, which was fun and great practice (as my suture skills were a little rusty). Once the lab was complete, we had free time and our final Spanish lesson from Erin in preparation for the clinic days.
August 6th (Day 10) and August 7th (Day 11):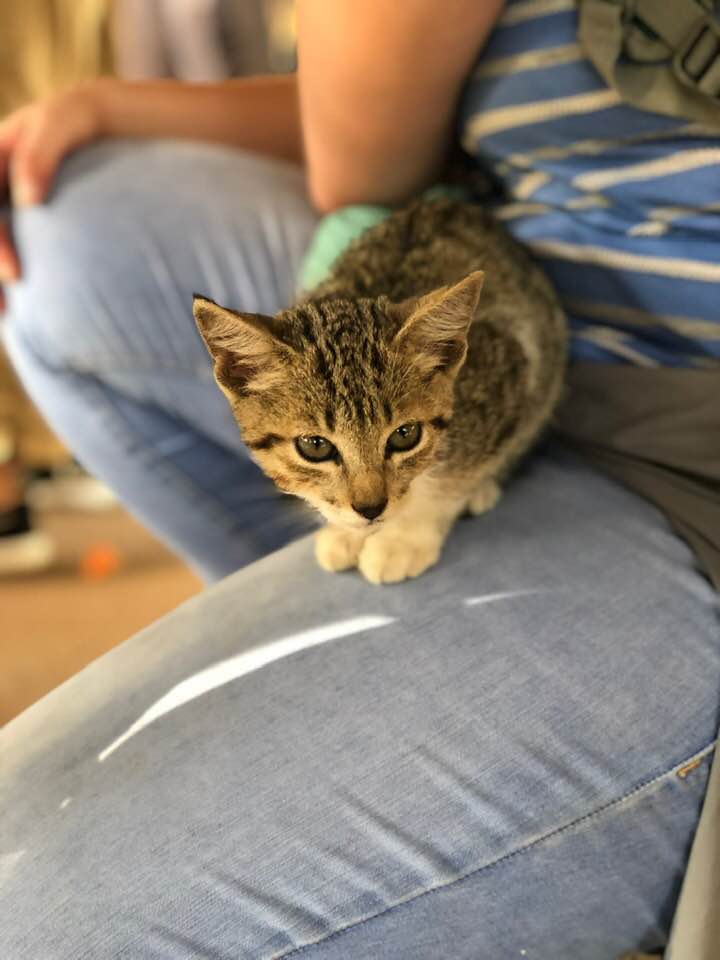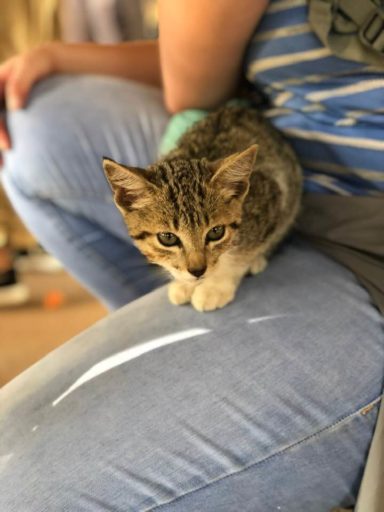 Both days were very similar in nature. These were our community clinic days. Our group held a free small animal clinic to help those pets who are in need of care, but the owners of these pets can't typically pay for annual veterinary care. We examined dogs, puppies, and cats. Also, we helped restrain, give vaccines, perform skin scrapes, study microscope slides to look for parasites, gave IV fluids, drew blood, and one of my favorite parts is that we got to practice our veterinary Spanish skills! There were animals who had been rabies vaccinated and unfortunately there were animals that hadn't been rabies vaccinated. Due to safety, we weren't allowed to have as much hands-on activity with the animals that hadn't been rabies vaccinated. Even though the majority weren't rabies vaccinated, there was still A LOT to do! It was an overall great experience to help those who are less fortunate than you. After the clinic on day 10, we went river tubing back to our lodge; the river was very cold, but the tubing was quite fun! Then after the clinic on day 11, we made a pit stop for ice cream and shopped at a local store with handmade goods!
August 8th (Day 12):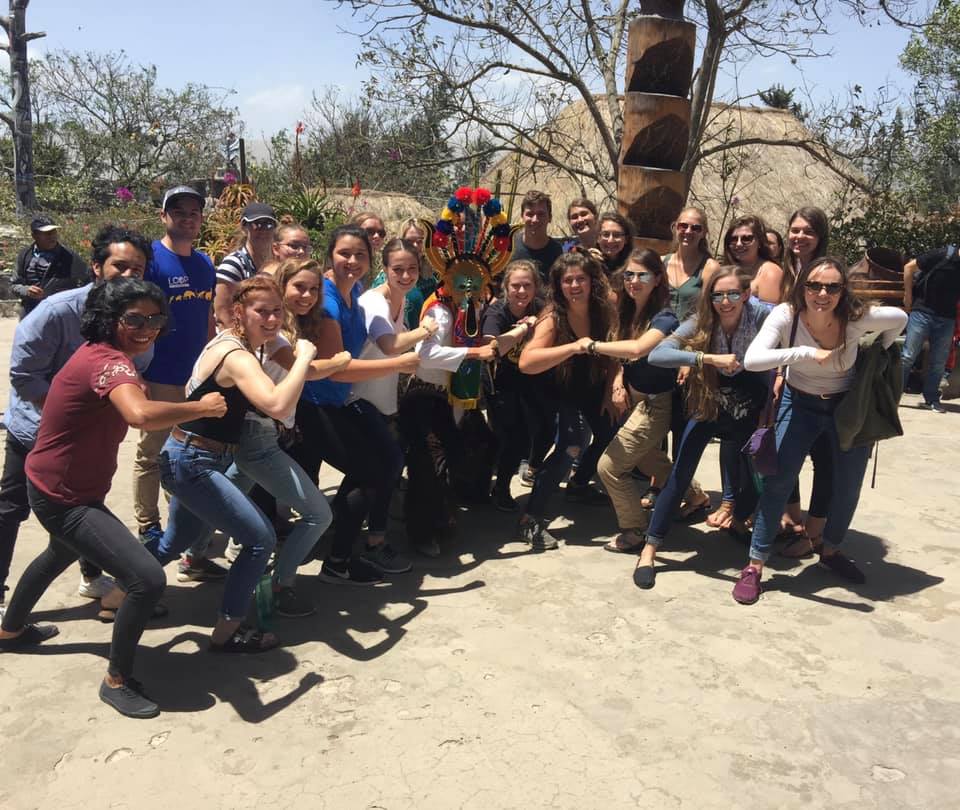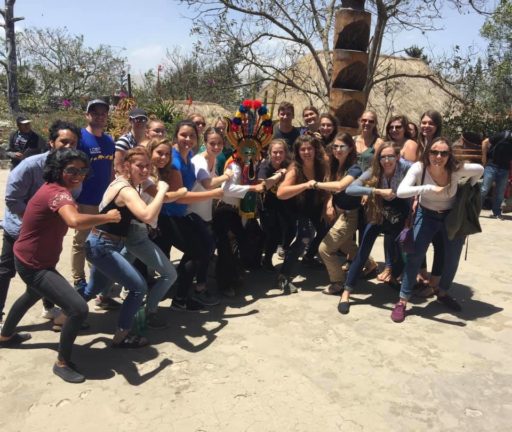 Throughout the week, we were told that we could possibly be releasing tortoises back into the wild, today was the day that was going to happen. However, once we arrived at AmaZOOnico we learned that due to government restrictions that couldn't happen this particular day. Every one, though disappointed, made the most of it and ended up enjoying the day. First, we discussed the blood test results of some monkeys who had died about a week and a half before the group arrived at AmaZOOnico. Then we complete vet rounds with Dr. Kimberly to ensure the animals were eating, interacting, and acting normally. After vet rounds, Dr. Mauricio performed a monkey necropsy; this was cool to see but didn't smell great at all. Once we said our goodbyes at AmaZOOnico and purchased last-minute souvenirs, as this was our last day, we headed back to Runa Huasi. At Runa Huasi we had lunch and the majority of us swam until dinner. Later that night, there was a talent show and another show that the native community performed (it was fun dancing with them). Also, we had a dance party that night. My favorite moment was teaching the Cotton Eye Joe dance to various people.
August 9th (Day 13):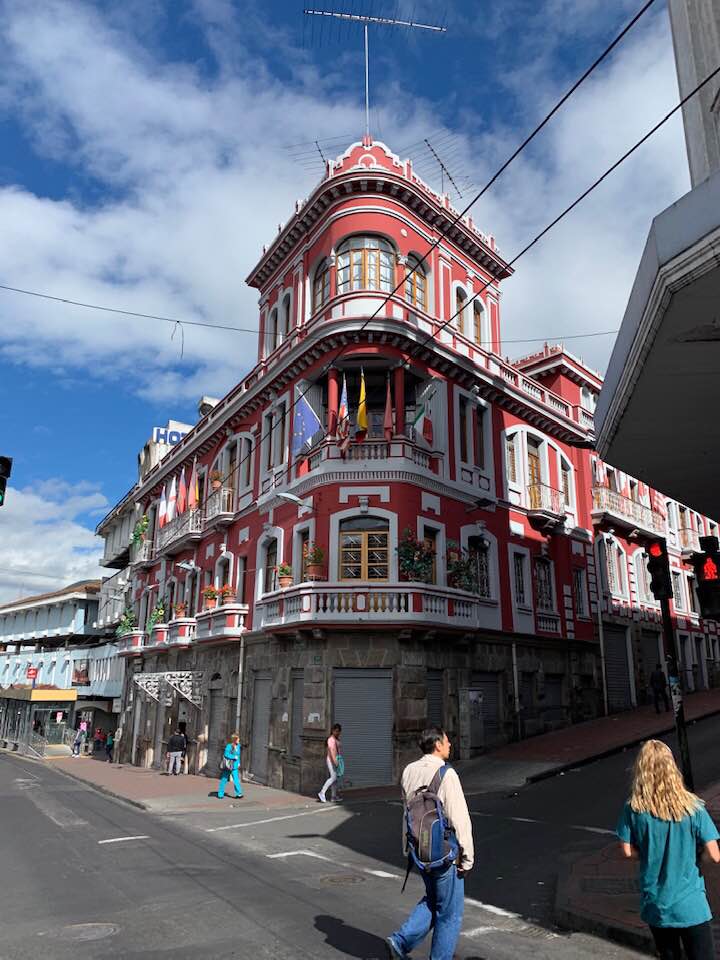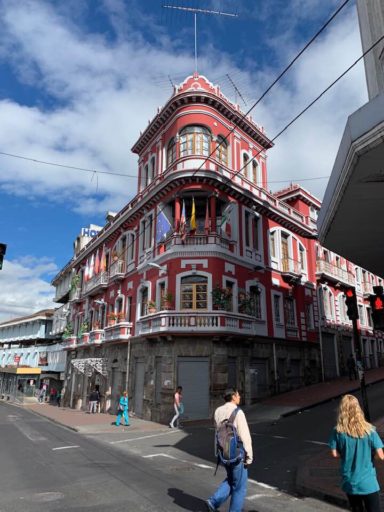 Today was an emotional, bittersweet day. We said goodbye to Runa Huasi and the Amazon Rainforest! I had spent almost two weeks in a luscious, green jungle where I fell in love with every animal species I came in contact with. It was a goodbye not only to the rainforest but also to Runa Huasi and all of the kind people that cared for us. After our alumni meeting, we hopped on the canoe back to the bus, where we would spend the next 8 hours traveling back to Quito! The bus ride, not going to lie, felt like an eternity. We got to Quito around 7 pm and after spending all day on a bus it was nice to stretch my legs and lay in a bed again. That night was very relaxing where most people played games or enjoyed the rooftop views of Quito.
August 10th (Day 14):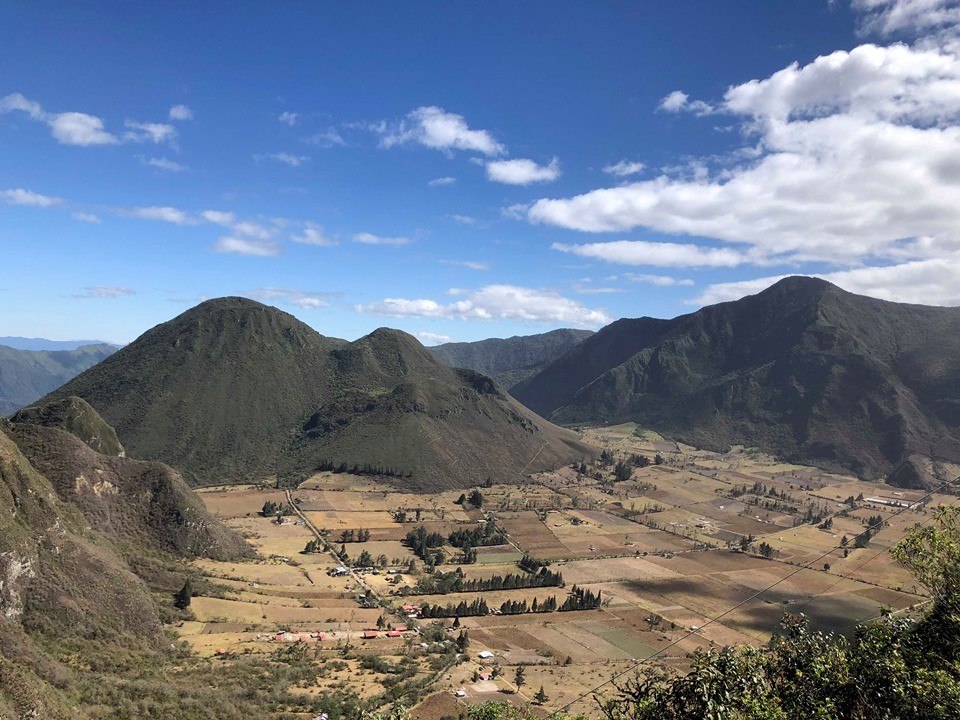 This morning came very early, as a lot of people went to bed late the night before. Today was spent touring the city of Quito and visiting markets to purchase many of our souvenirs. The first stop in Quito was Pululahua Geobotanical Reserve, which is a protected area around the Pululahua volcano. It's a very mountainous region with breathtaking views. There was a market shop at the reserve, where many people bought their souvenirs. After shopping at the market, next, we were off to the Intiñan Solar Museum, which is a museum that exhibited places on the Equator, for example, the middle of the world. Also, there were lots of cool experiments to do, like balancing an egg on a nail and walking in a straight line (which is harder than it sounds on the Equator). After the tour of the museum, we were treated to a dance performance where we got to participate in as well! Next, we had lunch out in Quito, which also was amazing! Once lunch was finished, we stopped by to view more birds-eye views of Quito, then off to El Panecillo we went. Here there was a massive statue, where you could climb to the top and see even better views of Quito! Also, there was a market with more souvenirs. We spent a total of about 45 minutes at this place, then we went to tour Old Quito, with more shopping and amazing food shops! Finally, we walked back to the hostel where we had dinner and another fun night. Since this was our last night all together, none of us wanted to go to bed, so we stayed up until about 12 am talking and eating pizza!
August 11th (Day 15):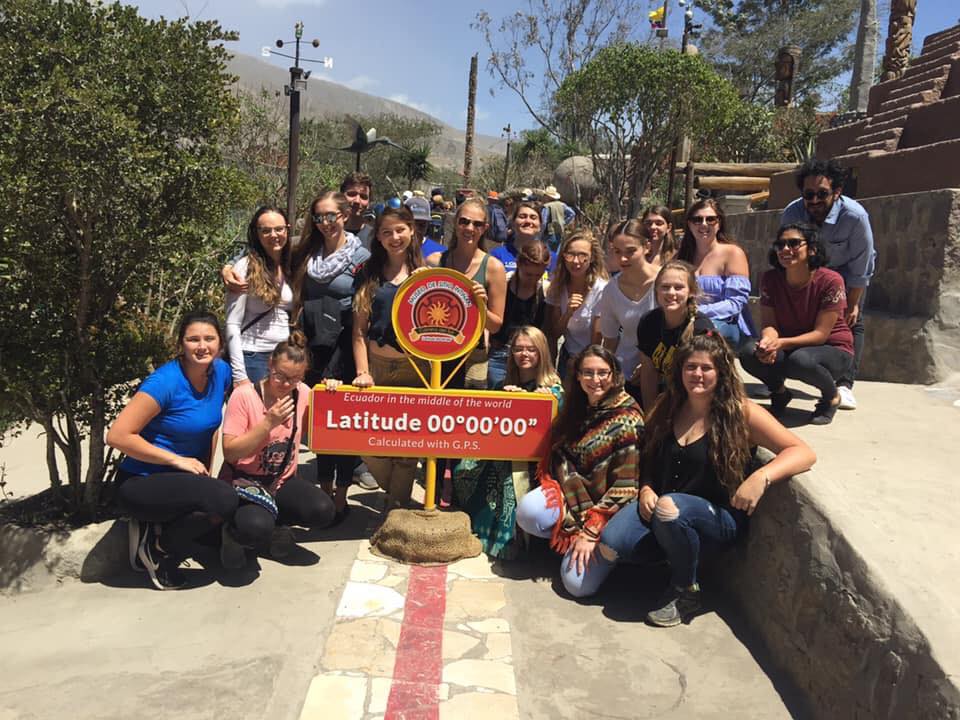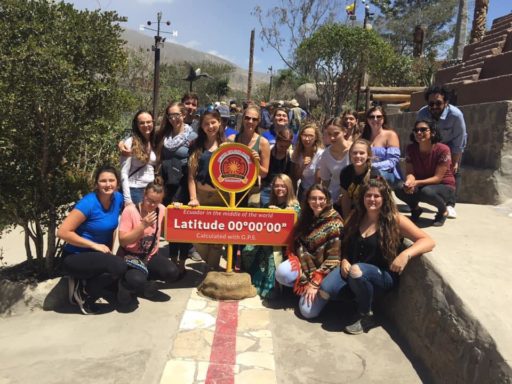 This was another bittersweet day, as today everyone said their goodbyes to Quito and their friends. The earliest goodbye was at 2 am, to some of my best friends! Since there were lots of people leaving at different times today was limited in what we could do. After sleeping in a bit, we had breakfast and got ready for the day. The people who had later departed convinced Hannah and Erin to go to a chocolate and coffee shop, so we could buy goods for family and friends back home. After getting chocolate, I took a nap then said goodbye to some more amazing friends! The ones who had a late departure at 8 pm, convinced Erin to walk with us to an ice cream shop, which was an amazing treat that cheered us all up! Once we got back to the hostel, I spent the rest of the time up on the roof having amazing conversations with the girls that were leaving at the same time as me and with Erin. At about 8 pm, all of us loaded up on a bus headed back to Quito airport, it was too surreal; I mentally and physically wasn't ready to leave this amazing country with all of its amazing people! My flight ended up being delayed until about 1 am, so I spent a lot of time in the airport. Luckily I had some of my friends with me to keep me company. Once I was on the plane and we departed, I kept telling myself that I will come back to Ecuador one day; it was a see you later not a goodbye!