Applications are open for Summer 2023!
Loop Abroad offers both a one-week and a two-week version of the Sea Turtle Conservation Costa Rica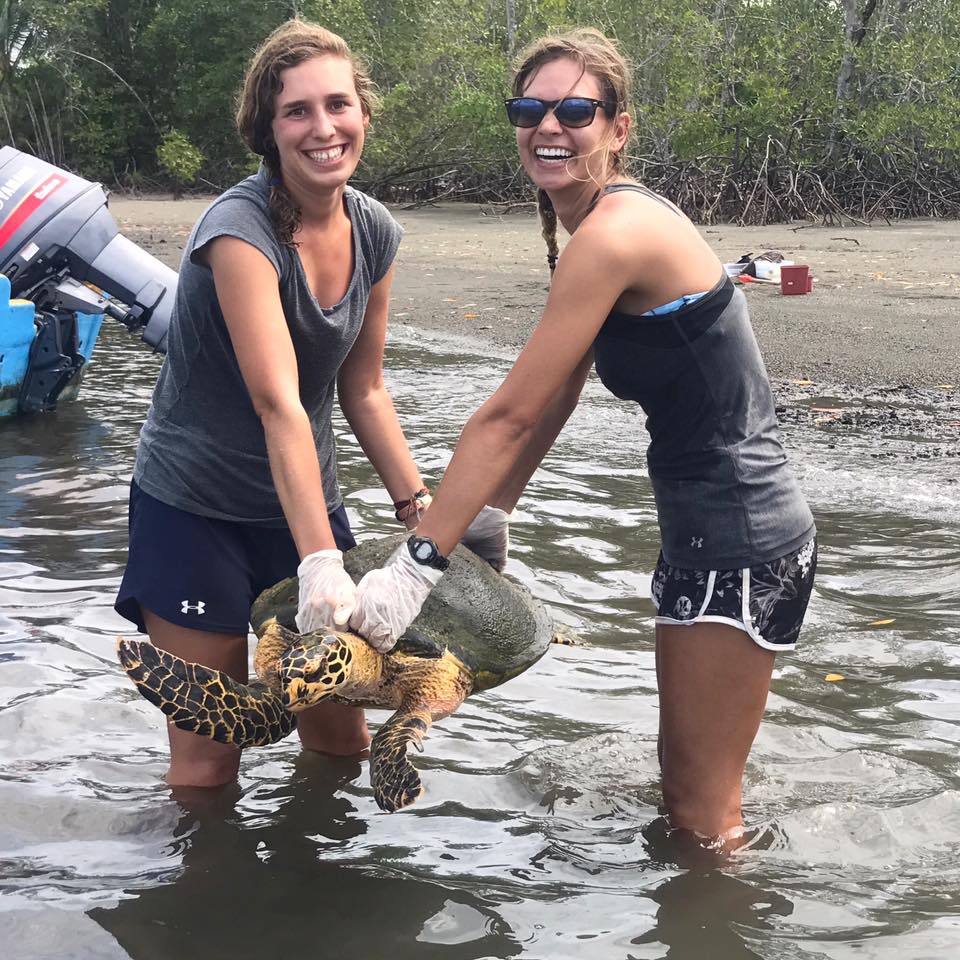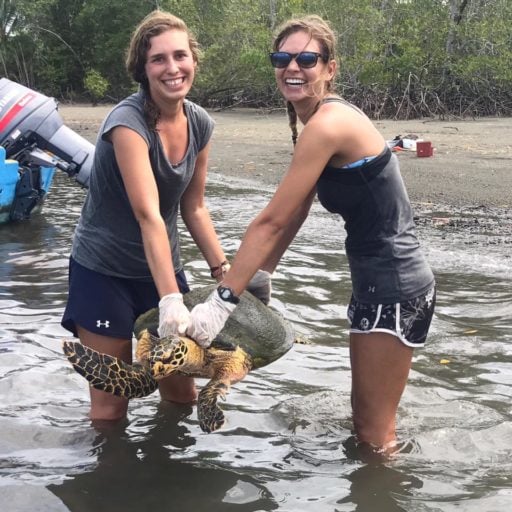 Your group will work with LAST, Latin American Sea Turtles, helping with their sea turtle conservation projects on the Osa Peninsula of Costa Rica. Each program also includes assisting in a local one-day spay and neuter program (only as part of the two-week program), which your tuition dollars help to support.
As part of the Osa In Water project, you will help with projects including:
In-water monitoring of sea turtles

Rescue and rehabilitation center

Mangrove reforestation program
You'll learn all about sea turtles and sea turtle conservation in your time volunteering with this internationally respected organization, and you'll help to support their important conservation work with your tuition dollars.
Who It's For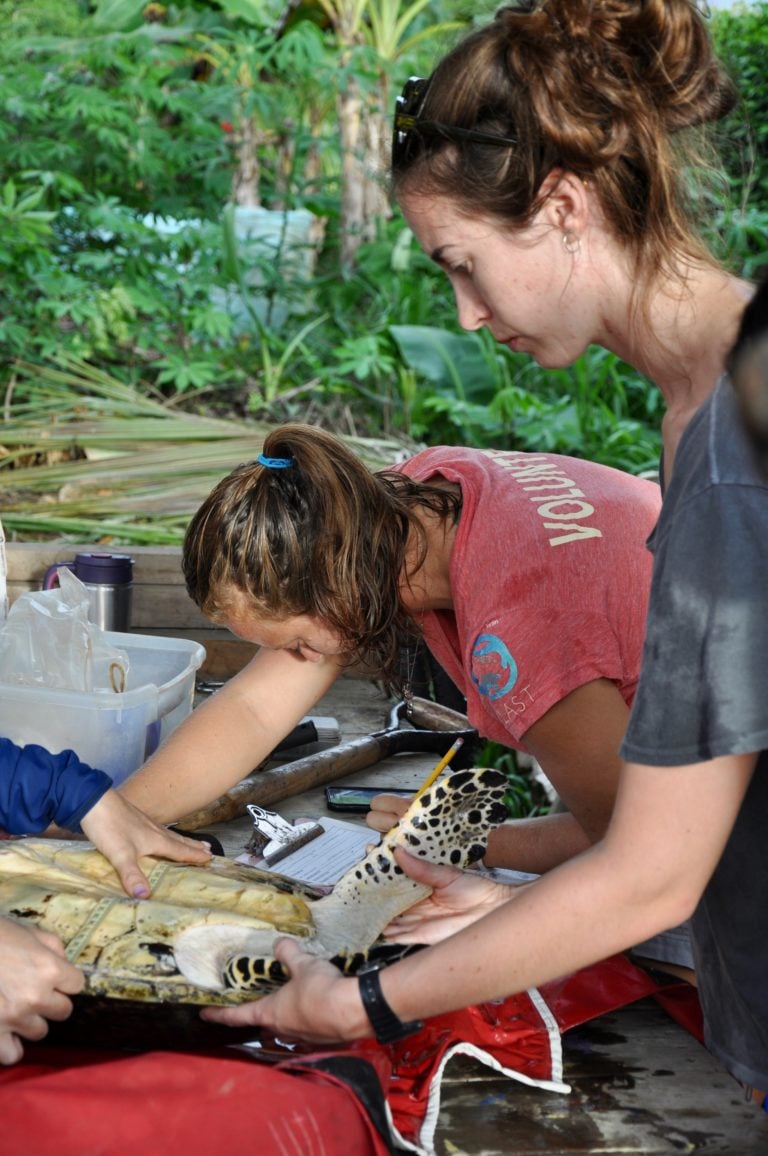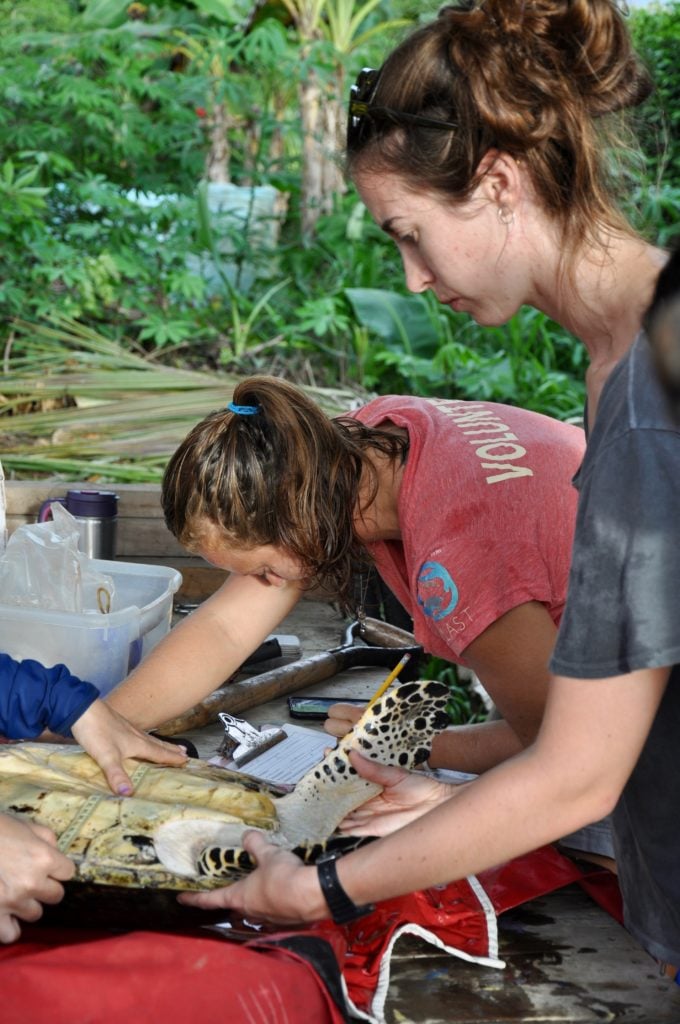 This program is designed for participants interested in learning more about sea turtles or conservation work and getting hands-on experience.  High school programs are for students 14-18. On other program dates, participants must be at least 18 to 25 years old.
There are no prerequisites for this program. You do not need to be in school currently to apply. Individuals of any nationality may apply.
Each group of up to 15 students will share site staff and classroom time, and work together on projects on-site. All programming is in English – no Spanish skills are required (but if you have them, you'll have some opportunities to use them!)
Highlights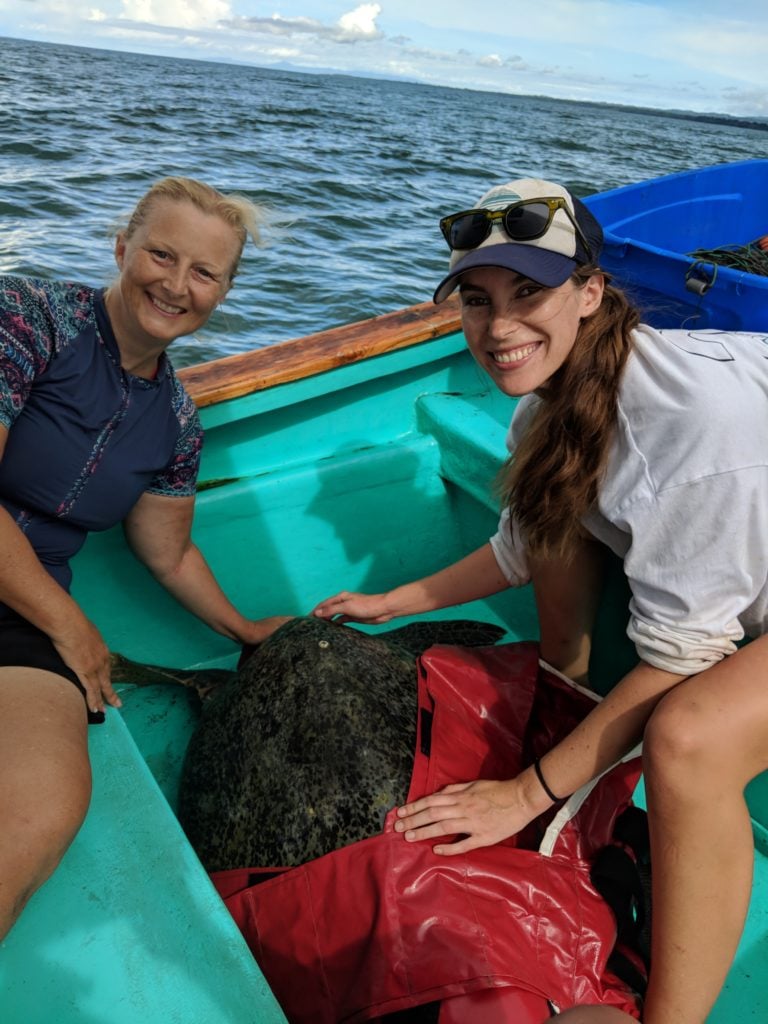 Live on the beach in the beautiful Osa Peninsula in Western Costa Rica

Enjoy exploring nature from kayaking adventures to national park hikes

Participate in a dog and cat spay-neuter campaign

Observe sea turtles in the wild

Help to monitor wild sea turtles from the boat, in the sea, and on land

Get practical training in data collection to prepare yourself for your career or studies working with wildlife

Learn about sea turtles from staff biologists at this respected conservation effort

Learn and practice some Spanish! (no Spanish language skills required)
Dates open for application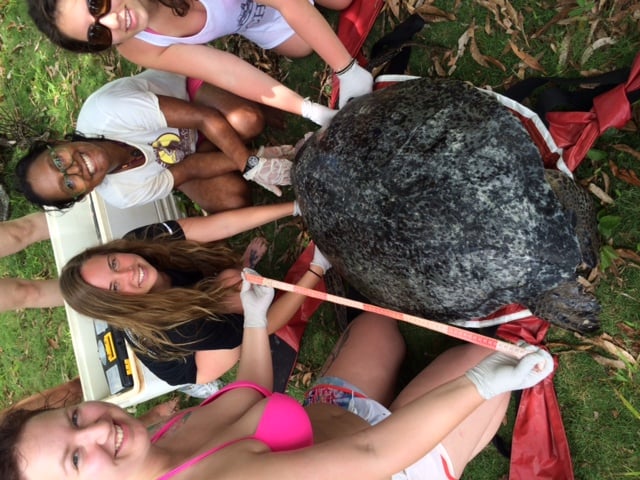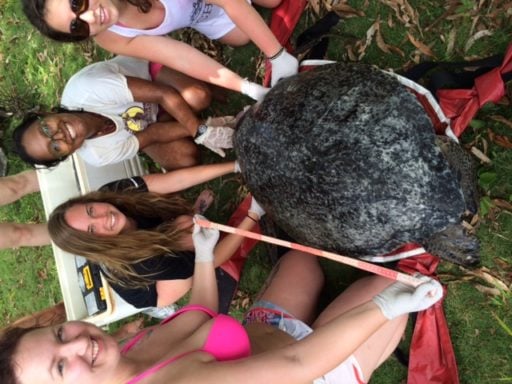 College Program (ages 18-25): 
High School Program (ages 14-18):
These program sessions are covered by Loop Abroad's COVID-19 100% Tuition Refund Policy. If a program is canceled by Loop Abroad due to COVID-19, we will refund 100% of any program tuition you have paid (including the deposit).
*The dates above indicate the day you must arrive in San Jose and depart from San Jose, which may mean leaving the US the day prior or returning the day after, depending on your flight time and beginning travel location. The Osa Peninsula is a long drive from the San Jose airport. For this reason, we cannot accommodate students arriving and departing outside of the required arrival and departure days.
*Please note that there is no group flight for this program. Students will be picked up and dropped off at the San Jose airport. Loop Abroad reserves the right to cancel any program at any time; in case of such cancellation by Loop Abroad, all payments will be returned in full.
Want to travel longer with us? Add another two-week program!
This program is a full adventure on its own, but it can easily be combined with a veterinary medicine course in Costa Rica or Panama with minimal travel time and extra costs. Combine any two programs and save $100 on each program's tuition!
See all the programs you could link together!
Hours and Credit
You will receive a certificate for 40 service hours per program week upon completion.
Most of your classroom and fieldwork time in this program is spent participating in research. Students can calculate their own record of research hours for their VMCAS or other applications (approximately 20 research hours and 3 vet hours per week).
The Sea Turtle at LAST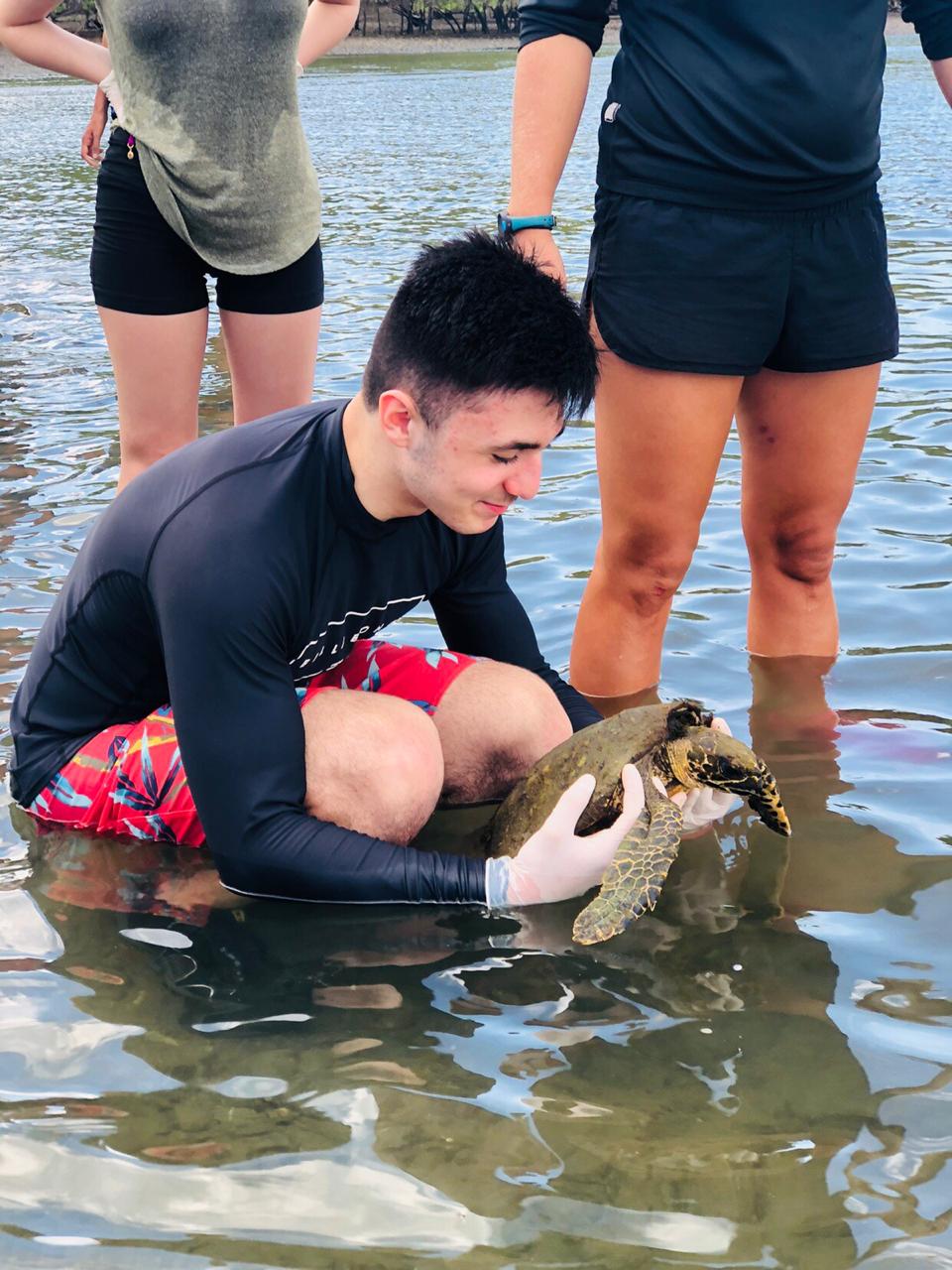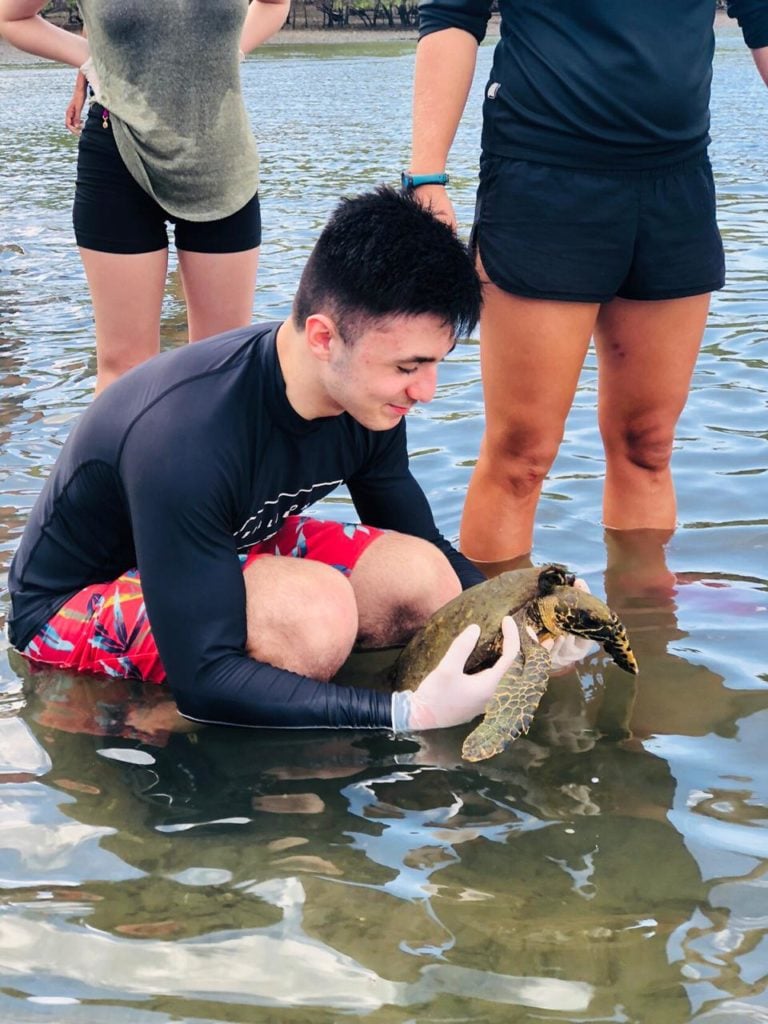 This project does not have captive sea turtles or tanks – the sea turtles you will be researching, looking for, and working with are wild animals. As such, you will learn the proper way to capture, assess, and release sea turtles for their monitoring, health, and safety.
The Osa In-Water project was founded in 2010, after WIDECAST was successful with the same in-water monitoring method in 2007 in Cahuita, in the South Caribbean of Costa Rica. The dynamics of the local sea turtle populations are poorly understood, and while some information on females has been gathered from nesting beaches, little is known about population structure, genetic origin, and in-water habitat use.
Sea turtles spend only 1% of their lives on nesting beaches and due to this behavioral pattern, mainly only adult females are studied. Very little information is available about juvenile populations and the sex ratios of adult populations.
Therefore, more in-water work is needed to increase knowledge about habitats used by sea turtles in different life stages in order to assess the types of threats they are exposed to.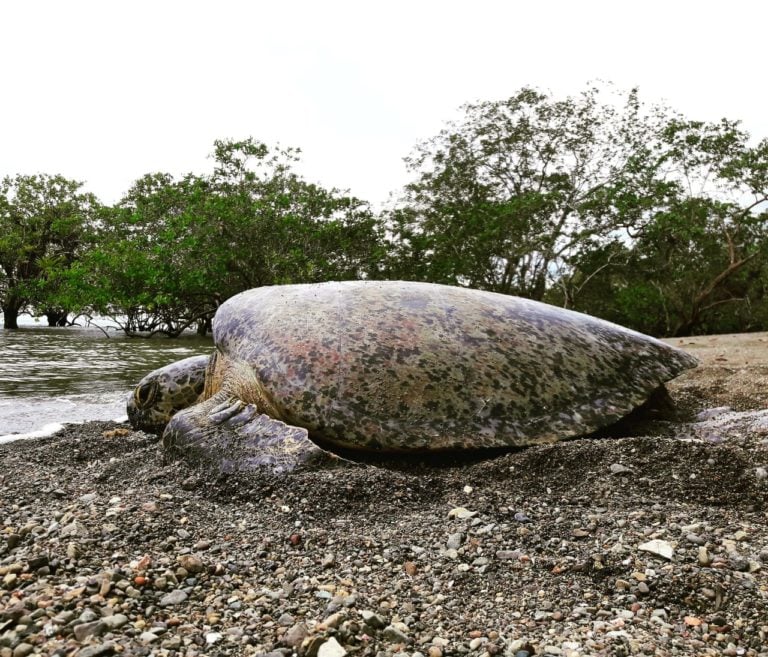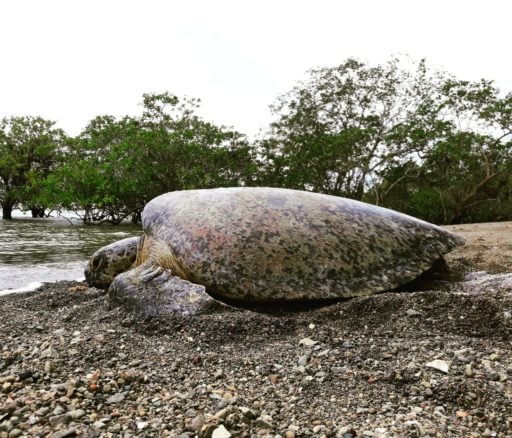 On the Osa Peninsula, LAST is working mainly with the Hawksbill sea turtle (Eretmochelys imbricata) and the Pacific Green sea turtle (Chelonia mydas), also known as the Black sea turtle. Both species are listed on the IUCN Red List of Threatened Species. The Pacific Green sea turtle is ranked as "Endangered" and the Hawksbill sea turtle as "Critically Endangered", which means if we don't take serious measures, it is very likely that they will become extinct. For that reason, every helping hand is welcome! 
This project is hard work. You will be out in the water and on the beach at all times of day helping with different aspects of sea turtle conservation. It's not for everyone, but for those who are willing to put in the work, the experience will be extremely rewarding.
Groups and Staff
Groups will have a maximum of 24 students each. During your program, you may be split into smaller groups throughout the day to work on different aspects of the research and conservation projects in smaller groups.
Housing and Meals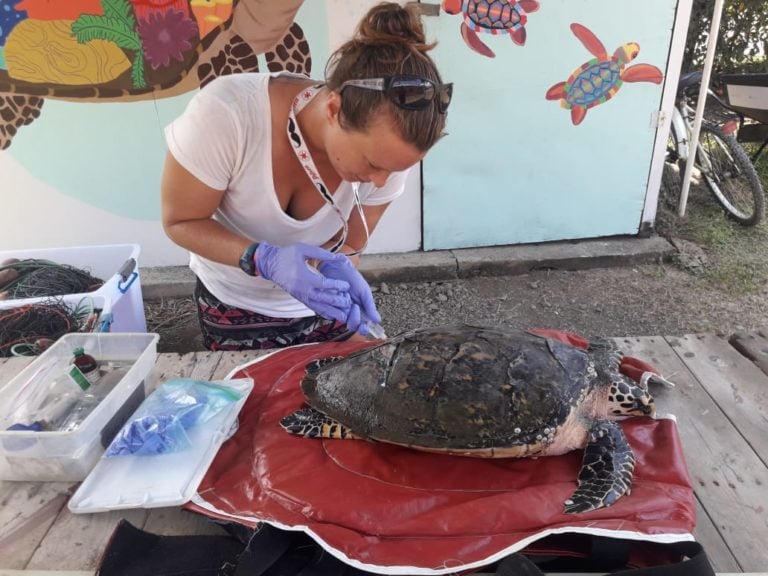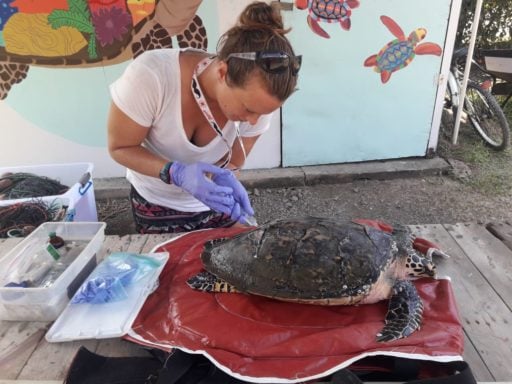 You will be living at the OSA in Water project at LAST (Latin American Sea Turtles) on the Osa Peninsula. A Loop Abroad staff member will be on-site 24/7 to help you each day and in case of an emergency. Housing will include simple, shared rooms: rooms are shared with other Loop Abroad students of the same gender. Bathrooms are shared and have cold running water. Wifi is available, but you should not plan to use wifi dependably for high-bandwidth tasks such as attending virtual meetings or streaming video, as it will be shared by a large number of students using it at the same time.
The housing has screened windows and fans.
Please note that because summer is the dry season, you will be asked to stick to quick showers and limit laundry to a maximum of once per week.
All meals are included in your tuition. We can accommodate vegetarian and vegan diets and food allergies with advanced requests.
Please note that this is a project on the beach on a peninsula known for spectacular wildlife and conservation, and as such it offers simple, rustic lodging and food.
Tuition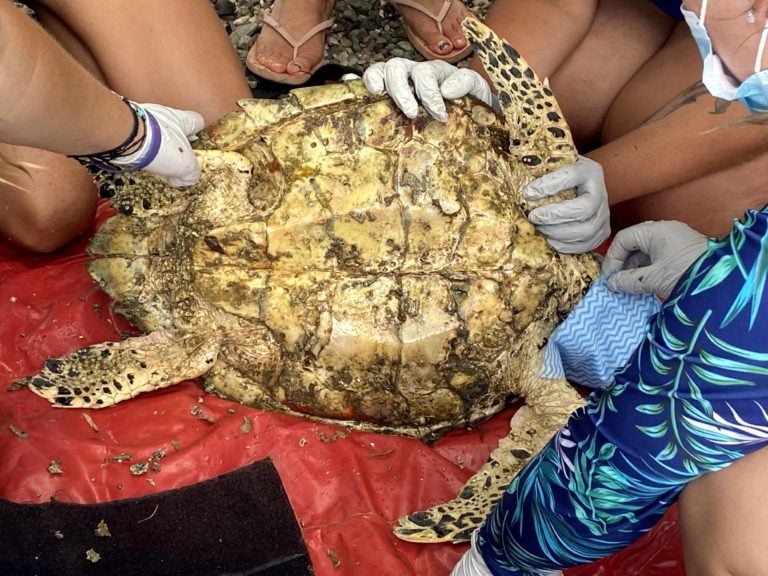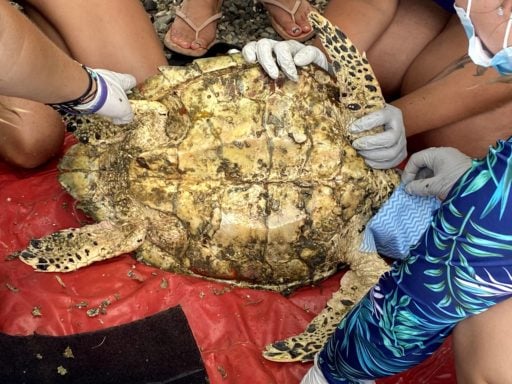 Two-week program: Regular tuition for the two-week program is $3750
One-week program: Regular tuition for the one-week program is $2650 
 Tuition does not include international airfare. 
There is a $100 tuition discount for combining this program with another 2-week program.
During COVID-19, conservation efforts around the world have suffered as they have lost the funding and help often provided by tourists and visitors. Your participation in this program helps to support this important sea turtle conservation effort in a fragile time. Your support truly means the world to the organizations we work with. There is so much that we can learn from their experts on staff!
Interest-free payment plans are available. Current college students may be able to use federal financial aid toward their tuition. Your space is not held until your $1,000 deposit (credited toward tuition) is paid.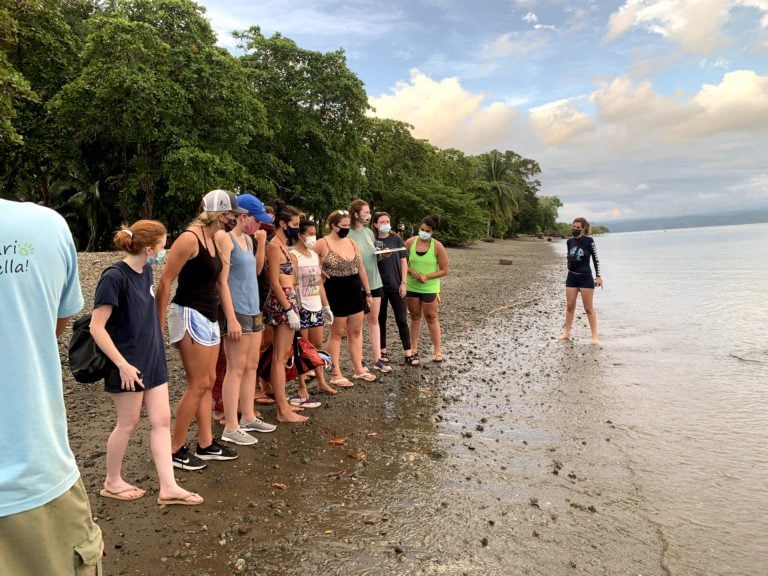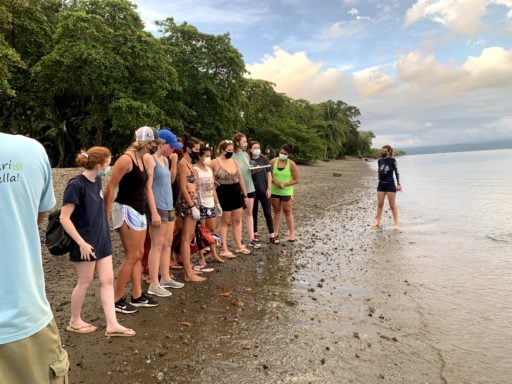 Tuition is all-inclusive less airfare. Tuition does not include medical insurance (the policy we suggest is under $25), a passport, snacks, and any COVID vaccinations or testing required for travel.
This program requires you to pack certain items you might not already have and may need to purchase for the trip, including a headlamp, extra headlamp batteries, a waterproof watch, a mosquito net, reef-safe sunscreen, a dry bag, a snorkel, and mask.
Airfare is not included. There is no group flight for this program. We will have multiple pick-ups and drop-off times at the San Jose airport on arrival and departure days. Your transportation between the San Jose airport and the program location is provided and included in your tuition.
COVID and Safety
All participants will need to be fully vaccinated for COVID-19 (which may include boosters if eligible). All participants will adhere to the Loop Abroad COVID policies of testing yourself for COVID-19 within 2 days prior to travel, reporting symptoms if they arise during the program, masking or testing if asked to by staff, and isolating if you test positive.
If a program is canceled by Loop Abroad due to COVID-19, we offer a full refund of all tuition paid, including the deposit.
What if my program isn't canceled, but I can't travel for personal reasons?
We understand that sometimes even though a program is not canceled, an individual participant may be unable to travel due to illness or other personal reasons. In addition to our refund policy, if you must cancel your program enrollment less than 35 days before travel, for any reason at all, you can replace your program with the following virtual package.
This package includes 5 university credits from Iowa Wesleyan University (if you successfully complete the courses) and has a retail value of $5,080.
This offer is valid for cancellation of travel programs between 35 days and 1 day before the program begins when no refunds are available for participants canceling their travel. One virtual package available per participant; non-transferable. A participant canceling their enrollment more than 35 days prior is welcome to select this option over their refund if they so choose.
Want to travel with us longer?
Link this program to another two-week program and save $100 on each tuition. Costa Rica programs are an excellent choice to combine with Panama, as air travel between the two locations is short and convenient. This program can combine with: