Safety
2018 will be Loop Abroad's ninth year of exceptional study abroad programs. Here are ten major ways in which Loop Abroad works to keep its summer and winter students safe and happy throughout their programs.
Note: For safety information about our Veterinary Semester Abroad and Veterinary Student Veterinary Service programs, please contact us.
1. Locations – Tourism is Thailand's number one industry, and the country works very hard to ensure that tourists are safe and feel welcome. Most people in and around program locations speak at least some English, and it is easy to communicate. The city has developed roads, fantastic hospitals, and other comforts of home – including several Starbucks. Our South Africa programs take place on a closed reserve away from the city that is closed to volunteers other than Loop Abroad students while we are there.
2. Housing – Loop Abroad students in all countries stay in safe and secure lodging with staff on the premises. Rooms are separated by gender.
3. Ground Transportation – Students travel in Loop-approved transport with excellent safety records and are not allowed to seek their own transport or to use motorbikes.
4. Staff – Each program has its own staff leader Leader as well as local partners, often tour guides and/or local vet partners. Our average faculty:student ratio is 1:5. We have on-site support staff for each location. Veterinary programs are led by US veterinarians (DVM) and supported by local veterinary staff.
5. Student Groups – Because our programs are not open enrollment, each student in each group has been chosen after submitting an essay, transcript, and two academic or professional references. Average group size is 10 students. For most students, this is their first trip out of North America. Our staff are equipped to help them make the most of their experience. Students will never be alone.
6. Food and Water – Our truly all-inclusive pricing includes all meals. We are committed to providing safe, healthy meals and a number of options at each meal. In addition, we can provide for vegetarian, vegan, gluten-free, or other meal sensitivities but students should understand options may be limited. Kosher meals can be pre-arranged in Thailand for a supplemental fee. Bottled water is available in all program locations and with all meals.
7. Air Travel – Over 95% of Loop students choose to travel on our group flights from the US. This option not only allows students to get to know one another, but ensures they do not have to travel alone and that they are supported during their travel. Students making other travel arrangements can still be met by Loop Abroad staff upon arrival at the airport.
8. Medical Care – Hospitals in Thailand often meet or exceed Western medical standards. Western-level hospital care in Johannesburg is available for our South Africa programs.
9. Communication – Loop Abroad staff are available 24/7 in case of an emergency during your program. Students can use our phones to reach home if needed. Free wifi is available at most program locations. It is usually easy for students to stay in touch with home throughout their programs.
10. Expertise – We partner with amazing, respected organizations such as the Elephant Nature Park, to ensure our students' experience is not just positive but profound. The safety and security of our students is our first priority.
We are happy to answer any safety questions by email, phone, or scheduled Skype meeting. We are also happy to put you in touch with students or parents from past summers to talk about their experiences. Be sure to check out the student reviews and news coverage about our programs. We are confident that the more you learn about the Loop Abroad experience, the more certain you will be about our safety standards!
Fundraising and Financial Aid
Financial aid from Loop Abroad 
Loop Abroad offers need-based financial aid of $100 to $1,000 for summer programs and up to $5000 for semester programs. This aid is given as a discount on tuition and does not need to be repaid. Any applicant with household annual income under $100,000 can apply. If your family income is over $100,000 but you have special circumstances you'd like us to consider, please contact us.
Student loans for up to 100% of tuition
Students currently enrolled in college or university may be eligible to apply for a student loan for up to 100% of their Loop Abroad tuition through the Ascent Program for Funding Education or other available educational loans. Please contact [email protected] for assistance or to see if your school is on the list!
Online fundraising
While making a donation page on a fundraising site like GoFundMe can be a great way to attract attention and share your cause, it can also mean that 8% of your donations go toward the fees charged by the site. Instead, you can share this page, where friends and family can donate directly toward your tuition. A full 100% of the their contributions will be credited to your tuition!
Using federal loans
If you are a college or university student who receives federal loans, you can use those loans to pay for your Loop Abroad program if you are receiving college credit for your participation. For more information on receiving credit here. Federal student loans, sometimes called Direct Loans, Stafford Loans, or Perkins Loans, can be used to pay for education-related expenses, including "reasonable costs associated with a study abroad program approved for credit at the student's home institution."
Even if you are not receiving loans, or are unable to use them for your Loop program, you should talk to your financial aid office or study abroad office about other possible sources of funding that are available, including grants and scholarships.
Fundraising guide
We suggest that you download our Loop Abroad Fundraising Guide to learn how you can raise the funds for your tuition and travel! The guide will help you figure out how to get started and give you suggestions of fundraisers that have worked for our students in the past. And if we can help in any way, just let us know! If you need help coming up with a fundraising plan, please reach out and we'll help however we can. The majority of Loop Abroad students fundraise to pay for some or even all of their tuition.
Sell world-famous Thai pants as a fundraiser!
We offer our students' favorite Thai pants as a great fundraising option through Animal Kind Clothing. These pants are a market favorite in Thailand that have become hugely popular in the US! Ours are made by women in Chiang Mai who are now able to provide for their families, and each purchase helps to fund Loop Abroad's financial aid. You can earn up to $10 a pair selling Animal Kind pants – so selling 100 pairs on through your club, campus, or community would raise $1,000 toward your tuition!
Read how our students have fundraised for their programs…
Fundraising with Animal Kind – Jordan S.
How I Fundraised For My Loop Abroad Trip – Paige F.
College Credit
College credit is available for nearly all of our summer, semester, and winter programs through our US university partner. (Transcript fee applies.) Our Veterinary Service programs are curriculum-heavy, service-based programs that meet most schools' requirements.
Potential benefits of seeking college credit:
You may be able to use aid or scholarships from your school towards Loop Abroad tuition
Use federal loans toward tuition
Study abroad experiences on your transcript are more visible on your vet school application
Meet requirements towards your degree or major
If you would like to get credit for your program, let us know. We can get you signed up for college credit directly through our university partner and also help you work with your school to issue credit directly. Over 60 colleges and universities have given credit for our programs.
It is up to your school's discretion whether they will grant credit and, if so, how the credits will be listed. We are happy to help and can advise you on this process – just email [email protected] You should also ask your school if any financial aid or scholarships are available for your study abroad. The earlier you start this process, the easier it will be.
If you need detailed information including course syllabi, workbooks or written materials, classroom hours, or anything else, you can request detailed course information for the program you're interested in here.
FAQ about Loop Abroad and Iowa Wesleyan (PDF) written by Iowa Wesleyan, which is Loop Abroad's School of Record.
Donation Wish List
We accept donations for any of our projects worldwide, but we have our strongest year-round presence and our longest-standing local partnerships in Northern Thailand.
We are always grateful for any donations for dogs, elephants, schools, and families with whom we work in Ban Lao village, ARK dog shelter, Elephant Nature Park, and other local organizations.
If you would like to donate any of the following items, you can do so by mailing them to our office, or by bringing them on your trip. If you are not traveling with us, we may be able to arrange to pick up or ship your donations to us. You are generally permitted to check two suitcases for free on the international group flight, which means that you could use your second bag for donations!
Most-needed medical and veterinary items are:
Suture material size 2-0 and 3-0 with needles pre-attached
Self-adherent bandage
Blunt-nosed thumb forceps
Adson forceps
Mosquito forceps
Needles (gauge size 22, 23, or 24)
Syringes (1 ml and 3 ml)
Surgical/skin glue
Disposable ice packs
Disposable face masks
Medical tape
Surgical drapes
Heparinzed tubes
Expired sterile gloves (useful for practicing/demonstration)
Suture of any kind
Scalpel blades
Gloves (sterile latex)
Gloves (sterile non-latex)
Gloves (non-sterile)
Gauze
Cotton pads
Hemostats
Forceps
Tweezers
Scissors
Needle drivers
Neosporin
Ace bandages
Unused, unexpired flea/heartworm preventative medications
Nasal bulbs
Thermometers
Aspirin and other pain relievers
Antibiotic ointment
Non-medical donations that are always welcome include:
Used, clean towels and blankets
Used, clean adult and children's clothing
Used, clean rain jackets or lightweight coats
Used, clean shoes and boots
Socks in all sizes (new or used)
Used, clean baby clothes
Blankets and towels
Baby items (powdered formula, disposable and cloth diapers, baby medicine, wipes, diaper cream, baby shampoo and soap)
Hand sanitizer
White board markers (thick and thin)
Small tablet-style white boards
Digital cameras and camera cards
Baby and early reader picture books (through 4th grade level) in English
Mosquito repellent
New underwear in all sizes
Work gloves or gardening gloves (new or used)
First aid items (please do not include prescriptions or liquids)
Backpacks
School supplies (pens, pencils, crayons, erasers, markers)
Flashlights and batteries
Non-electronic wordless toys (balls, kites, playing cards, crayons, stickers, marbles, etc)
Personal care items (shampoo, soap, toothbrushes, sanitary pads, razors, deodorant)
If you would like to organize a fundraiser for one of our partner organizations or towards a Loop Abroad student's tuition, please contact us.
Applying
What's required to apply?
Please open the application, pick your program type, and read the instructions! When you're ready, you can come back and finish the application.
Who gets accepted?
We have different admissions criteria for each program. Generally, we look for a student who is excited to travel, challenge themselves, and learn about veterinary care in a new part of the world. You don't need to have ever studied or even traveled abroad. We have students who've traveled all over the world. We have students whose first time on an airplane was on our program. If you can show that you're kind, curious, enthusiastic, and prepared to adapt to new circumstances on your adventure, we'd love to have you.
We are not necessarily looking for straight A's, but we do look at your transcript to get a feel for your ability to commit to something that matters. We would like to see an overall trend of stable, generally good grades, and no behavioral concerns. Mostly, we care about finding students who are ready to travel in a group and thrive on the experience.
We accept approximately 60% of the students who apply to our veterinary programs. Our overall acceptance rate is approximately 66%. Please note that our semester program is significantly more competitive than summer and winter programs.
What happens after I apply?
Within 3 business days, we will notify you if anything is missing from your application. It generally takes about a week from the time you send us a complete application for admission and financial aid before we will send you an admissions decision with a financial aid award, if applicable. If you are not admitted, your notification will include suggestions to improve your application for next year.
Applying does not obligate you to attend or to pay any tuition. If you are accepted, you can then decide if you'd like to attend. Your space in the program is not held until your deposit is paid. Once you pay the deposit, it is non-refundable.
If you are accepted and decide not to attend, just send us an email to tell us – that's it!
I can't decide which program I want to apply for – what should I do?
Contact us – we can help find the best program for you!
Remember it's possible to add Bonus Weeks or combine two 2-week programs back-to-back for a custom 3 to 4-week adventure that's perfect for you!
When is the application due?
There is no application deadline. Admissions decisions are made on a rolling basis, so your application will be processed when it's submitted. There is no time of year that is "best" to apply in terms of your application being accepted, but the earlier you apply, the more space is available.
I have a special circumstance and need help with my application!
No problem! Please contact us by email, phone, contact form, or Facebook message, and we'll see if we can help.
FAQs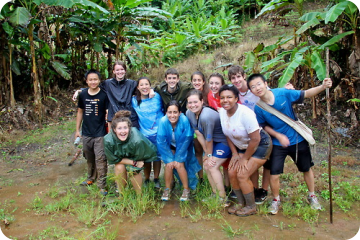 Note: These FAQ are focused on our two-week programs. If you have questions about the Veterinary Semester Abroad in Thailand, talk to us. The logistics will probably be different!
Absolutely! About 95% of our students come on their own and meet their group members for the first time at the airport. Some students sign up with a friend or sibling, but most do not. You will make friends quickly in your group!
My friend and I want to be in the same group. Can we be?
Yes. As long as you apply for the same program dates and are both accepted, we can put you in the same group. Just be sure to let us know that you want to be together!
How much does the trip cost?
Please check a specific program page for details about tuition.
Are there payment plans available?
Of course. Payments can be spread out from the time of your acceptance to the time of your trip at not extra cost. We will work with you to find a payment schedule that fits you and your family, and gives you plenty of time to fundraise if needed. Once you receive your tuition statement, please contact us if you need a different structure to your payment schedule.
I've never traveled by myself before. Is that okay?
Yes. If you fly on a group flight, you'll be with your group the whole way! From the Elephant Nature Park to a mountaintop temple to the Starbucks down the street, you won't be going by yourself.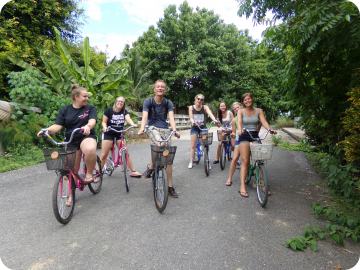 What is the deadline to apply? 
There isn't one. If the trip hasn't started yet and the program is not listed as WAITLIST ONLY or FULL on the website, you can still apply! We encourage you to apply early to maximize your chances of acceptance and to make the process easier for you.
I have lots of questions and want to talk to someone about the trip. Where do I start?
You can email or set up a call or Skype talk with you and/or your parents any time! Be sure to check out all the news to read coverage of many students' Loop Abroad stories from newspapers all over the country.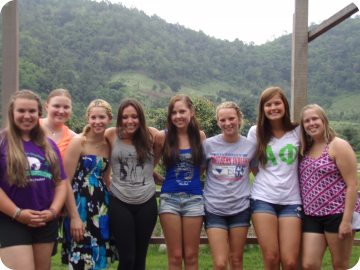 Will my phone work during my program? 
You should check with your service provider to see what your specific coverage is, but there is wifi almost everywhere in Chiang Mai — including at the Elephant Nature Park! Our house in Chiang Mai has wifi and there are computers in the house where you can Skype with your parents for free. You'll be able to get in touch with home when you want to.
What is the faculty to student ratio?
Group size varies, but the faculty:student ratio is approximately 1:6 for all our programs.
Is financial aid available?
Yes. Financial aid applications should be submitted along with admissions applications, which can both be submitted online. We try our best to give aid to each student who demonstrates both a need for aid and a willingness to contribute for their own tuition. The maximum award available for any one student is $1,000 for a 2-week program and $5000 for a 14-week semester abroad.
All financial aid is given in the form of a discount on tuition and does not need to be repaid.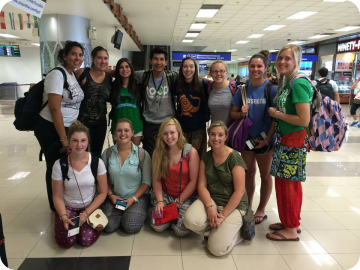 How do I book my plane ticket? 
We reserve a seat on the group flight for you, and send you a link to purchase your ticket online. The group flight will be from a New York airport. The roundtrip ticket, with all taxes and fees, is estimated at $2,000 but depends on your specific program and location. Check your program page for details. You have until 35 days before your trip to book your ticket. Tickets can be paid for by credit card or check.
Do Loop Abroad programs satisfy my school's volunteer or service requirement?
Generally, yes. You are advised to obtain this approval from your school before participating in the program if satisfying this requirement is important to you. We will provide you with any information you need to do so – just ask!
All of our two-week programs award 30-80 service hours depending on the program. Loop Abroad is a Certifying Organization for the Presidential Volunteer Service Award.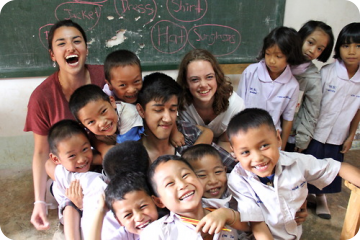 Can I get college credit for participating? 
Probably! We don't award college credit, but many of our students have been able to get college credit from their school for their participation in a Loop Abroad program. Check with your study abroad office or Dean of Students and let us know if you need any materials such as an itinerary, syllabus, or workbook to help with the accreditation process.
I am just outside the age limit listed for the program. Can I still apply?
Probably! Please email or call us with your specific situation and we will do our best to accommodate you.
I am age 18-23 but I am not currently in college. Can I still apply for one of your college programs? 
Yes! We know that everyone's educational path is different, and sometimes that road could include college, community college, associates or technical programs, work experience, certification programs, military service, or any number of other turns and stepping stones. We are happy to consider the application of any young adult in our typical student age range who is interested in being an enthusiastic participant in one of our summer programs.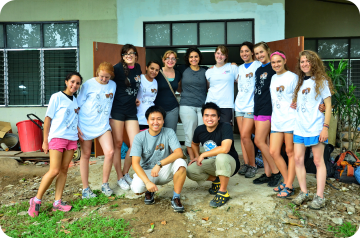 I am not a US citizen. Can I still apply?
Of course! All our programs are in English and are open to students from all over the world. We can work with you to figure out your travel to Thailand and meet you when you arrive there if you are coming from outside the US. We have had students from Australia, Israel, the UK, Columbia, Canada, and China on our programs.
Can I bring my parents? (Or, more often, "I'm a parent of one of the students. Can I come too?) 
Well, sort of. Parents are welcome to travel to Thailand on their own during the time period of the program, and there will be a few evenings where you could opt out of activities to meet up with your parents. You could also travel together before the program begins or after it ends!
However, all of our programs are staffed by experienced faculty, and we do not use parent chaperons. Parents are not invited to tag along with each day's activities, as doing so would change the group dynamic.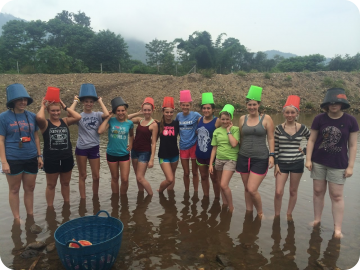 Can I arrive late to the program or leave early if I have a scheduling conflict?
We will do our best to accommodate special travel requests for students who have a conflict that prohibits them from staying for the entirety of the program. Give us a call and we'll see what we can do! For our 2-week program, students choosing to fly on their own itinerary instead of on the group flight will be responsible for a $150-250 fee in each direction (fee varies by country). This fee allows them to arrive or depart within 24 hours of the group flight, be picked up and/or dropped off by Loop Abroad staff, and have all housing and meals provided during that time. There is no group flight for our semester program.
I want to attend in 2018. Can I apply now? 
Yes. Applications for 2018 are available online now. Applying early gives you ample time to fundraise and plan and allows you to spread out payments on an interest-free payment plan if you so choose.
I don't live near New York, but your group flights are from New York. How does that work?
You're responsible for getting yourself to New York to meet the group flight, but we will have staff at the airport to meet you and help you meet up with your group. Our students come from all over the country and most of them fly to New York to meet the group flight.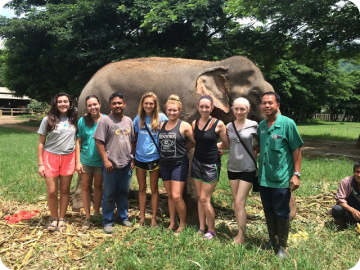 I really want to pet an elephant. Will I get to?
If your trip goes to the Elephant Nature Park, and almost all our trips do, then yes. You'll be able to feed elephants, watch elephants interact from up close, and touch the elephants. You will not be able to ride the elephants – ENP is a sanctuary for rescued elephants, so the elephants don't work for you, you work for them! 🙂
I have a question that isn't on here. What now?
Every program is different so it's best to go straight to the program you're interested and read through the information there. If you can't find an answer, feel free to…
<a class="btn btn-main iframe" href="https://www.loopabroad.com/apply/message-us/">Message Us</a>