Applications are open for Summer 2023!
Spend a whole month in beautiful South Africa working with big cats, primates, birds of prey, reptiles, and more in this special 4-week program.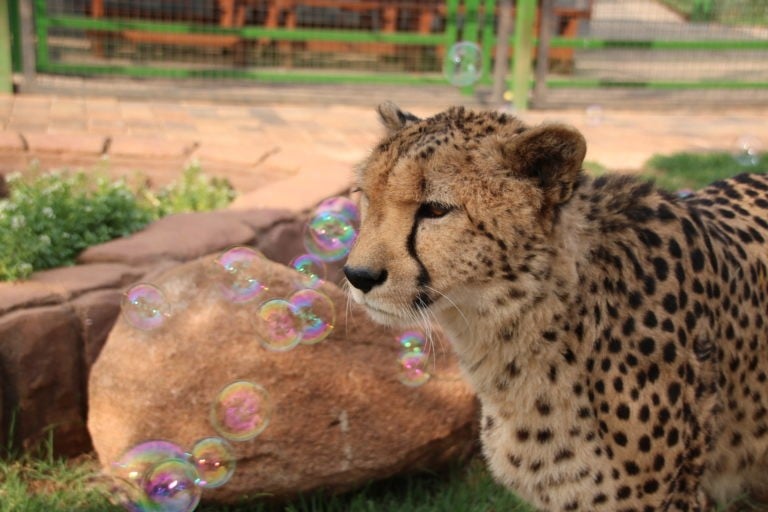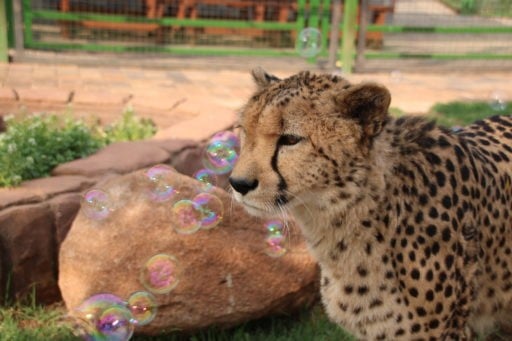 Combine two of our programs to explore South Africa and works with its wildlife. Half of the program is based at Lory Park Animal and Owl Sanctuary in South Africa. Lory Park is one of only six zoos in Africa accredited by the Pan African Association of Zoos and Aquaria, with a focus on education and conservation. Your program will focus on understanding the anatomy, handling, and medical needs in captivity, behavior, and conservation of six main groups of animals at the park: birds of prey, reptiles, big cats, small cats, cubs, and primates. Your work with and coursework about these animals will be supplemented by veterinary labs such as necropsies and lectures from veterinarians and expert guests. In addition, we will spend a weekend on safari in Kruger National Park.
The other half of your program is spent volunteering at a big cat conservation facility, learning about African wildlife while working with Loop vets right alongside the cats themselves. Though the volunteer facility isn't a hospital, you will be gaining valuable experience learning and implementing the important work conservation and zoo vets do.
For programs earlier in the summer the 4-week program will consist of two weeks at Lory Park and two weeks on the South Africa Pre-Vet Big Cats.
For the programs later in the summer the 4-week program will consist of two weeks at Lory Park and two weeks on the South Africa Big Cats at Selati.
Who It's For
This program is designed for university-aged students who are interested in becoming veterinarians or working professionally with animals. Participants must be at least 18 years old. Most are 18 to 25, but we also accept full-time undergraduates over 25.
There are no pre-requisites for this program. You do not need to be in school currently to apply. Individuals of any nationality may apply.
Each group of up to 12 students will have its own veterinarian and on some dates, multiple groups will share site staff.
Highlights
Study big cats such as white and tawny lions, Siberian tigers, pumas, and leopards
Assist the zoo vet team in providing care such as vaccinations and deworming
Participate in training, feeding, and upkeep of a variety of species
Support enrichment and training for primates, including gibbons and lemurs
Learn about Lory Park's research project on black-footed cats
Feed and help provide medical care to animals throughout the program
Maintain and care for captive animals and their enclosures (Lory Park and Pre-Vet Big Cats. Selati is a big 5 game reserve with no captive facility).
Learn about all aspects of care and management of captive wildlife
Go on a safari through Kruger National Park, one of the largest national parks in the world and home to almost 150 large animal species (more than any other game reserve in Africa) including lions, leopards, rhinos, elephants, and buffalo
See a variety of wildlife each day that calls the African savanna home
Visit a cultural village while at Kruger
Dates open for application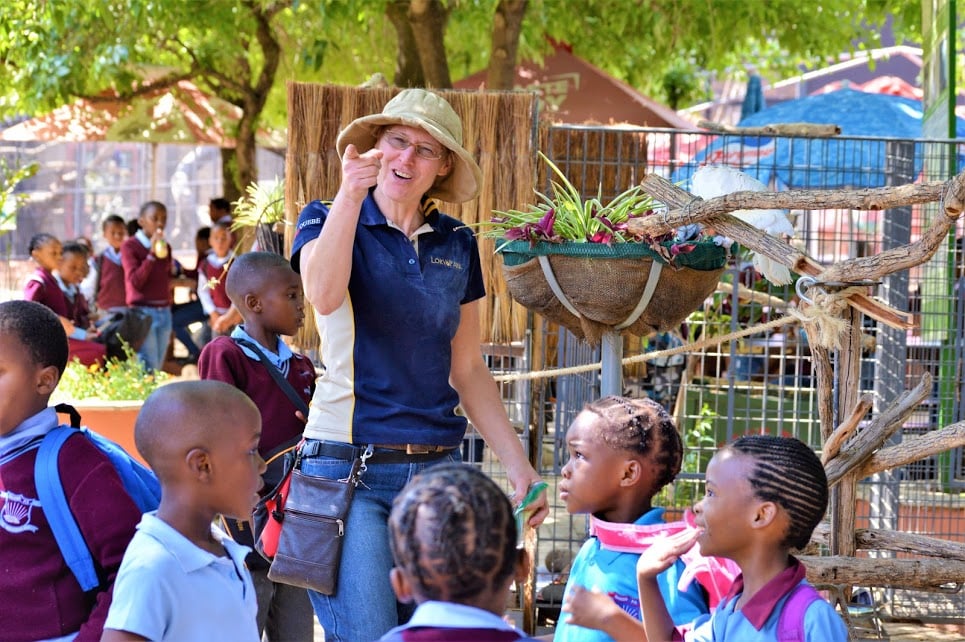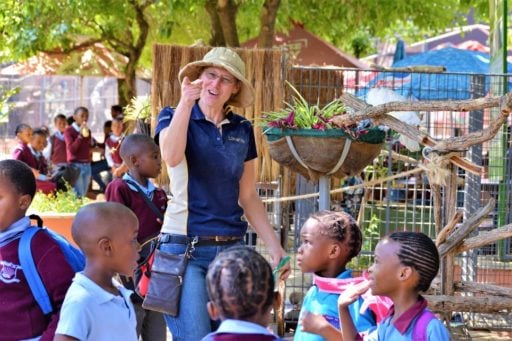 Summer 2023
Lory Park + South Africa Pre-Vet Big Cats
May 13- June 11, 2023
June 10- July 9, 2023
Lory Park + South Africa Big Cats at Selati
June 24- July 23, 2023
July 8- August 6, 2023
*Loop Abroad reserves the right to cancel any program at any time; in case of such cancellation by Loop Abroad, all payments will be returned in full.
Why Two Programs is Better than One
Our South Africa 4-Week Experience combines two popular programs: South Africa Zoo Medicine and South Africa Pre-Vet Big Cats (or South Africa Big Cats at Selati).
Spending a full month in South Africa allows students to maximize their time abroad and save money doing it. Not only is supervision and transportation between programs provided for a seamless transition, but Loop is discounting each program by $100 for a total of $200 off tuition costs. Plus, you'll get FREE college credit for both programs (normally $499) and will only pay for airfare once!
Tuition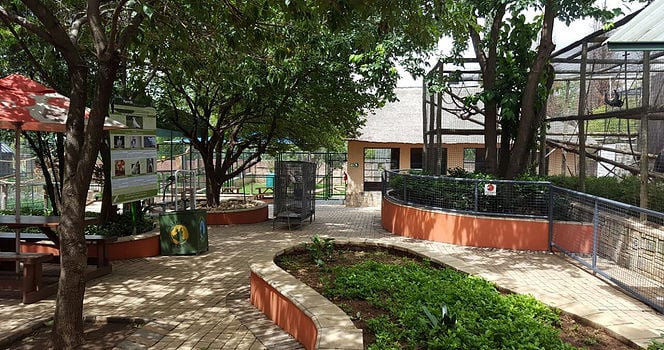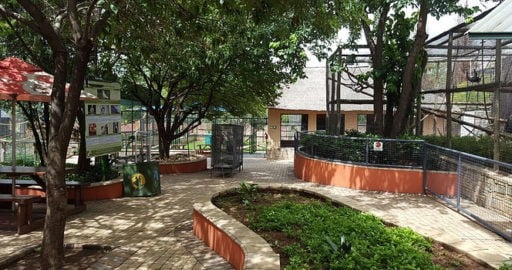 Tuition is $8,700 $8,500 – SAVE $200 with this 2-program combo versus a single program. PLUS free college credit and transcript included – save $499.
Tuition does not include international airfare. Tuition does not include medical insurance, passport, snacks, and souvenirs.
Interest-free payment plans are available. Current college students may be able to use federal financial aid toward their tuition. Your space is not held until your $1,000 deposit (credited toward tuition) is paid.
Airfare is not included in the cost of the program. If you'd like to fly with other students, you can purchase a ticket on the same flight as the two-week group flights where available.
The Gilman Scholarship
The Gilman Scholarship could fund $5000 of your tuition and the deadline is October 13, 2022, at 11:59 pm Pacific Time!
If you are a US citizen receiving a Pell Grant and currently enrolled in college or university, we encourage you to apply for this scholarship! See the official website for the latest details and read about Loop Abroad students who have received this scholarship.
Hours and Credit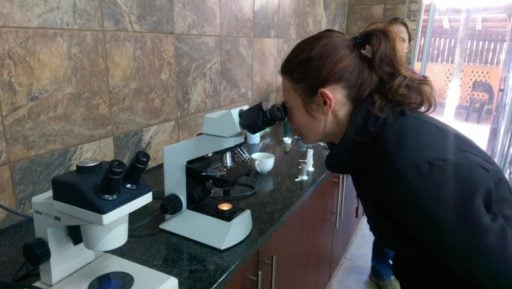 You can receive 6 credits from the University of Findlay for this program at no additional cost to you. Loop Abroad can also assist you in working to get credit directly from your school.
This program is created with students who may want to apply to vet school in mind. For your application to vet school, the program provides approximately the following hours:
Veterinary Hours: 102 hours
Research Hours: 25 hours
Students can calculate their own record of hours for their VMCAS or other applications but will earn at least this many hours.
The strongest veterinary recommendation letter is from a vet who has known and worked with you for at least a year. However, you will have a chance to build a relationship with your Loop Abroad teaching vet who may be able to write you a recommendation if you impress them with your performance and are able to build on your experience after your program.
Groups and Staff
Groups will have a maximum of 12 students each. Your group will have its own veterinarian and you may learn from other Loop veterinarians, zoo staff, zoo veterinarians, and local experts as well.
Housing and Meals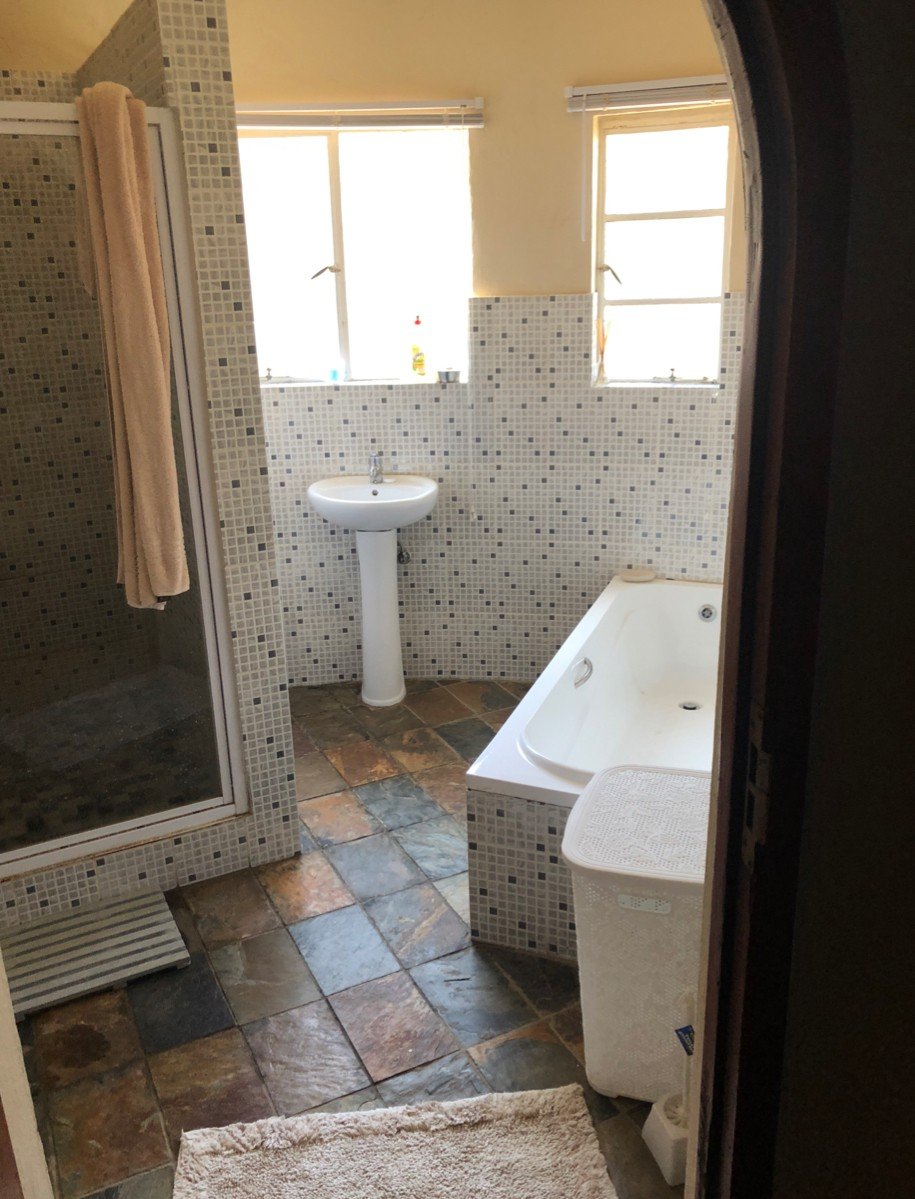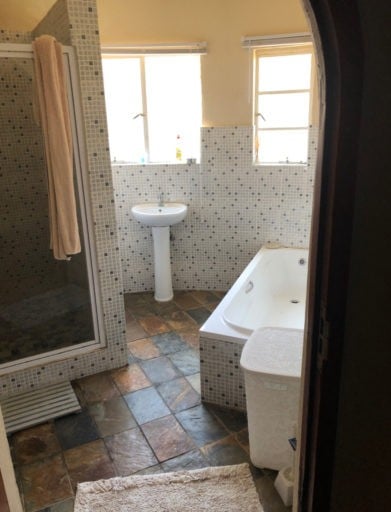 During the zoo portion of this program, we will live on the grounds of the Lory Park Zoo. On the big cats portion of the program, we will be staying on property at the conservation facilities. Note: the Selati location will be in a tent in a "glamping" style accommodation (photo below).
Housing is in dorm-style rooms, and you will share rooms with other Loop students of the same gender. Bathrooms are shared. Students are not permitted to leave the grounds of the zoo except when we travel off-site as a group. Free wi-fi is available throughout the zoo grounds.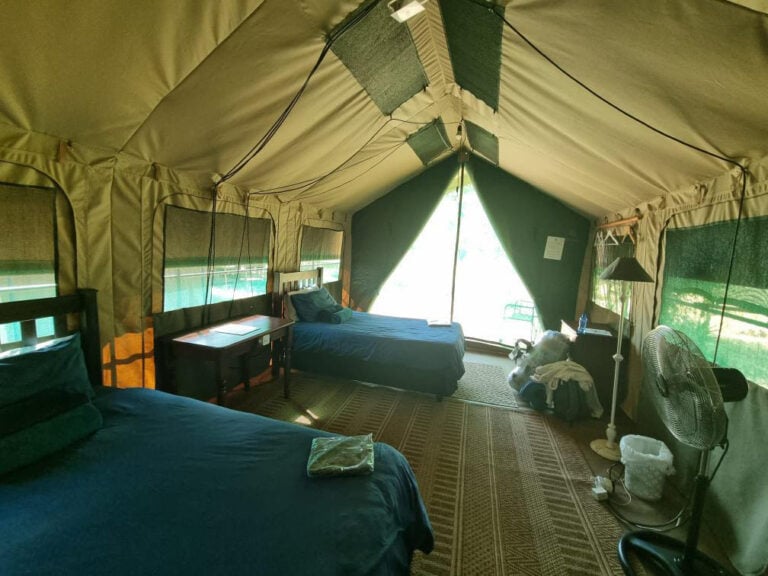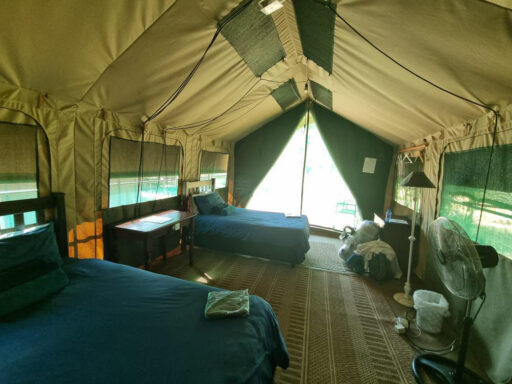 Meals are included in your tuition and will be eaten at the zoo, including a simple buffet-style breakfast (coffee, cereal, milk, toast, jam, fruit, and eggs, for example) and set meals for lunch and dinner. Vegan and vegetarian diets, as well as food allergies, can be accommodated with advanced notice. There are also refrigerators and a kitchen to store and cook your own snacks.
During the middle weekend of your program, housing and meals are included in your safari tour.
COVID and Safety
All participants will need to be fully vaccinated for COVID-19 (which may include boosters if eligible). All participants will adhere to the Loop Abroad COVID policies of testing yourself for COVID-19 within 2 days prior to travel, reporting symptoms if they arise during the program, masking or testing if asked to by staff, and isolating if you test positive.
If a program is canceled by Loop Abroad due to COVID-19, we offer a full refund of all tuition paid, including the deposit.
What if my program isn't cancelled, but I can't travel for personal reasons?
We understand that sometimes even though a program is not cancelled, an individual participant may be unable to travel due to illness or other personal reasons. In addition to our refund policy, if you must cancel your program enrollment less than 35 days before travel, for any reason at all, you can replace your program with the following virtual package.
This package includes 5 university credits from Iowa Wesleyan University (if you successfully complete the courses) and has a retail value of $5,080.
This offer is valid for cancellation of travel programs between 35 days and 1 day before the program begins, when no refunds are available for participants cancelling their travel. One virtual package available per participant; non-transferable. A participant cancelling their enrollment more than 35 days prior is welcome to select this option over their refund if they so choose.
Locations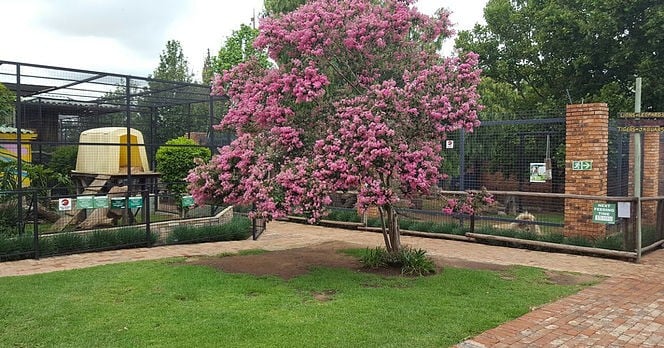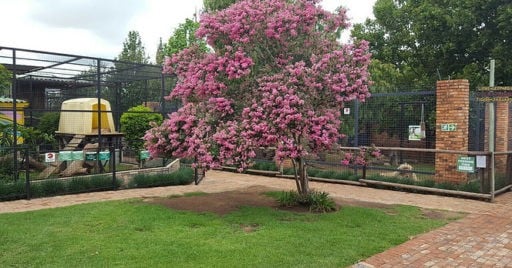 Midrand's Lory Park Animal and Owl Sanctuary is located in Johannesburg, South Africa. (Johannesburg is the start and end point of our South Africa Veterinary Service program, which makes these programs very easy to join into a one-month adventure.) Lory Park is one of only six institutions in Africa to be accredited by the Pan African Association of Zoos and Aquaria, which is indicative of their high standards of safety, veterinary care, animal diets and enrichment practices, and overall welfare of the animals in their care.
Additionally, the park is one of four African institutions granted membership to the International Zoological Educators.
Lory Park opened in the year 2000 as a bird park, but quickly began accepting injured and trapped animals and has grown to be a sanctuary that is home to the following animals:
White and tawny lions
Siberian tiger
Jaguar
Leopard
Lynx
Puma
Owls
Eagles
Hornbills
Lorikeets
Cheetah
Black-footed cats
Serval
Caracal
Ocelot
Gibbons
Meerkats
Lemurs
Boa constrictors
Pythons
Chameleons
Tortoises
Hedgehogs
Bearded dragons
As you can see, cats, birds, primates, and reptiles make up the majority of the animals that you will work with at Lory Park. The park has a focus on education and conservation, and you will get the chance to visit two schools in the community to help teach about the importance of animals and conservation.
Lory Park is involved in researching and breeding black-footed cats, and students will get to observe and participate in this research. Black-footed cats are difficult to breed in captivity, so their successful breeding pair is an important contribution to the survival of this vulnerable animal whose population is decreasing in the wild.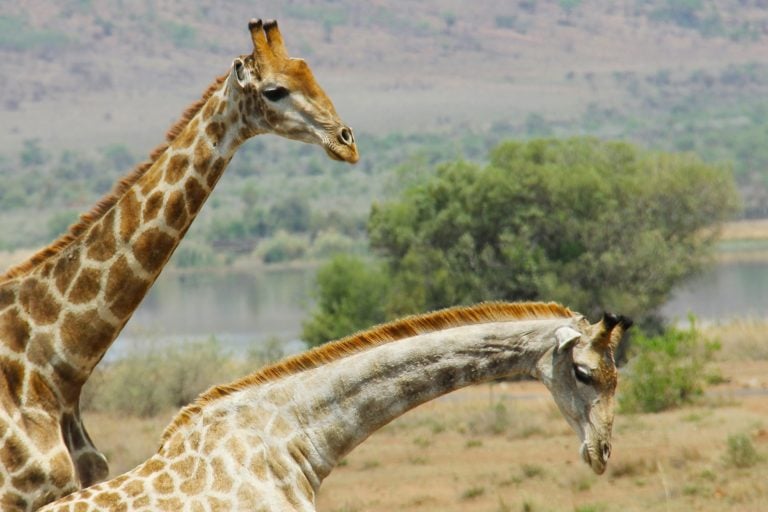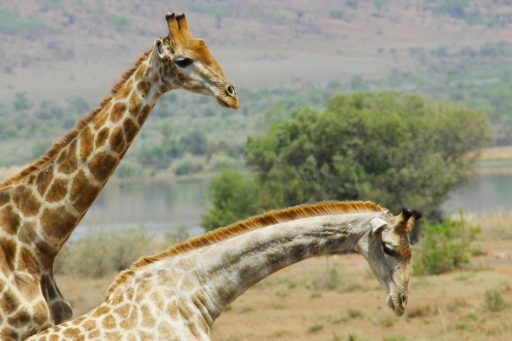 You will notice that other than cats and primates, the park does not have many of the large "zoo animals" you might expect, such as elephants, giraffes, hippos. Fortunately, you will have the opportunity to see these and many more African animals on your weekend safari.
We will have a two-day safari to Pilanesberg National Park, the fourth largest game park in South Africa and home to elephants, rhinos, leopards, buffalo, lions, zebras, giraffes, cheetahs, hyenas, hippo, crocodiles, jackals, wild cats, various antelope species, and hundreds of bird species. Here, guided drives will give us a chance to see lots of African animals in the wild and explore a bit outside of the zoo complex.
Itinerary
This itinerary is subject to change, but should give you a good overall program feel.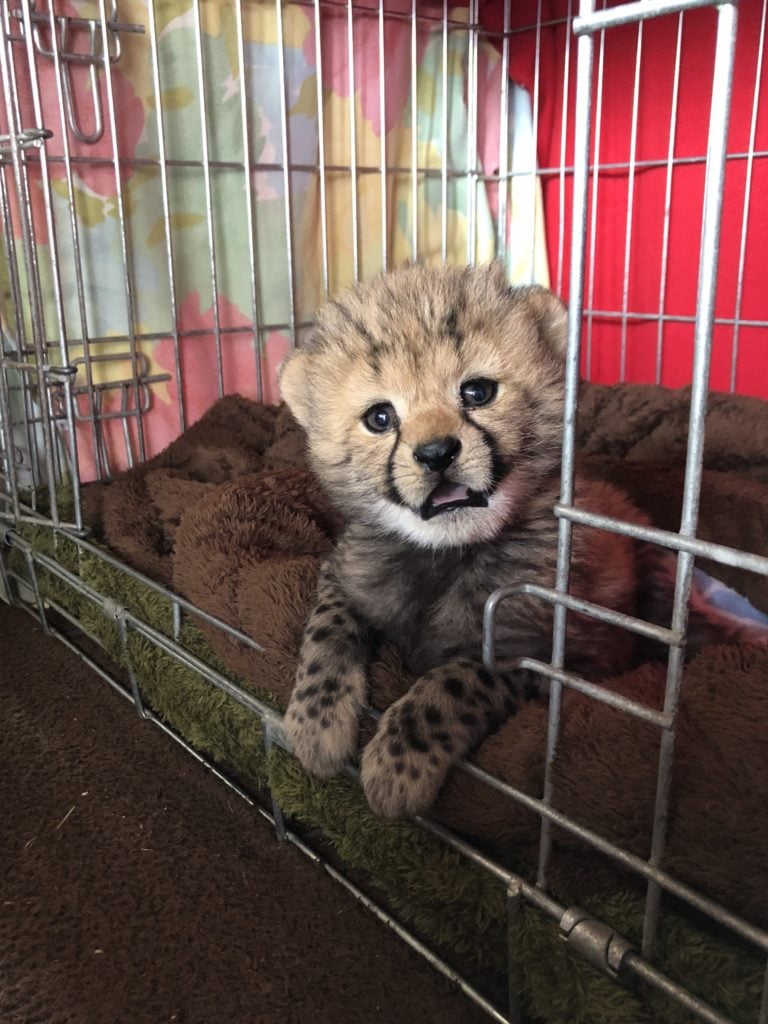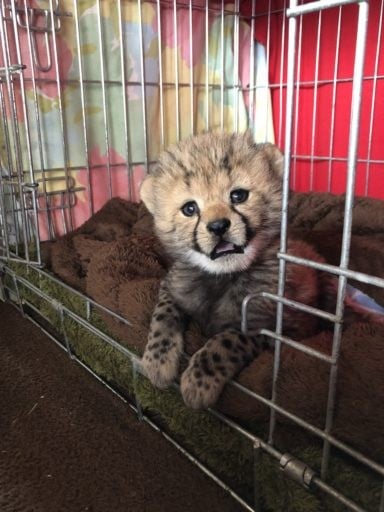 At the start of your program, you will arrive in Johannesburg on Sunday and we will travel to Lory Park Zoo as a group. Settle in and get oriented, get to know one another, and learn some of the basics of zoo life, because on Monday we have a full-day orientation to our new zoo home, including a tour, introduction to projects, safety training, and an introduction to the animals we'll be working with during the project.
Loop Abroad is the only program through which you can participate in a behind-the-scenes veterinary course at the Lory Park zoo, and each average day includes a combination of:
Animal upkeep such as enclosure cleaning and food preparation.

Animal interaction such as medical care, training, enrichment, handling and physical exams, and weighing and measuring

Lecture related to hands-on course material and project-specific topics

Veterinary labs such as horse necropsy and surgical practice

Research, including ethograms and observation

Guest speakers, community outreach, or other special topics relating animal medicine to the broader conservation community
In addition to fun group activities in the evenings, such as a trivia night or movie night.
Your group will be divided into smaller groups (approximately 5 students per group) for your morning animal activities so that you have a great opportunity to interact with the animals, get individual guidance, and observe up-close. For lectures, labs, and community activities, your group may be combined with another Loop Abroad group so that you can all learn together.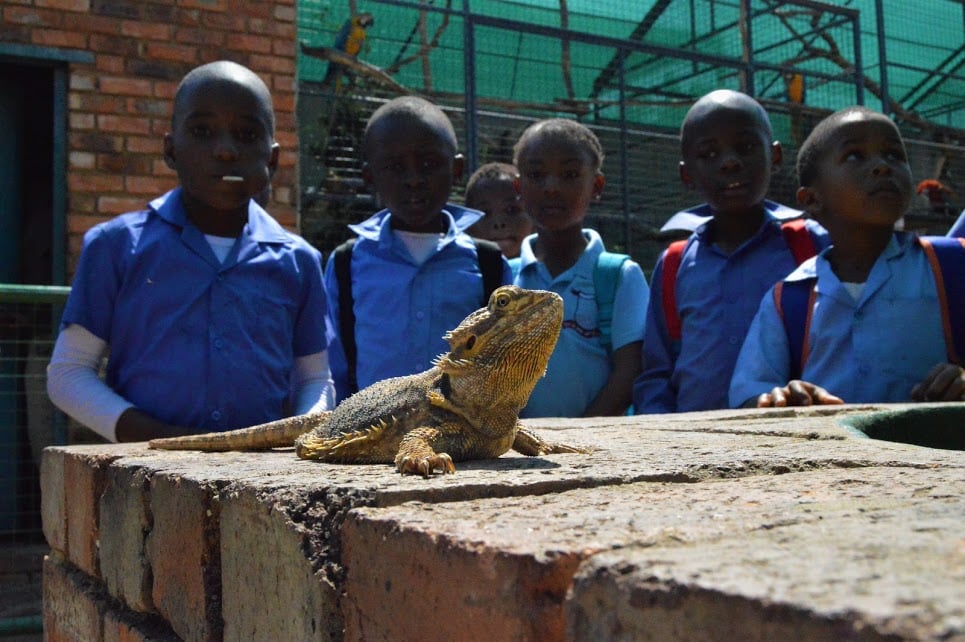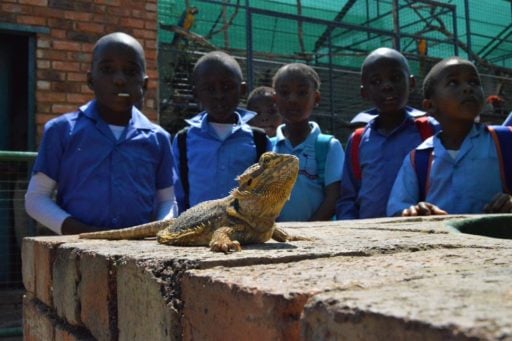 A typical weekday on the project might look something like this:
Morning: After breakfast, break into small groups to spend the morning with one of 6 animal groups – big cats, small cats, cubs, primates, reptiles, or birds of prey (you will spend project morning with each of these 6 groups).
During this time, you will prepare food for your animal group, clean their enclosures, learn about their behaviors and needs in captivity, and assist in training for certain behaviors. You may also provide physical exams, receive a hands-on anatomy lesson, learn proper handling technique, or assist in providing medical care or assessments, depending on the group and the animals' needs.
Afternoon: Generally weekday afternoons will consist of three components:
Guest speaker: Examples of expert guest speakers include Phillipe Cronje from Chimp Eden, VULPRO vulture conservation, Joanne Meyer on Southern Ground Hornbills, and Robynn Ingle Moller on animal welfare in captivity.

Veterinary Lab: Examples of labs include horse necropsy, examination of color mutations in lorikeets, health checks and feet cleaning of donkeys, wing and nail clipping of parrots, and surgical practice lab.

Lecture: In general, veterinary lectures are approximately one hour and focus on the veterinary science behind your daily work. Examples would include nutrition of species in captivity, anatomy of big cats, and physical exams for reptiles.

Research hour: On the first day of the program, your small group will be assigned one of the six animal groups as your research focus for the duration of the program. You will perform approximately one hour of daily research (behavioral observation) on your animal group in order to inform your creation and implementation of an enrichment project.
Not all weekdays will follow this exact schedule. For example, there is one "veterinary day" per week where the zoo veterinarian team performs care such as vaccinations and deworming, and your schedule will be adjusted so that you can observe, assist, and learn.
We will have one day of community outreach (pending availability with COVID), where we will visit two community schools and assist in the zoo's projects at these schools, and we'll have a chance to enjoy a relaxing encounter with the park's ambassador animals.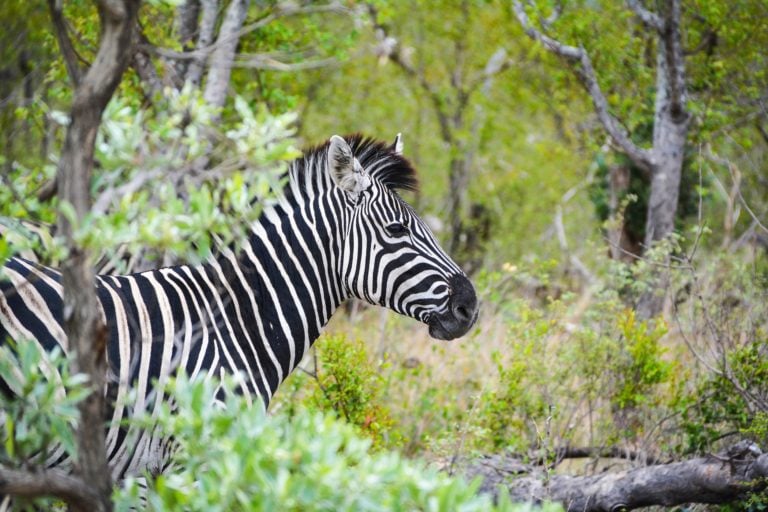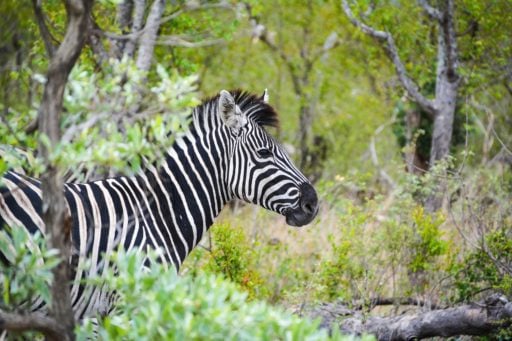 On the middle weekend of the program, we will enjoy a two-day safari to Kruger National Park, where we will get out into nature and enjoy some game drives at one of South Africa's biggest national parks, where we have the chance to see elephants, hippos, crocodiles, giraffes, leopards, zebra, and all kinds of wild African species.
During the second half of the program, you'll split your time between volunteering at the cheetah facility and learning from our Loop Abroad vets. At the end of week, the group will depart for a two-day safari through Kruger National Park (at a different gate if you go on the Big Cats Selati) OR a game drive (if you go on the Pre-Vet Big Cats).
Here are some of the activities you can expect to participate in:
Maintenance and care for the cheetah facility and enclosures, including construction projects.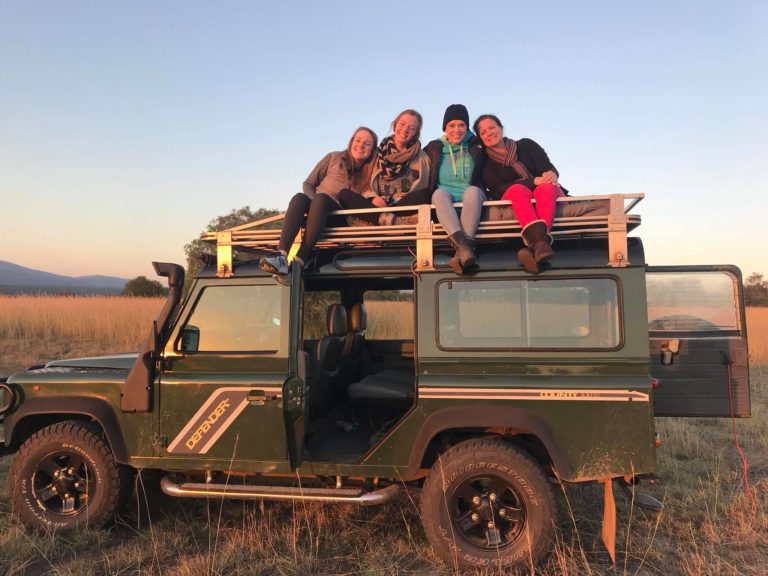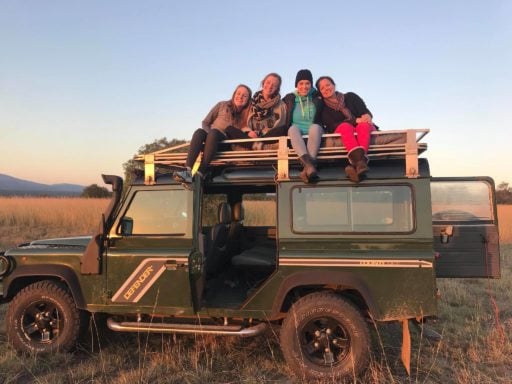 Prepare food for the cheetahs each day. Because cheetahs eat meat, this will mean cutting up meat, including antelope and other animals who have been hit by cars. You will not have to slaughter any live animals for food, but will have to be able to butcher dead animals for the cheetahs to eat.
Veterinary labs such as necropsies, surgical practice, and microscope use. While we do NOT purchase dead animals for necropsy, we may use an already-dead animal that is being used to feed the cheetahs to practice necropsy, suture, and surgical skills.
Short hands-on interactions with the cheetahs in small groups, including feeding opportunities and meeting the cheetah ambassador. You may have a chance to help socialize cubs (involves close contact but not touching), but this is not guaranteed.
Observe the cheetahs closely throughout your time on the project, as well as the caracals, servals, African wild cat, black-footed cat, a porcupine, meercats, rescued lions, and horses that call the center home
We may or may not be able to provide medical care to the animals on the property, depending what is needed at the time
Participate in a classroom-based course taught by the Loop Abroad veterinarians to learn more about big cats and their care (one lecture per weekday)
Evenings will be filled with fun activities with your volunteer coordinator, such as a trivia night or a stargazing evening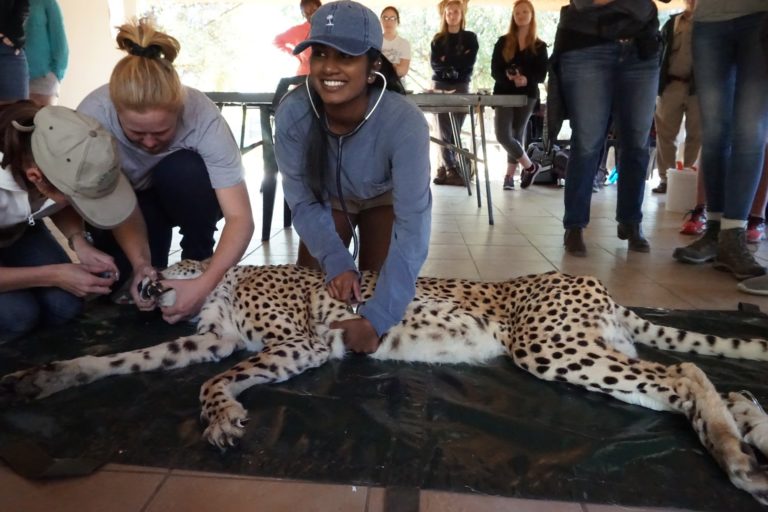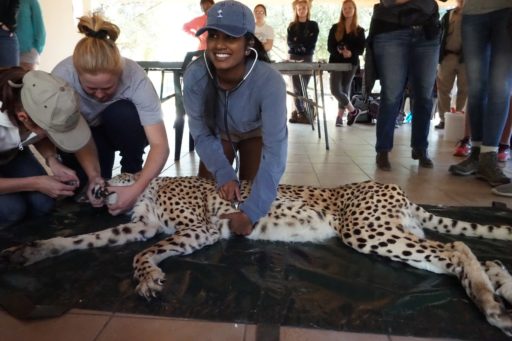 Loop Abroad's groups will be the only volunteers on the property at the time, and will assist the staff in all aspects of caring for the cheetahs and other animals. There will be ample opportunities to observe the animals during work time. You will be at the cheetah conservation center for all program time except for the Kruger trip.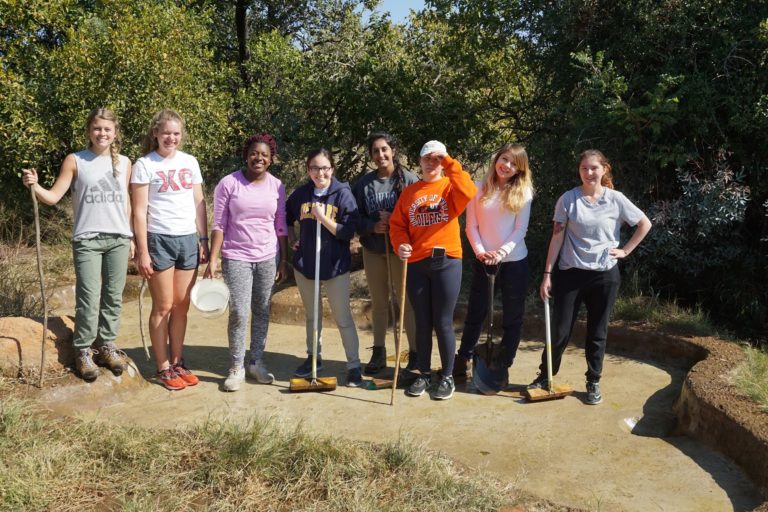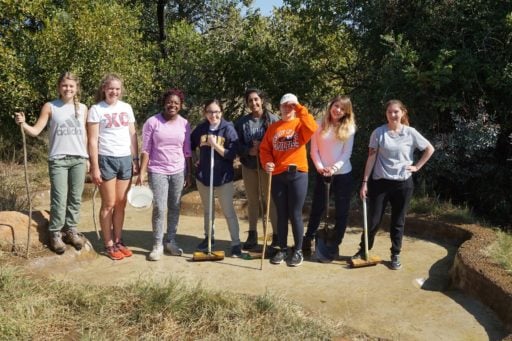 Every day on the project is different, but a typical weekday's schedule will include one veterinary lecture/class, one veterinary lab/activity such as a necropsy or suture lab, one upkeep activity such as thatching or cleaning enclosures, time preparing and feeding the cheetahs, time observing the cheetahs and other animals, time working on and implementing enrichments for the animals, and mealtimes, as well as downtime in the evening.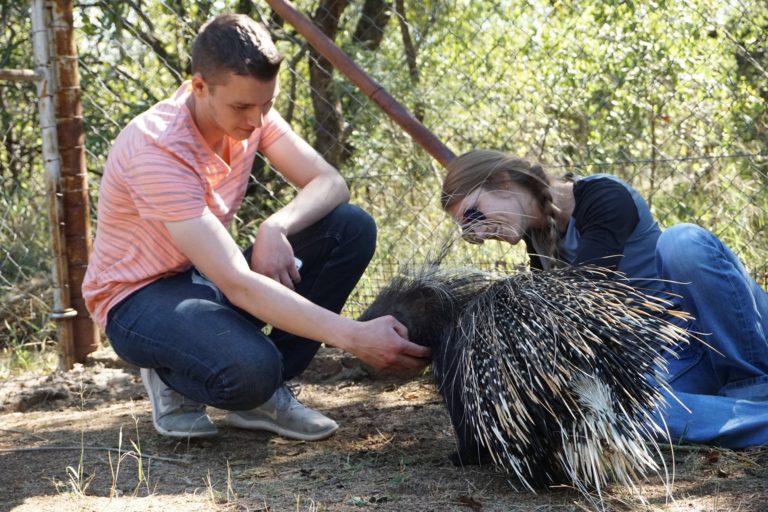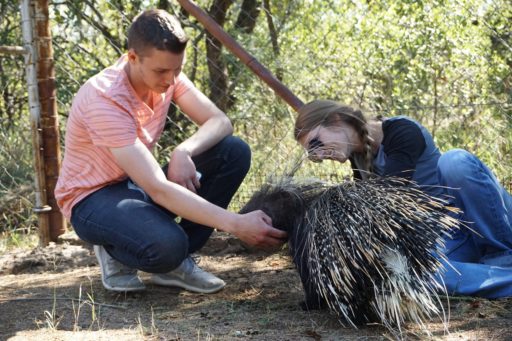 You will have an opportunity to touch a cheetah if the location has an ambassador program and will observe them closely each day, but this is not a program designed for you to snuggle with wild animals. Hands-on contact is limited to safe, short interactions that do not cause the animals undue stress, participation in training exercises when available, and necessary medical treatment and observation on anesthetized animals.
Zoo medicine, conservation medicine, and care for wild and captive animals focuses observation over handling when possible, and this program adheres to those standards.
Note: The order of weeks is subject to change.
Reading List
Some books that might be interesting to students traveling to South Africa who want to learn more about South African culture and history, conservation, African animals, or veterinary medicine. (None of these are required reading.)
You can purchase any of the books on our suggested reading lists at the links below.*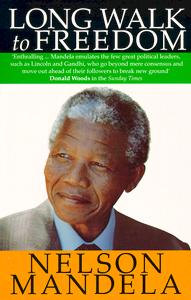 Long Walk to Freedom: The Autobiography of Nelson Mandela Amazon says, "Nelson Mandela is one of the great moral and political leaders of our time: an international hero whose lifelong dedication to the fight against racial oppression in South Africa won him the Nobel Peace Prize and the presidency of his country. Since his triumphant release in 1990 from more than a quarter-century of imprisonment, Mandela has been at the center of the most compelling and inspiring political drama in the world. As president of the African National Congress and head of South Africa's antiapartheid movement, he was instrumental in moving the nation toward multiracial government and majority rule. He is revered everywhere as a vital force in the fight for human rights and racial equality." Students participating in the Adventure Bonus Week: South Africa will visit Robbin Island, where Mandela was held prisoner, including a tour of his prison cell.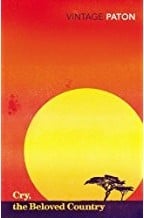 Cry, the Beloved Country Amazon says, "An Oprah Book Club selection, Cry, the Beloved Country, the most famous and important novel in South Africa's history, was an immediate worldwide bestseller in 1948. Alan Paton's impassioned novel about a black man's country under white man's law is a work of searing beauty. …Cry, the Beloved Country is the deeply moving story of the Zulu pastor Stephen Kumalo and his son, Absalom, set against the background of a land and a people riven by racial injustice. Remarkable for its lyricism, unforgettable for character and incident, Cry, the Beloved Country is a classic work of love and hope, courage and endurance, born of the dignity of man."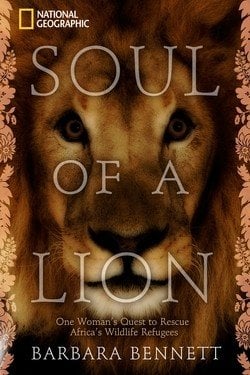 Soul of a Lion: One Woman's Quest to Rescue Africa's Wildlife Refugees Amazon says, "For animal lovers, nature enthusiasts, and the vast readership for gripping true-life stories, this African saga is a must-read adventure. It chronicles the unique Harnas Wildlife Foundation in Namibia, where Marieta van der Merwe and her family, former wealthy cattle farmers, have sold land to buy and care for embattled wildlife. We meet Sam, the "AIDS" lion infected by mistake at a vet clinic. Boerjke, a baboon with epilepsy and Down syndrome. Savanna, the one-eyed lioness. And Marieta van der Merwe herself, the inspiring proprietor of Harnas who shares her home with needy wild animals. Survivor of an early life fraught with personal tragedy in the African Bush, she now devotes herself as care-giver and ambassador for wildlife and wildland. Told with insight, humor, and thrilling immediacy by author and Harnas volunteer Barbara Bennett, this story will captivate readers of all ages."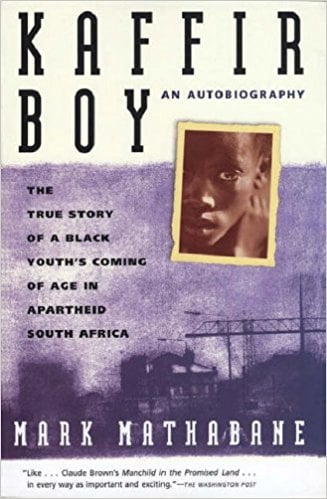 Kaffir Boy: An Autobiography–The True Story of a Black Youth's Coming of Age in Apartheid South Africa Amazon says, "Mark Mathabane was weaned on devastating poverty and schooled in the cruel streets of South Africa's most desperate ghetto, where bloody gang wars and midnight police raids were his rites of passage. Like every other child born in the hopelessness of apartheid, he learned to measure his life in days, not years. Yet Mark Mathabane, armed only with the courage of his family and a hard-won education, raised himself up from the squalor and humiliation to win a scholarship to an American university. This extraordinary memoir of life under apartheid is a triumph of the human spirit over hatred and unspeakable degradation. For Mark Mathabane did what no physically and psychologically battered "Kaffir" from the rat-infested alleys of Alexandra was supposed to do — he escaped to tell about it."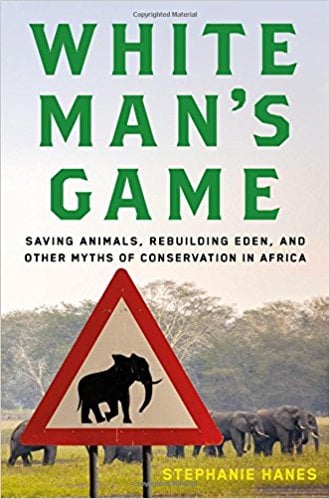 White Man's Game: Saving Animals, Rebuilding Eden, and Other Myths of Conservation in AfricaAmazon says, "The stunningly beautiful Gorongosa National Park, once the crown jewel of Mozambique, was nearly destroyed by decades of civil war. It looked like a perfect place for Western philanthropy: revive the park and tourists would return, a win-win outcome for the environment and the impoverished villagers living in the area. So why did some researchers find the local communities actually getting hungrier, sicker, and poorer as the project went on? And why did efforts to bring back wildlife become far more difficult than expected?… In pursuit of answers, Stephanie Hanes takes readers on a vivid safari across southern Africa, from the shark-filled waters off Cape Agulhas to a reserve trying to save endangered wild dogs. She traces the tangled history of Western missionaries, explorers, and do-gooders in Africa, from Stanley and Livingstone to Teddy Roosevelt, from Bono and the Live Aid festivals to Greg Carr, the American benefactor of Gorongosa. And she examines the larger problems that arise when Westerners try to "fix" complex, messy situations in the developing world, acting with best intentions yet potentially overlooking the wishes of the people who live there. Beneath the uplifting stories we tell ourselves about helping Africans, she shows, often lies a dramatic misunderstanding of what the locals actually need and want."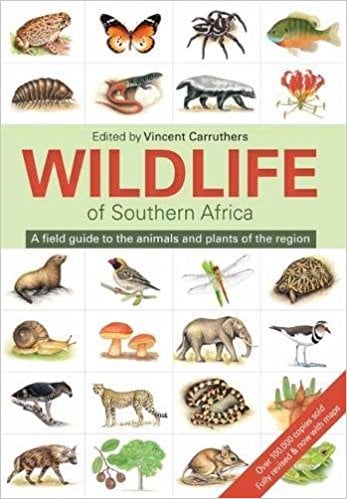 Wildlife of Southern Africa: A field guide to the animals and plants of the region This field guide is a great reference for birds, trees, flowering plants, and small and large mammals you might see throughout your trip. It is helpful at the wildlife centre and also on safari, and is a great place to mark all the species you have seen and identified during your trip.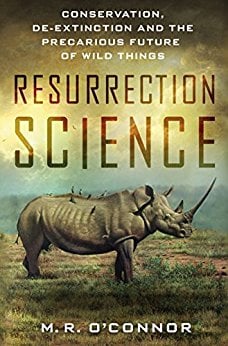 Resurrection Science: Conservation, De-Extinction and the Precarious Future of Wild Things Amazon says, "In a world dominated by people and rapid climate change, species large and small are increasingly vulnerable to extinction. In Resurrection Science, journalist M. R. O'Connor explores the extreme measures scientists are taking to try and save them, from captive breeding and genetic management to de-extinction. Paradoxically, the more we intervene to save species, the less wild they often become. In stories of sixteenth-century galleon excavations, panther-tracking in Florida swamps, ancient African rainforests, Neanderthal tool-making, and cryogenic DNA banks, O'Connor investigates the philosophical questions of an age in which we "play god" with earth's biodiversity.
Each chapter in this beautifully written book focuses on a unique species–from the charismatic northern white rhinoceros to the infamous passenger pigeon–and the people entwined in the animals' fates. Incorporating natural history and evolutionary biology with conversations with eminent ethicists, O'Connor's narrative goes to the heart of the human enterprise: What should we preserve of wilderness as we hurtle toward a future in which technology is present in nearly every aspect of our lives? How can we co-exist with species when our existence and their survival appear to be pitted against one another?"
*Links are affiliate links – thanks for supporting Loop Abroad!
Scholarships
There are lots of ways to help fund your online and travel programs with Loop Abroad, and we are here to help!
Scholarships are a terrific way to cover some or all of your tuition for a Loop Abroad program. When you look for scholarships for pre-vet programs, you need to look at all your options!
Benjamin A. Gilman International Scholarship:
The Gilman Scholarship could fund $5000 of your tuition and the next deadline is March 9 at 11:59 pm Pacific Time!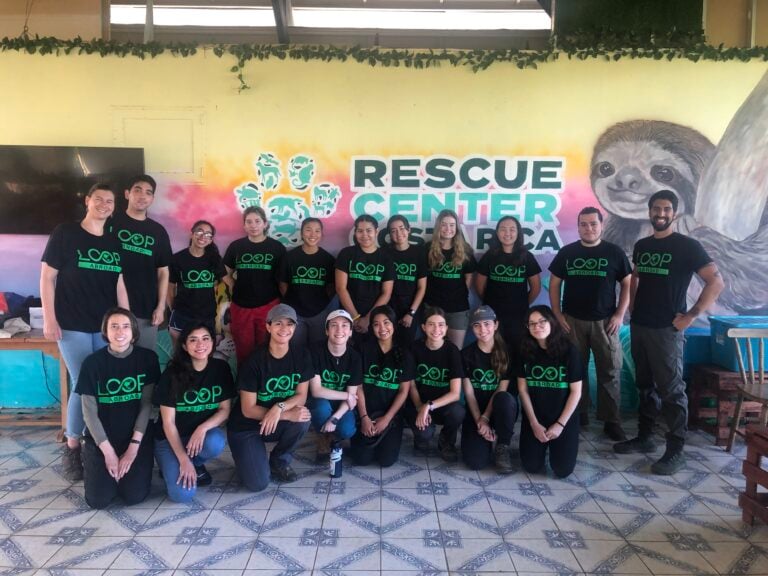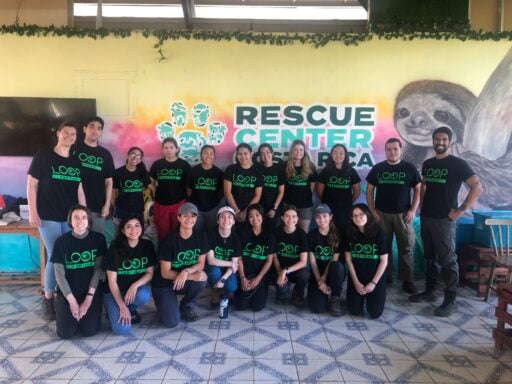 The Gilman Scholarship was designed to help students of limited financial means have the opportunity to study abroad – online or in-person. Nearly a third of applicants are awarded the scholarship! This is a great opportunity to help cover your tuition.
Students can receive up to $5,000 for travel or virtual programs. The scholarship can be applied to any of our online programs, to our semester programs, or one of our 2-week programs.
Along with their application, students must submit two essays, the Statement of Purpose Essay, and the Community Impact Essay. Students must also upload their transcripts (unofficial or official). For more information on the application guidelines, please click here.
See the official website and read about Loop Abroad students who have received this scholarship. If you are a US citizen receiving a Pell Grant and currently enrolled in college or university, we encourage you to apply for this scholarship. The March 2023 Deadline application will open in mid-January 2023 for applicants whose in-person programs or internships start between May 1, 2023 to April 30, 2024. This cycle encompasses Summer 2023, Fall 2023, Academic Year 2023-2024, and Spring 2024 programs or internships. The application deadline is Thursday, March 9, 2023 at 11:59pm Pacific Time, and the advisor certification deadline is Thursday, March 16, 2023.
Loop Abroad Dr. Erica Ward Scholarship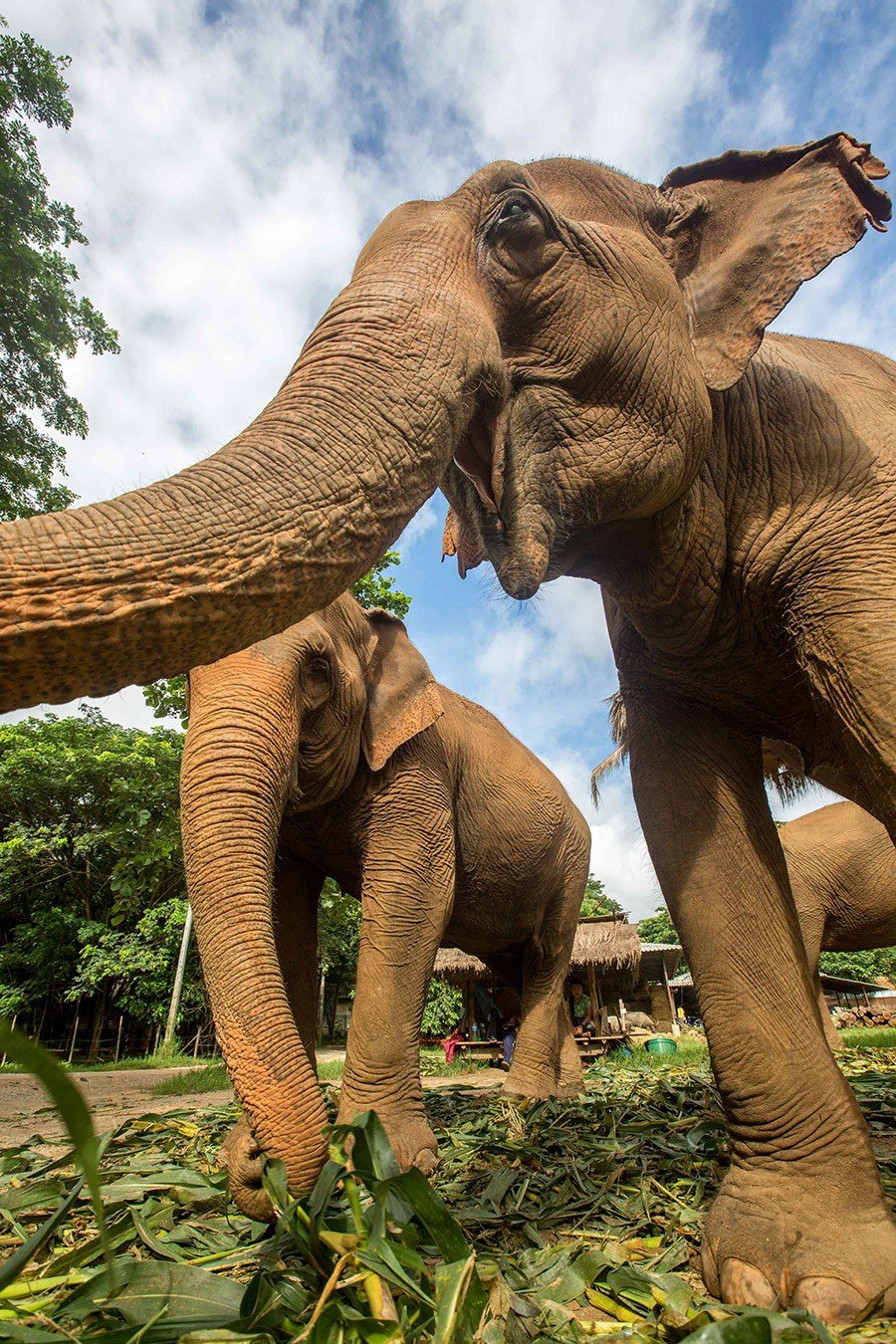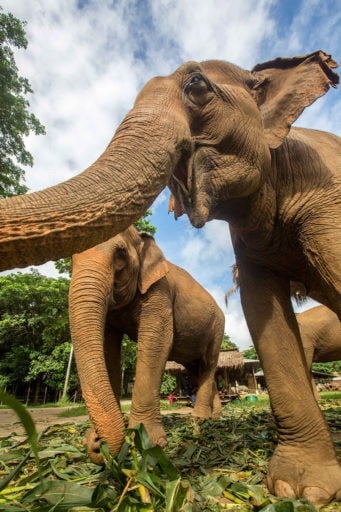 Loop Abroad is offering one FULL TUITION scholarship to cover one travel program (up to 2 weeks) of your choice.  Applications for 2023 are now CLOSED. Applications for 2024 will re-open in January 2024. We're proud to add this to the list of scholarships for pre-vet programs.
Who can apply: This scholarship is open to all students age 18 and over. You do not have to be a US Citizen. You do not have to be currently in school. 
You do not have to complete an application to Loop Abroad in order to be selected for the scholarship. The scholarship winner must be able to complete the Loop Abroad enrollment paperwork, requiring a doctor's signature, and must meet all safety requirements of program enrollment.
Note: if you have already applied to Loop Abroad and been accepted, you can still apply for this scholarship. If you have made any payments toward tuition and later receive the scholarship, your payments will be refunded.
Criteria for selecting the scholarship recipient: 
We will consider financial need, commitment to conservation and/or animal science, academic performance, and ability to be a positive team member as factors in our decision. We are not looking for the applicant with the highest grades or the most animal hours. We are not looking for the applicant with the saddest story. We are looking for a student who embodies Loop Abroad's values of teamwork, commitment to a cause, and hard work, and for a student who would not be able to otherwise afford Loop Abroad tuition (whether because of household income or recent change in circumstances).
Scholarship details:
This scholarship covers tuition to one Loop Abroad program with a duration of 1 to 2 weeks in the summer of 2023. It is not transferable to other individuals or future semesters. It does not include airfare, travel or medical insurance, passport, college credit fees (optional), visa (if required), or any optional incidentals during your program. Please understand that a full tuition scholarship does not make travel completely free: passport, airfare, and other expenses depend on the program location.
Once a scholarship winner is chosen, the winner will need to complete full application paperwork for Loop Abroad. The winner must then also complete the enrollment paperwork, which includes waiver forms and a medical form signed by a doctor indicating that you are able to safely participate in a travel program.
The scholarship winner agrees that Loop Abroad may publicize the awarding of the scholarship, including the recipient's information such as name and current university. The scholarship winner will be subject to all regular rules of participating in a Loop Abroad program.
How to apply:
To apply, you must complete the following three steps:
Apply for the Loop Abroad Dr. Erica Ward Scholarship here. The application requires a copy of your proof of household income (such as last year's tax return).
Follow @LoopAbroad on Instagram (instagram.com/loopabroad) and make an Instagram post about the program you're hoping to join, tagging @loopabroad and #loopabroad in the post. You do not need to mention that you have applied for a scholarship.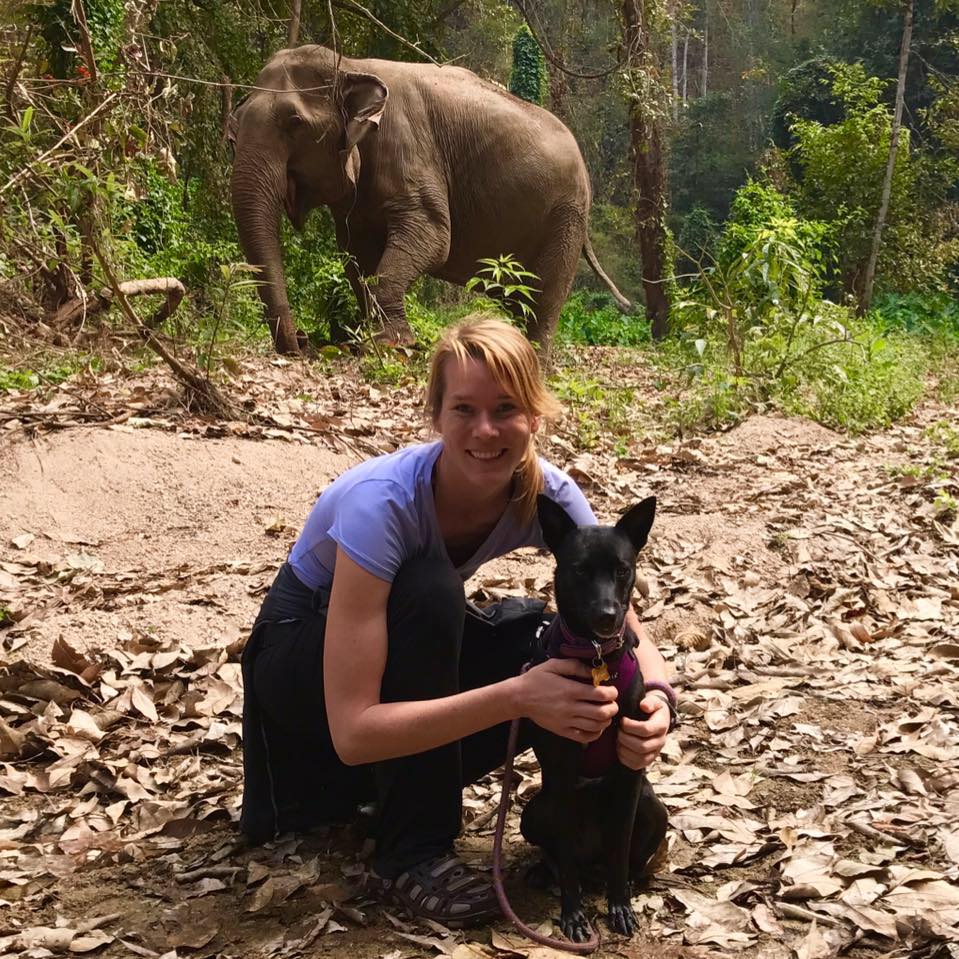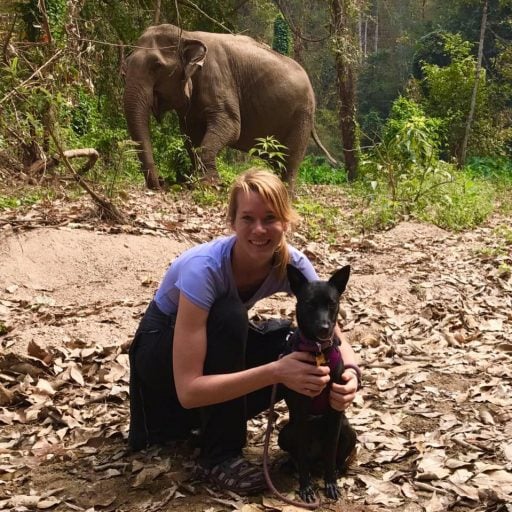 Why is it called the Erica Ward Scholarship? Dr. Erica Ward is our Academic Director. We believe that she embodies the values we are seeking in our scholarship applicants: she is passionate, dedicated, hard-working, and driven to make the world a better place. Dr. Ward consistently strives to find ways that Loop Abroad can support projects in need and help its students and alumni have fulfilling academic opportunities. We have decided to name this scholarship after her to honor her continued commitment to her values and purpose. (PS – She isn't dead. Please don't write your essay about honoring her legacy. She is very much alive and still working here. If you are a finalist for the scholarship, she will read your essay.)
Details:
The scholarship will be credited toward tuition for the winning student toward the Loop Abroad program of their choice.
The scholarship is non-transferable. If the student cannot attend, the scholarship will be void – it is not a cash prize and cannot be paid as such. Applicants must be over the age of 18. Citizens and residents of any country may apply.
ALL PARTICIPANTS IN LOOP ABROAD TRAVEL PROGRAMS MUST BE VACCINATED AGAINST COVID-19. All participants are subject to other COVID requirements, such as providing a negative COVID test taken within the 2 days prior to travel. If you are unable to meet these requirements, you may use your scholarship toward a Loop Abroad online program of your choice within the 2023 calendar year.
Loop Abroad reserves the right not to grant a travel scholarship for the 2023 year if there are no qualified applicants who have applied by the deadline.
The Gilman-McCain Scholarship: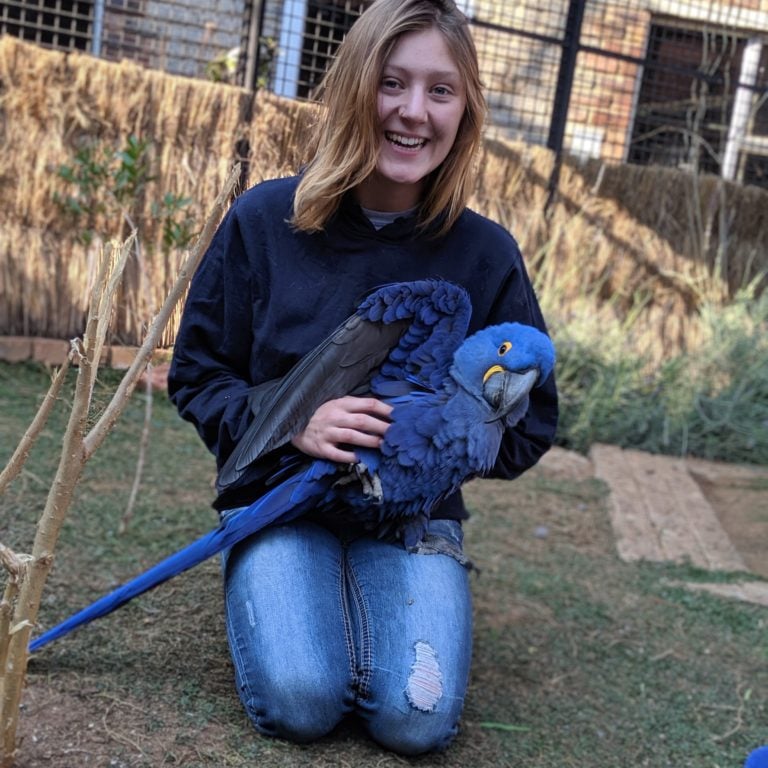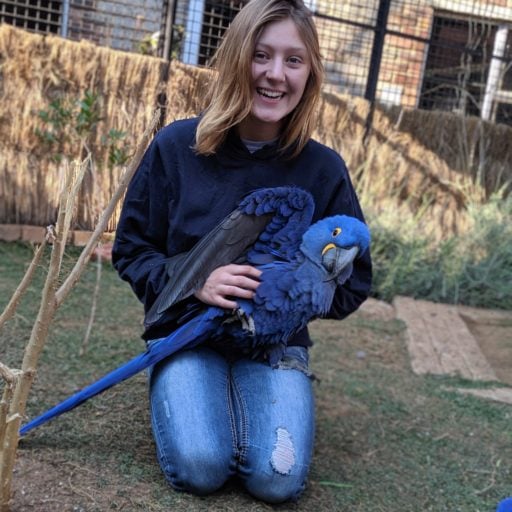 The Gilman-McCain Scholarship is a congressionally funded initiative of the Bureau of Educational and Cultural Affairs at the U.S. Department of State and named after the late senator John S. McCain from Arizona.
This scholarship is open to US citizen undergraduate students who are child dependents of active duty service members and receive any type of Title IV federal financial aid. Students can receive awards of up to $5,000 for 2+ weeks of international travel or online programs. The scholarship can be applied to any of our online programs,  semester programs, or 2-week travel programs.
The deadline for this scholarship is March 9, 2023.
Freeman-Asia Scholarships: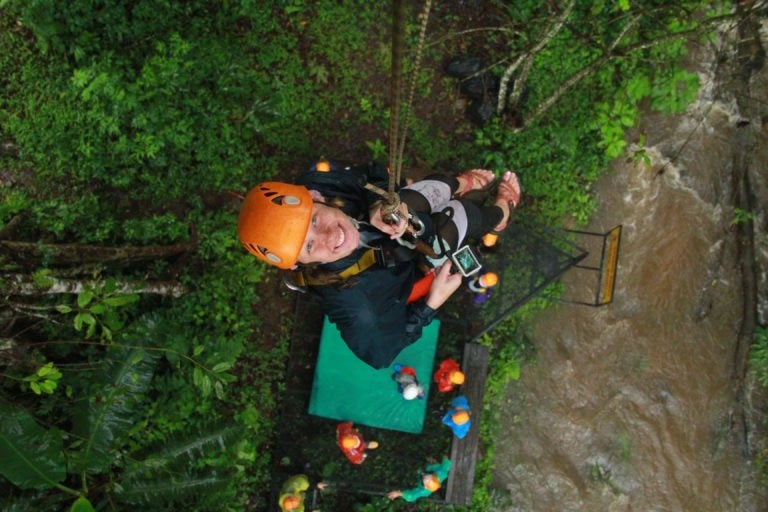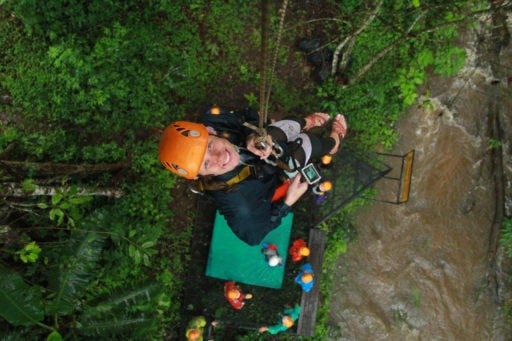 The Freeman Awards for Study in Asia (Freeman-ASIA) provides scholarships for U.S. undergraduate students with demonstrated financial need to study abroad in East or Southeast Asia. This scholarship is open to both US citizens and permanent residents who are undergraduate students at a two-year or four-year college or university.
Recipients can receive up to $3,000 in awards for summer programs. This scholarship can be applied to our Thailand programs for 2+ weeks.
In order to apply, students must fill out an online application. Read the scholarship instructions here and the eligibility requirements here.
All student applications for Academic Year 2023-2024, including the following terms: Summer 2023, Fall 2023, Academic Year 2023-2024, Spring 2024, and Calendar Year 2024, are expected to open in February 2023.
The Fund for Education Abroad: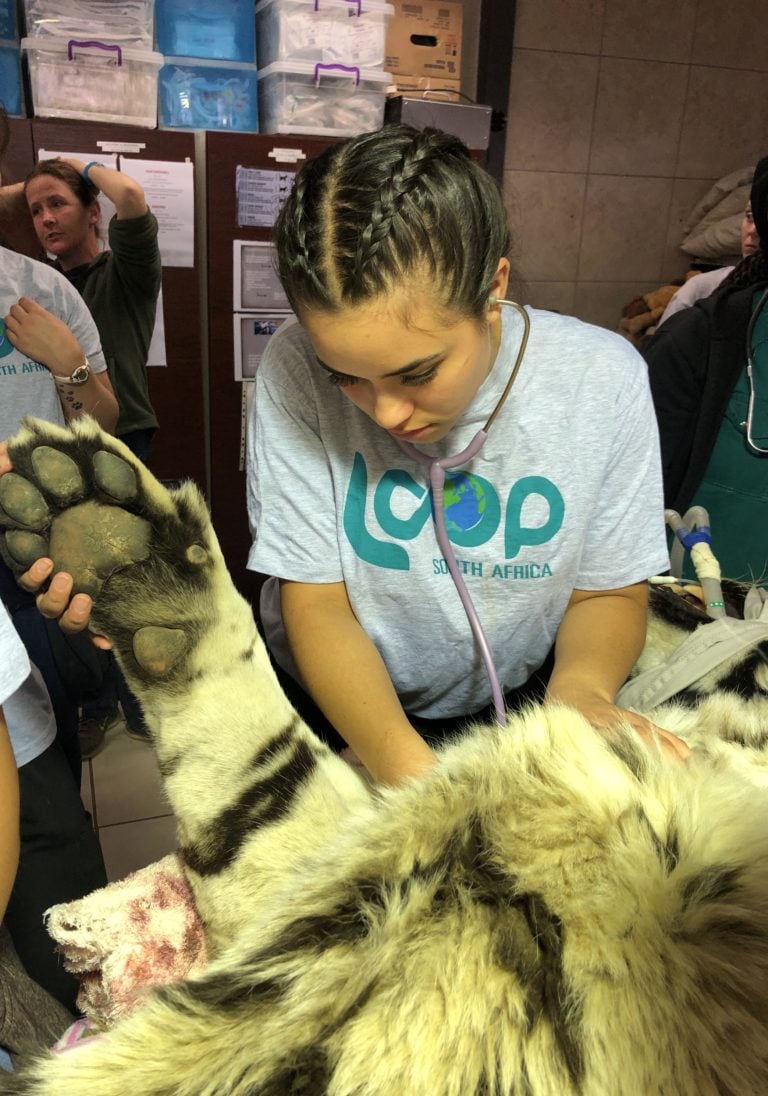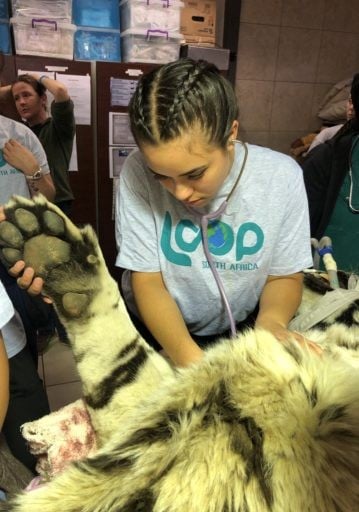 The Fund for Education Abroad (FEA) invests in promising students with financial needs who wish to study abroad. Potential applicants who meet our eligibility requirements may participate in any international education program that meets their academic objectives.
This scholarship is open to US citizens or permanent residents currently enrolled as an undergraduate at a college or university in the US. Scholarships range from $1,250 – $10,000.
Along with their application, students must submit a financial aid form (filled out by the financial aid office at their school), one recommendation letter, and a copy of their unofficial transcript.
Applications for Spring 2023 (programs from January- May) are due by September 15, 2022 at 12pm (noon) EST. Students may review the scholarship and application instructions here.
Scholarships of note that you can apply for through the Fund for Education Abroad include:
The Hiliary Echo Douglas Memorial Scholarship – for students studying abroad in Southeast Asia
Boston Area Study Abroad Association Scholarship – for students with schools in Massachusetts, Maine, Vermont, New Hampshire, Rhode Island, or Connecticut.
Rainbow Scholarship – For LGBTQI students that participate in a high-quality, rigorous education abroad program.
Malú Alvarez Global Access Scholarship- Five scholarships for semester-long programs to be awarded for study in any country.
NAFSA Tamara H. Bryant Memorial Scholarship– These funds are awarded to African-American undergraduate students in the United States who hope to study abroad.
Gateway International Group Education Abroad Scholarship- Scholarship awarded to those who are first-generation college students, or those whose home or college of study is in Kentucky.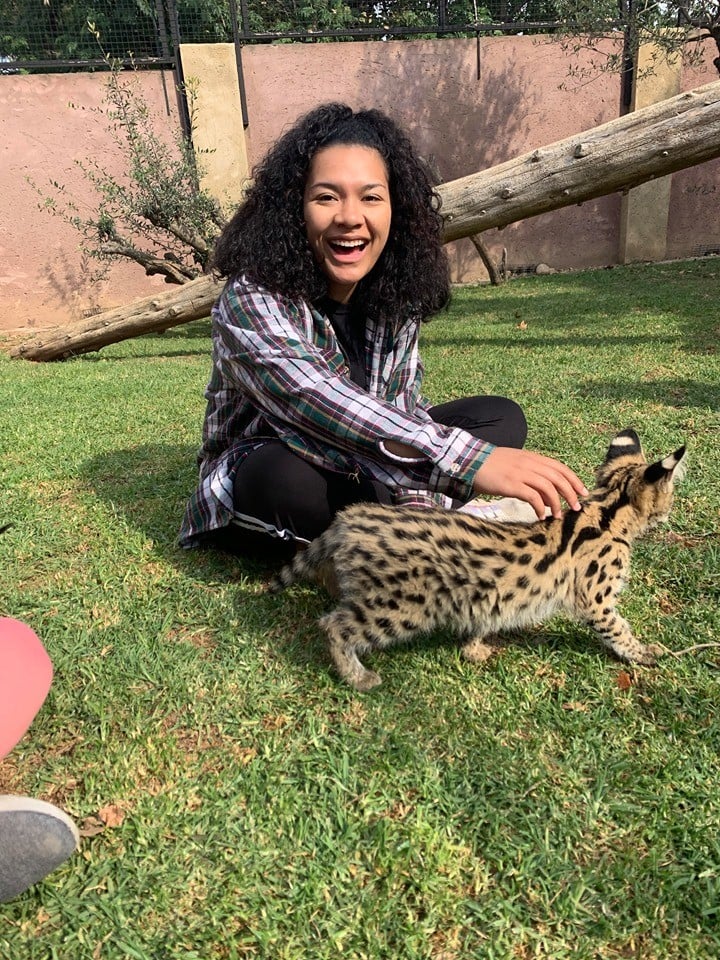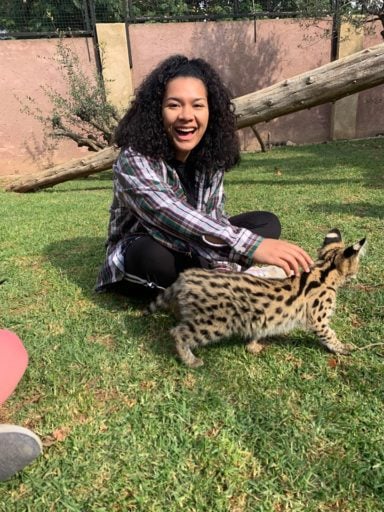 SeniorCare.com Aging Matters Scholarship
SeniorCare.com continues to bring more awareness to the key issues we face as an aging population. For the 8th consecutive year, we will be awarding an annual college scholarship to an individual that best demonstrates to us why "Aging Matters" to them. A $1500 scholarship will be given annually to a selected college student that currently cares for an aging loved one, works within the senior community, or intends to pursue a career that will have an impact on the elder population. Any existing student (or incoming freshman), in good academic standing, at a 2 or 4-year accredited college can apply for this scholarship. The recipient will demonstrate a unique and admirable understanding and desire to show us that "Aging Matters" to them.
All applicants can get more information and apply online here. Applications are due May 15, 2023.
First Trip
FirstTrip.org offers scholarships for students who are studying abroad for the first time. At the time of writing, Thailand, Costa Rica, and Belize programs would be eligible for these $1,500 scholarships. Find out more and apply at FirstTrip.org. Applications are rolling and suggested to be submitted at least 3 months before your program. They also have funding available for passports ($130) as well as some other supplemental awards.