Rhino De-Horning, Elephant Collaring, and African Wildlife Medicine in South Africa
Join us in the field for a once-in-a-lifetime rhino dehorning and elephant collaring mission to protect these animals from relentless poaching attacks for their horns, and track their movements in real-time for conservation purposes.
Who It's For
Only 10 places are available on this 7-day training project – veterinarians, vet techs, veterinary nurses, and clinical-year vet students are invited to enroll.
If you do not fit in one of these categories but have significant work experience in conservation or animal welfare and feel that this is the project for you, please contact Dr. Chloe Buiting at [email protected]. We cannot at this time make exceptions for undergraduate students or for vet students who are not in their clinical year.
Highlights
De-horn white rhinos in the field

Immobilize and place tracking collars on wild elephants for conservation purposes

Participate in the darting, anesthesia, capture and anesthetic monitoring of white rhinos, elephants, and a number of other African species

Learn how to dart from a helicopter with experienced and renowned wildlife helicopter pilot Gerry McDonald

Stay on a beautiful game Reserve, surrounded by wildlife, on the outskirts of world-famous Kruger National Park
Dates open for Enrollment
• July 16- 23, 2023 Currently FULL (waitlist only)
• July 23 – 30, 2023 One place remaining
• August 13-20, 2023  – Open.  PLEASE NOTE: this date is a focussed dehorning mission, and also the chance to work with other African wildlife. It will not include elephant collaring.
What we'll do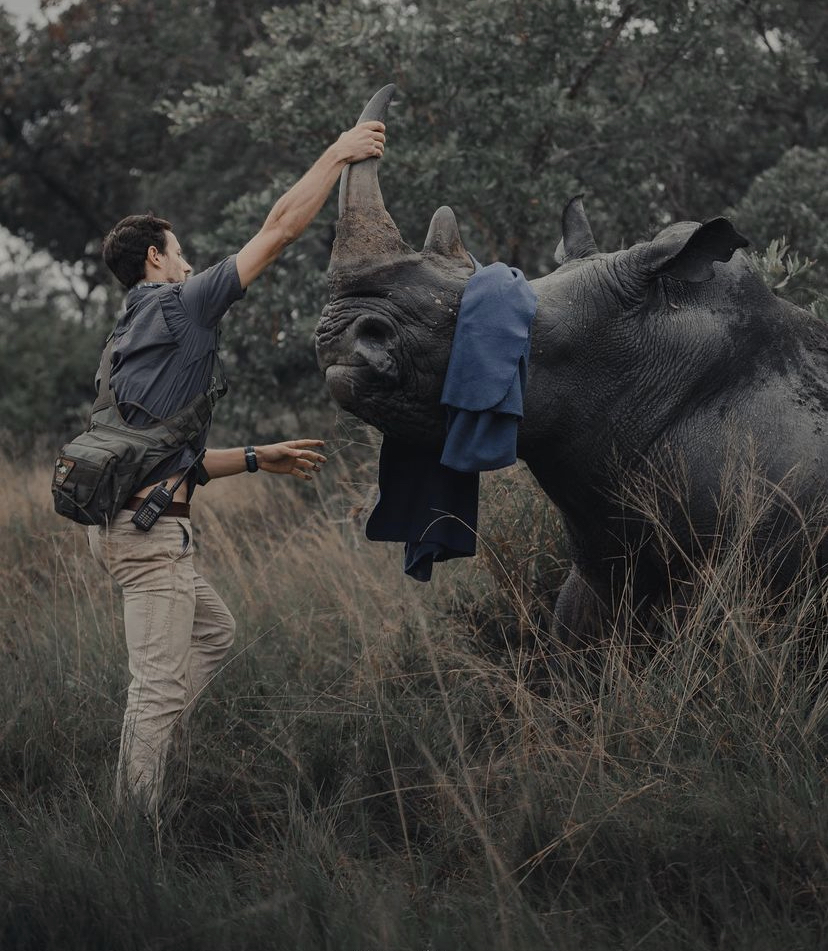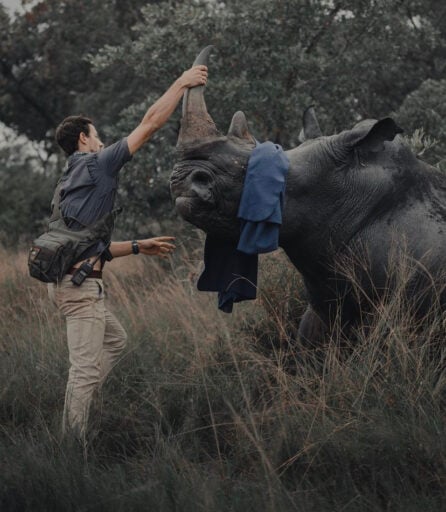 This is an exclusive opportunity for veterinary professionals and clinical year students to join us for a rhino dehorning and elephant collaring mission in South Africa this July and August. 
This is a specially commissioned project, offered exclusively through Loop Abroad, and will involve a week-long intensive project dehorning white rhino on a selection of game reserves around the stunning town of Hoedspruit, near Kruger National Park. In addition to this, you will also be participating in elephant immobilizations and collaring for conservation purposes and will be responding to call-outs for other African species as the need arises.
 You will be joining an experienced wildlife veterinary team to participate in this project. The animals will be darted from helicopters and captured by the ground team (including you!). The rhinos will undergo a dehorning procedure, which is an intensive intervention being implemented across Africa in a desperate bid to save the species from extinction. Select rhinos will also be fitted with a LoRA Tracking Collar in order to provide high resolution movement data which will aid reserve management in better protecting its rhinos and developing a better understanding of their local ecology. You will be fitting the elephants with large tracking collars around their necks, which will enable their movements to be tracked in real-time for conservation purposes.
Why it's needed
South Africa has seen a spike in poaching during the pandemic, and measures like dehorning are a necessary part of ensuring the species survival against relentless – and often daily – attacks. 
This project is a direct effort to conserve these species on the brink of extinction while allowing participants to train with experts in the field. Participants program fee provides essential support to the mission of rhino and elephant conservation.
Program Fee
$4,950 USD per person. Your program fee pays for all the supplies, personnel, and other costs necessary to carry out this dehorning mission – thank you!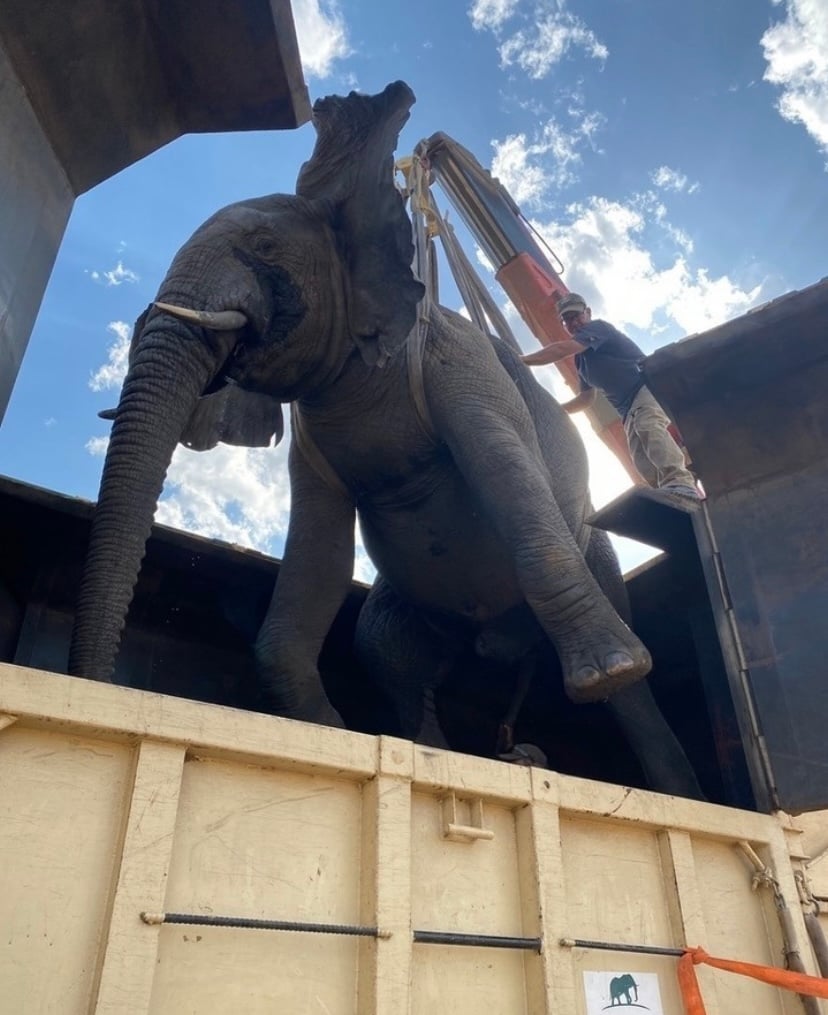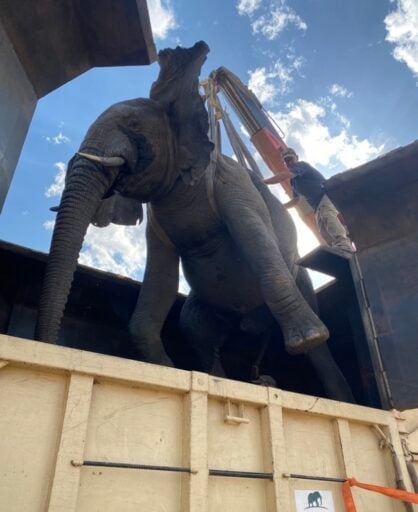 The program fee includes:
De-horning work

Elephant collaring

All daily activities, lectures, experiences and training

Helicopter ride for darting practice

All meals 

Beautiful accommodation in the heartland of the South African bush

Airport transfers in country

On-site support staff

Certificate of support for your contribution to rhino and elephant conservation
Program fee does not include:
Please note: This is a field project that takes place in a rustic area of South Africa. Housing is limited. Participants will be housed with other participants of the same gender in rooms of three single beds; single supplements are not available. If you are enrolling with a friend or partner and would like to room together, please advise and we will do our best to accommodate.
No discounts are available for or applicable to this program.
COVID-19
For programs starting after August 20, 2023, COVID-19 vaccinations are recommended, but they will no longer be required.
All participants must follow the Loop Abroad COVID policies, which include testing negative 2 days before travel, reporting symptoms if they arise during the program, masking or testing if asked to by staff, and isolating if you test positive.
How to Enroll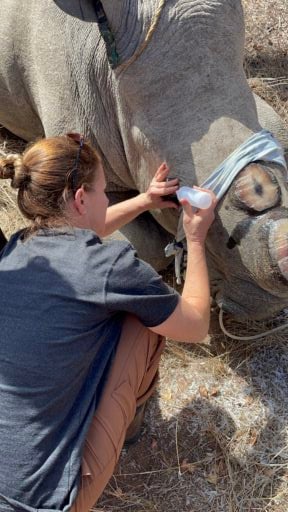 Click "Apply Now", fill out the form, and pay the $1000 program deposit. Your spot will be held immediately.
Veterinarians, vet techs, veterinary nurses, and clinical year vet students may directly enroll. Others interested in participating may email [email protected]. We cannot admit undergraduate students or vet students who are not in their clinical year to this program.
Please note that this is an active, outdoor program that requires participants to be able to walk outdoors, get safely in and out of vehicles, and be safely able to participate in working with animals outdoors for a full day.