Want to gain unique career experience? Ready to travel internationally with both independence and support? Consider joining one of our incredible veterinary internships abroad!
Why choose an internship?
Our veterinary internships abroad offer students an amazing opportunity to pursue their love of travel while also earning valuable career experience Compared to our study abroad programs, our internships give students more flexibility when traveling. They're perfect for students who want to gain hands-on experience but with the freedom to travel and spend time on their own. They're also great for those who don't want to navigate the logistics of finding and vetting their own internship opportunity or housing abroad.
What's Included
Similar to traditional internships, our veterinary internships abroad provide placement with one of our partner projects. Through this placement, you'll have a set place to intern each day where you'll shadow, observe, or assist as needed. These internships provide experience that can be used on a resume and some colleges and universities may even accept internship credit for them.
Enrollment in one of our veterinary internships includes:
Internship placement
Housing
Airport Transfer
Completion certificate
24/7 support staff by phone
On-site meals for some locations (this varies by internship, please read below for more)
Not included with enrollment:
Transportation to your internship each day
Personal travel
Activities during free time
Travel and medical insurance
Flight
College credit
Please note that Loop Abroad internships are quite different from Loop Abroad programs. You will not have a Loop Abroad staff member with you each day, you do not have a Loop Abroad teaching vet, and you do not have activities and transportation scheduled and provided for you. Internships offer you the flexibility of traveling and exploring on your own with the safety and support of an in-country support coordinator, as well as a traditional shadowing internship placement at one of our partner projects.
At all internships, you should expect to be on-site approximately 35-40 hours per week, Monday to Friday.
Who It's For
Our veterinary internships are open to people of any age and experience level, from anywhere in the world! You don't need to have prior veterinary experience or be a current student to enroll. If you've been eager to travel and explore an interest in animal care, these internships provide a unique experience to try something new!
Internships are from 2 weeks to 12 weeks in length. If you and a friend are applying together and would like to intern together and be housed together, please contact us at [email protected] to assist you.
All participants must be fully vaccinated against COVID-19.
Veterinary Internship Opportunities
Currumbin Wildlife Sanctuary –  Australia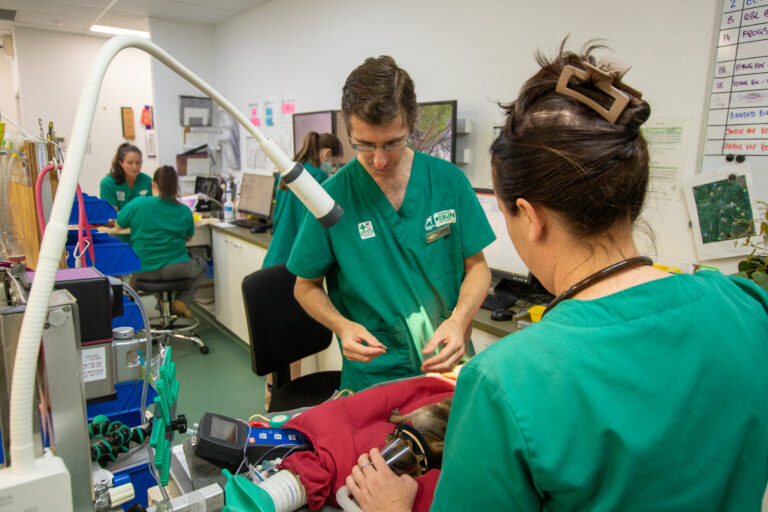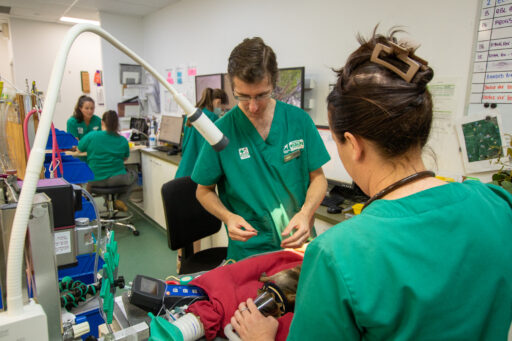 This exciting internship offers the opportunity to work with veterinary professionals at this state-of-the-art hospital that sees over 12,000 patients each year and has 34 years of experience. One of the busiest wildlife hospitals in the world, Currumbin's mission is to rescue, rehabilitate and release animals back into the wild. Participate in daily clinical hours including observing rounds, surgeries and treatments, with the potential to assist at the sanctuary at times.
This internship puts you in the hospital full-time with approximately 8 vet shadowing hours each work day! You will have the chance to work with species such as echidnas, koalas, black flying foxes, Eastern water dragons, lorikeets and kookaburras all while having free time to explore all of the outdoor adventures that Australia's iconic Gold Coast has to offer. This amazing landscape combines beaches, brushland, rainforest and incredible waterfalls! 
This internship is perfect for students looking for veterinary shadowing experience in a wildlife hospital setting.
Who can apply
This placement can take a maximum of two students at a time to ensure that interns get maximum opportunities to learn from the veterinarians and shadow.
Veterinary students will be given placement preference over undergraduates. Undergraduates are welcome to apply but encouraged to include in their resume any relevant experience or coursework for consideration. Participants over the age of 18 are also preferred.
Location
The Currumbin Wildlife Hospital is a well-known, top tier wildlife sanctuary in Queensland that sees over 12,000 patients a year. They have a state-of-the-art wildlife hospital on site that employs 4 vets and 7 nurses daily. They have been instrumental in the bushfire recovery efforts, and have treated and rehabilitated many animals affected by the fires in the past six months.
Currumbin is a beautiful and famous beachside town on Australia's famous Gold Coast. It is the perfect place to learn to surf, relax on the beach, explore nature, dine out, and experience the best of the quintessential Australian lifestyle.
Details: Cost by week listed below. Does not include meals. Meals are available to purchase at the sanctuary cafeteria. 
2 weeks: $3,300
3 weeks: $6,600
4 weeks: $9,900
Housing is a ten-minute trip to the sanctuary on public transportation. Provided housing is a private room in a youth hostel, which includes common areas and facilities to cook meals. Private rooms included linens and towels, fan, table and chairs, wifi, and lockers. There are restaurants within walking distance and supermarkets accessible by public transport. Swimming pool and tour desk are available on site.
Included:
Internship placement and daily supervision

Housing (please note that housing is in a hostel. While you will have a private room, there are other guests in the hostel who are unrelated to your internship. Common spaces have shared use of all guests.)

24/7 emergency support by phone

Orientation and pre-trip assistance
Not Included:
Flight (Gold Coast airport is closest)

Travel insurance

Transportation. Public transportation (bus) is accessible from the housing and CWS.

Meals. Lunch is available for purchase at the cafeteria at CWS (approx $10-$20), or you can bring your own lunch. Housing has a kitchen available for use. Restaurants and grocery shopping are accessible from the housing by walking or public transportation.
In order to plan your budget accordingly, please note that Australia has a high cost of living and that food is typically more expensive than in the United States.
Belize Zoo Internship 
This incredible internship brings you to tropical Belize where you'll get hands-on experience working and learning at the Belize Zoo. Founded as a way to provide a home for a variety of wild animals that had been used in the making of documentary films about tropical forests, the Belize Zoo is now home to over 200 animals, representing over 45 native species! The Zoo keeps animals that were orphaned, rescued, born at the zoo, rehabilitated animals, or sent to The Belize Zoo as donations from other zoological institutions.
During your internship, you'll earn both veterinary hours and animal experience hours while also getting to learn from the amazing staff that makes up the Belize Zoo. This unique internship brings you behind the scenes to give you first-hand experience working at a zoo and providing care to animals in need.
Details: Cost of $700/week. Includes all meals. Minimum of 2 weeks; maximum of 4 weeks. (If you want to stay longer, you can combine this with an internship at the Belize Raptor Center.)
Belize Raptor Center
Escape the bustling city life with this internship at a busy raptor center in a secluded part of Belize. During your internship, you'll be able to help with the rescue birds and learn from the staff on site. There's an animal clinic on site, which is where our Pathology and Radiology virtual courses are taught, and where the staff do all sorts of amazing things to help wildlife in Belize. This center is run by a wildlife rehabber and may also include a vet on site (veterinarian on site is not guaranteed).
Details: Cost of $700/week. Does not include meals. Minimum of 2 weeks; maximum of 12 weeks.
Greece Wildlife Conservation Internship
Action for Wildlife at the Axios River National Park
Perfect if you are pursuing the following careers: Biologist, Ecologist, Environmental Impact Assessment Specialist, Environmental Scientist (Policy/Planning/Law), Forensic Biologist, Habitat Specialist, Herpetologist, Park Management, Ranger, Research Scientist, Veterinarian.
This is your chance to get hands-on caring for wild animals. Join the team of veterinarians & conservation experts in providing medical care to wild animals (birds, foxes, turtles, rabbits etc), cleaning cages, repairing and building enclosures, feeding animals, participating in releases and community education events, and maintenance of the facilities.
Details: Cost by week listed below. Does not include meals. Minimum of 4 weeks; maximum of 12 weeks.
4-weeks $3,400

6-weeks $4,600
8-weeks $5,800
10-weeks $6,900
12-weeks $8,200
Housing is on-site. Rooms are shared with mixed-sex interns. Rooms are fully furnished and include wifi.
Weekly transport to Thessaloniki and supermarket supplies are provided.
Meals are not included.
Greece Marine Conservation Internship
Archipelago Institute on Lipsi Island
Perfect if you are pursuing the following careers: Marine Biologist, Oceanographer, Environmental Management, Fisheries Biologist, Biological Technician, Geographer, Microbiologist, Hydrologist, Biochemist, Environmental Scientist (Policy/Planning/Law), Environmental Impact Assessment Specialist, Ecologist, Education and Outreach Program Coordinator, Climatologist and Media, PR and Communications.
This is your chance to understand marine conservation from all angles. Join the team of marine specialists & conservation experts in field work and working with the research data and communications that make it possible to protect marine ecosystems. Daily tasks may include collecting data on marine species, water quality and coastal biodiversity surveying, human impact studies, environmental policies, GIS and remote sensing, awareness campaigns, wildlife photography and video, and graphic design.
Details: Cost by week listed below. Minimum of 4 weeks; maximum of 12 weeks.
4-weeks $3,400

6-weeks $4,600
8-weeks $5,800
10-weeks $6,900
12-weeks $8,200
Housing is shared with other interns on-site. Meals are included while working at the Institute.
Lipsi Island is an 8-hour ferry from Piraeus Port in Athens. Transportation from the Athens airport to the island is included at the beginning of the internship.
How to Apply
Applying is simple! Just click the button below to begin your application today. You'll be able to choose the dates and duration of your internship (we have dates available year round). We can also assist with getting a visa where required (internships beyond 90 days will require a visa). COVID vaccine is required.
Please note that no early discount or alumni discount is available on internships.